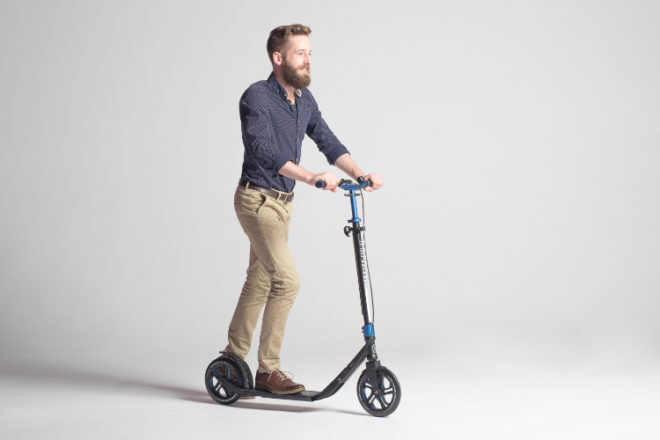 Scooters are the Father's Day present for 2017. Kids already love them, and dads are really just big kids so it's a given. There are a billion reasons why every dad should have their own scooter (and not just steal one of the kids' castoffs).
Here are just five. Oh, and we just happen to have one of these fancy scooters to give away.
1. It's fun. Nuff said.
Why should the kids have all the fun? Scooters are pure fun on wheels – that smooth glide, the speed, the tricks, the wind in your hair (or beard).
2. Kids on scooters are fast. Be faster.
Ever tried to keep up with a child on a scooter? Usain Bolt would have a hard time catching a kid on wheels. So if you can't beat 'em, join 'em.
3. Relive childhood.
Think back to childhood birthdays and Christmases when you unwrapped a cool new something to ride up and down the street. That's exactly how dad's going to feel on Father's Day – he may even say 'cool' a thousand times.
4. Be active without even trying.
There's nothing like working up a sweat doing something you love – and trust us, everyone loves riding a scooter. It gives your legs a workout, while getting that heart rate up, all while you're just having fun with the kids. We like to call it 'scootercising'.
5. It's enviro-friendly (and heaps easier than finding a parking spot)
Riding a scooter won't just get dad's heart racing, it'll give him a warm and fuzzy feeling inside because he's now an environmental champion. A man of the planet. A warrior against waste. Each time he hops aboard the scooter to run down to the shop or park with the kids is one less car trip. Scooter dads, we salute you.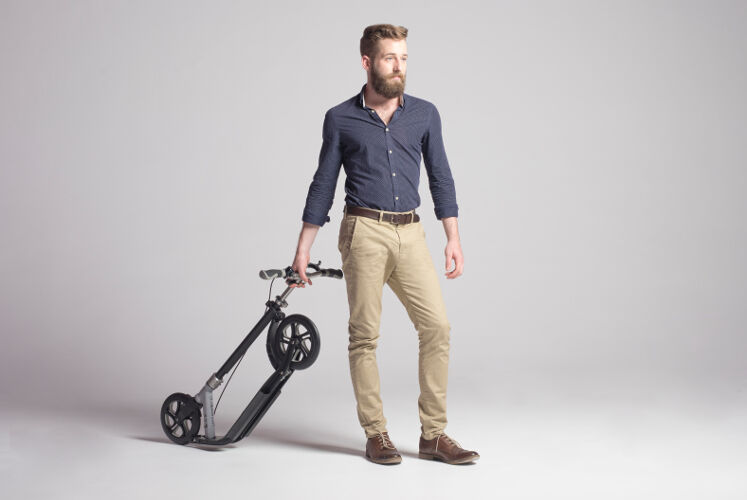 Ok, ok – I'm convinced. What scooter should I get him?
We're glad you asked.
Dads need a scooter that's robust, fast and has some cool features they can brag to their friends about. The Globber ONE NL 230 Ultimate Titanium is that scooter.
Here are the specs (which he will ask about so take note):
230mm bi-injection PU casted wheels.
One of the fastest adult scooters.
Steady and precise thanks to the CNC double clamp and wide aluminium deck.
Lightweight and hardy.
One second fold – just lift and pull.
Can support up to 100kgs.
Perfect for night riding thanks to the reflective pole and bell.
Handlebar brake for maximum safety.
The one-second fold is pretty impressive. Here's a closer look: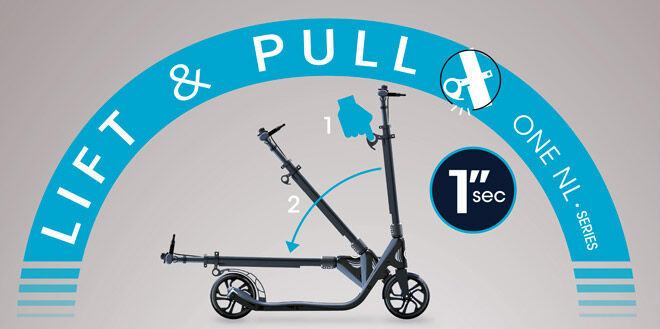 The Globber ONE NL 230 Ultimate Titanium ($230) is available online from Globber.com.au.

This competition is now closed.
A huge congratulations goes out to V. Kotsifakis (VIC). Enjoy xx
One lucky Mum's Grapeviner dad will win his very own Globber One NL 230, worth $230 and entry is a cinch.66
Competition ends September 8, 2017