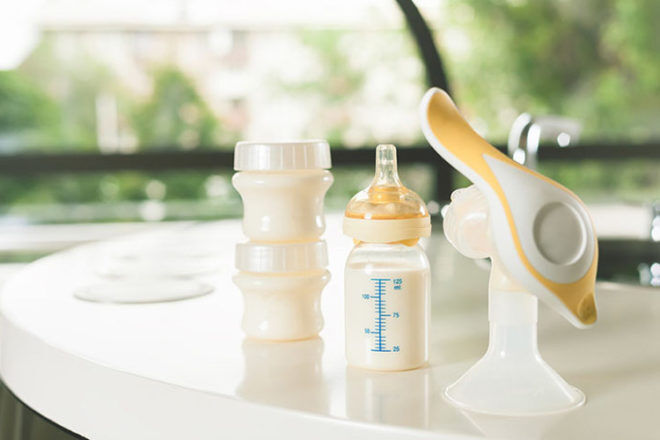 How often do you clean your breast pump parts? Do they get a good scrub after every use, or do you let the bits and pieces soak in soapy water?
There's a fair bit of mixed advice out there – some experts suggest you can simply store unwashed expressing equipment in the fridge between sessions. However, the latest advice calls for stricter cleaning after a baby contracted a rare and serious infection from a breast pump that wasn't cleaned properly.
Here's everything you need to know about the new Centre For Disease Control and Infection guidelines.
Do this before each use:
Wash your hands with soapy water.
Put together the breast pump, and check for any dirty parts.
Clean the pump dials, switch and countertop with a disinfectant wipe.
---
Do this after every use:
Clean the area you use to express, as well as the pump dials, power switch and countertop.
Take the pump apart and inspect the pieces.
Rinse the pieces that come in contact with breast milk under running water.
Clean the pump kit, including all of the tubing and flange:
1) Put all the pieces into a container that you only use to wash your baby's feeding equipment. (Don't put the pump parts into your sink – germs from the drain or sink could contaminate them.)
2) Add hot water and soap.
3) Scrub all of the parts using a clean brush that's only used for cleaning your baby's feeding equipment.
4) Rinse each piece by holding it under running water, or putting it into fresh water in a separate container.
5) Let everything air dry thoroughly by putting all the pieces on a clean dish towel or paper towel. Don't try and dry the pieces by rubbing with a dish towel, it could transfer germs.
If it's recommended by the breast pump manufacturer, you can clean the parts in your dishwasher. Put the smaller items in a closed-top basket or laundry bag and run the dishwasher with hot water and heated drying cycle.
Make sure you rinse your wash container and brush after each use, and let them air dry. Every few days, wash them in the dishwasher or by hand in warm, soapy water.
---

For extra protection:
It's recommended you wash breast pump parts at least once every day, especially if bub is less than three months old, or was a premmie.
If you're cleaning your breast pump parts using the dishwasher, you don't need to was the equipment separately. 
Clean the pump parts, brushes and wash basins as outlined above.
Sanitise the equipment using one of these options:
Use a microwave or electric steam steriliser.
Put the parts into a pot of boiling water with the lid on and boil for five minutes, removing with clean tongs.
Make sure you check your pump's manufacturer instructions to see if the parts can be steamed or boiled.
---
Store the pump parts like this:
After everything has air dried, you'll need to store the parts properly so they remain clean.
Wash your hands with soap and water.
Put the clean, dry pump parts back together.
Put the assembled parts into a clean, sealable container or storage bag.
Store washing containers and brushes in a clean area.
---
More information can be found at the Centres for Disease Control and Prevention, and also through the Australian Breastfeeding Association.