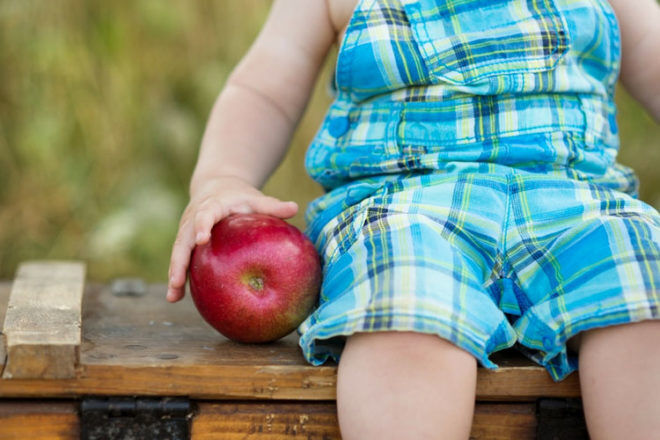 Getting your kids to smash back more vegetables could be as simple as serving them whole instead of sliced and diced says researchers from Melbourne's Deakin University.
For parents the daily struggle to get kids to eat five serves of veggies a day is real, some end up hiding them in plain sight, others serve them on a plate made of veggies!
But according to scientists from Deakin University, the most efficient way to increase kids' daily vegetable consumption could be to serve them whole.
Could super-sizing veggies make kids eat more?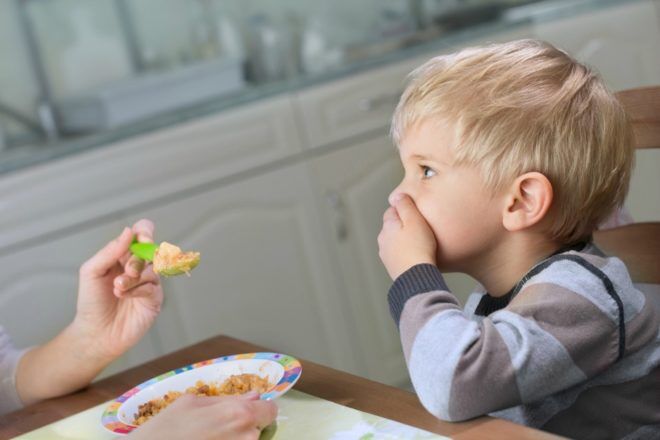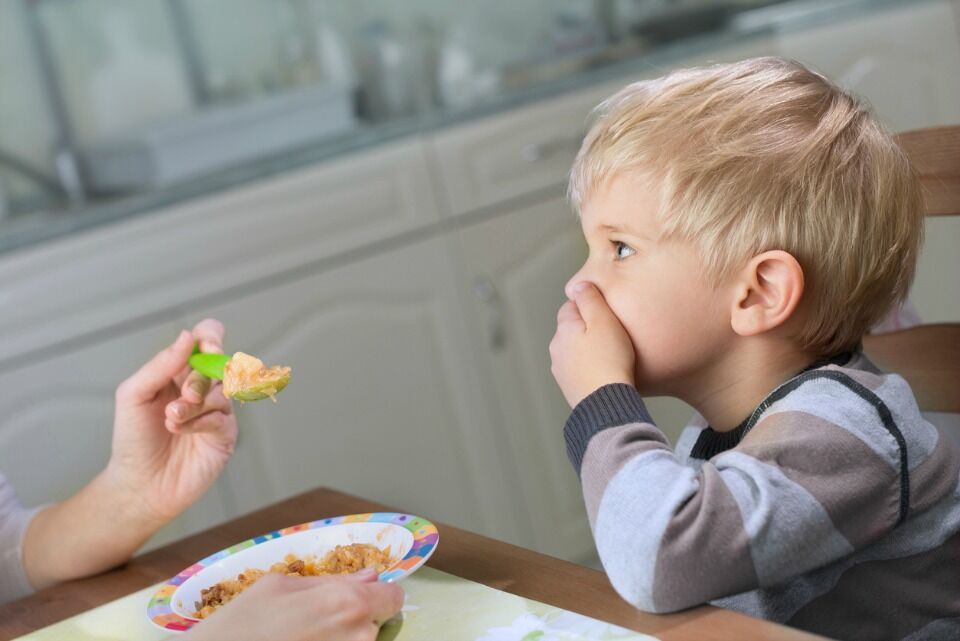 In a first-of-its-kind randomised controlled trial, researchers from Deakin's Centre for Advanced Sensory Science found that children eat more carrot when given them whole. This is as opposed to a serving of the diced vegetable.
The study was recently published in the journal Foods. Seventy-two primary school aged children were given a 500g box of peeled whole carrots on one day. Another day they were given the same amount of diced carrots. On both days children were given 10 minutes to eat as much of the carrots as they liked.
Researcher Dr Gie Liem says the results showed that when given the whole carrots many children consumed them for longer. They also usually ate one whole carrot. "On average this meant they ate about 8 to 10 per cent more of the whole vegetable, by weight than when given diced carrots to try," he says.
Dr Liem is a senior lecturer in Deakin's School of Exercise and Nutrition Sciences. He says results show that if parents want their children to consume vegetables, especially as a snack food, whole might be better than diced.
Start kids on whole veggies early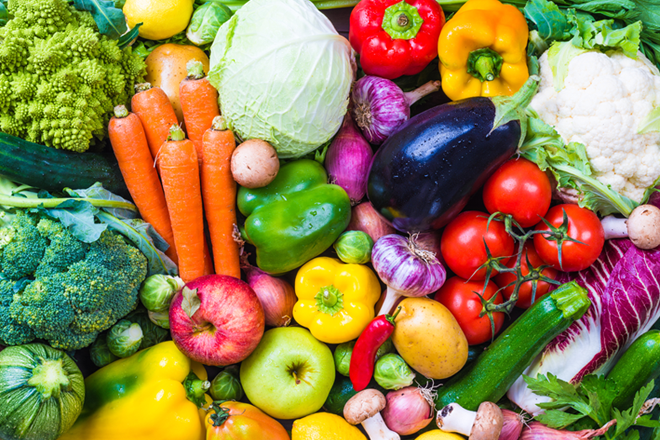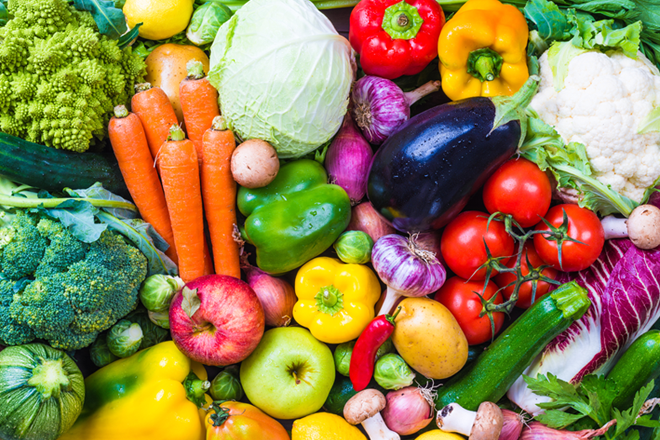 While the study was done on primary school aged children, it's likely that many kids aged between four and five years of age could be given a whole vegetable. This, of course, depends on their teeth and maturity level.
Dr Liem says research such as this is important because less than 10 per cent of Australian children met the recommended guidelines of five servings of vegetables per day. "We're trying to give parents an easy solution to something that's a great concern. High vegetable consumption during childhood is important for children's optimal health and development," he says.
"It's also crucial for the prevention of obesity and associated chronic diseases later in life. That means it's important to provide vegetables not just on one occasion or mealtime, but throughout the day. And snacks are perfect for that."


Study mimics real-world situation
Dr Liem says the study used a ten-minute time limit to mimic real-world situations. Interestingly, the results are in line with other research that shows large unit sizes increase food consumption.
"Potentially these results can be explained by unit-bias, in which a given unit creates a consumption norm, which tells consumers how much they should eat," Dr Liem says.
"In this case, children consumed one whole carrot (one unit) when presented with whole carrots. This suggests that once children started eating a whole carrot they were likely to finish it. To our knowledge, ours is the first study with children that suggests unit bias can be used to increase consumption of healthy foods."
Common sense approach to avoid choking
In the interests of avoiding choking hazards, we're not suggesting you offer a whole carrot to your one-year-old. Nor do we suggest you offer your nine-month baby a celery stick.
However, there are plenty of whole vegetables that are acceptable to present to toddlers and pre-schoolers. They can be served either frozen raw or cooked, depending on your preference.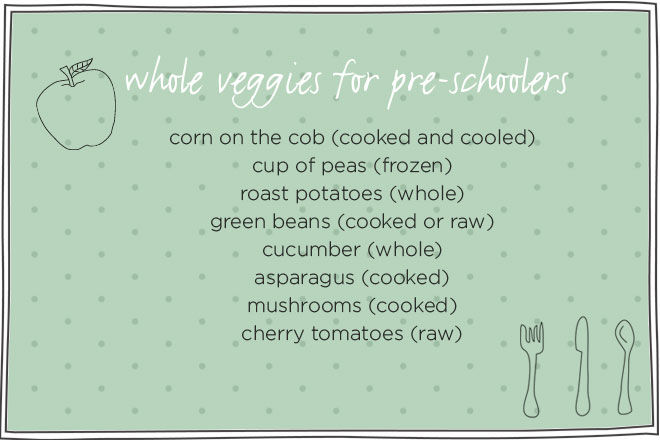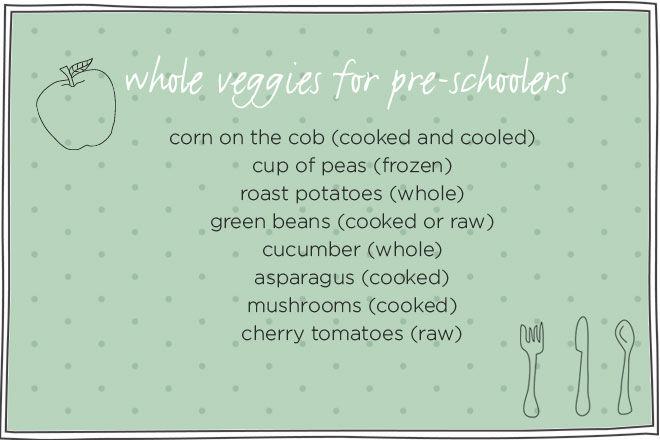 Meanwhile, if you've got a fussy eater here's a cute way to rebrand healthy food so they'll actually eat it. Or you could try cooking them these mini pork meatballs with sneaky veggies.