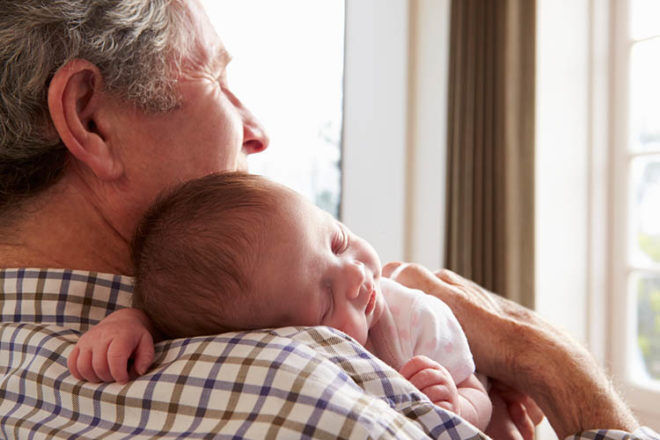 Naming your new addition after a family member is a beautiful way to honour a grandparent or other relative and keep the family tradition going for another generation. But you may also be searching for a name that is modern and more in tune with today's baby name trends.
Get the best of both worlds.
Honour grandpa AND give bub a unique moniker that's all his own with these trendy baby names based on the most popular names of our past.
Baby names that blend the past with the present
William: Got a William in the family? Willa, the feminine form of William, is an elegant choice. Or go with Liam, which also plays homage to the name.
Alan: Smart and spunky, the name Elan means "tree" and is a great option for parents wanting to branch out from the classic name, Alan.
Charles: Any parents searching for cute names to honour a Charles may wish to consider Airlie, which is similar to Charlie but with a modern twist.
Charlotte: Another uber-cool name that can work for both Charlotte and Charlie is Arlo. Or go with the name Harlo, another eloquent option.
Albert: Hoping to jazz up the name Albert? How about Alba, which means "dawn"? Albie, which means "bright",  is another vibrant choice.
Nigel: Breathe new life into an old classic with Iggy, a modernised version of the name Nigel. It's got that pop star vibe to it. It's also the name Cate Blanchett chose for one of her sons.
Thomas: When in doubt, add a Z. Well, it works in some instances, like when looking for a modern version of the name Thomas. We love the name Tomaz, which oozes baby name cool.
Richard: The classic name Richard often gets shortened to Dick. Go one step further and add a bit of southern charm to the mix with Dixie.
Harry: We've uncovered sweet names for Tom and Dick. But what about Harry? Try Ari, which means "superior, best of thinkers".
Jessica: We all know at least one Jessica (or Jess). It was one of the most popular names from the 80s and one you may want to pass on to the next generation. We recommend  Jessa, a little less common and totally hipster cute.
Alexander: The name has endured for decades and traces back to Alexander the Great.
Erin: Light and airy, the name Airen is a unique take on Erin. However, it can also be a shortened version of the more formal Catherine.
Elizabeth: There is no shortage of names and nicknames that honour the royal moniker Elizabeth (Beth, Betty, Eliza, Lisa, Elisa, to name a few). But have you considered Ezra? With biblical connotations, Ezra is fast becoming one of the trend-setting names of today.
Phillip: A name which means "strong and graceful", Illy is certainly an adorable name to consider. It also plays homage to the name Phillip, which is one of the more common names of past generations.
John: Jonas is a modern way to spruce up a classic like John. Or, you could opt for Johnas, which is how Ada Nicodemou spells her son's name.
Jack: If you don't have a John in the family, then you probably have a Jack. And while Jack is still widely used, you may want to stay away from the top of the charts with a name that is similar in sound but unique as well. Jace (or Jayce) is a great option, as is Jax.
David: The feminine version of David, Vida provides a brilliant way to honour any Davids in the family.
George: Short for Georgia, Gigi is proving popular as more than just a nickname. It is also a great option for anyone wanting to pay homage to an ancestor with the name George or Georgina.
Alice: Another cute nickname, Cici stands proud as a name in its own right too. It is usually associated with the name Cecilia (which is definitely a classic) but can honour anyone with the name Alice.
Archibald: Perfectly polished and pleasantly posh, Archer is an up and coming addition to the uber cool names of the new generation. But it's also a perfectly suited alternative to the vintage (yet still adorable) name Archibald.
Michael: Mica is a mineral and a common ingredient in makeup. But it's also a great new-age name that twists the most popular baby name from the 70s – you guessed it, Michael!
Matthew: Have a Matthew that you would like to remember? How about opting for the culturally cool Mateo? It is the Spanish rendition of the popular name which means "God's gift".
Andrew: Rue has entered the name game thanks in part to the character in The Hunger Games. It's a spunky short name that can double as an alternative to Andrew, another popular moniker from previous generations.
Colin: Another short and sweet contestant is Cole (which means "people's victory"). If you are looking for a name that honours the more traditional name Colin, then Cole is sure to be a winner!
Sarah: Finally, we end with the perfect name for any princess – Sari, which means "princess" in Hebrew. The name is strong, smart and sophisticated and, best of all, it commemorates one of the most popular baby names of our past – Sarah.
Whether you want to honour a great grandparent, an aunt, a godparent or a sibling, we hope these modern takes on the traditional help in your hunt.
Searching for more ideas? Have a look at these baby names inspired by surnames.