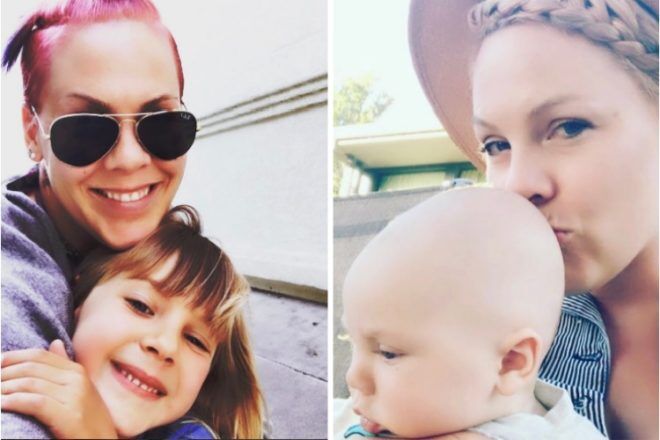 P!NK is no stranger to the bright lights, special effects, countless costume changes and marathon make-up sessions it takes to transform her into one of the world's most successful pop singers. But, when it comes to parenting, P!NK is as real as they come.
When she's not sizzling on stage, P!NK is just like the rest of us – trying her best to raise two young children. From leaking breasts to power naps, P!NK's honest approach to being a mum makes her a superstar on stage and on social media.
Sure, she may be "failing beautifully", but we love her for it. Here are ten of the countless reasons why P!NK is one of our very favourite celebrity mums.
Mulitasking breastfeeding
https://www.instagram.com/p/BWQXLi1lEc4/?taken-by=pink
Never one to shy away from controversy (or a breastfeeding selfie) P!NK recently shared a candid shot of her breastfeeding eight-month-old son, Jameson, while he helps apply her makeup. Multi-tasking at its best!
Nude rides…indoors
https://www.instagram.com/p/BWLr_6ClqNV/?taken-by=pink
Last week P!NK coined the term "failing beautifully" as she shared a photo of her near-naked six-year-old daughter, Willow, riding her bike indoors. And the icing on the cake?  No helmet. Helicopter parents, look away! Look away!
Baby wearing boogie
https://www.instagram.com/p/BVbSRIUlwo3/?taken-by=pink
P!NK is often snapped carrying her wee one around with her. With one perfectly timed photo, she proves that an adorable baby strapped to your chest is the best fashion accessory, even when on stage rehearsing for a show!
Power iPad nap
https://www.instagram.com/p/BVq-l0clKX-/?taken-by=pink
Desperate times calls for desperate measures – like relying on screen time to entertain your daughter while you take a quick nap. We all do it (perhaps not on a stage, but, still). And P!NK isn't afraid to admit it.
Cake duty
https://www.instagram.com/p/BU2WDYIlKY-/?taken-by=pink
P!NK skipped the seven-tier princess-themed fondant cake and kept it real with a delicious layered cake (with traditional buttercream icing) for Willow's sixth birthday. Beautifully decorated and oozing with love, we are sure Willow adored the homemade creation.
Screw the scales
https://www.instagram.com/p/BSWhmL5F0EQ/?taken-by=pink
As P!NK went about her post-baby workout routine, she shared a powerful message with her fans  – stay off those scales, especially after having a baby. Amen!
Soul searching
https://www.instagram.com/p/BRSR2V5Ffz0/?taken-by=pink
With a newborn, a five-year-old and a career, P!NK didn't sugar-coat the fact that she was beyond tired. Sleep deprivation can be soul-crushing, but, hey, it's worth it.
Adele's littlest fan
https://www.instagram.com/p/BPqvT_0l0qr/?taken-by=pink
Baby onesies with cheeky slogans are all the rage. And P!NK's son Jameson kept it real with a shout-out to Adele. Great fashion find, mum!
Family date night
https://www.instagram.com/p/BR1ZoZ3lmvV/?taken-by=pink
Can't find a sitter? Bring the babies with you! P!NK and hubby, Carey Hart, proved that family date night is possible, even with a newbie, as they take in a concert as a team.
Big sister party
https://www.instagram.com/p/BPRJTegFGB3/?taken-by=pink
When Jameson was born, P!NK admitted that her daughter struggled with accepting the new addition. So she threw Willow a Big Sister Party! Innovation at its best. And, she even let her daughter sprout pink hair. That's another parenting win for P!NK in our books.
Thank you, Mrs. Hart, for keeping it real and proving that being a perfect parent is about embracing those imperfection moments that happen along the way.
Love your celebrity baby news? Then sign up to our weekly newsletter to make sure you don't miss any updates.