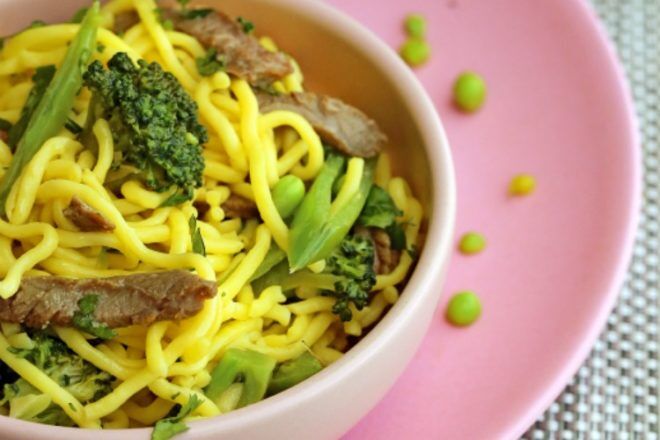 Looking to mix up mealtime a little bit? Give this recipe for beef, broccoli and garlic noodles a try!
Infused with Asian flavours and creamy butter with a hint of garlic, this saucy stir fry, shared by Shania at Kid Eats by Shanai, is simple, tasty and perfect for time-poor nights.
Serves 4-6 people.
Ingredients
500g beef tenderloin, or a similar quick cook cut
1 packet egg noodles
1 head broccoli, cut into bite sized pieces
2 handfuls snow peas
100g butter
1 clove garlic
2 tbsp soy sauce
2 tbsp oyster sauce
2 tbsp fish sauce
Method
Step 1. Slice beef into thin strips and marinate in 2 tbsp soy sauce, 1 tbsp oyster sauce and 1 tbsp fish sauce for 15 minutes.
Step 2. Prepare noodles as per packet instructions.
Step 3. Cook beef in a large fry pan in a little oil and set aside. In this fry pan add the butter and melt over med-low heat, add the finely chopped garlic and sauté gently for 2 minutes. Add the remaining 1 tbsp oyster sauce and 1 tbsp fish sauce and the broccoli.
Step 4. Cook the broccoli in the sauce for a few minutes until tender.  Add the snow peas, beef and noodles and toss everything until well combined and warmed through.
Step 5. Serve immediately.
---
Kids Eat by Shanai
Mum of two beautiful kids, Shanai is a whizz at whipping up fun, fabulously tasty and quick-as-a-flash meals for babies, toddlers and young kids, with a flair for pleasing fussy eaters.
Visit Kids Eat by Shanai for more healthy recipes.