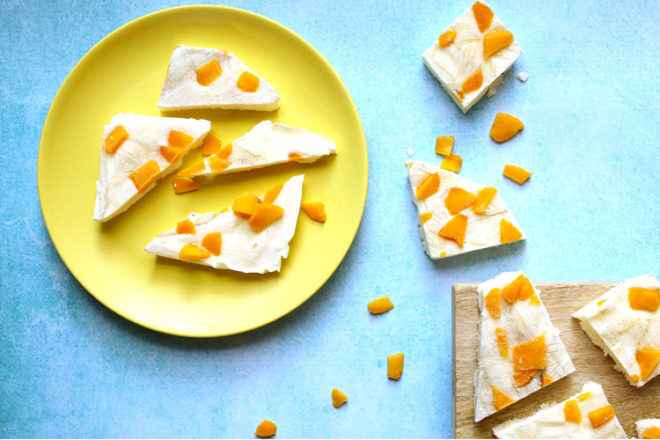 This recipe tastes amazing! Just 3 ingredients then mix and freeze! Creamy natural yoghurt drizzled in vanilla and sprinkled with mango pieces, frozen into a delicious snack. Shared by Shania at Kid Eats by Shanai it's a great after school snack or after dinner treat.
Makes 30 pieces.
Ingredients
500ml natural yoghurt
1 tbps vanilla extract
1 cup frozen mango pieces, slicked into small pieces
Method
Step 1. Cover a tray (approx. 35cm x 25cm) with plastic wrap or baking paper, pour in the yoghurt, drizzle with vanilla and scatter the mango pieces.
Step 2. Place in freezer until frozen (approx. 6 hours).
Step 3. Cut into pieces and enjoy
---
Kids Eat by Shanai
Mum of two beautiful kids, Shanai is a whizz at whipping up fun, fabulously tasty and quick-as-a-flash meals for babies, toddlers and young kids, with a flair for pleasing fussy eaters.
Visit Kids Eat by Shanai for more healthy recipes.