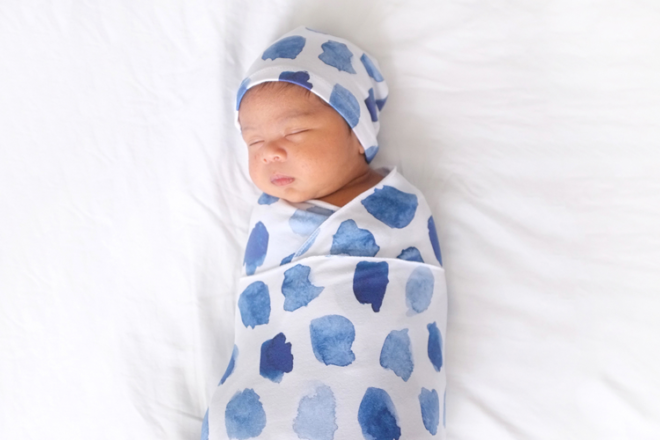 Sailing enthusiasts, fishing fanatics, surfing devotees – grab your notepads (and your togs) and come with us as we count down the very best in baby names related to the deep blue.
Whether you prefer the wild waves of the ocean, the refreshing rapids of the rivers or the cleansing coolness of a creek, we've combed the shores in search of the sweetest baby names that pay homage to all things aquatic.
Here are 35 baby names inspired by water that are sure to make a splash with all beach-loving families out there.
Water baby names
Kai:  Let's start with one of the most popular water-themed names on the charts – Kai, which means "ocean" or "ocean water" in Hawaiian. Kai also comes with a number of other meanings, including "strong" in Burmese.
Mira:  Another refreshing choice is Mira, which means "ocean" in the Sanskirt language.
Maya:  Sticking with the M-theme monikers, Maya, which is Hebrew for "water", is another refreshing choice.
Tallulah: The name Tallulah has something mermaidesque about it and, as it turns out, means "leaping water" in Choctaw.
Misty: A term for tiny drops of water, Misty is another breezy baby name for your water baby.
Ford: We may associate it with the auto industry but Ford is actually English for "river crossing".
Dylan: If you are a lover of mythology, then the name Dylan may splash out at you. Dylan is the name of the Sea God in Welsh mythology.
Cordelia: Strong, powerful and etched in Shakespearean literature, Cordelia means "daughter of the sea".
Marlow: Another water-themed name (also perfect for literary buffs) is Marlow, which means "from the hill by the lake".
Monroe: Or, you could take a page out of Mariah Carey's book with Monroe, which is one of the singer's twins baby name and means "mouth of the Roe River".
Kendra: Kendra is another refreshingly funky name which means "clear water".
Lynn: Often reserved for a middle name, Lynn means "lake" and oozes with that vintage edginess.
Ocean: Another name that is sailing up the charts is Ocean, which is as aquatic as they come and perfect for little beach bum babies.
Lake: Prefer fresh water? How about Lake, which is another enigmatic and edgy option for water babies.
River:  Popular contender River is favoured by many celebrity parents including Jamie Oliver and Megan Gale.
Marella: The Japanese version of Muriel, the name Marella has a mystical aura about it. It also comes with the meaning, "of the bright sea".
Moselle:  If you love the "elle" names, then Moselle, which means "from the water" in Hebrew, may float your boat.
Rain: Perfectly suited for your water baby, the name Rain comes with a number of variations – Raine, Raina or Reine to name a few.
Ripley: An edgy name like Ripley is sure to keep the love of the water running through those baby veins.
Talise: Pretty and pure, Talise means "lovely water" in Native American.
Waverly: Part of the "new wave cool" in baby names, Waverly stirs up notions of the ocean and is another great option for lovers of the surf.
Calder: Another edgy name that signals the ocean is Calder, which is a traditional name meaning "rocky water."
Hurley: Sticking to the polished and posh monikers, Hurley is another option which is an old Irish name meaning "sea tide".
Wade: Another name that brings you to the beach, the name Wade pays homage to the low-laying water.
Brook: For those who prefer a calming creek, a name like Brook is not only pure, but also quite powerful.
Sailor: Get ready to sail the seven seas with the name Sailor, perfectly suited for all nautical families. Ahoy matey.
Caspian: Sure, Caspian may ignite the spark in all literary lovers, but is also a shout out to the Caspian Sea.
Zale: Many great names hail from the Greeks, including Zale, which means "power of the sea". Similar in sound to "sail", we love the boldness of this powerful moniker.
Hali: Another Greek gem is Hali, which means "sea" and is pronounced the same way as "Halle".
Shore: Capture the feeling of sitting at the beach, watching the waves crash at your feet with an idyllic name like Shore.
Seaton: Meaning "town by the sea", Seaton also comes with a nautical notion.
Conway: Perhaps one of the most heavenly names on the list, Conway means "holy water" in Welsh. It also has that uber-cool feel to it and makes a unique alternative to the more popular Conner.
Rio: Feisty and fun, Rio stems from the Spanish word for "river". It stirs up connotations of easy, breezy Brazilian beach living.
Loire: An elegant and energetic name that hails from a French river, Loire is a gorgeous choice.
Delta: Long before Delta Goodrem flooded our televisions, the word was used to describe an "area of land in which a river is divided into smaller rivers".
Love nature names? We've got plenty more to pick from. Check out this list of botanical-inspired baby names.
(Image via Snuggle Hunny Kids)