As a designer and maker of eco-friendly baby clothes Vigga Svensson initially thought she was doing the right thing environmentally. It wasn't until she realised that her much-loved clothes were ending up in landfill that she realised she wasn't the 'green superhero' she thought she was.
What happened next at her Copenhagen business is nothing less than astonishing. She and husband Peter, who have been in the textile industry for a decade, made the decision to lease out baby clothes to families on a monthly basis. Talk about genius!
The eco-friendly clothes are updated as the child grows from a baby to toddler. It's a wonderful environmentally-friendly initiative, especially since globally only 20 per cent of clothes are reused or recycled.
Since Vigga's Danish company, also named Vigga, started renting out their baby clothes in 2014, more than 3000 families in Denmark have started leasing baby clothes instead of buying them.
Babies grow but clothes don't
[youtube https://www.youtube.com/watch?v=siU5hvO6eyk]
Vigga says when it dawned on her that baby's grew but the clothes her company made didn't, she knew she had to do something about it. It was this revelation that spurred her on to create a whole circular system of using the clothes she sells.
A bundle of 16 baby clothes costs $55 and members get a bag of eco-friendly clothes Vigga makes. Interesting some of the body suits in the collection are worn up to 150 times!
Of course they are cleaned using an industrial strength washing machine and have to be mended from time-to-time, but otherwise, they're in good condition. Would you consider renting baby clothes?
And even though there's no such system in Australia at the moment, there are lots of ways we can recycle baby clothes so they don't end up in a landfill.
Eco-friendly ways to dispose of your baby clothes: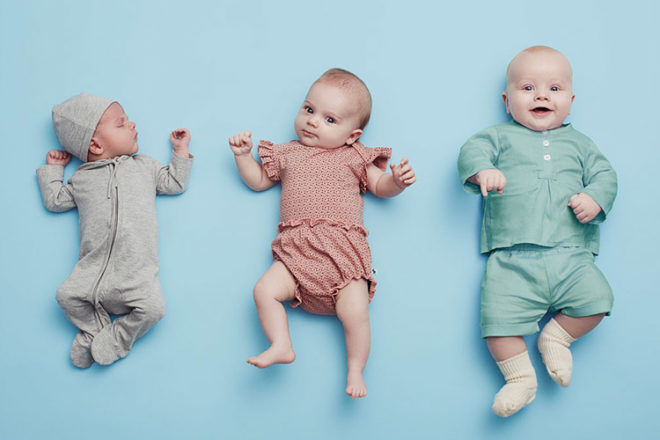 Gift them to friends with younger babies
Donate to your local charity
Repurpose them into clothes for teddy bears and dolls
Find a charity that sends clothes to third world countries
Tip: Don't forget to keep one or two of your favourites as a keepsake to show your child once they're a mum themselves!
Meanwhile, we've got an entire section devoted to helping you make informed decisions on what to buy for your baby. From baby rockers to the safest high chairs, we've got you covered.