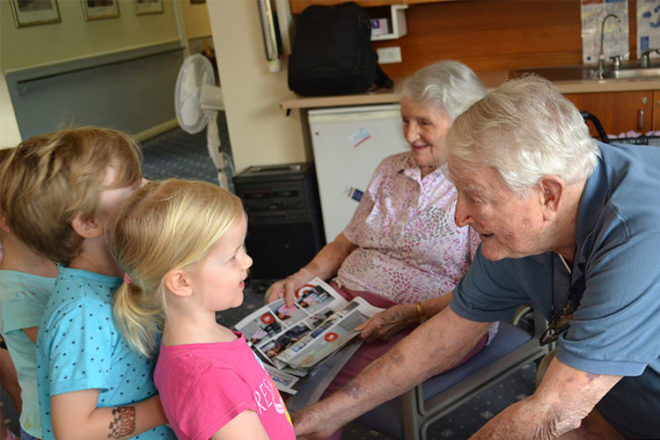 The elderly residents of Sydney's RSL ANZAC Village gently nudge each other, whispering, "Wake up, the kids are here" Their eyes wide, their smiles even wider as the preschoolers that share their village come in to visit their 'grand friends'.
Little Diggers preschool is one of the most unique kindergartens in Australia – it's located in the same grounds as an aged care facility. While generations separate the residents and preschoolers, each is learning life lessons along the way.
A preschool like no other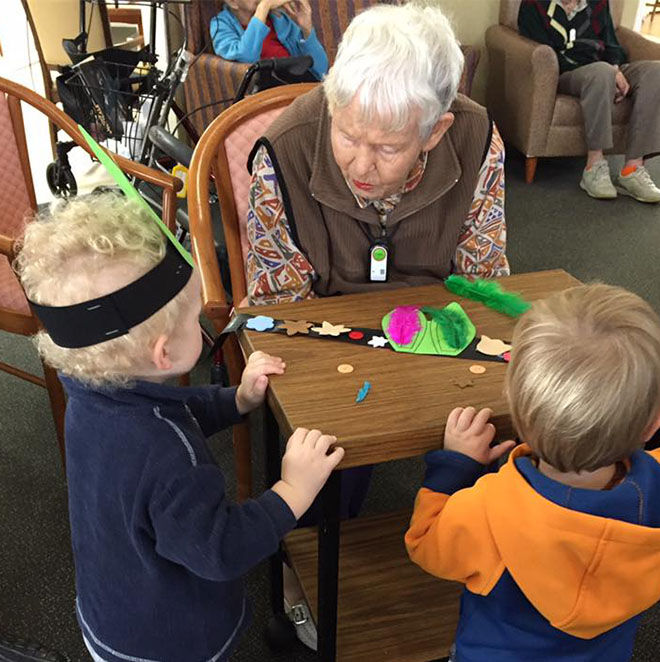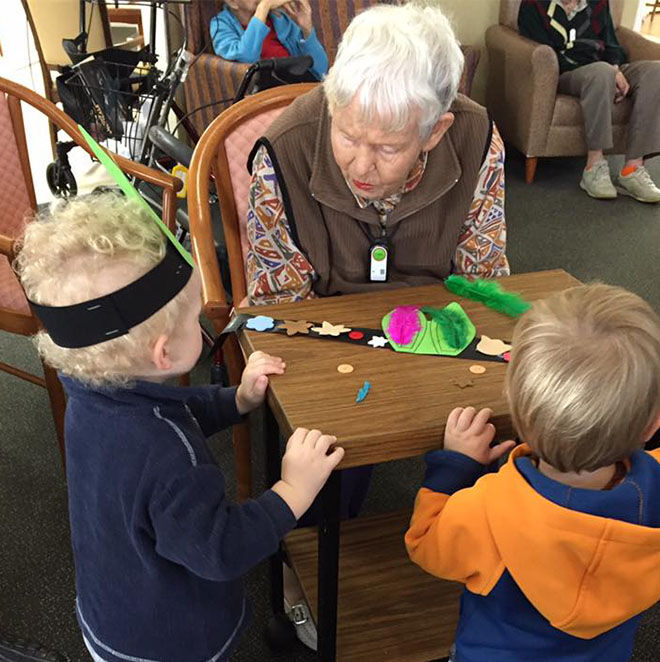 Director Lynda Watton has been at the helm of the unique facility since it opened on the Northern Beaches of Sydney almost five years ago.
"We are lucky enough to have passionate and dedicated educators, who take our children out to explore the grounds, plan fun and educational experiences and go and visit the elderly, who we affectionately call our 'grand friends'," Ms Watton told Mum's Grapevine.
"We put a lot of effort and time into creating our grand friends' program, where both young and old can enjoy an activity or a chat together. Our children get the best of both worlds."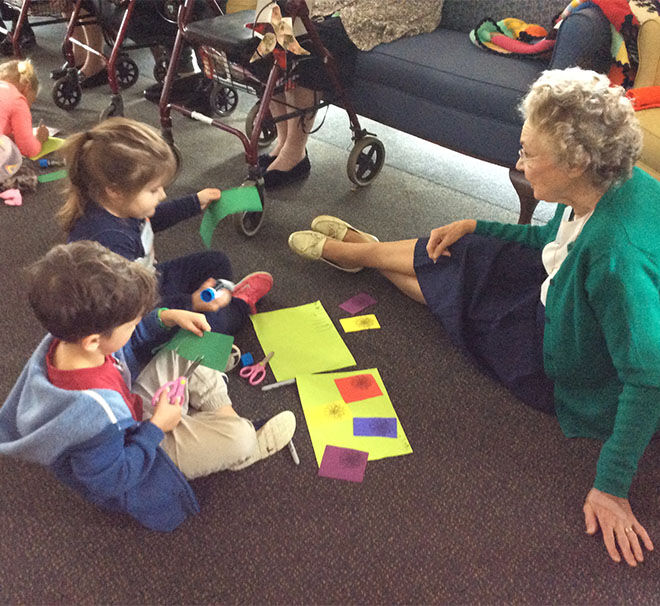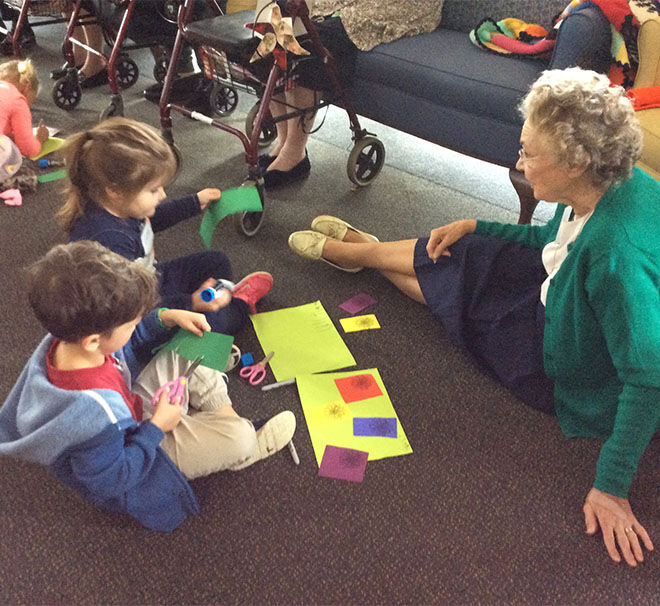 More than anything, kids want our time and our care and Little Diggers gives its children an avalanche of both, thanks to the RSL residents.
"Whether it be a gentle high-five, a hand holding moment or a story shared between partners, everyone gets something out of a visit. For the children it is bridging the age gap between the young and the old, we have learnt how to respect the elderly residents. We make sure we let our grand friends go first, we move to the side when they are scooting past, or we say a kind hello."
Friendships to last the ages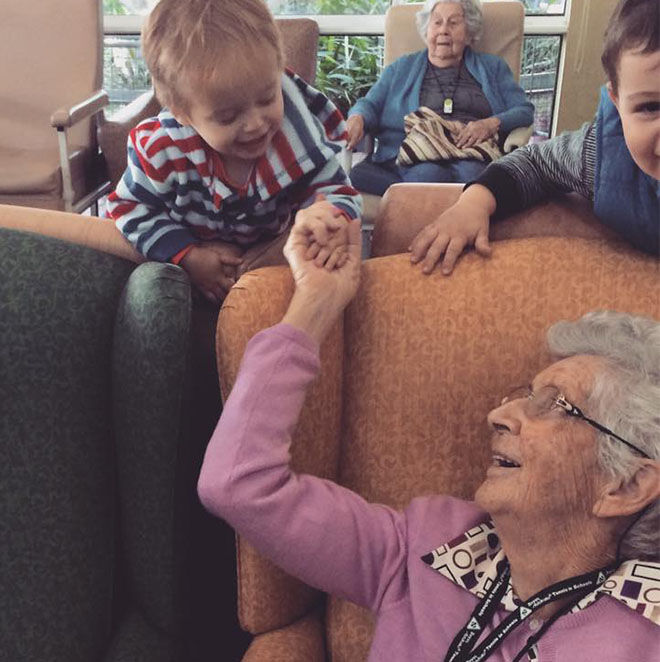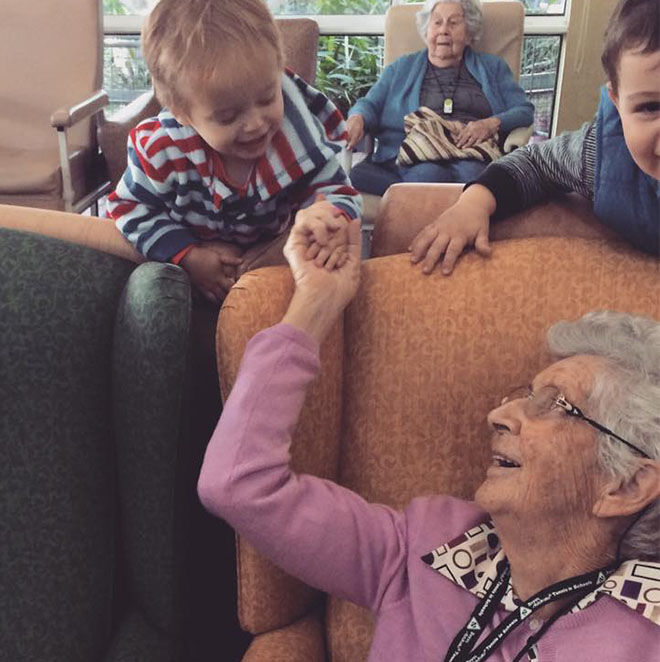 But it's not just the kids who benefit from these beautiful friendships.
"We visit them just after their morning tea, and they are always waiting for the children to arrive. We try to plan experiences that foster interactions, working on a clipboard that can be balanced on the grand friend's walker so that they can have a face to face conversation or, sitting side by side at a table and sharing a game of bingo (a game loved by both age groups.) The main benefits of our visits are relieving stress, loneliness and boredom for the residents."
The kids also get to take part in ceremonies that give them a sense of Australian pride and history.
"Belonging to RSL LifeCare is a special opportunity in itself. Annual planned celebrations and commemorations like Anzac Day and Remembrance Day, where our three classrooms (including the babies) are invited to participate are particularly special.
"We spend up to a month planning and preparing flags, Anzac-related crafts and talking to our grand friends about their experiences. We also have access to the amazing war museum, where the children can see real-life artefacts and uniforms from the nurses and soldiers."
Classes go on weekly visits to care homes, where they play games, make crafts and water the gardens. The entire facility is a child's dream come true.
" The village itself is a wealth of experiences; army tanks make awesome play equipment, the paved walkways make scooter riding and bushwalking a breeze, picnic meals on the grassy areas, walking through the grand friend's lunch building, performing songs and dances on their stage."
We just adore this amazing facility!
For more unique early learning centres, take a look at Denmark's forest kindergartens and the kindergarten of the future Fuji Kindergarten.