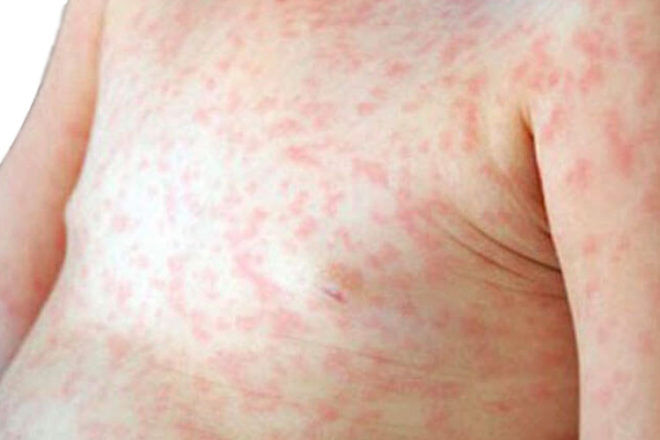 UPDATED: Authorities have updated the number of cases involved in the Victorian measles outbreak to 11, with four more cases confirmed over the weekend.
It comes after parents were urged to be on alert for any symptoms of measles in their children late last month, after three previous confirmed cases in Victoria.
The Department of Health has released a list of locations where they may have contracted the infection, including several places in Melbourne and Ballarat. Authorities are warning that measles has a long incubation period, so parents need to be aware of the locations and dates involved.
Here's what you need to know.
Where are the locations?
The eight new cases are being linked to the Collins Square building in Collins St at Docklands.
These new confirmed cases also visited the following locations: 
Metro trains – North Richmond, Southern Cross, Murrumbeena and South Yarra Stations (September 20-22).
The Australian Ballet's Alice's Adventures in Wonderland at the State Theatre (September 22).
MCG – AFL Preliminary Final (Gate 5, Level 4); Greville St, Prahran; Chapel St, Windsor; Maribyrnong Boathouse, The Boulevard, Moonee Ponds (September 23).
Melbourne International Airport, Qantas Club Lounge (8-10am); Qantas flight QF 29 to Hong Kong; KMart Moonee Ponds; DFO Essendon (September 24).
Melbourne International Airport, Jetstar flight JQ 26, arriving from Denpasar (September 20).
Measles has an incubation period of seven to 18 days so people who visited these locations may develop symptoms up until mid-October.
Of the three previously confirmed cases, Victoria's Deputy Chief Health Officer Brett Sutton explained that one case caught the infection locally, while the second may have become infected locally or overseas. The third case was infected in Romania.
"As measles is highly infectious through airborne transmission, other secondary cases (either related to the unknown source or the two diagnosed cases) could occur in susceptible people," Mr Sutton said.
Places where these two locally acquired cases may have been infected include:
(Between the dates of August 20 and September 1)
Metro trains (Frankston line) between Armadale and Southern Cross
Southern Cross Station & Armadale Station
St Kilda Library (specifically August 25 and August 30)
Collins Street, Docklands
At risk people who visited these places may be at risk of measles, and may have symptom onset anytime from September 5. Authorities say it's likely there are other locations around Melbourne were the cases where exposed.
These two cases spent time whilst infectious at the following locations:
September 6 – IKEA Richmond (11am – 1pm)
September 7 – Spotlight Carnegie (11.30am – 12.30pm), Chadstone Shopping Centre – specifically Kmart (12pm – 3.30pm)
September 8 – Federation University, Ballarat (Mt Helen campus)
September 9 – Chadstone Shopping Centre (10am – 1 pm)
September 11 & 12 – Frankston Train line (peak hour travel time) – Armadale Station and Southern Cross Station, Collins St, Docklands
September 13 – Ikea Richmond (11am – 1.30pm)
At risk people who have attended these places are at risk of measles and may have symptom onset anytime from September 13 until October 4.
Melbourne Airport concern
The third case contracted measles in Romania, and was infected while travelling on flight QR222 departing Romania (Bucharest) on 12 September via Doha Qatar, arriving Melbourne on 13 September on flight QR904. People from this flight or Melbourne airport may become unwell with measles symptoms anytime from now until September 30.
What you need to know
Measles has an incubation period of between 7 and 18 days (average 14 days from exposure to rash). That means anyone who may have been exposed may still not show symptoms until October 4.
Who is at risk?
Children younger than five-years-old.
Anyone with a chronic illness.
Anyone who hasn't been immunised.
What are the symptoms?
First symptoms include fever, a severe cough and conjunctivitis (sore, red eyes).
General discomfort, illness or lack of wellbeing (malaise)
Runny nose
Red and bluish spots inside the mouth (Koplik's spots)
Red and blotchy skin rash that appears first on the face and hairline, and then spreads to the body and usually lasts more than three days.
How does measles spread?
The virus is usually spread when someone swallows or inhales a cough or sneeze droplets from an infected person.
However, you can also catch it from touching surfaces that have been contaminated by someone who has the measles – the virus in mucus and saliva droplets stays alive for several hours.
If you're concerned that you or your children may have been exposed, you can get more information from the Department of Health.