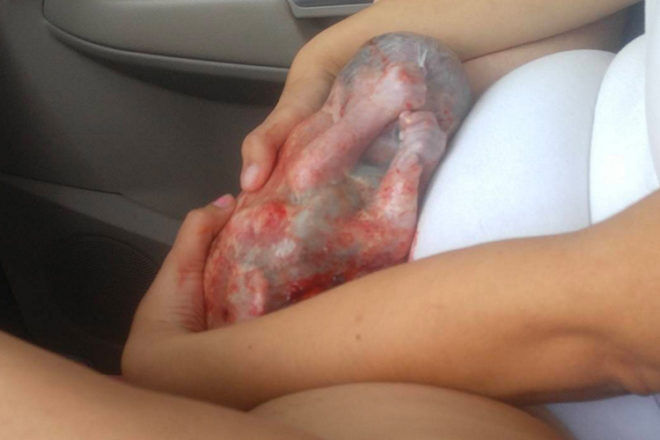 This amazing mumma went into labour early and delivers baby in the car, on the way to the hospital. But that isn't even the most incredible part of her birth story.
Raelin Scurry was just 29 weeks pregnant when she started having contractions, dismissing them as Braxton Hicks. But things soon ramped up, and the mum-of-one rushed around packing a bag for her daughter and taking her to a friend's place to get looked after.
She then began heading to the hospital with her fiancé. But the couple didn't get far.
'I was so scared'
In an Instagram post, Raelin explains that before long she couldn't control her urge to push.
"I called 911 because I was so scared. They couldn't understand me between the screams with contractions. So I handed the phone to my fiancé. I pulled my pants off and reached down, sure enough, his head was right there. I pushed one time and my miracle baby was here."
A 'miracle' baby
As if this birth wasn't amazing enough, there was still one more surprise.
"When I looked down I realised he was still completely wrapped in the amniotic sac. The dispatcher told us to pull over. But I knew we would make it to the hospital before they would make it to us. So I told Ean to keep driving. I was so scared.
"At first the baby was still and all I could do was pray he would be okay. And then I rubbed his face with my thumb and he pulled his little hands and feet up to his face as if he understood my prayers and wanted to reassure us he was okay." 
The proud mumma says it was about seven minutes from tiny baby Ean Jamal being born to their arrival at the hospital. Even though he was born weighing just 3lb 1oz, the little man Raelin calls her 'miracle' is doing well.
Want more real mum stories? Check out our article showing the moment three other mums delivered their babies in the car on the way to the hospital. Enjoy xx