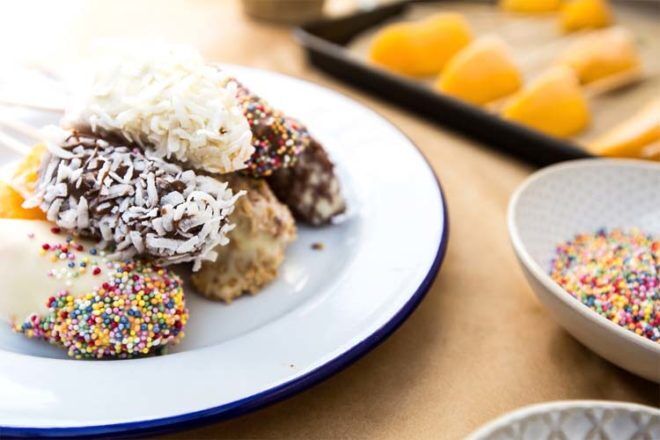 Give the kids a mouthful of this heavenly mango treat and watch them float away to a tropical island (ok, not really but kids have awesome imaginations).
You can whip up these chocolatey mango morsels for the kids lickety-split – do the freezer part overnight so they're ready to decorate when the kids are itching for a snack.
These refreshing dippers are not only lip-smackingly good, the kids can help make them – bonus.
Ingredients
2 large Mr KP Mangoes (1 mango makes 6-8 pops)
100g milk cooking chocolate
100g white cooking chocolate
Sprinkles, desiccated coconut, or nuts (optional) to dip
Method
For the frozen mango wedges
1. Rinse the mango, then slice through the curvature of the fruit, either side of the pit.
2. Cut each cheek into wedges by quartering lengthways, then remove the skin. The wedges need to be quite generous so slicing into thirds may be more appropriate depending on the size of the mango.
3. Insert long wooden skewers into each mango quarter.
4. Spread them evenly on a baking tray lined with non-stick baking paper.
5. Freeze for 3-5 hours.
To melt the dipping chocolate
Once the wedges are frozen solid, prepare the melted chocolate.
1.Break the milk cooking chocolate into chunks and place in a microwave-safe bowl.
2. Heat on medium-high for 1 minute, then stir.
3. Repeat, heating at shorter intervals of 10 to 15 seconds, stirring in between.
4. Continue until the chocolate has melted to a smooth consistency, taking care not to overheat it as this will burn the chocolate.
5. Repeat this step for white chocolate.
For the frozen mango and chocolate dippers
Cover your workspace with non-stick baking paper.
2. Set out separate dipping bowls of white chocolate, milk chocolate, and each of your dipping decorations (sprinkles, coconut and nuts work best), then remove the mango from the freezer.
3. Working with one dipper at a time, dip the mango into the chocolate, then coat with dipping decorations.
4. Repeat using different combinations of chocolate and dipping decoration for each.
Note: If the mango pops become too soft to work with, return them to the freezer until solid again. Pops may also need to be returned to the freezer before serving.
---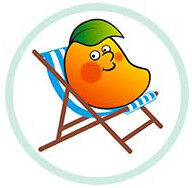 This delectable mango recipe comes from the fabulous folk at Mr KP Mangoes.
Thanks to that gorgeous warm Darwin weather you can welcome Mr KP Mangoes into your fruit salad nice and early – you'll see them popping up in the supermarket from September.