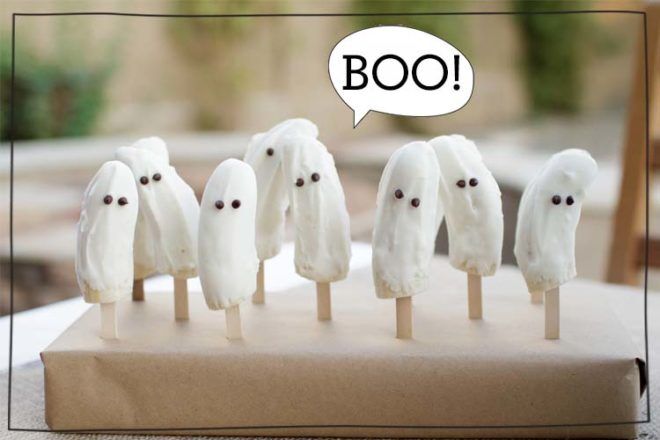 Take a bite, if you dare – these terrifyingly tasty lunches will give you a scare! Ghostly bananas for ghoul school, creepy cheese and mischievous monster sandwiches – something wicked this way comes …
While the kids' lunch boxes can hold horrifying surprises after the school holidays (forgotten Vegemite sandwich anyone?!), there are a whole bunch of dastardly delights that are all in good fun, and make for a sneaky, scary lunchtime surprise.
Here are 14 spooktacular Halloween lunch box snack ideas that are frightfully easy to spook up the kids' lunch at Halloween.
Mischievous monster sandwiches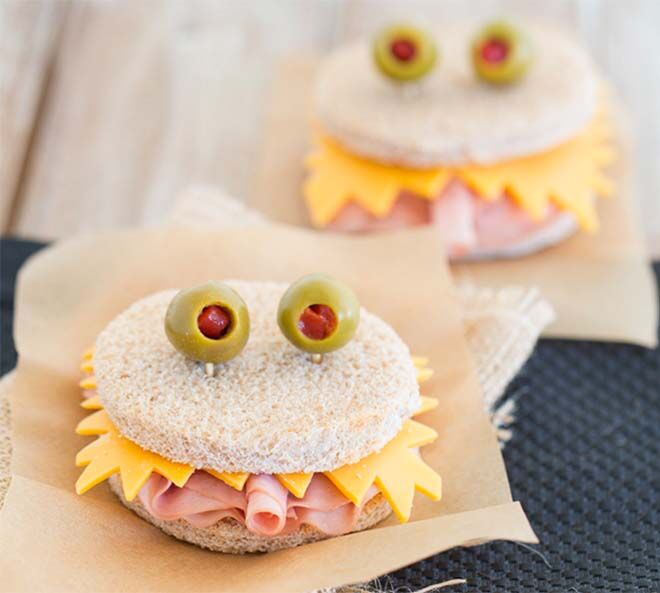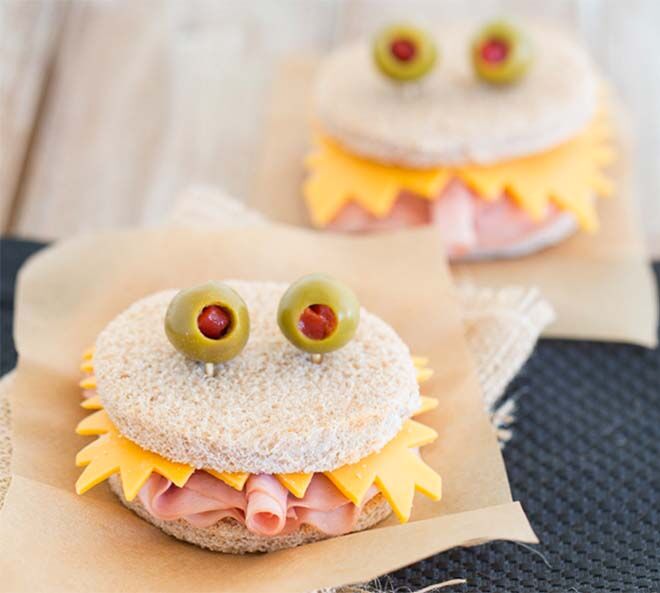 A monster sanga is one of the easiest ways to inject a bit of Halloween spirit into the kids' lunch. Just cut and shape the kids' favourite sandwich fillings, and use olives, cherry tomatoes or cut grapes for eyes  (via Chocolate & Carrot).
Juicy Jack O'Lanterns

Mandarins make the perfect mini Jack O'Lantern pumpkins. With nothing more than a Sharpie you can give lunch a scary zing. (via A Designer Life)
Cheeky cheese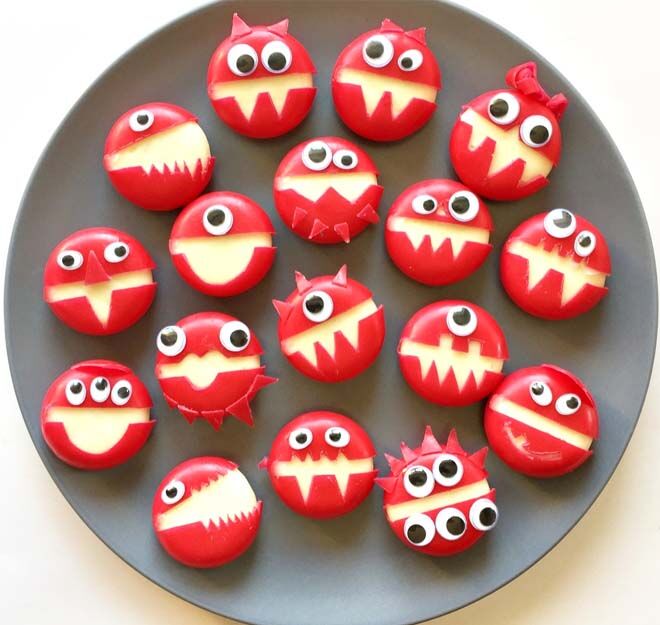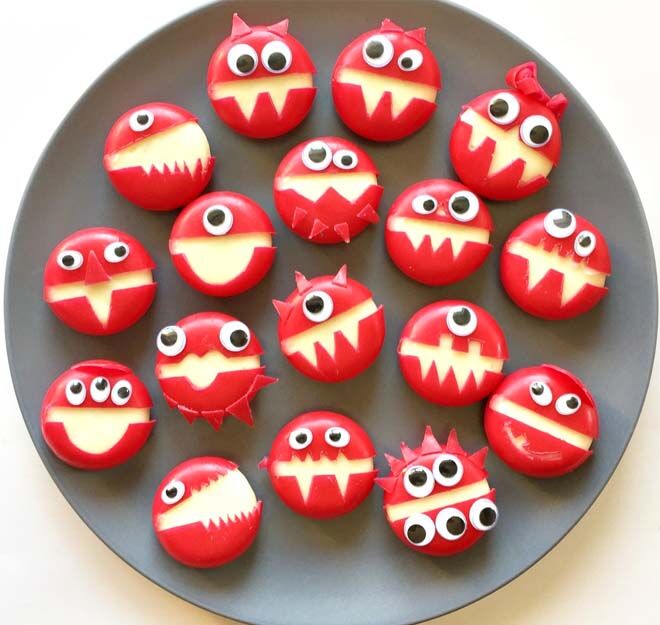 Sweet baby cheeses these are adorable! Brush up on your knife skills and give the kids a giggle with these clever little cheese monsters made out of Babybel mini cheese.  (via Schwesternliebe & Wir)
Perilous pizza

Take a bite – if you dare! Pre-prepped pizza are an easy lunch box treat, just use a halved English muffin, or cut rounds out of a flatbread – and let your imagination run wild. (via Recipe Runner)
Sweet, salty, ghostly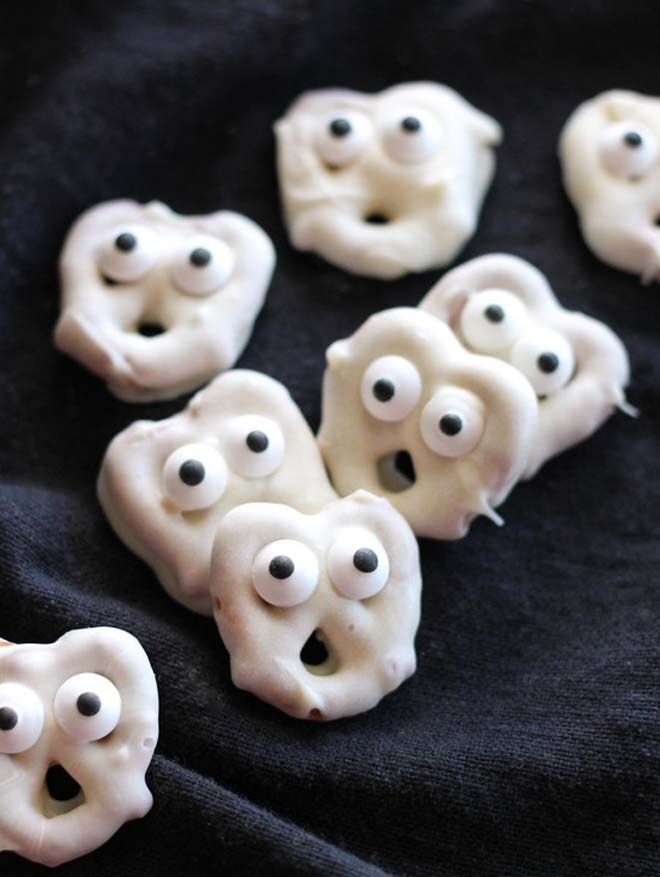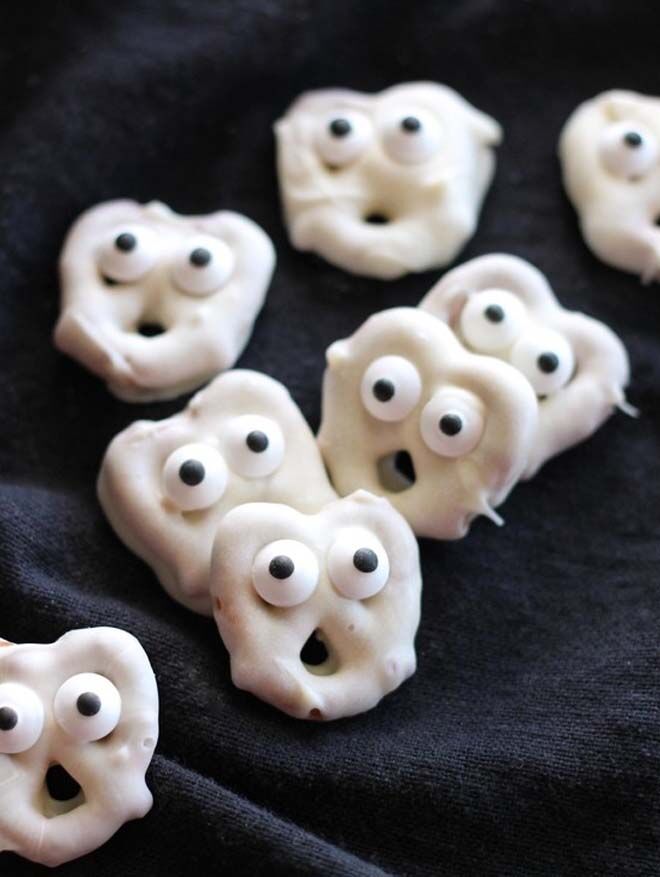 These white chocolate coated pretzel ghosts are almost too cute to pop into your mouth. Almost. (via Dessert Now Dinner Later)
Frankenpear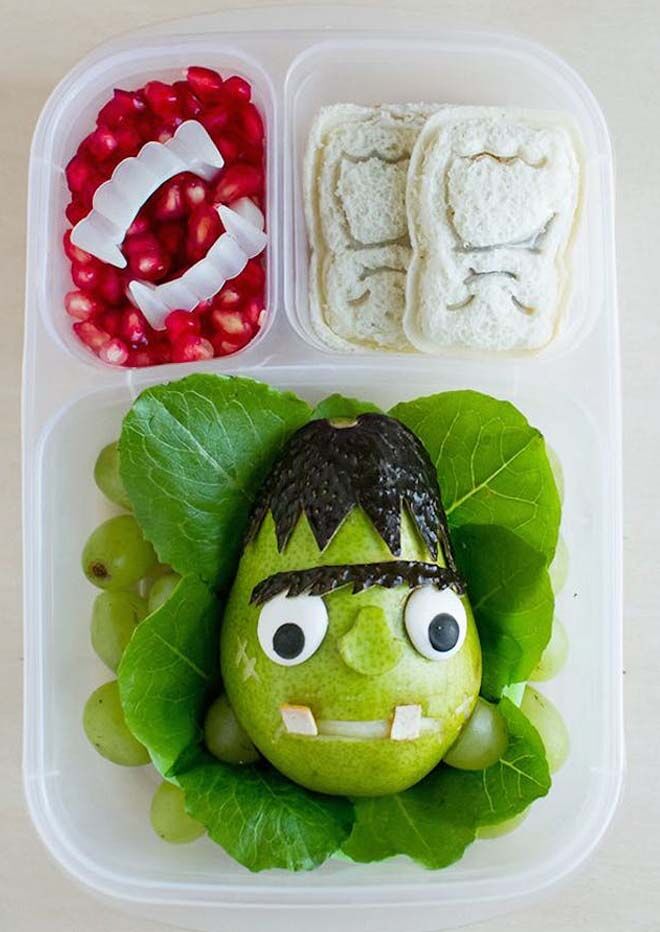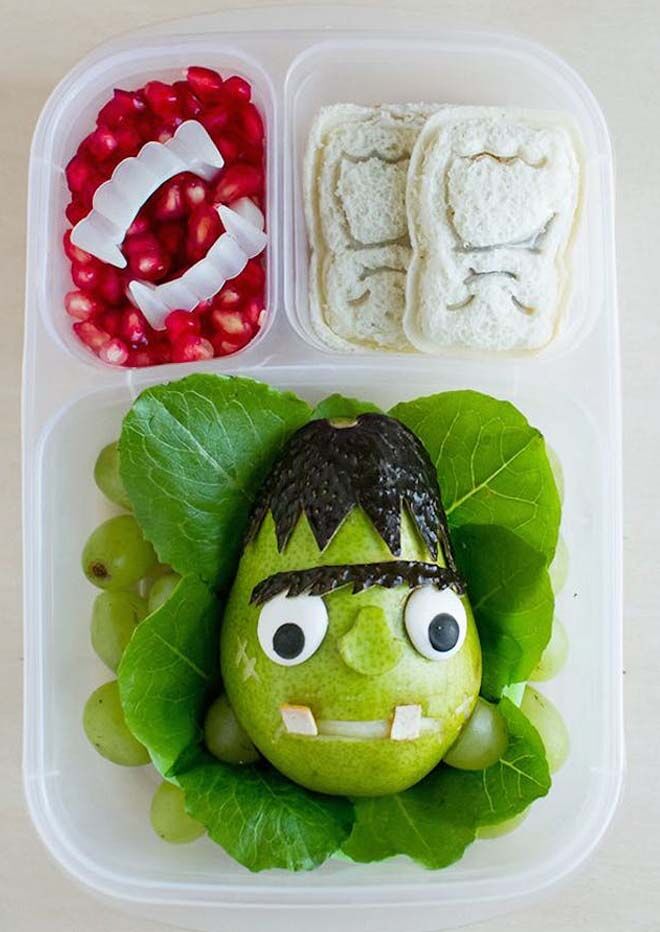 He's alive! Not quite, but this little guy looks so realistic the kids will be ghoulishly giggling their way through lunch. Frankenpear's hair and monobrow are made from avocado skin, he has lolly eyes and a few deft swipes of a carving knife.  (via One Crafty Thing)
Eye see you!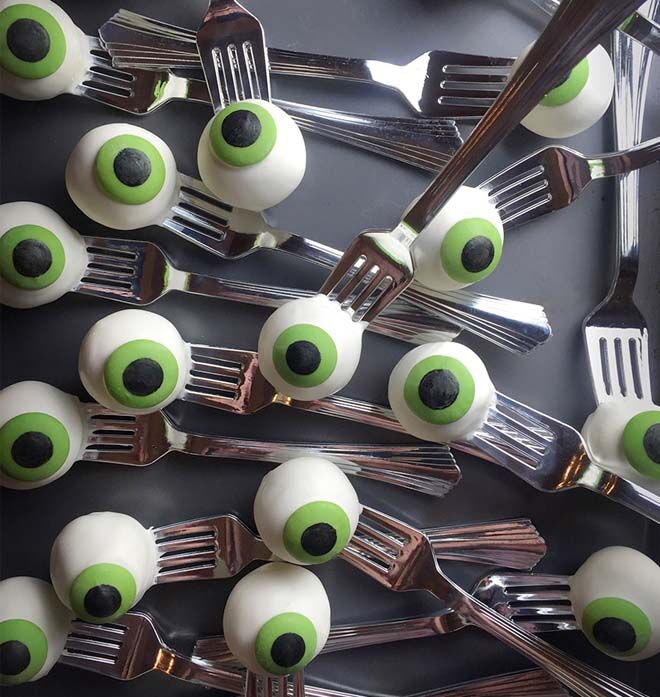 Kids already think mums have eyes on the back of their heads, so why not in their lunch box as well? These little guys are cake pops, decorated to look like eyeballs and them pierced onto plastic forks. (via Bakerella)
Bento boo!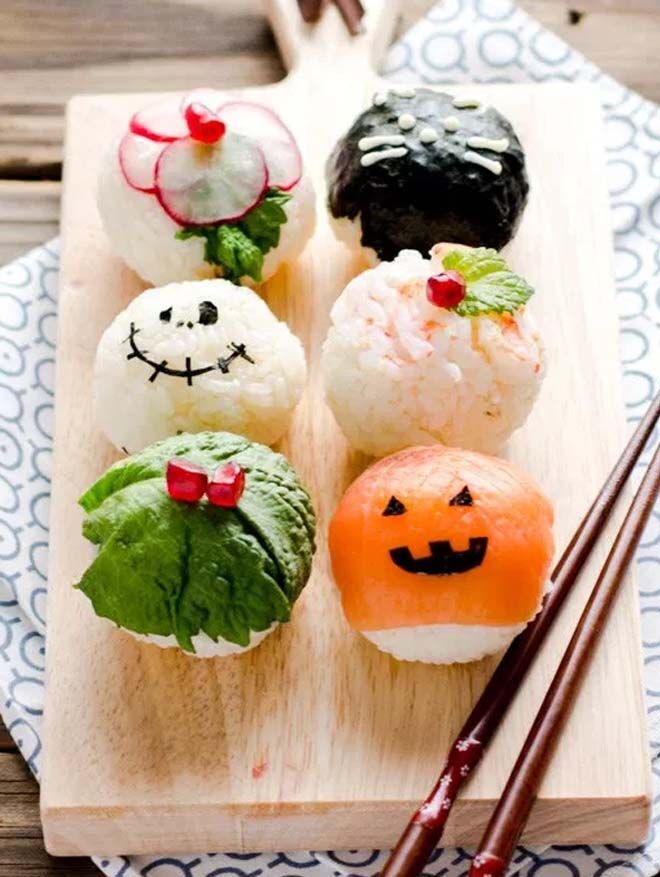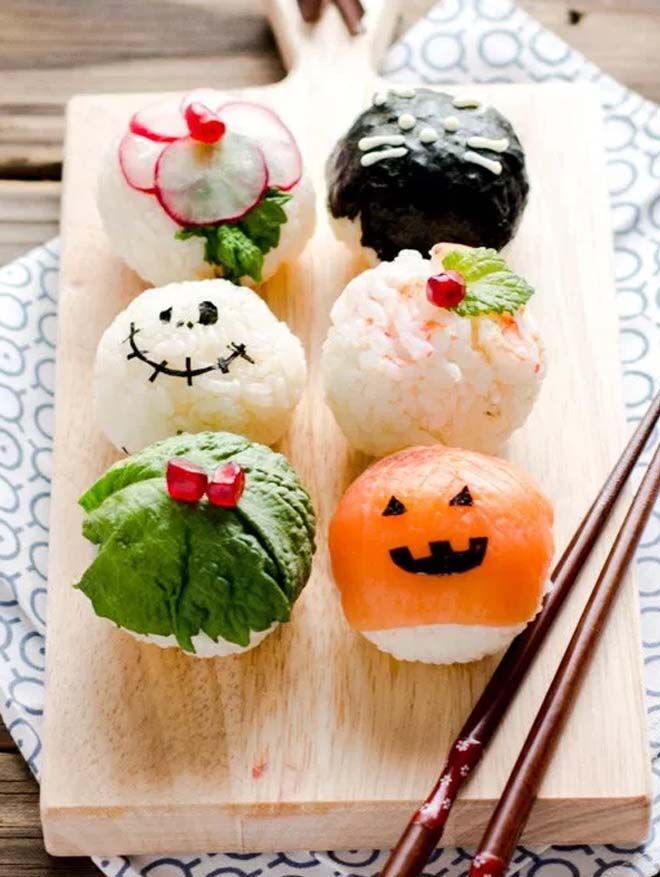 Sushi rice and nori sheets can be crafted into the cutest little balls of beastly treats. (via Chopstick Chronicles)
Apple of mummy's eye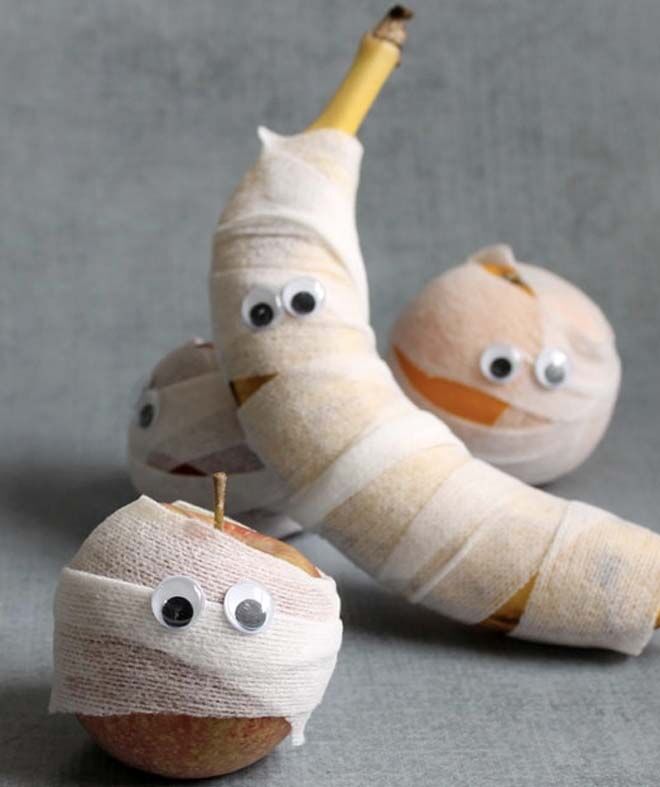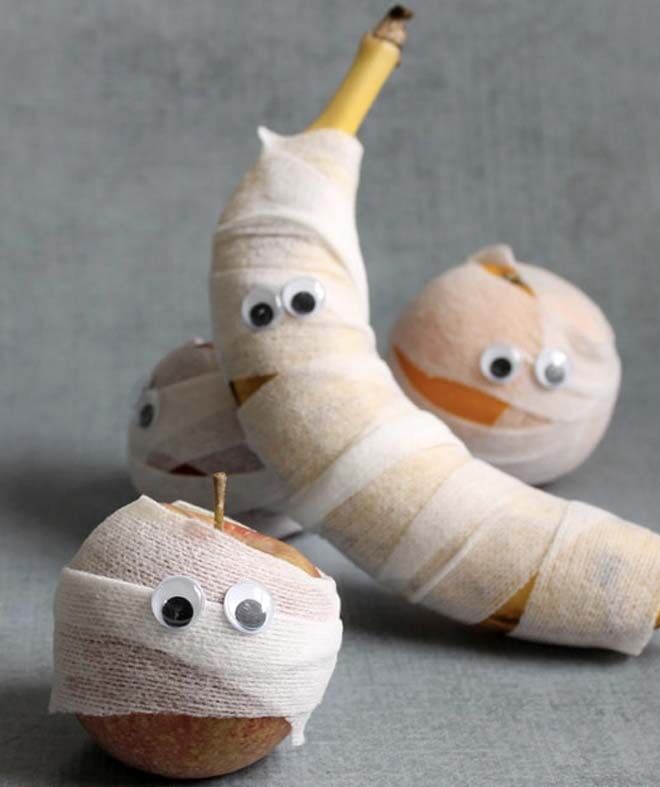 Halloween lunch box treats don't come any easier than this. Just wrap some gauze around fruit, add googley eyes and there's a boo crew ready for lunchtime wickedness. (via The Decorated Cookie)
Sticky monster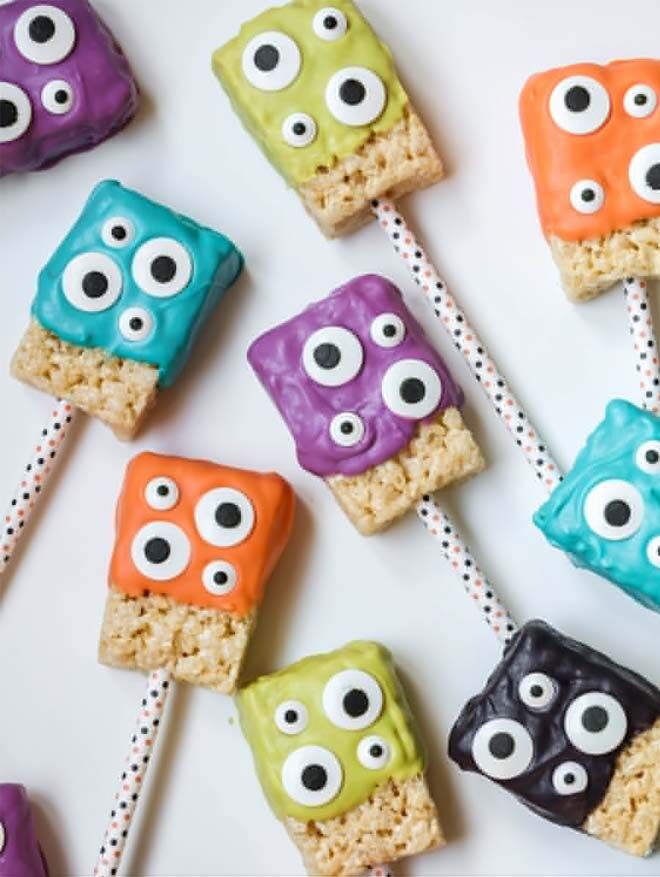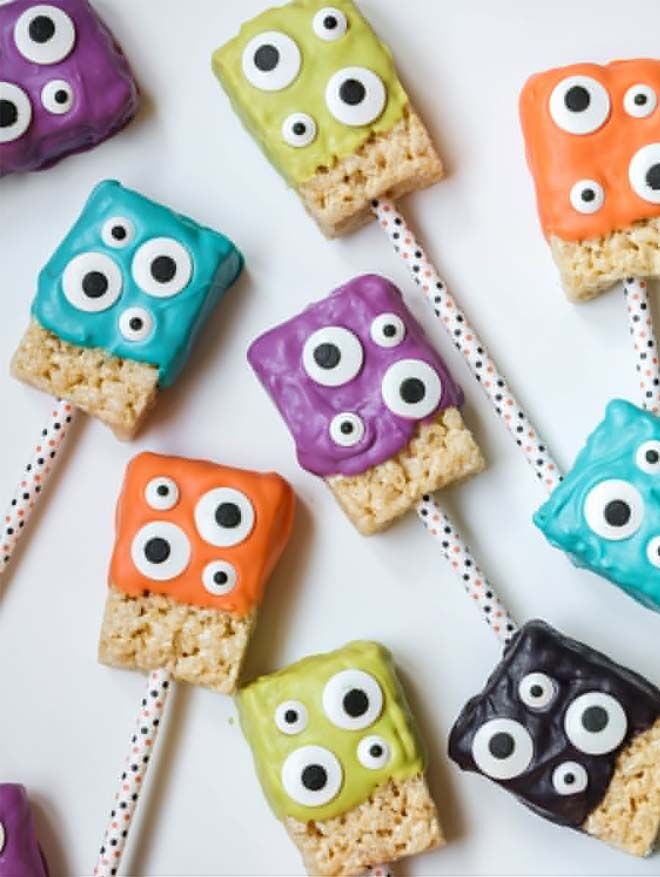 You can make rice crispy treats yourself, or take a super shortcut and just use bought LCM bars, dip them in coloured chocolate and add lolly eyes for some magnificently sticky monsters. (via lil' luna)
Wrap it up Frankie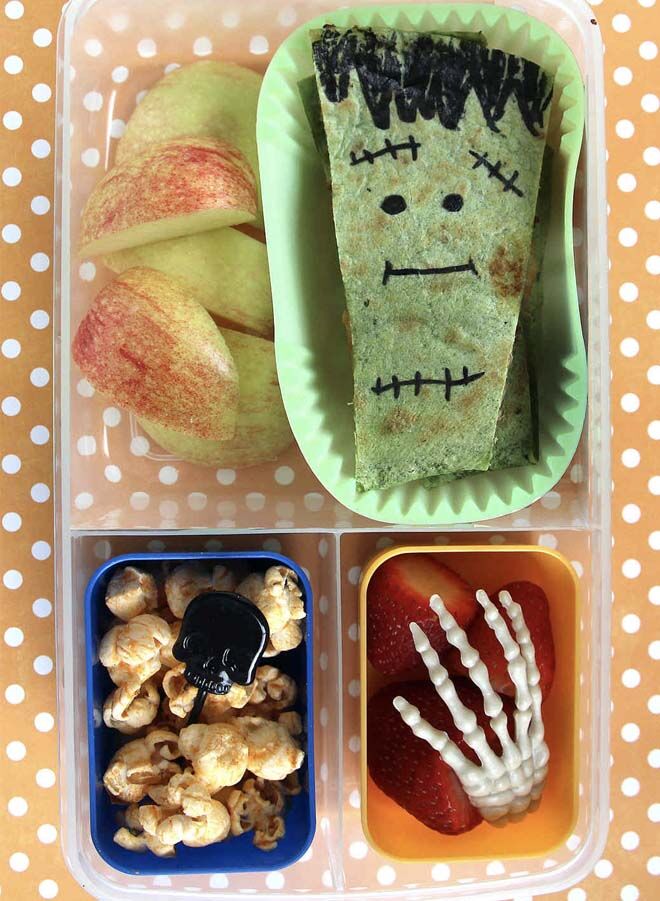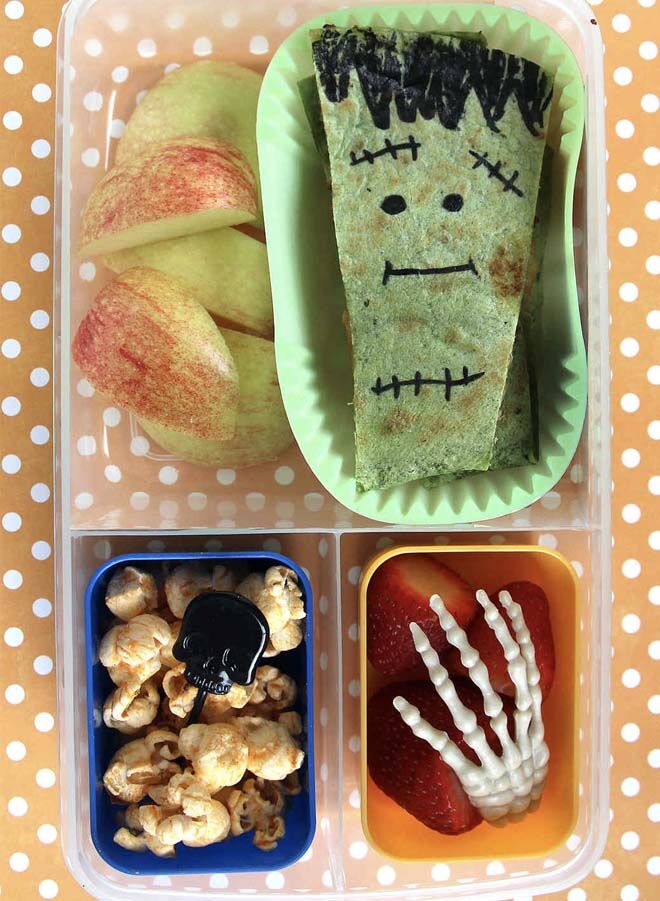 Spinach flatbread is just made for Halloween lunches. Make a wrap and decorate using food colouring markers – or wrap Frankenstein in cling wrap and draw on that using a Sharpie. (via Martha Stewart)
Beastly bark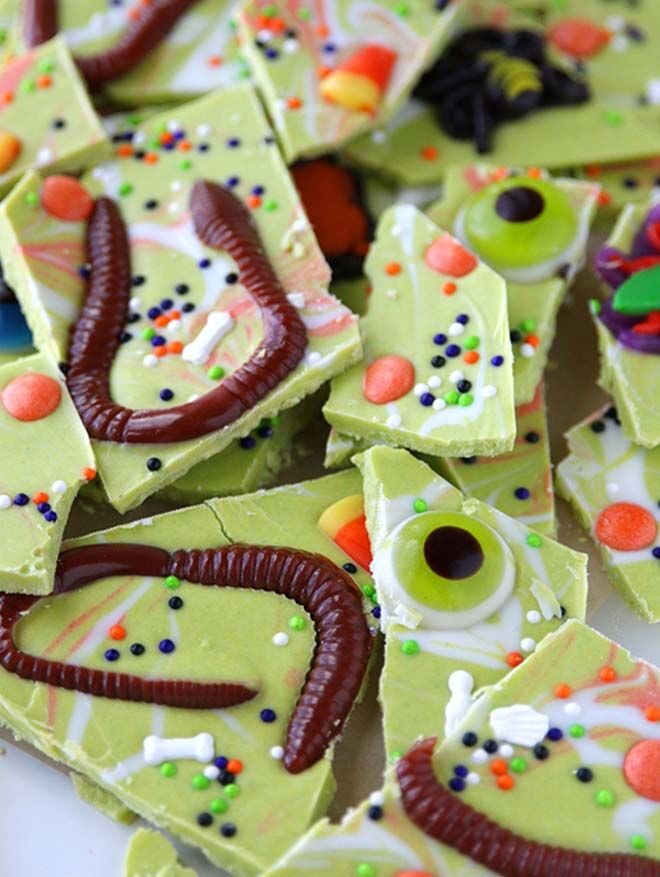 Scary lollies and chocolate – the kids will be grossed out for only seconds before devouring this Halloween bark. (via Living Locurto)
Petrifying Pocky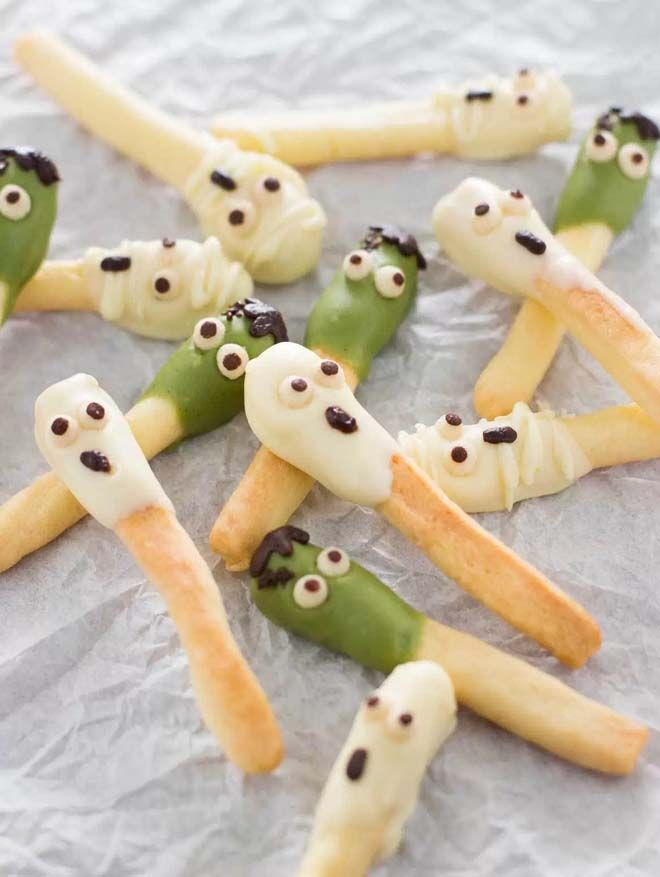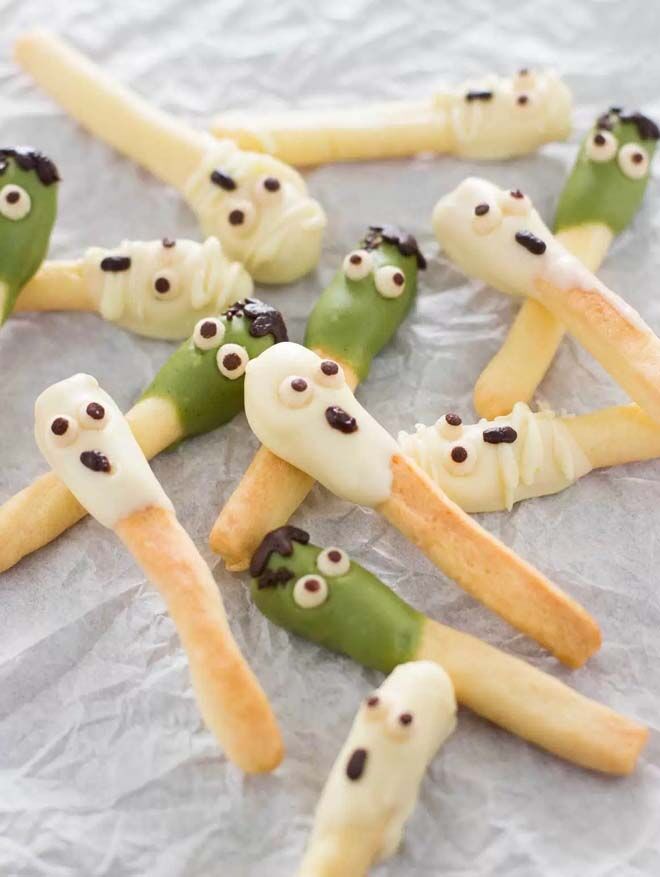 Pocky are little Japanese treats that you can snap up at Daiso, or just use bread sticks. Different coloured chocolate is all you'll need to create these creepy creatures. (via Chopstick Chronicles)
Boo-nanans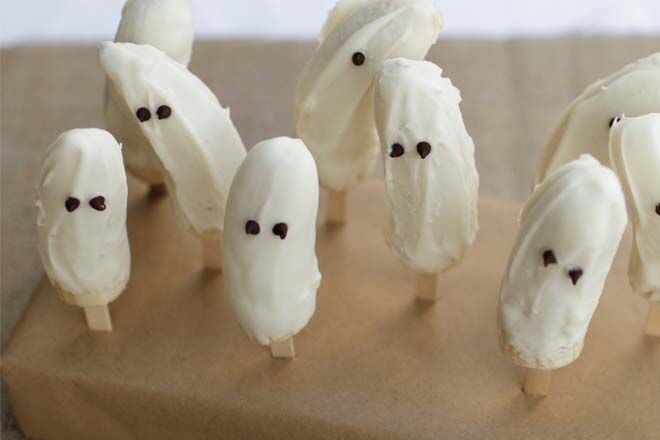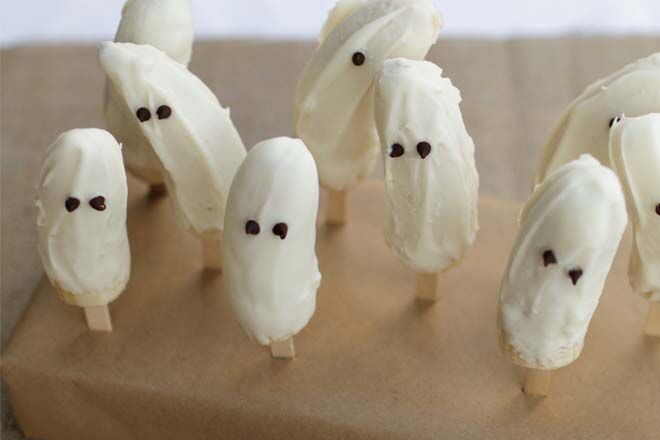 Frozen bananas, dipped in chocolate, decorated with chocolate. Frighteningly good.  (via Paging Supermom)