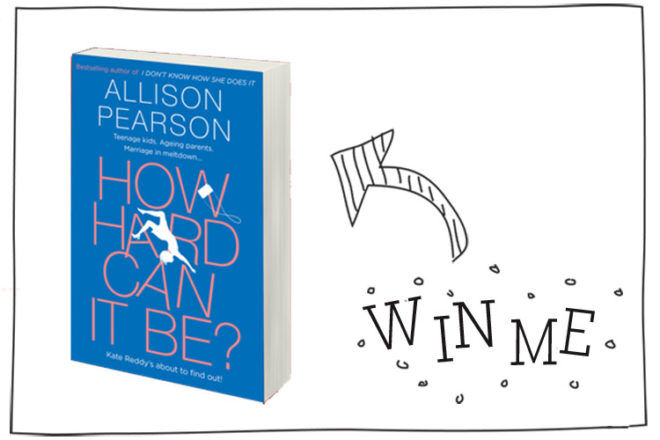 This competition is now closed. 
Drum roll will the following please take a bow: A. Pigram (VIC), A. Guthrie (NSW), L. Franceschini (SA), M. Bloomfield (VIC), N. Goddard (NSW), T. Blayney (NSW), B. Landis (QLD), G. Haynes (WA), L. Smith (NSW), S. Hopkins (VIC).
Our search for the ultimate summer page-turner has come up with a brilliant read that will have mums nodding in agreement with a character we know all-too-well. Ourselves.
From the author of I Don't Know How She Does It (which was turned into a gorgeous movie starring Sarah Jessica Parker) comes a book you need to add to your summer reading list. And we happen to have 10 copies to give away.
How Hard Can It Be?
by Allison Pearson
The novel's heroine returns 15 years after I Don't Know How She Does It and pops up in How Hard Can It Be?, negotiating her way through the many and conflicting demands of her family and work life. You'll sympathise and then feel smug that Kate's struggles are not your own.
We all know how tough things can be being mum to small children, but what happens later when they grow up? When your parents get old? When you feel redundant at work? Women the world over are living variations of Kate's life so you'll laugh along with her and enjoy feeling part of a tribe going through the same mid-life scramble.
A coming of age story for turning 50, it's a book about finding out who you are and what you need to feel alive when you're used to being your own last priority. Ironic, really, that mums are usually too busy to read a book – but when you have a moment to yourself, put your feet up, grab a cuppa and have a read. You deserve it.


Ten lucky Mum's Grapevine subscribers will each win a copy this springs must-read How Hard Can It Be?  Entry is open to all Australian Mum's Grapevine newsletter subscriber.
Competition ends September 29, 2017.