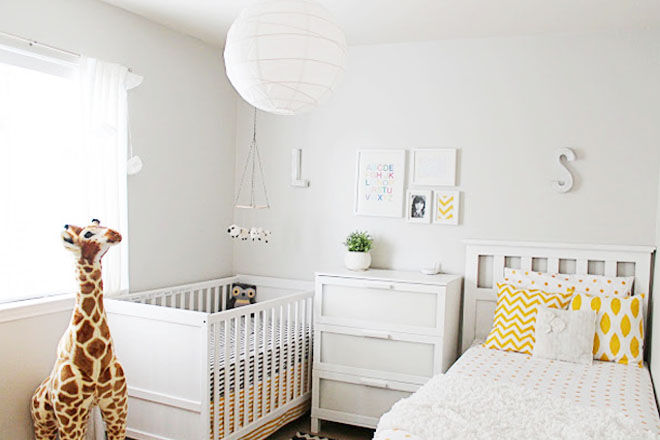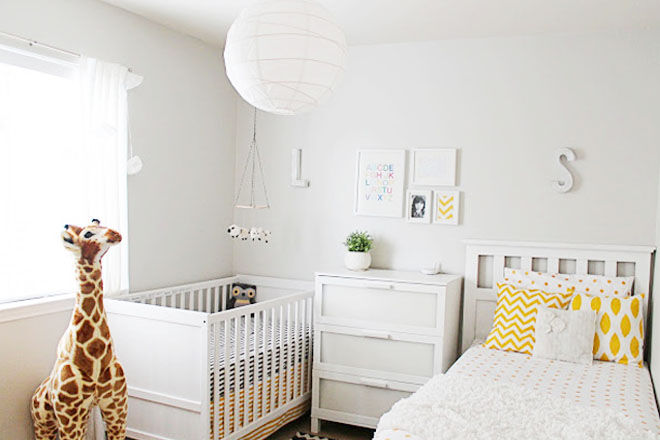 Putting a baby and older child in the same room can be a wonderful way to save space, build a bond between siblings right from the start and, hopefully, set up a sleep routine that both little ones will stick to.
If you are considering a dual nursery/bedroom for your pair, then have a look at these stunning shared bedrooms for inspiration.
They'll show you how a single bed can work with a cot to create the soothing space babies and toddlers need for shared sleep time success.
Pick a palette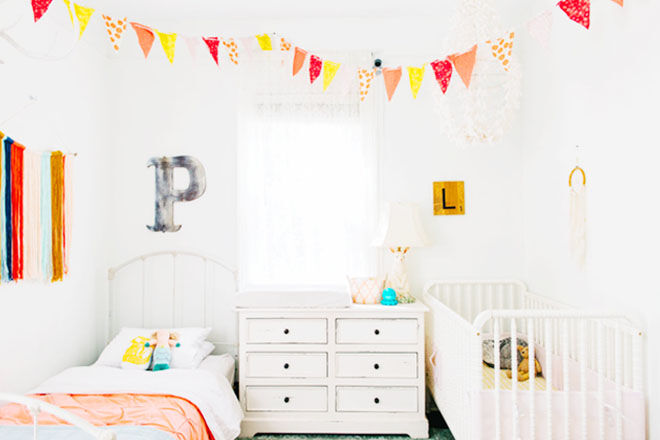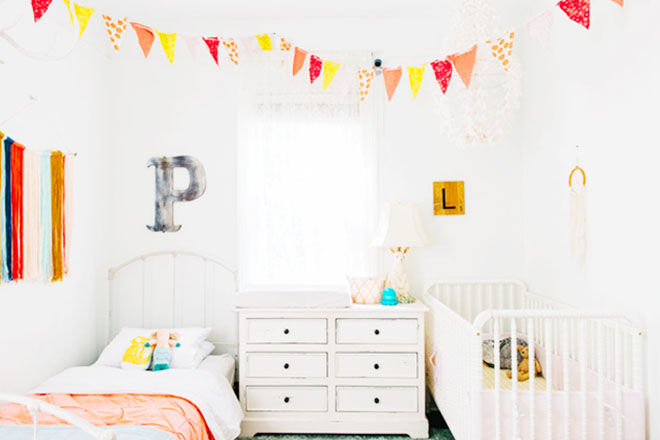 By sticking to a defined colour palette, this white room has been transformed with a few whimsy touches, like the bunting flags and vibrant wall hanging.
Separating the single bed and cot with a key piece of furniture is a brilliant way to divide the room while tying all the individual elements together nicely. (via Project Nursery)
Adventure awaits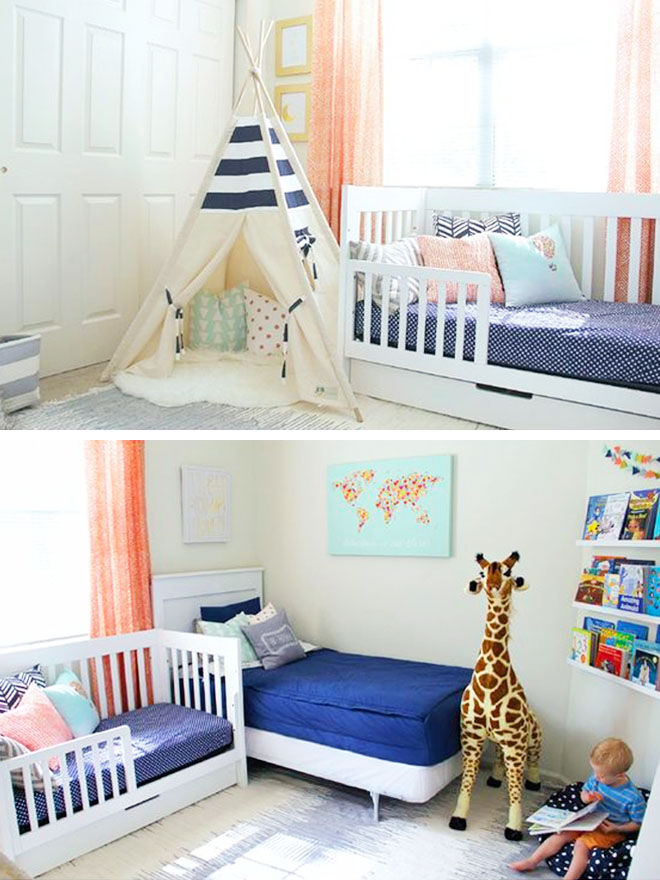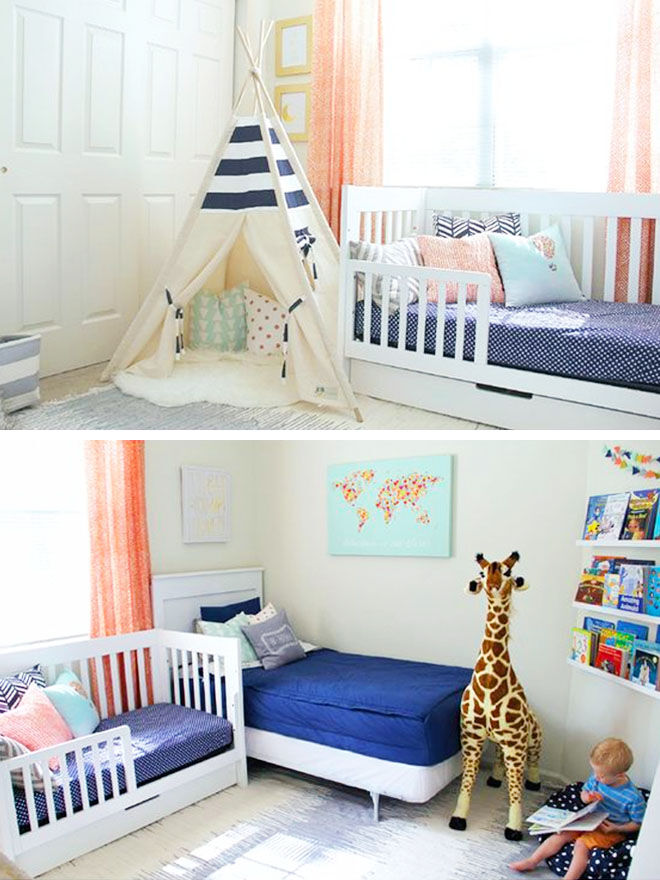 Tight spaces don't have to feel tiny. With the clever placement of furniture, this boys bedroom easily accommodates both boys for sleep and play.
Adding built-in bookshelves to the bare walls is a great hack that will allow more floor space for the kid to roam around.
Pure and simple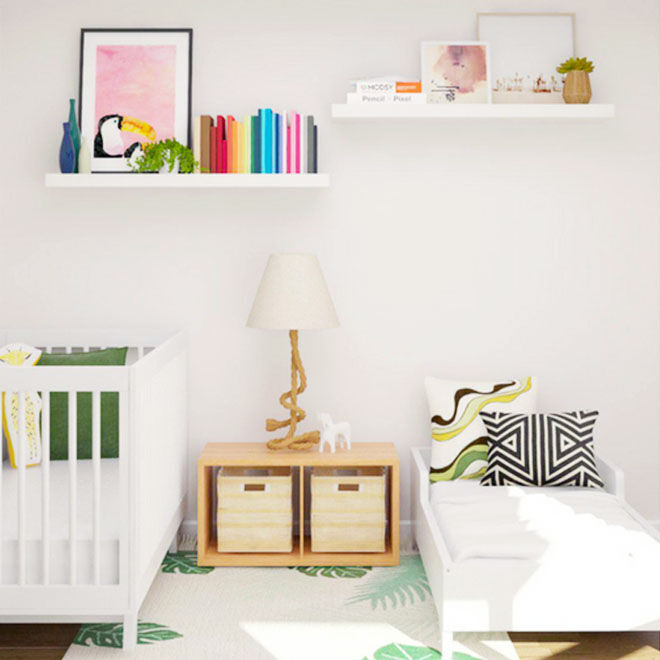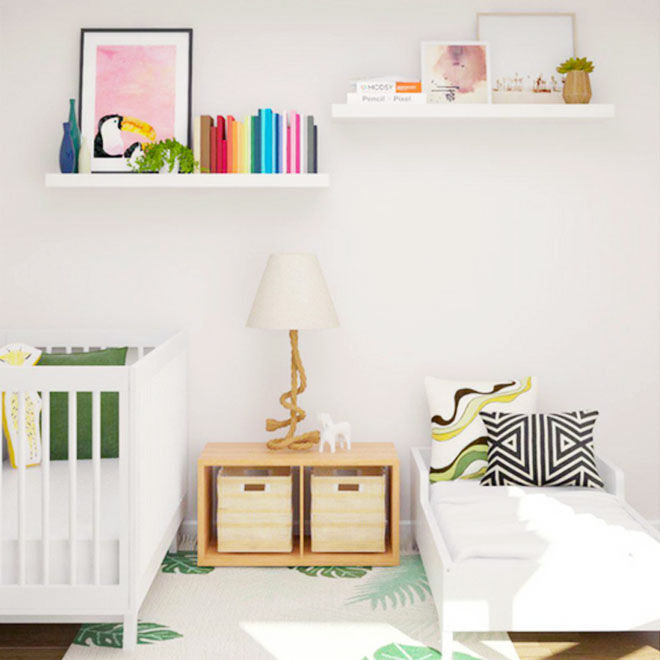 We love the simplicity of this tropical-inspired nursery. By keeping the big-ticket items such as the bed, cot and shelving all white it creates an illusion of space in this shared bedroom.
There's an injection of playfulness too from the pops of colour and prints in the soft furnishings and a groovy reading lamp for bedtime stories.
Mellow yellow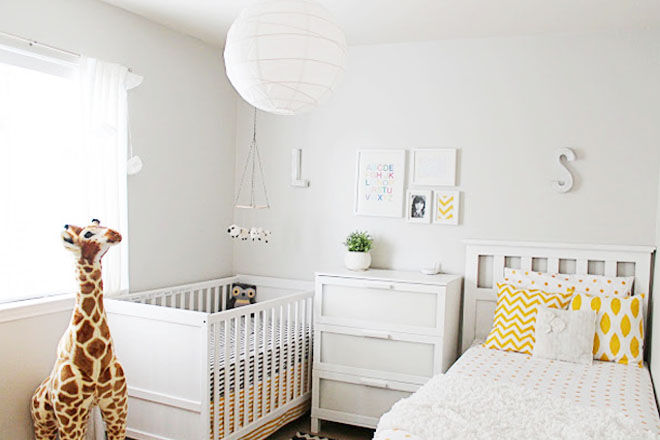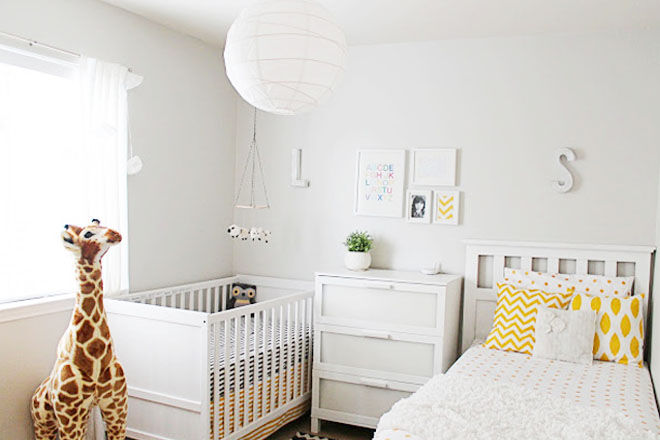 Grey and yellow seem to be a popular colour scheme when creating a shared bedroom for a boy and a girl. The nuetral palette allows you to bring in some black and white too.
In this calming space, letters above the bed and cot add a personal touch to both sleeping spaces while the patterned bedding unifies the two.
Nice and natural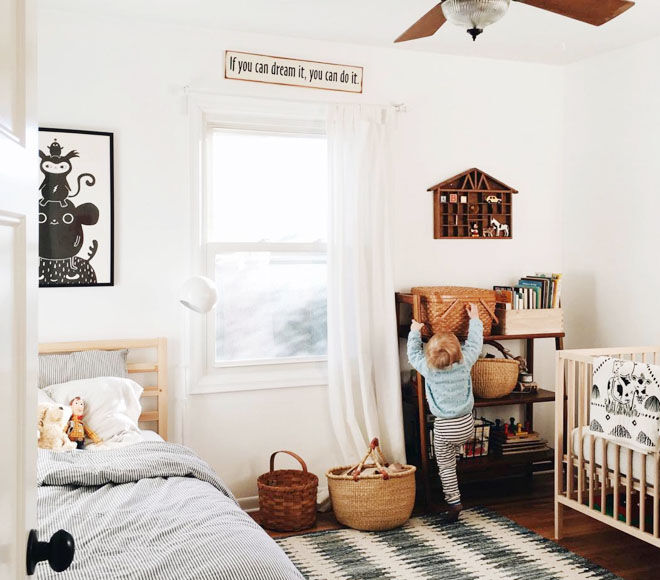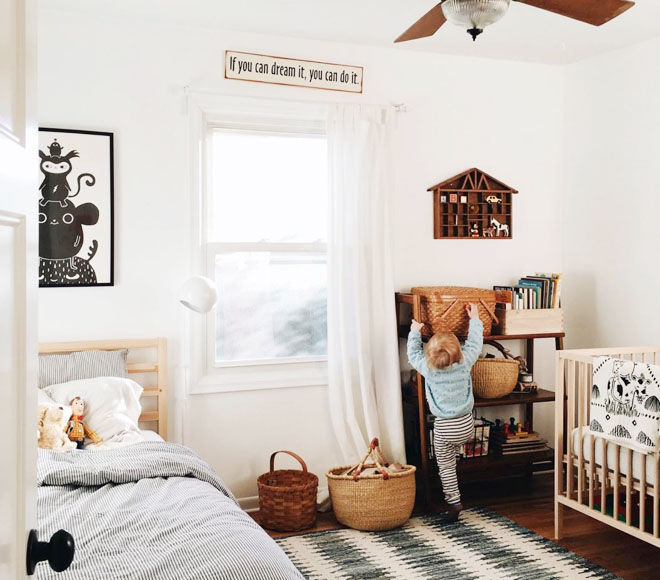 A gorgeous bohemian-style shared bedroom for a little dude and his new best bud. Separating the cot and toddler bed with a rug not only divides the room but also creates a designated place for both to play.
The wicker storage baskets are ideal for small bedrooms. Store their shoes, toys and books in them as needed, and use them to transport everything into other rooms when the kids begin to wander.
Pompoms for all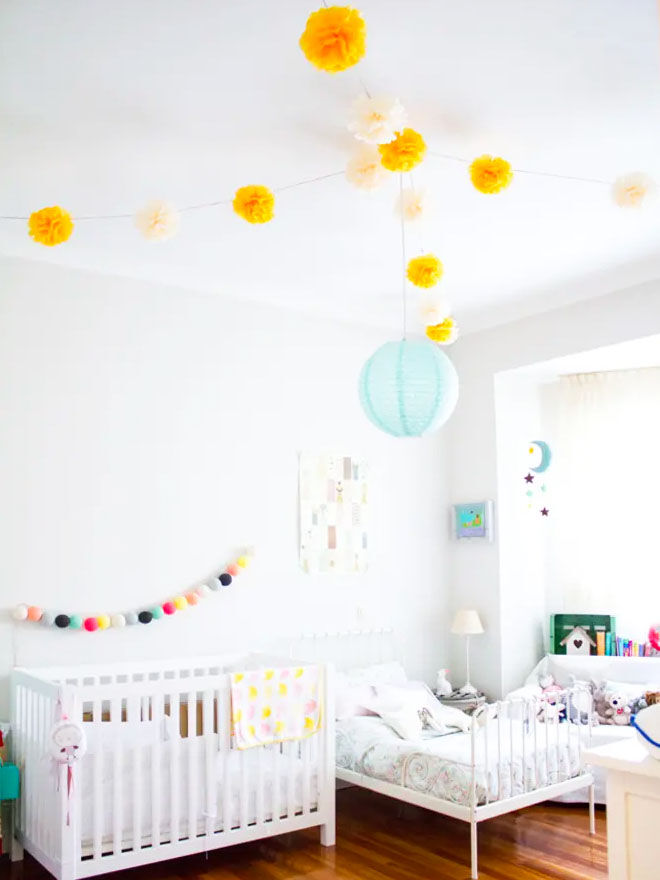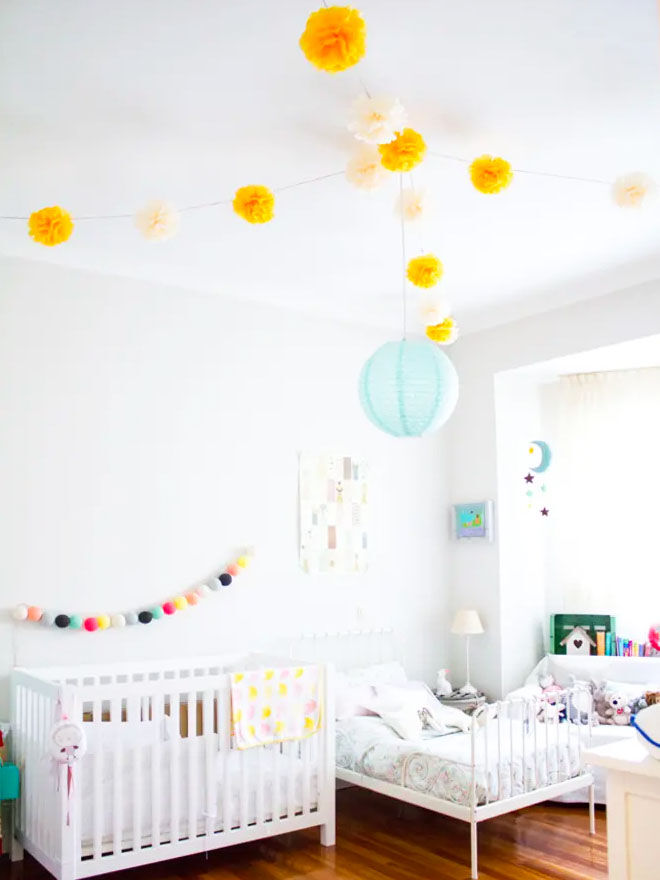 A great example of how fun is just as important as functionality when it comes to shared bedrooms. This sweet space is full of kid-friendly accessories that make the room an exciting place for both baby and toddler to play and sleep.
Read all about it

A simple trick to give the illusion of two separate spaces is to pop a bookshelf between the cot and toddler bed. Make sure it's securely attached to the wall, or like this one is built in to suit the space.
This is also a great space to show how each child can have their own personality injected into their corner of the room. (via mrsgustafson)
City sensation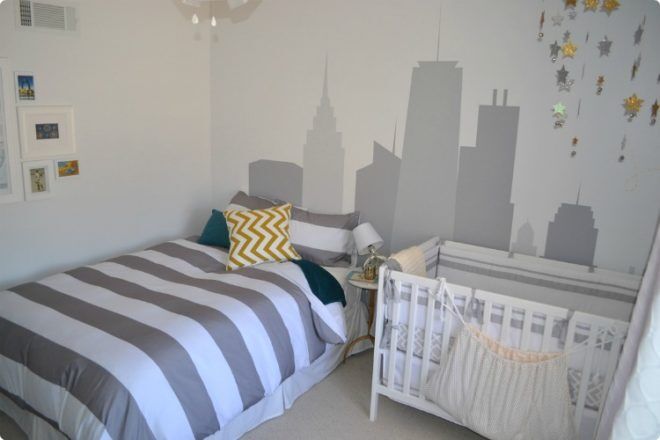 One of our absolute favourite rooms has to be this incredible creation from Youthful Nest, which glitters with contemporary coolness. The hues of greys and blues with the splash of gold work perfectly with the unique wall stickers in the background. The ultra cosy chair and metallic mirror add even more style to this already uber-chic nursery.
Flying high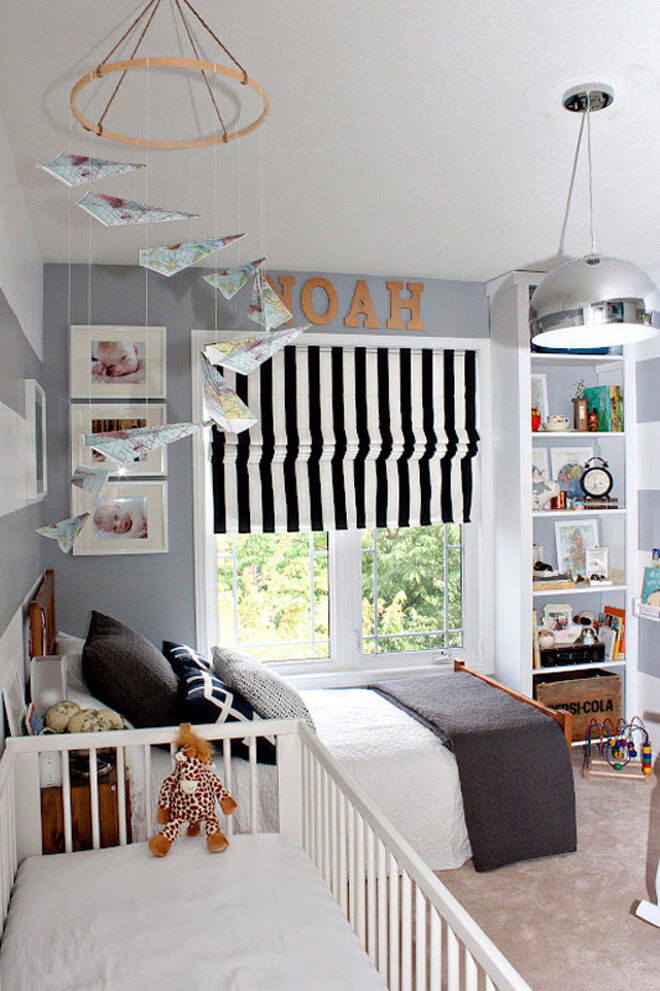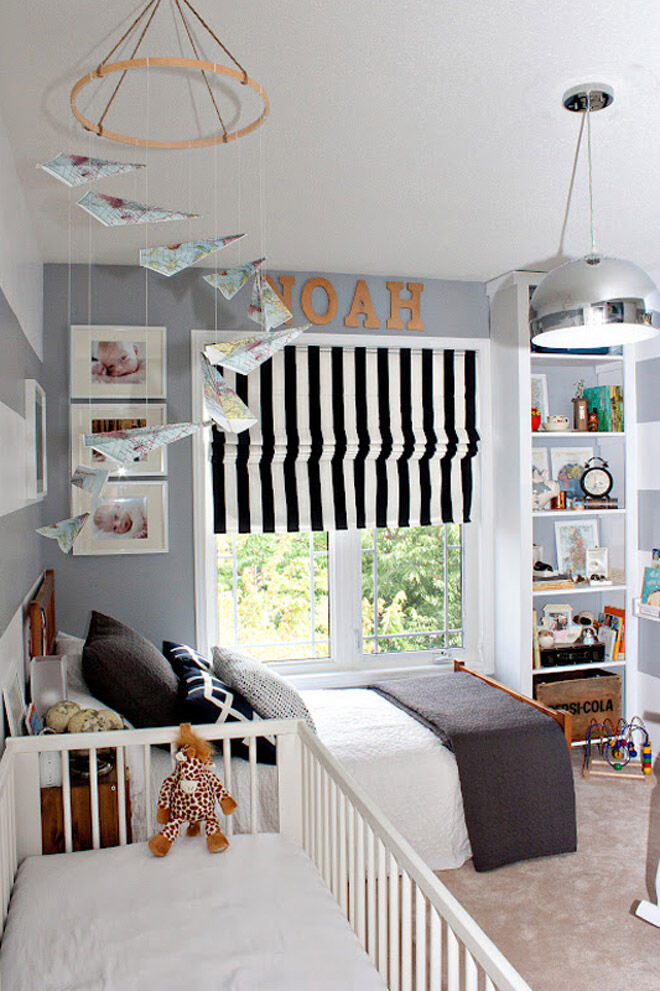 Next we have the adorable duel dwelling of Michelle's little ones, which was inspired by the parent's shared love of travel.
The room, which sticks to the navy, grey and black colour scheme, comes complete with a number of travel memorabilia scattered including a paper airplane mobile made from vintage maps and a Union Jack bedside table.
Double the force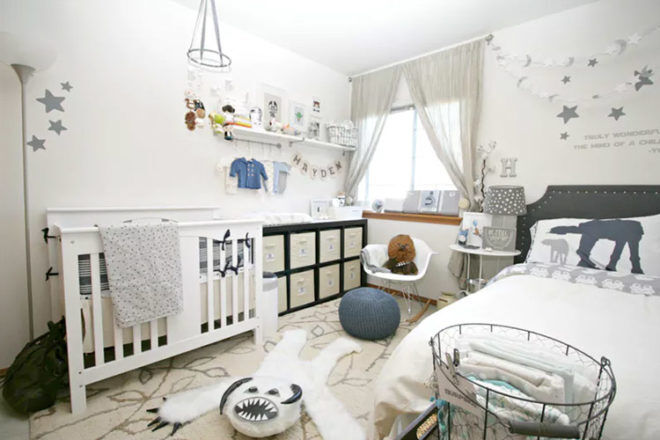 Star Wars inspired bedrooms are more popular than ever but we haven't come across a shared baby/toddler room that masters this theme quite as well as Aurea and Rob Grothe have done.
The Star Wars fans selected a soft palate of mostly grey and white and incorporated bedding, accessories and a few hand-crafted elements that are absolutely gorgeous. We especially love the Wampa rug, the DIY Death Star and the mobile of stuffed characters.
Pigeon pairing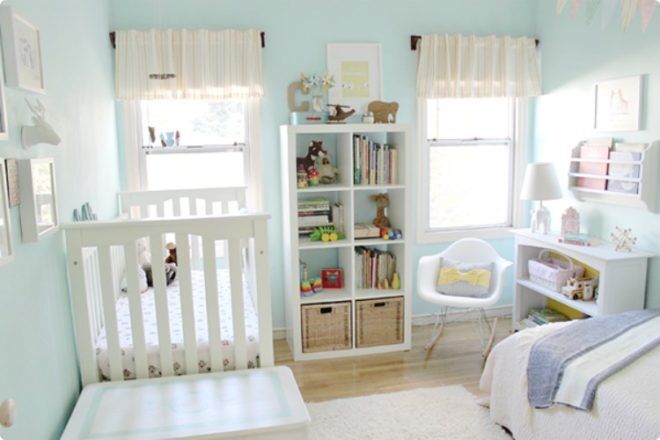 Siblings Theo and Caitlin share this special space that sticks to the classic pink and blue pairing but with an elegant twist.
The pastel pink and purple elements blend brilliantly with the pastel blue wall paint choice and white furnishings. The addition of the cosy white rug adds to the feel of the of the whimsical and wintery room.
Pot of gold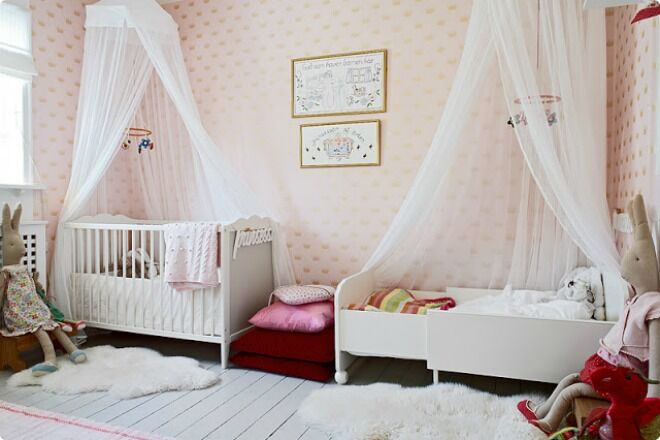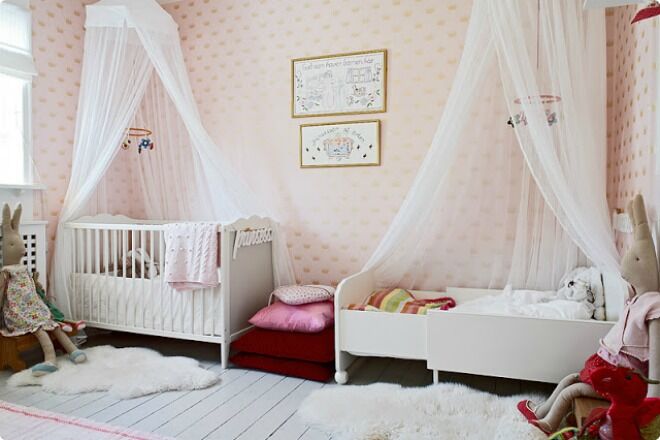 Another picture perfect room for two little girls who love their pink is this lacy haven, complete with pink and gold wallpaper, matching canopies and mobiles, bronzed wall decorations and a pair of adorable bunnies.
Cloudy with a chance of sleep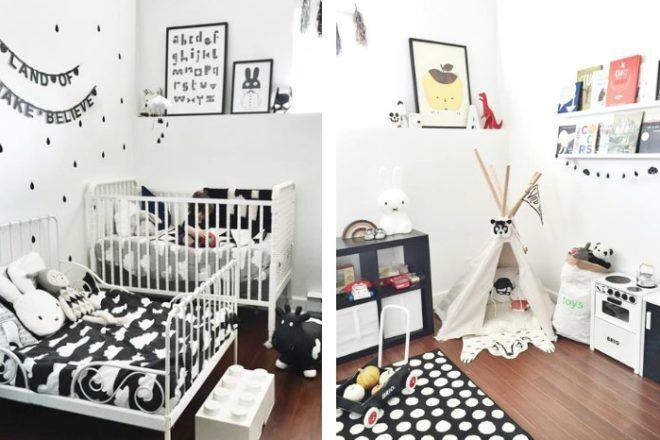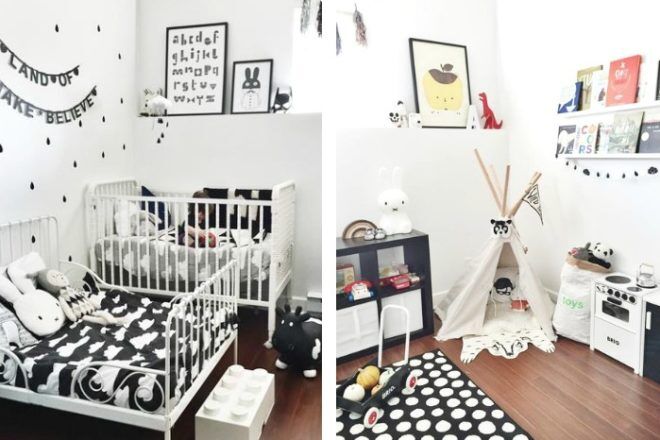 Miranda designed her sons Aki and Archer's room using the classic monochrome furnishings, including an Ikea bed and wall decor she discovered on eBay.
In addition to the modern black and white combination, she also incorporates a few sprinklings of water, including rain drop wall stickers and cloud doonas. The addition of the teepee and black and white play kitchen bring the whole room together. LOVE!
Pink and polished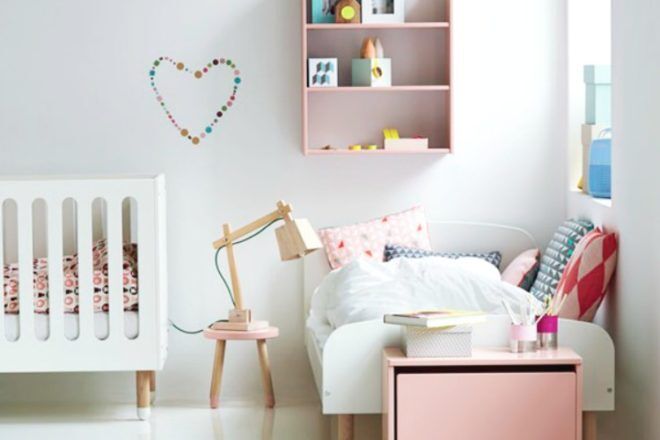 We also love this bright and spunky shared bedroom space by Deco Peques which combines timber furnishings with pink accessories for a charming room for two little girls. The collection of patterns pillows, love heart wall decal and sparkling white flooring certainly adds to the polished look.
Woodland and worldly wonderland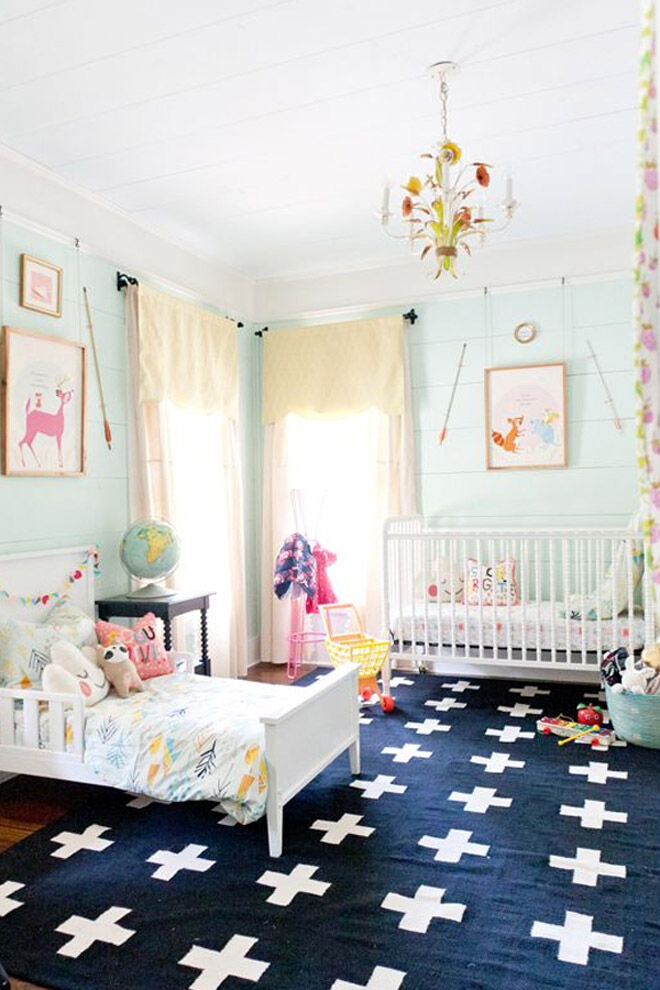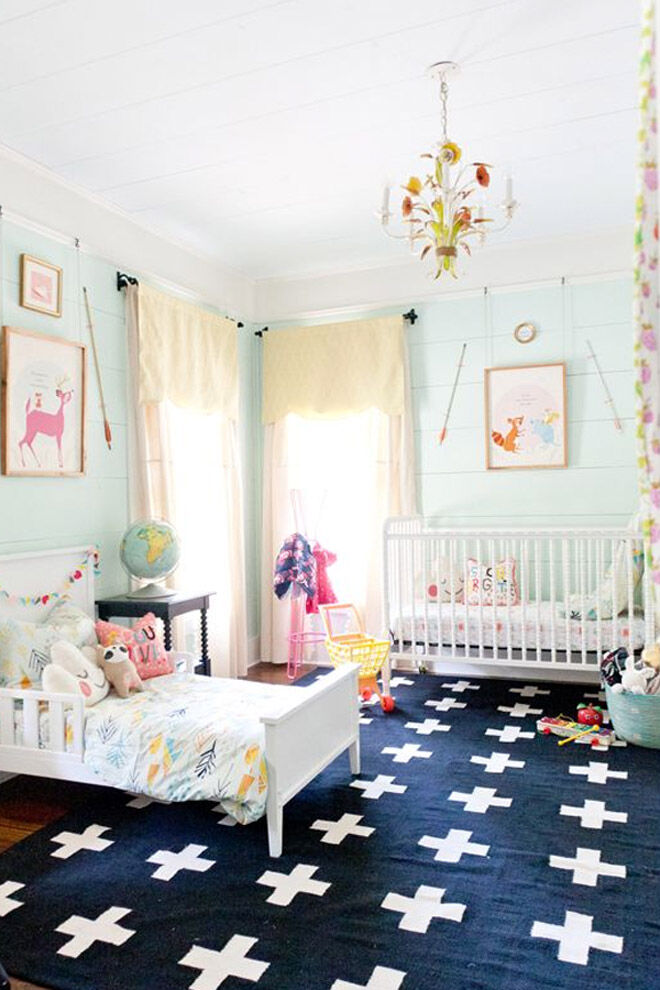 Joni from Lay Baby Lay is the interior designer behind this dream room, which offers the perfect place to rest and play for sisters Vivi and Brigie.
Joni bring an earthy feel to her kids' room with arrows on the wall, stuffed woodland creatures scattered on the bed and a globe on the bedside table. The room glows with worldly comfort and adventure for these two very lucky little girls.
Metallic charm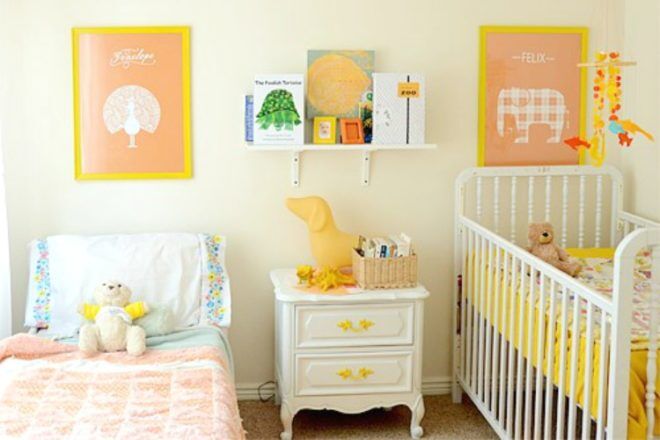 Siblings Penelope and Felix's room has that classic appeal thanks to the gold and orange decor and the vintage furniture. The colour scheme appeals to both a girl and a boy and proves that you can still create a beautiful sleeping space, even if you don't have a lot of room.
The great wall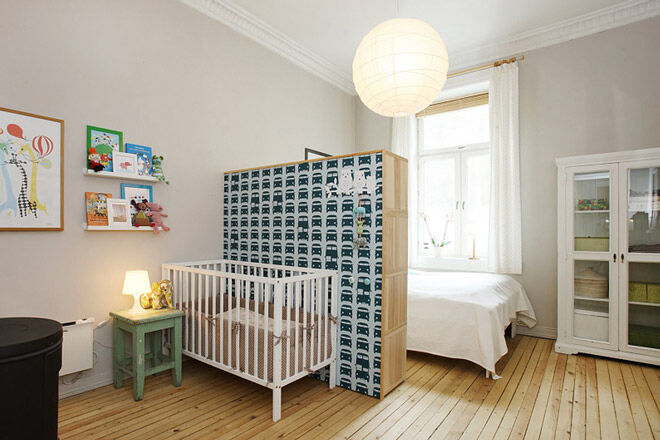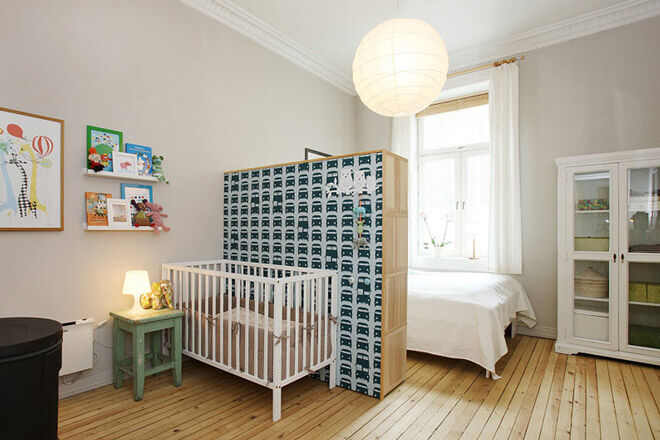 A room divider gives a sense of privacy and means mum and dad can be reading toddler a book, while baby is happily snoozing.
An easy way to achieve this look is by using an Ikea Kallax shelving unit, anchored to the wall. A couple of sheets of ply covered in wallpaper will create a stunning, personalised room divider. (via Scandinavian Retreat)
Made for two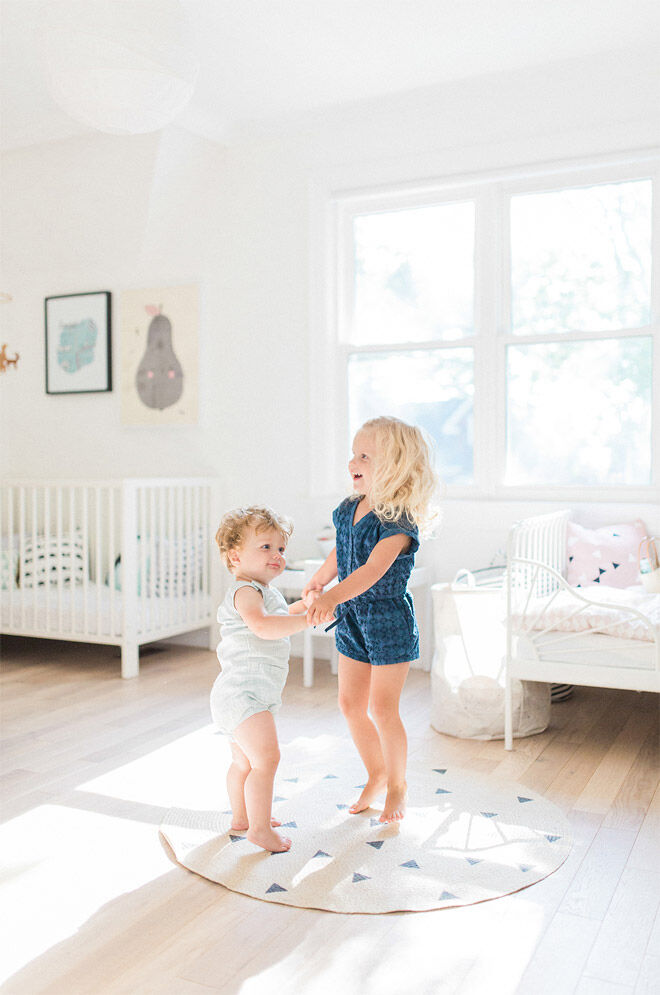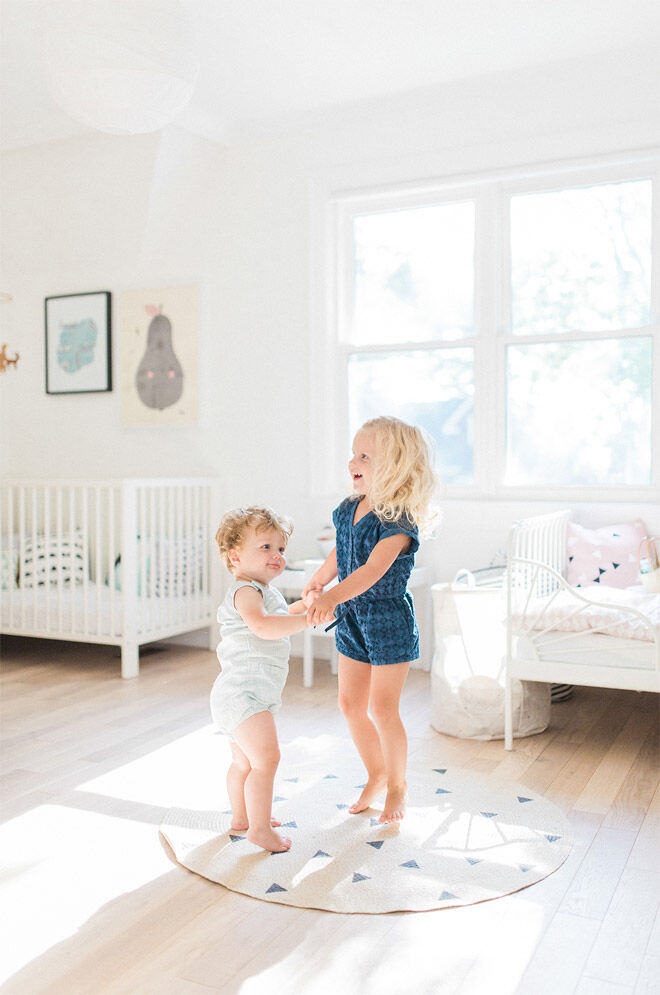 Although sticking to the modern pastel pink and mint green colour scheme, this amazing boy/girl shared room is anything but ordinary. Designed by the uber-talented Sina from Happy Grey Lucky, the room is light, airy, bright and perfect for play and sleep.
Sina explains, "Childhood is just so pure and innocent and, for me, pastels embody that sweet innocence so very well. Mix in lots of light woods for warmth and you've got yourself the perfect recipe for a sweet Scandinavian-inspired kids' room."
Shared sweet dreams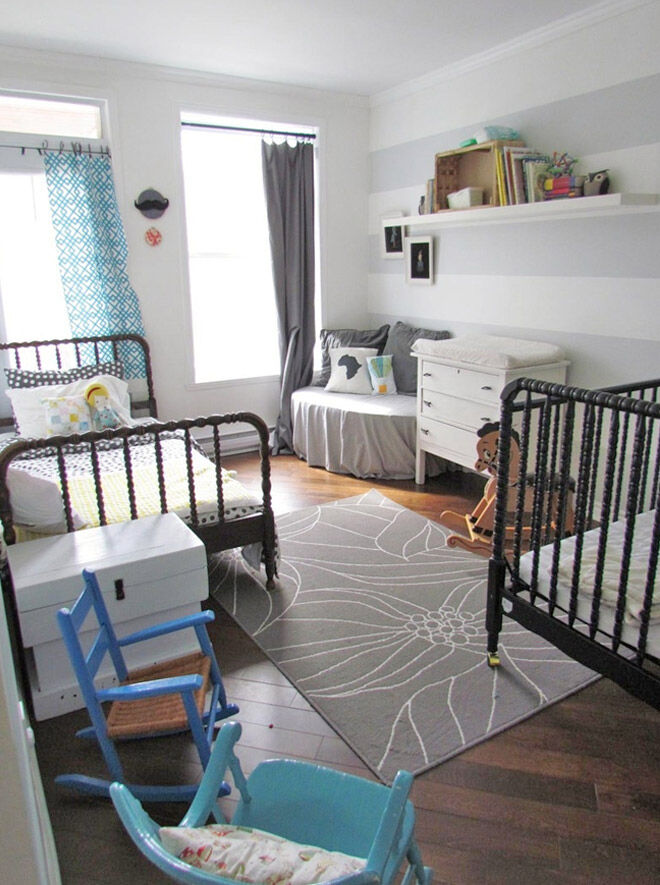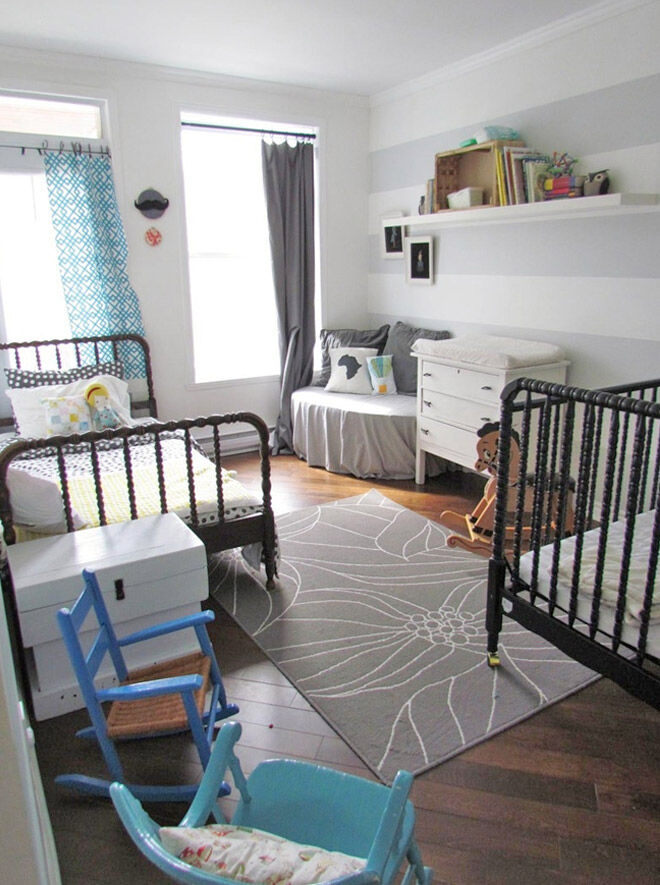 We will end our round-up with another classic shared bedroom which oozes with subtle vintage charm. Lily and Oli's shared room sticks to the grey, black and white colour scheme but with bold blue curtains and matching chairs. The two-toned wall paint and matching rug really bring the room together.
Looking for more inspiration for your nursery? Check out our dream rooms as well as our decor section for more of our favourite finds for your baby, toddler and beyond.