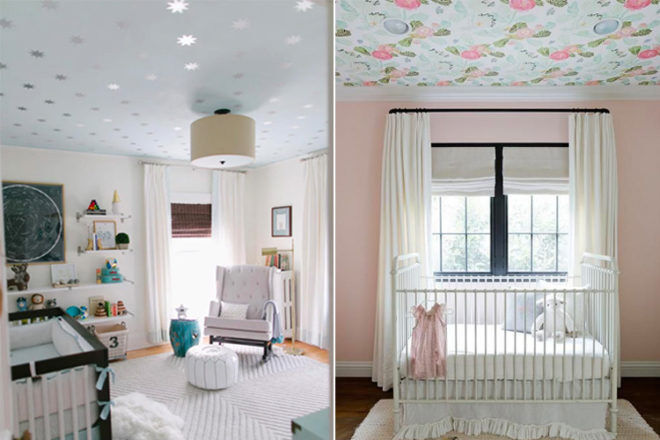 A beautifully curated nursery creates a sense of calm for newborns, and it's also a way to engage their senses as they're taking in the world around them.
As babies begin noticing colours and shapes, those carefully chosen pieces that decorate their room become even more important. And considering your little one will spend a good chunk of time laying in their cot, looking around, it makes sense to use the ceiling as a way to engage and entice.
Adding wallpaper features to nursery ceilings has become quite a thing – injecting a sense of whimsy and fun into bub's first room. Here are 15 ways to give ceiling wallpaper in the nursery treatment.
Long lines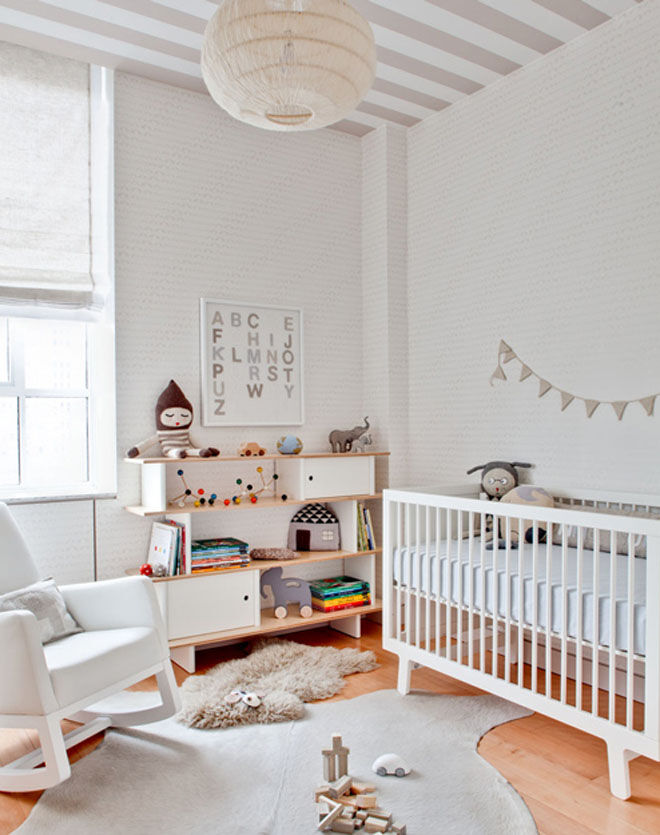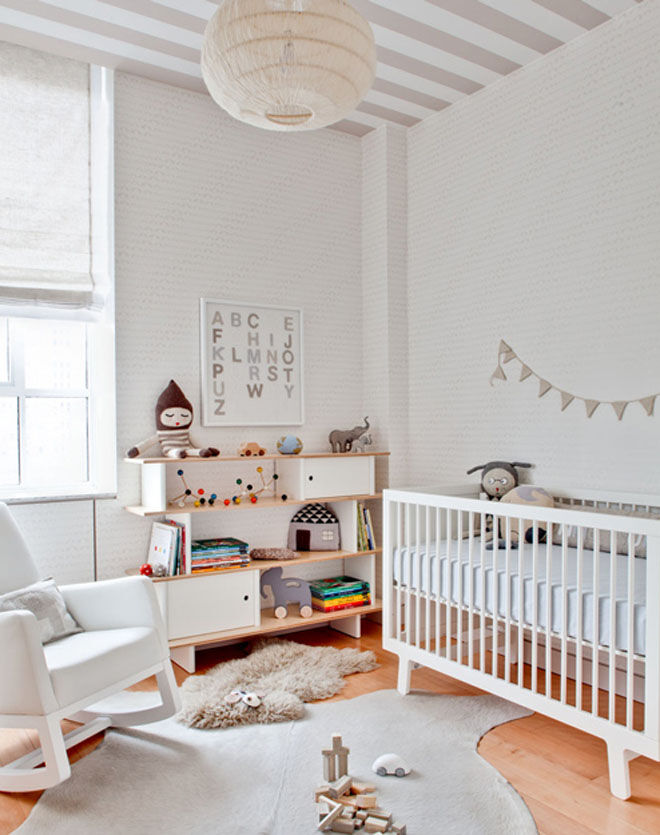 Stripes on nursery ceilings have become increasingly popular – and this can be achieved with either paint or wallpaper. Here, it's been combined with subtle wallpaper on the walls. (via Design Sponge)
 Flight of fancy
This stunning design uses a repeat stork pattern (very nursery appropriate!) to draw the eye and give a playful edge to the room. (via Home Polish)
Sky high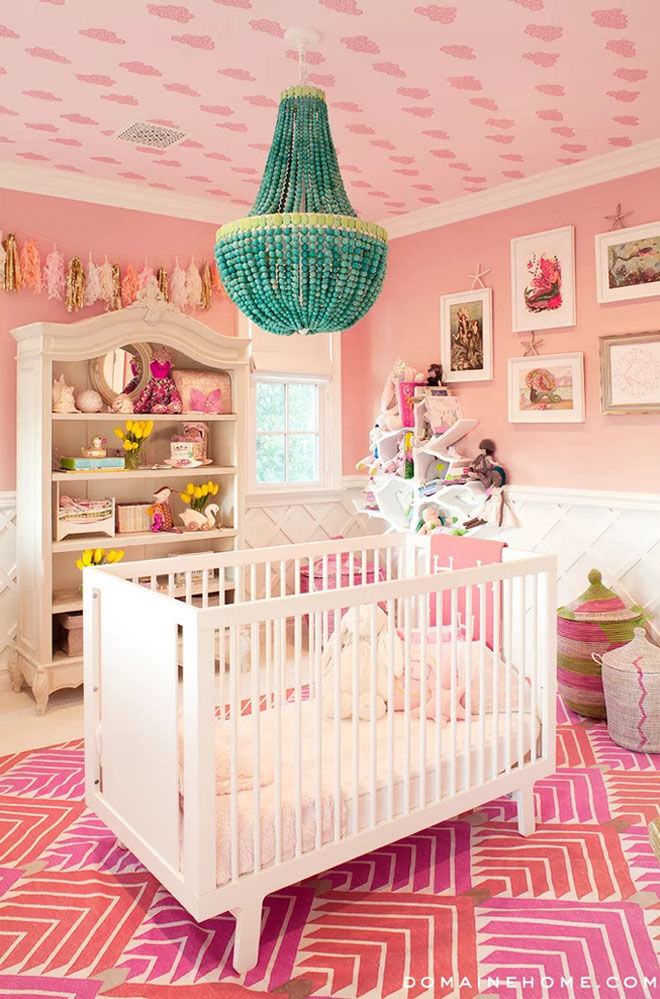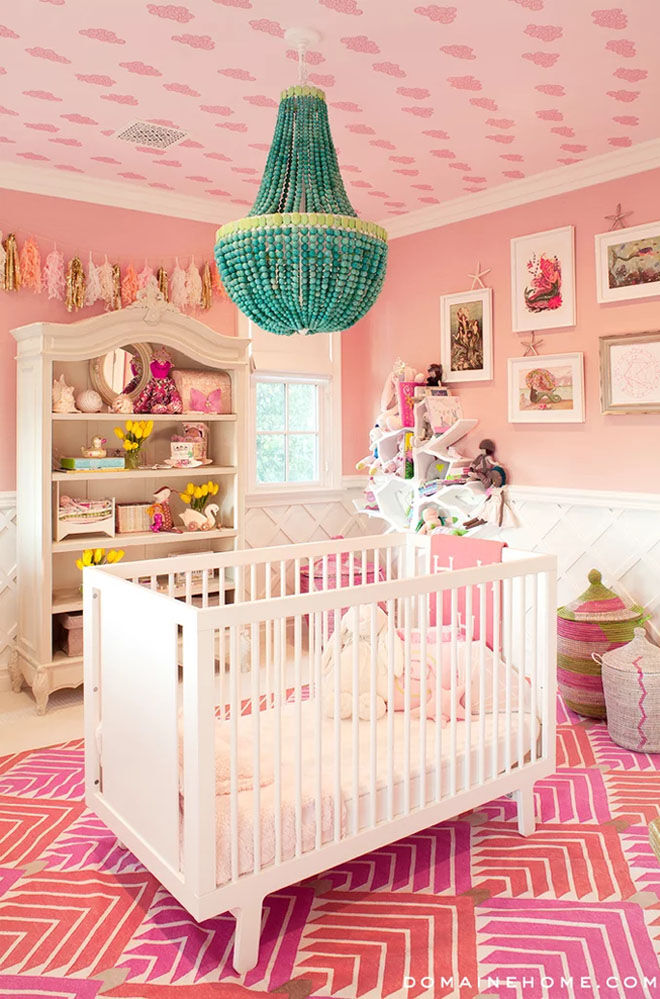 It makes sense to adorn a nursery ceiling with clouds – this pink palace belonged to the daughter of Kourtney Kardashian, Penelope Disick. (via Popsugar)
Old world charm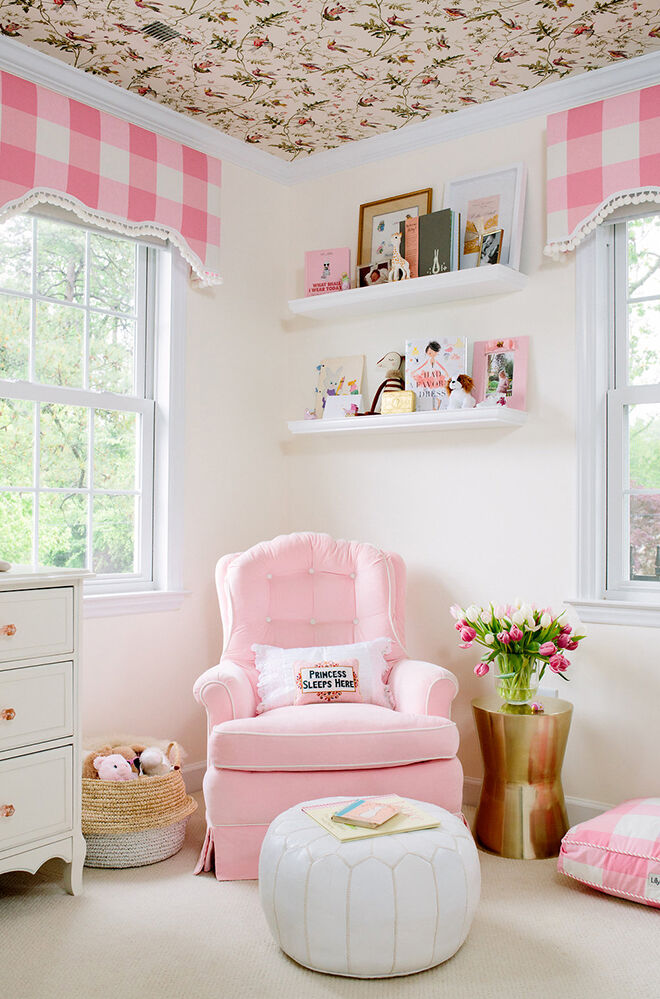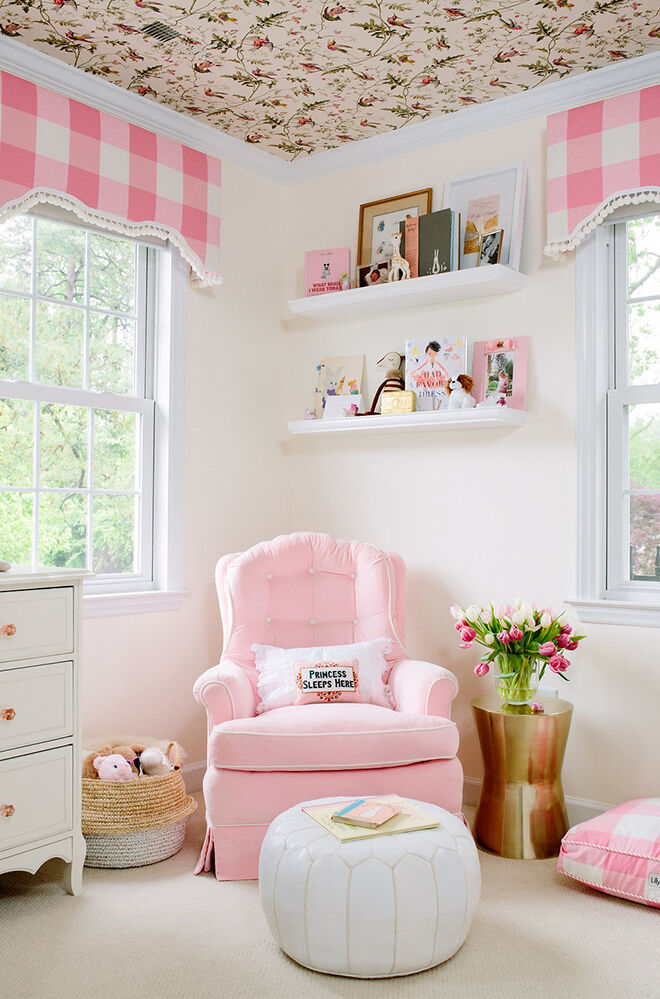 There's something very 1950s about this delightfully floral ceiling, perfect for a room with neutral walls. (via The Pursuit of Style)
Fly away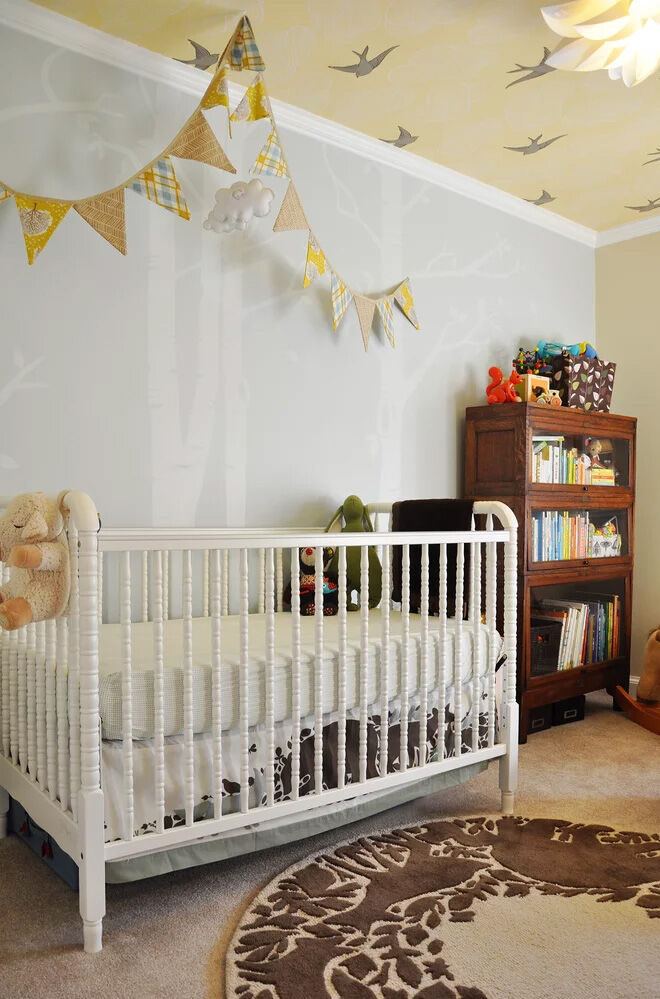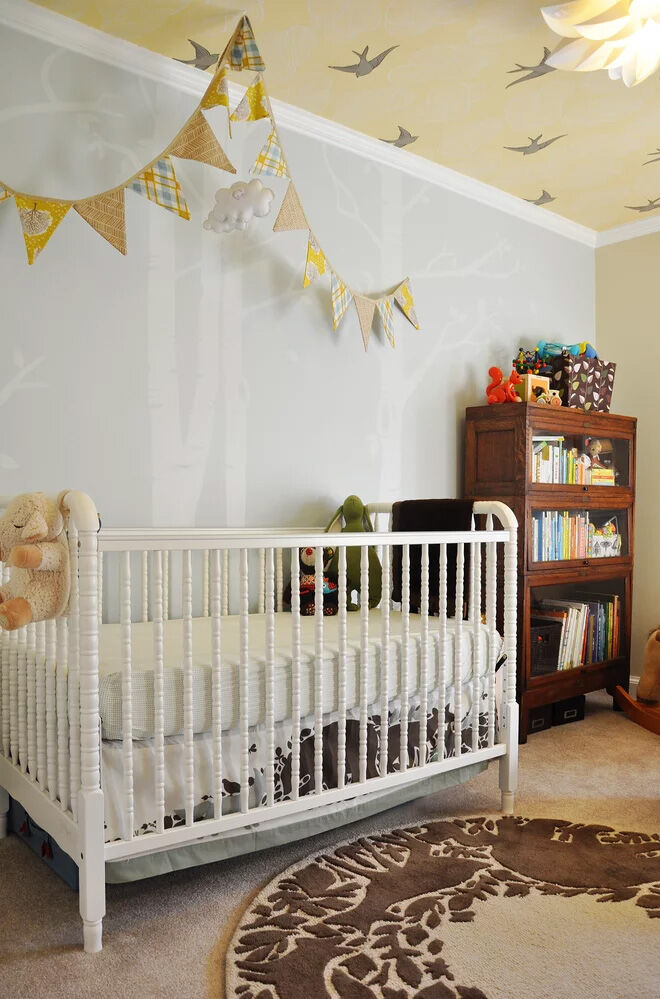 Birds are hugely popular when it comes to nursery ceiling wallpaper, it's a clever way to bring the outdoors in. (via Katherine Sable)
Starry starry night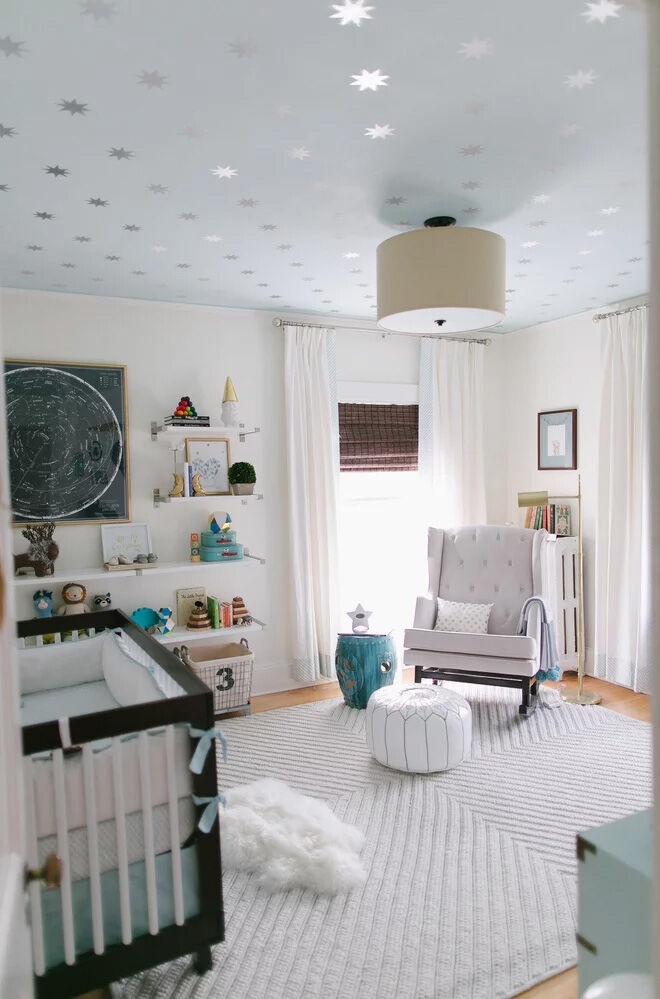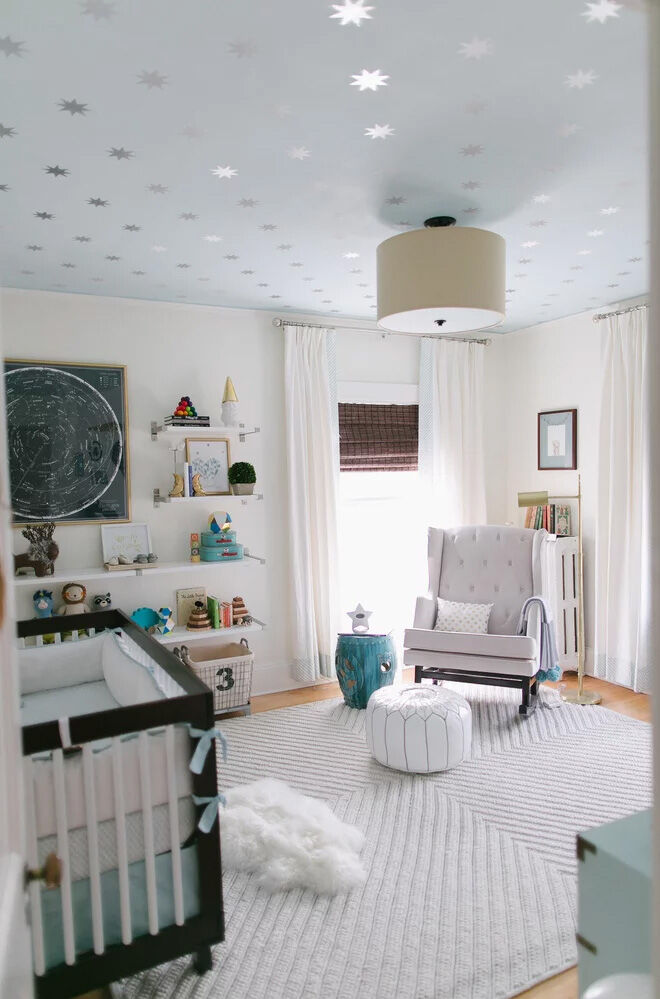 Metallic stars on an eggshell blue background give just the right amount of glamour to this stunning nursery. (via honey & fitz)
Geometric jazz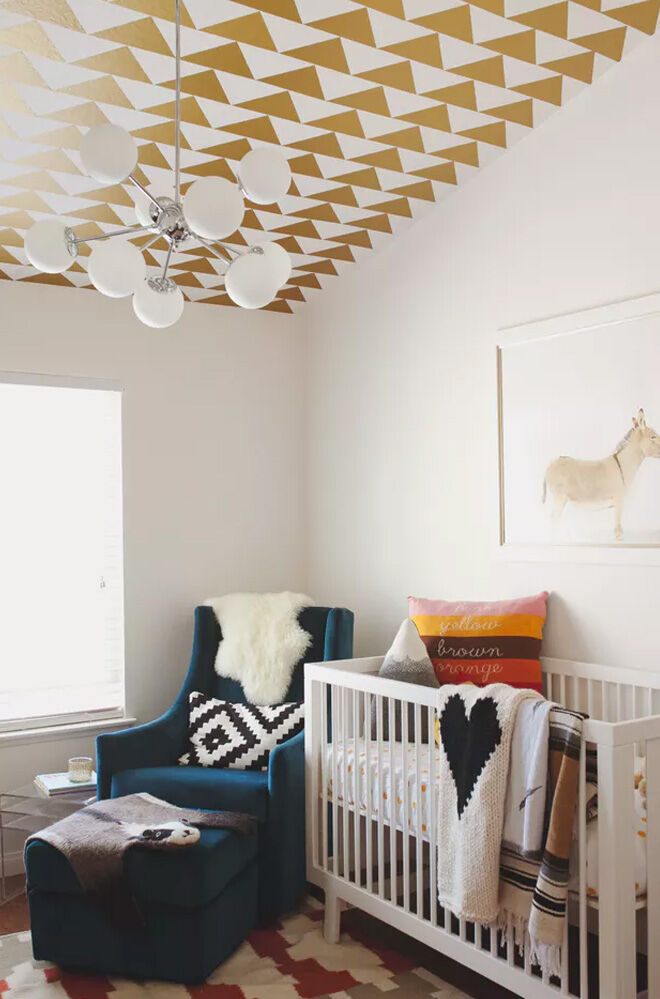 If bold is what you're after, it's hard to go past strong geometric patterns, which give a '60s vibe.(via apartment therapy)
Watercolour wonder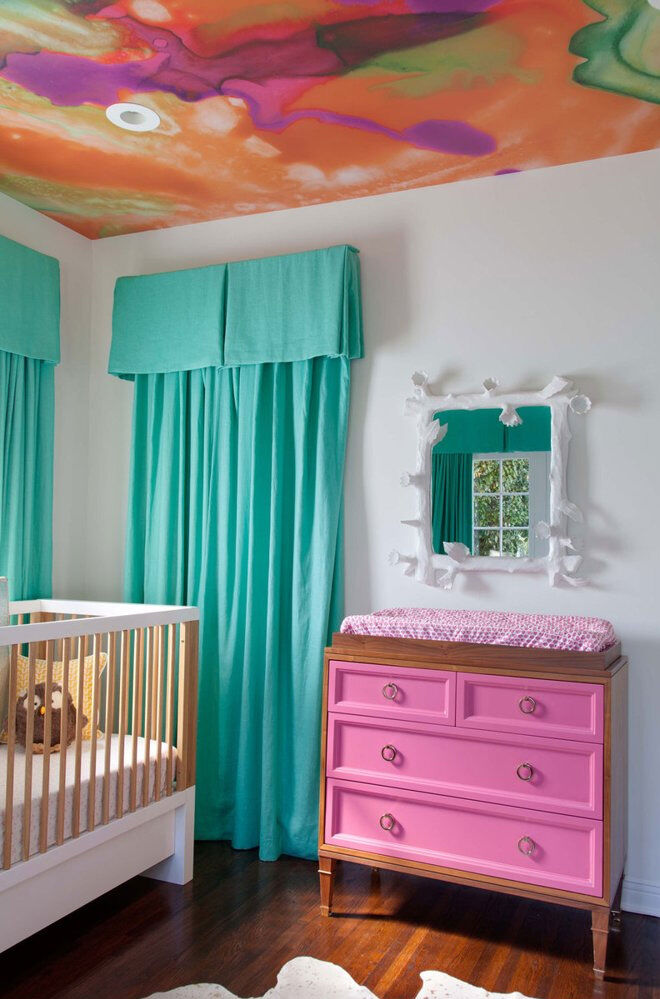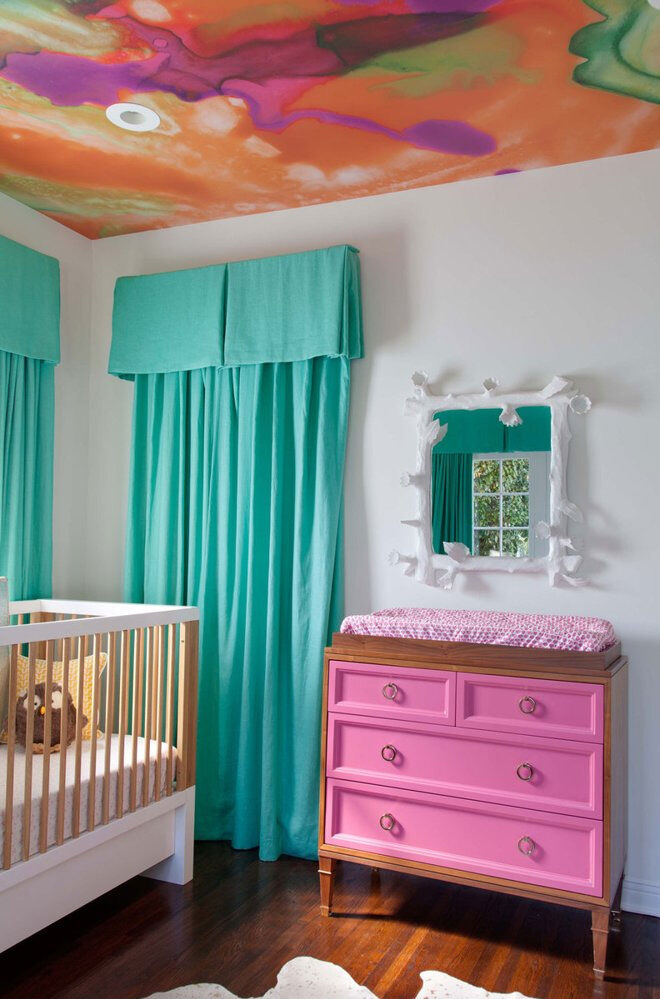 Watercolour wallpaper, who knew?! Bold and bright, it perfectly suits this equally vibrant nursery.(via Copper Gyer Design)
Nautical nursery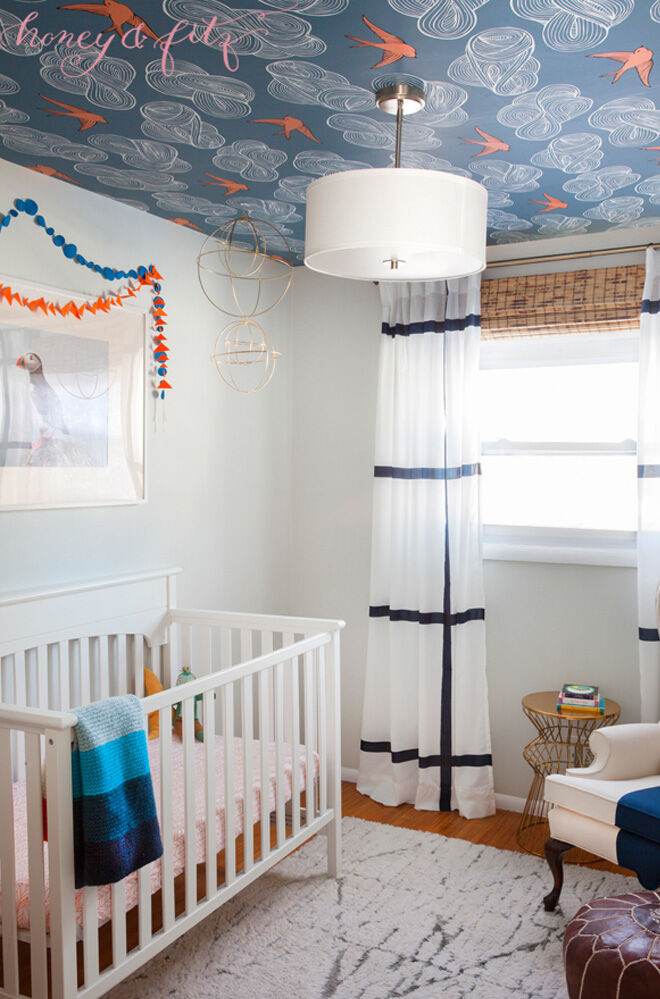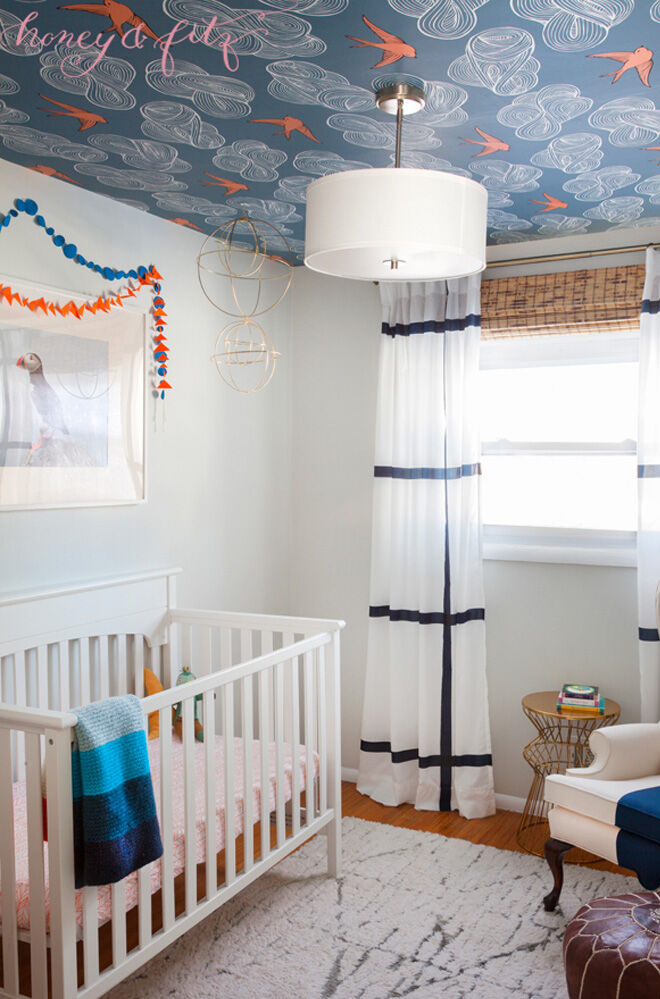 The hue and pattern of this wallpaper create an instant sense of the seaside, which perfectly fits the theme of this nursery. (via honey & fitz)
Constellation & cot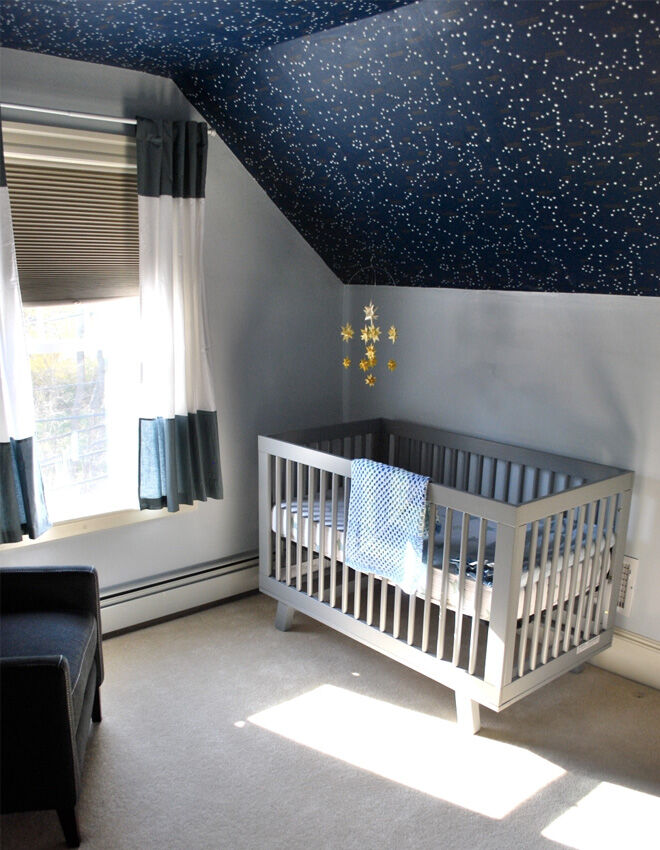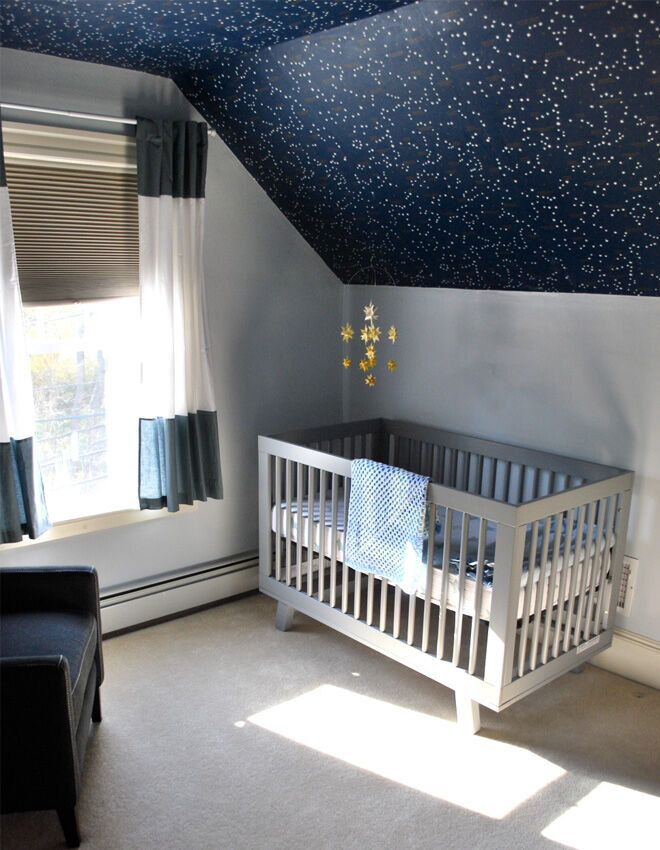 This incredible Ralph Lauren wallpaper is as beautiful as the night sky itself, and the white stars glow in the dark for 30 minutes after the lights are turned out. (via From The Waiting Room)
Feathered nest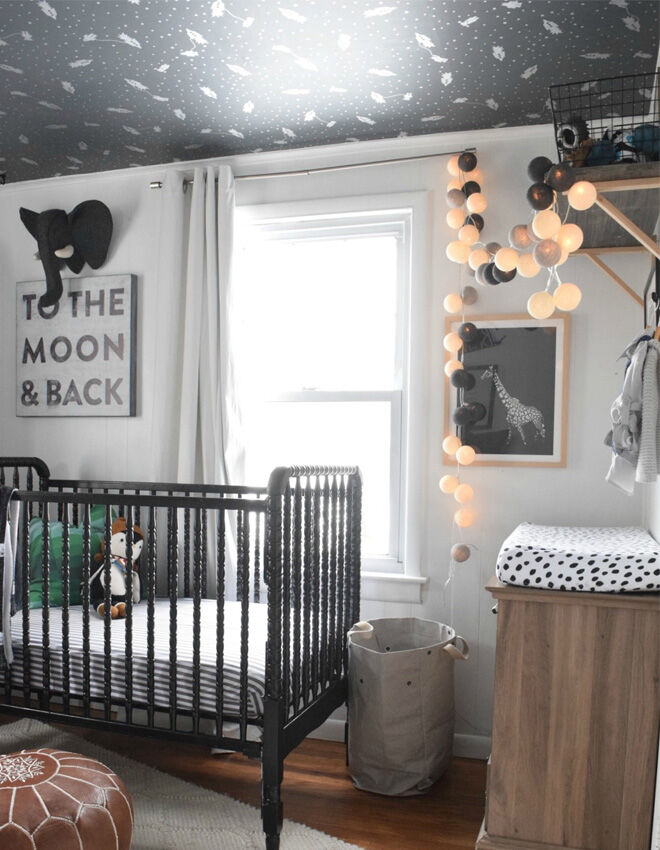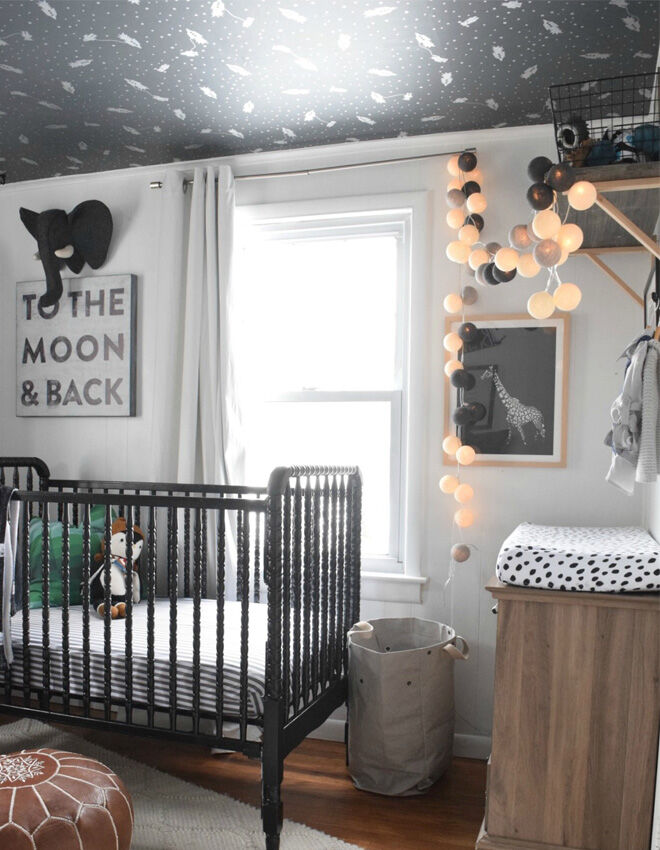 Strong yet soft, this combination of dark background and soft feathers is genius. (via Nesting with Grace)
Designer feature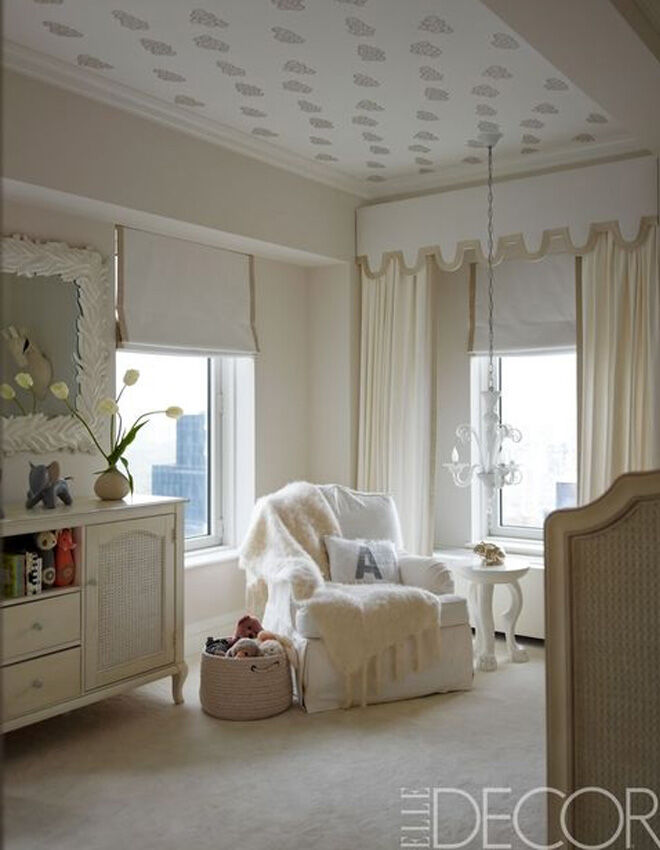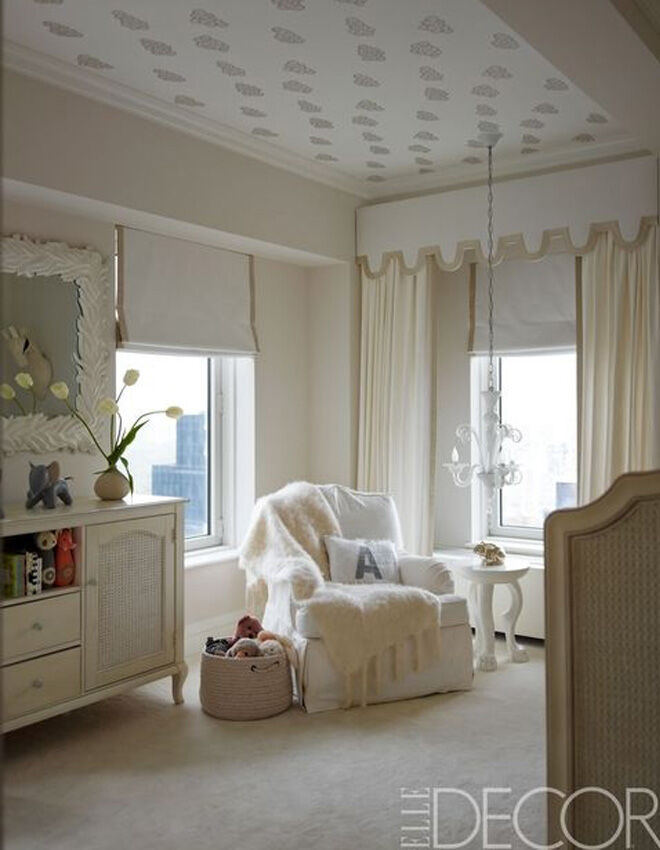 This stunner, which was in the apartment of Ivanka Trump, uses ceiling wallpaper as a feature the same way that it's used on just one wall. (via Elle Decor)
Pastel perfection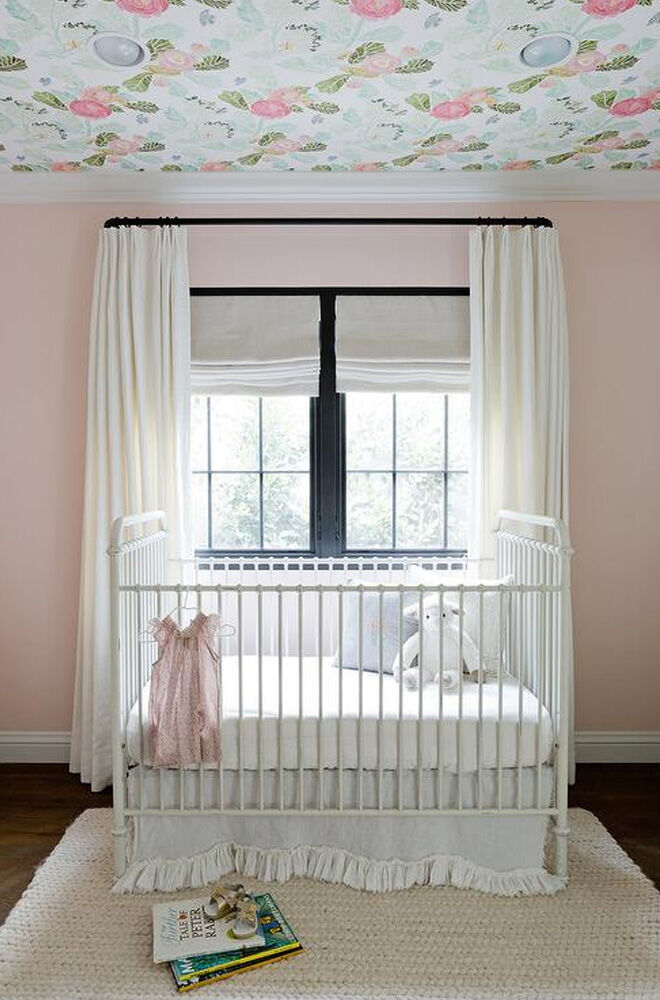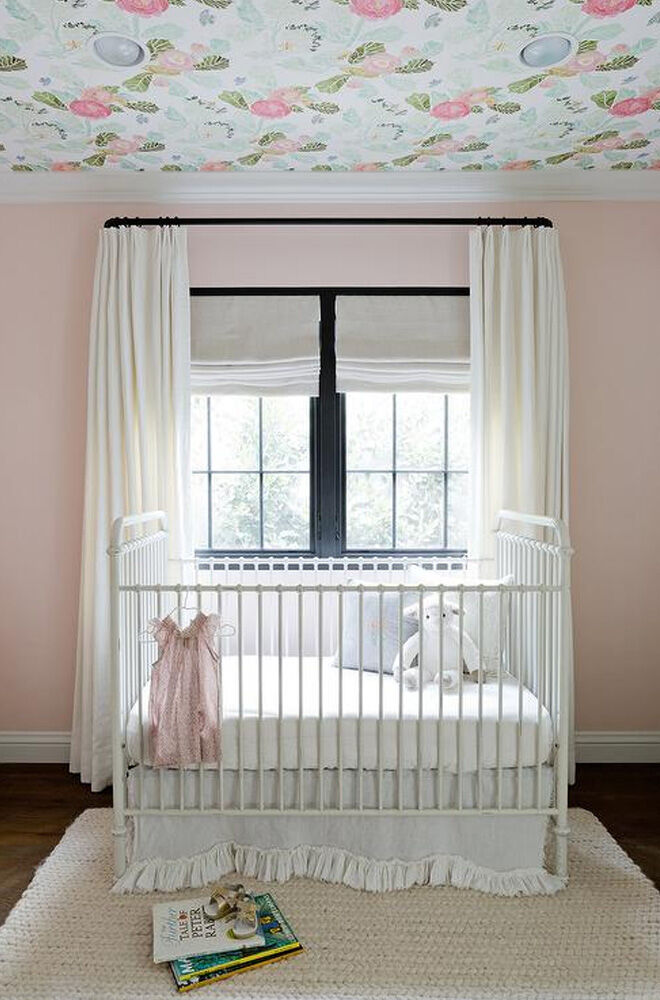 Just because you choose to use wallpaper on the ceiling, it doesn't mean you can't use a bright colour on the walls. Choosing a matching colour creates a sense of harmony. (via Decor Pad)
Bold and beautiful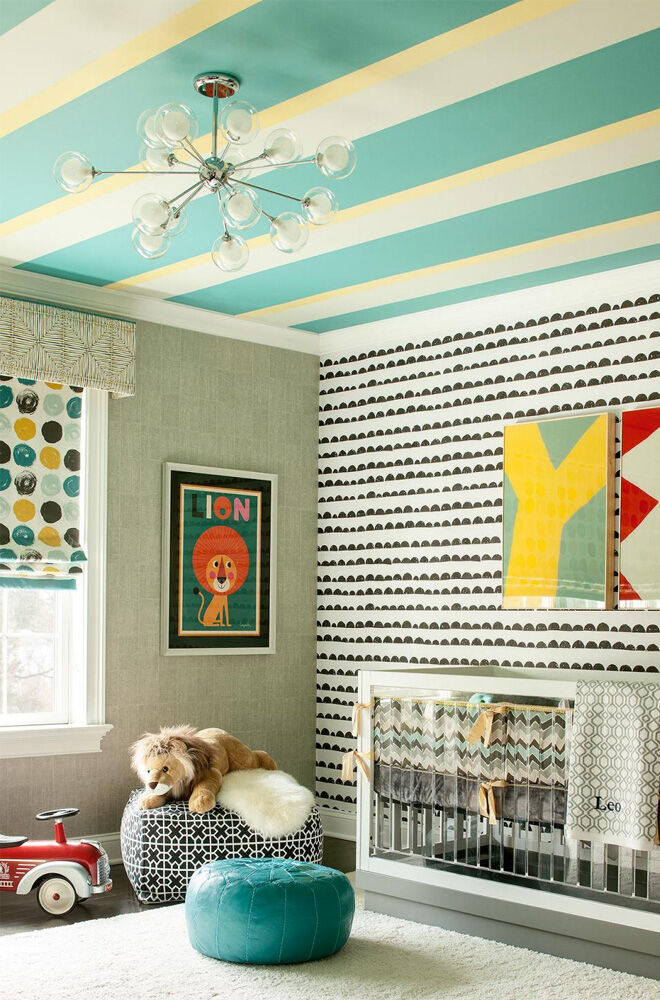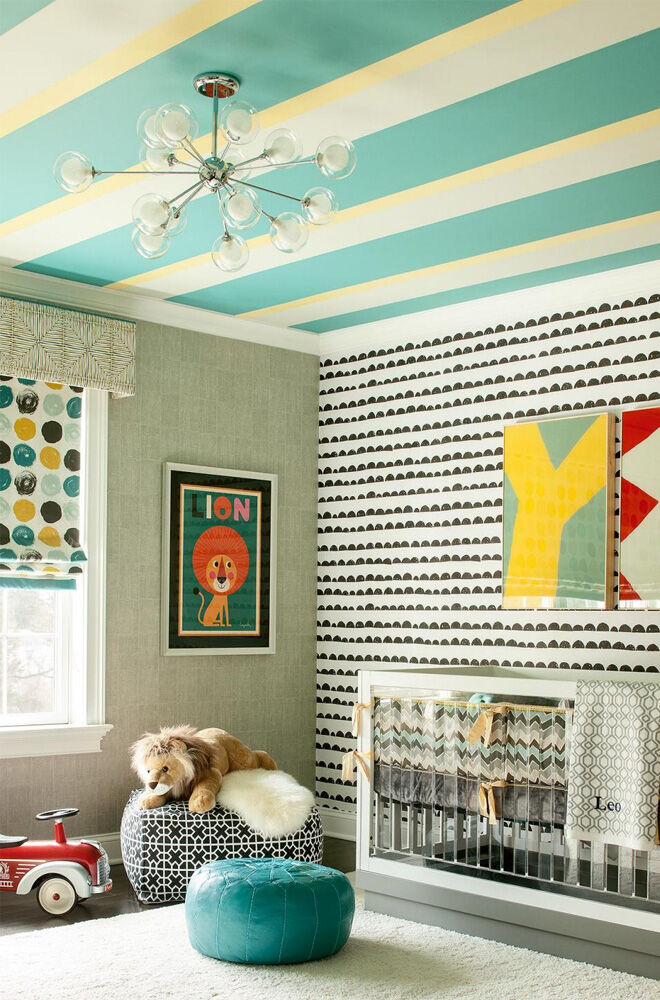 This nursery is all about fun – from the ceiling to the floor! (via HGTV)
Subtle stars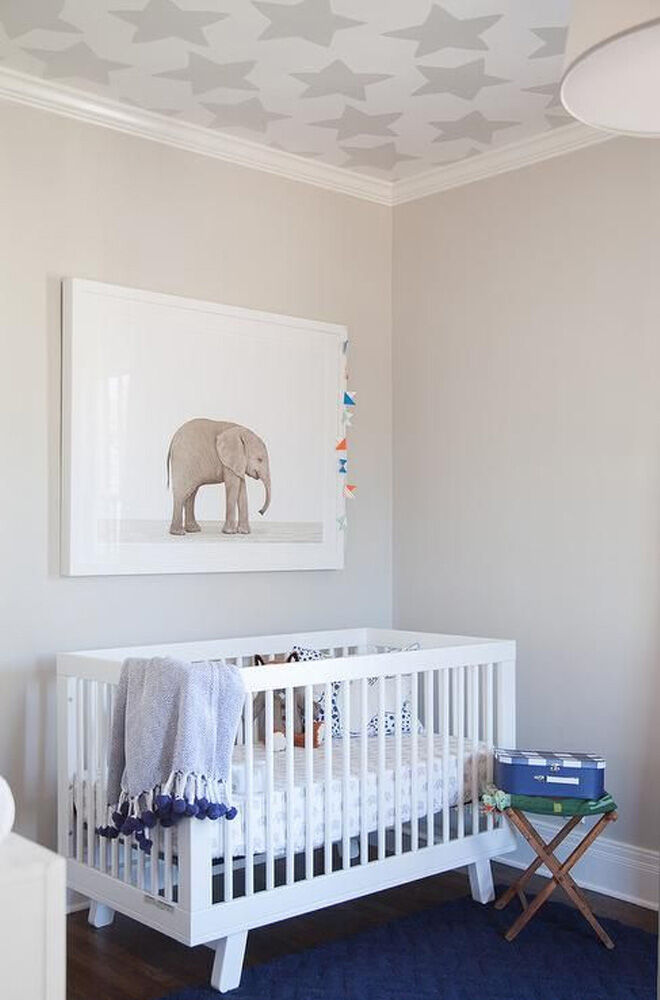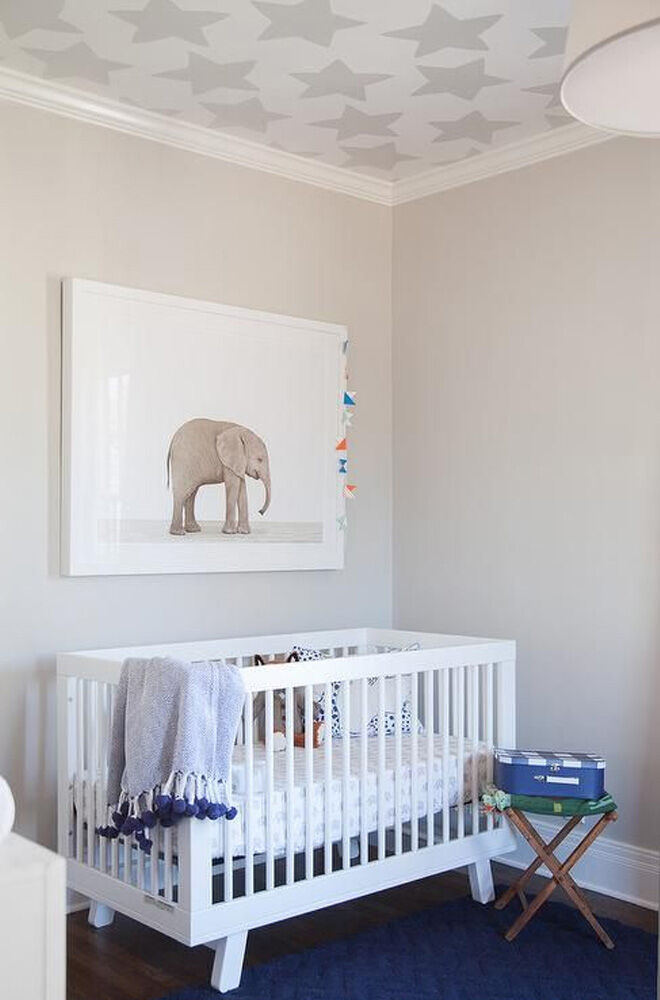 Calming and neutral, this simple nursery is given a designer twist with its wallpaper ceiling. (via Decor Pad)
You'll find so much more nursery inspiration, including decor, latest finds and tips in our nursery section.