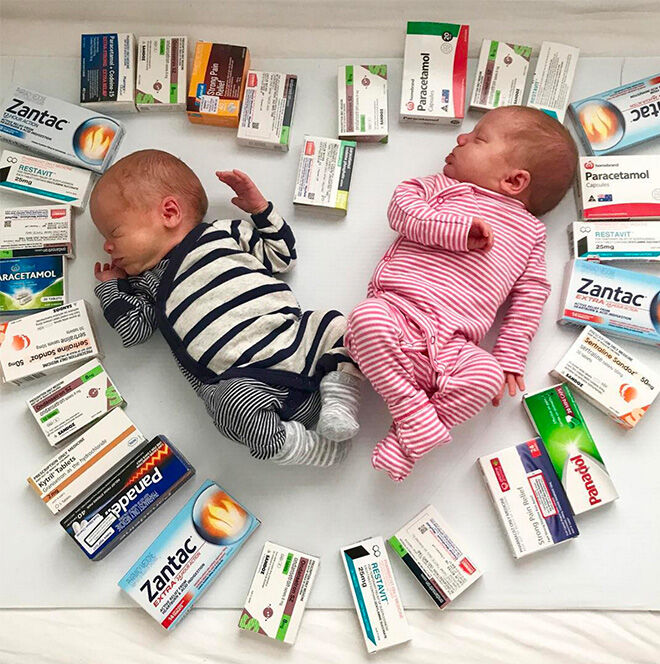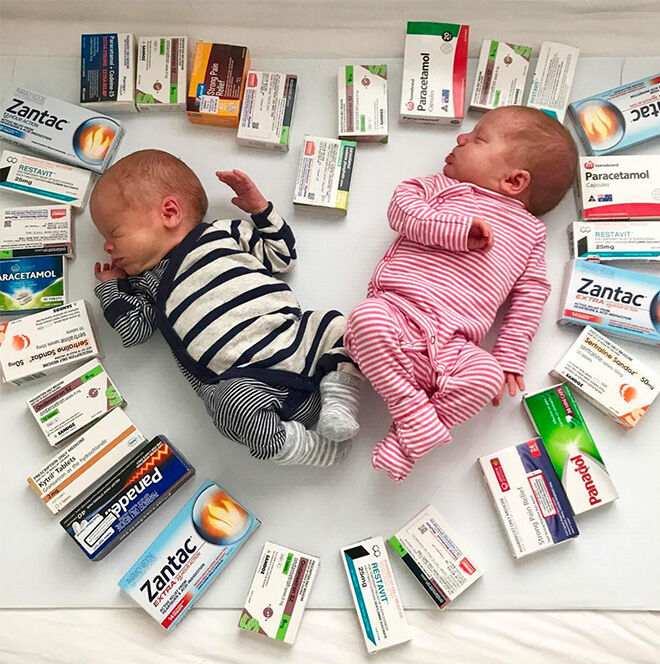 This confronting image shows the medication one Australian mum used to help her 'survive' severe morning sickness, or hyperemesis gravidarum (HG) during her twin pregnancy.
It's the same affliction that's plagued Duchess of Cambridge Kate Middleton with all three pregnancies. Mums-to-be say the condition often leaves them unable to work while forking out for expensive medication.
It's prompted an online petition, calling for some HG medications to be listed on the Australian Pharmaceutical Benefits Scheme (PBS).
A snapshot of medications
Mum of three Caitlin Boyes shared the photo of her twins, Alexandra and Owen, surrounded by a huge amount of medication, to bring awareness to the issue.
"Despite the recommendation to avoid all medication apart from the occasional Panadol during pregnancy, for myself and other HG sufferers multiple medications are required for us, and our baking babies, to survive this horrific pregnancy condition," Caitlin explains.
She says during her last pregnancy she tried a combination of medication and morning sickness remedies including acupuncture, seeing an osteopath and herbal tonics to try and combat her debilitating HG. But with none of those working, this time she sought more help from medication.
"Here is a snapshot of the medications I was on for the HG symptoms of nausea, vomiting, heartburn, insomnia, anxiety/depression, headaches/migraines.
"Nothing helped a great deal but they did seem to take the edge off some of the symptoms and limit my admissions to hospital and keep me and the twins progressing through the pregnancy. I still couldn't work, mother or do basic tasks for seven months."
Caitlin highlights that some of the medications, including ondansetron, aren't listed on the PBS, and are therefore unaffordable to some pregnant women suffering with HG.
Online petition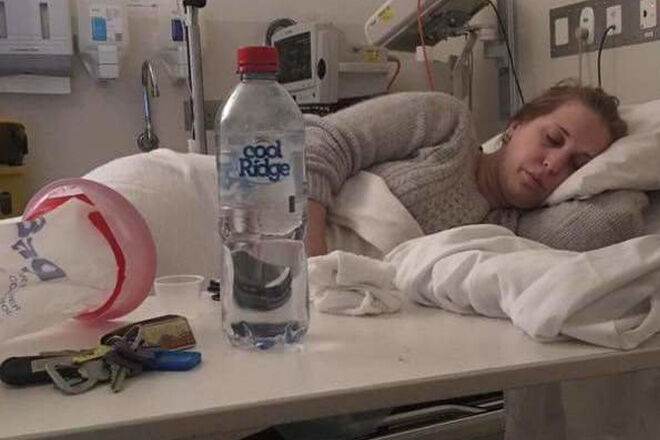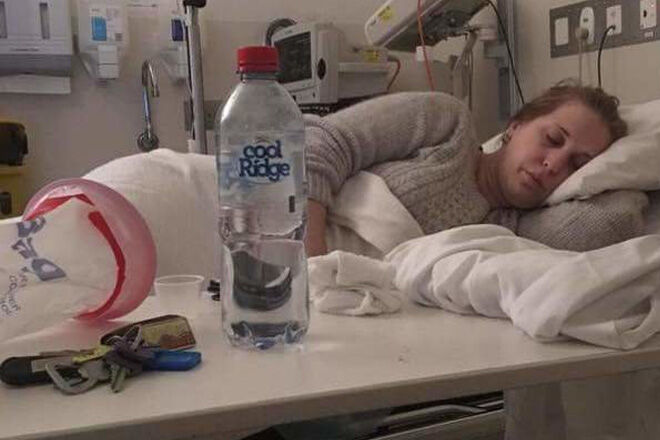 Samantha McCall was also hit with HG during her pregnancy and is lobbying for ondansetron to be made more affordable by listing it on the PBS.
"I experienced two HG pregnancies. Both of which I had to take ondansetron throughout the entire 40 weeks. Ondansetron comes in packets of 10 for $30+. I was taking three tablets a day. For someone who couldn't work due to the HG even whilst medicated this was an exorbitant amount of money that I just did not have," Samantha said.
"We relied on family to purchase medication for me many weeks. Medication without I would have been permanently hospitalised due to the inability to eat or drink. The dehydration and malnourishment very nearly killed me."
Samantha explains the medication is on the PBS, but only for those going through chemotherapy. "No one should not be able to take medication that is required to keep them alive because of the price."