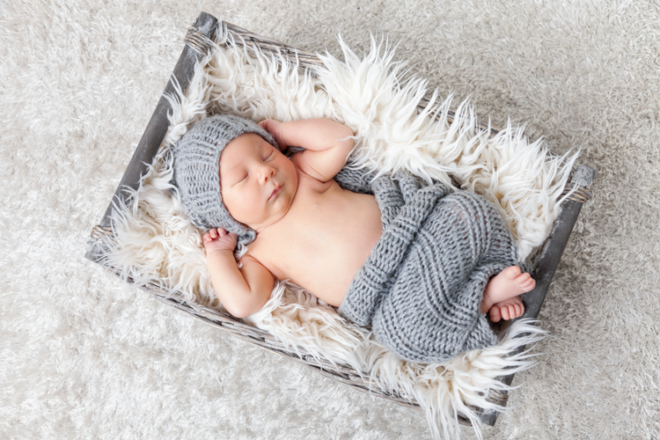 Mighty baby names that invoke a sense of power, balanced with the beauty of new life do exist – and they have the unique ability to grow with a new baby. Many of these baby monikers take their inspiration from far away lands and languages, putting a modern twist on vivid names.
Powerful and strong, yet sweet enough for a newborn, these unique and strong baby names have been shared by our Mum's Grapevine community – and they are breathtaking.
Here are 50 baby names you won't find in the top 50 of any baby name lists:
Altair: It's the name of the eleventh brightest star in our skies, well suited to a powerful new bub.
Ari: Meaning lion in Hebrew and eagle in Old Norse, this name oozes strength, with alternatives including Arey, Ary and Aristotle.
Arlen: With Irish Gaelic origins, this name is derived from the word for 'a pledge'.
Barrett: With it's meaning rooted in German, this gorgeous name means 'bear strength', and can also be associated with poet Elizabeth Barrett Browning.
Boston: Taking inspiration from the US location, it's right up there with other powerful place name monikers like Brooklyn and London.
Branson: Meaning 'son of raven' this is a fabulous low-key choice for Game of Thrones fans. It's the surname of powerful Virgin Airlines boss Richard Branson, and is also a place in Missouri.
Buster: A nickname from yesteryear, this is one of the most popular name for pooches – but don't let this stop you giving your strong-willed bub this cute name.
Chevy: This name's most famous owner is actor Chevy Chase. It's a little pocket-rocket of a name, suited to a unique personality.
Clovis: Uncommon, yet beautiful, this has been the name of many kings throughout history.
Cohl: More often spelt 'Cole', it's linked to legendary songwriter and composer Cole Porter.
Denzel: While famous in popular culture thanks to actor Denzel Washington, this is actually an old Cornish name.
Ezra: The strength of this Hebrew name comes from its biblical origins, with the heroic Ezra leading the Israelites out of slavery.
Fintan: Meaning 'white fire' or 'white bull', this is another name that derives it's strength from a heroic figure. Fintan is the name of an ancient Irish saint who, legend has it, was the only person to survive the 'great flood'.
Fletcher: While this is a common surname, Fletcher – which means 'arrow maker', makes an uncommon baby name. Mel Gibson played Fletcher Christian, the British mutineer in the big screen flick The Bounty.
Franklin: The name of two US presidents and one of the nation's founding fathers Benjamin Franklin, this name is actually as sweet as it is strong.
Gage: Of French origin, this one-syllable name featured in Stephen King's Pet Semetary (but don't let that put you off!).
Gregor: The Scottish form of Gregory, Gregor means 'watchman' – a little one to watch over you.
Harland: A variation of Harlan (which means rocky land), this tough yet
Hezekiah: Meaning 'God gives strength', this Hebrew name has a biblical connection, and can easily be shortened to Zeke or Kiah – which are also sublime and strong.
Huxley: This name certainly has the x-factor, and the shortened version of Hux is also fetching.
Jedidiah: Another strong, Hebrew moniker with biblical ties. More common is the nickname, Jed.
Jensen: A variation on a popular Danish surname, which is actually the most common surname in Denmark.
Jobe: In Australia, this name has been thrust into the spotlight by Aussie Rules footballer Jobe Watson. Yet another name of biblical origins.
Jyah: A very rare name, for a unique little one who is full of strength and character.
Kai: Hawaiian in origin, this name means sea – perfect for a little water baby.
Kairo: A variation on the place name, it exudes power.
Kingsley: Meaning 'king's meadow', this regal name is the crowning glory for any new arrival.
Knox: Brad Pitt and Angelina Jolie made this mighty moniker famous, but it's origins lie in Scotland.
Lakeyn: Also spelt Laken or Lakyn, this unusual name seems to have started out its life as a character on the soap opera Santa Barbara in the 1980s.
Lawson: Aussies love to claim this one as their own – thanks to writer and bush poet Henry Lawson.
Lazarus: Most of us would know the name from the bible, and associate it with the man who rose from the dead.
Madden: Of Irish origins, this strong name has some celebrity roots, including being the surname of Good Charlotte band members Joel and Benji Madden.
Marquis: A noble and regal name, it describes the English rank of nobleman between Duke and count.
Mateo: This Spanish version of Matthew is far less common and beautifully strong.
Maverick: Perfect for a wild and spirited bub, made famous by Tom Cruise in Top Gun.
Olijah: A much less common form of Elijah, but with no less strength.
Quade: The Latin meaning of this name is 'born fourth'. It's a very modern moniker for a very modern child.
Remi: Fierce with a French twist, this is a stunning name that is short and sweet to boot.
Roran: Inspired by a fictional character from the movie Eragon, who is also known as Stronghammer.
Samson: Perfect for a bright, bold little one, this name means 'sun'.
Taariq: With its Arabic origins, and meaning 'morning star', this celestial name is both mysterious and bold.
Taj: You'll be hard-pressed to find a more powerful name – this three letter wonder means 'crown'.
Talan: Very uncommon, however Australian singer Kasey Chambers did name her son Talon.
Tarquin: This Roman clan name, it's dramatic and striking.
Theodore: Meaning 'gift from God', it's had periods of popularity, but is currently quite uncommon.
Tuck: A shortened version of Tucker, this short, sharp name is full of spunk.
Vin: Short and to-the-point, Vin means 'conquerer', and is, of course, shared with movie star Vin Diesel.
Willis: Common as a surname but unique as a first name, it's a thoroughly modern version of William.
Yugen: This is a Japanese word that relates to a profound awareness of the universe. Perfect for a wise little one.
Zeke: A shorter version of Ezekiel, but just as strong (and a little easier to spell).