We are really sorry to bring it up but Chrissy is only seven weeks away and it's time we started gently nudging you guys in that direction.
No pressure though; we are going to just ease you in with a super fun list of Aussie Christmas products that will be sure to help you crack a smile.
1. Aussie calendar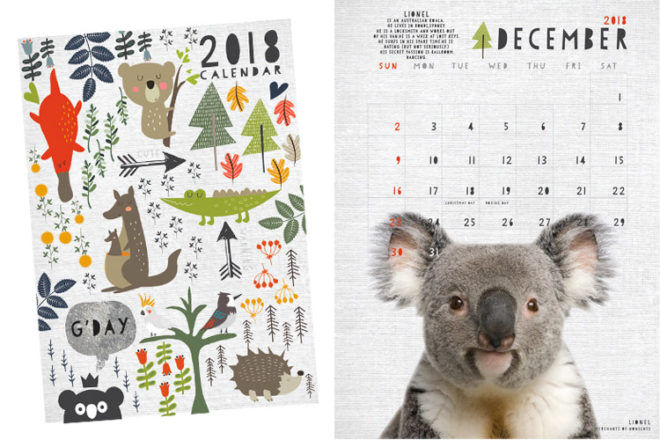 G'day G'day! If this 2018 animal wall calendar isn't Aussie enough for you then we're not sure what is. Oh and just how CUTE is it? Availlable now from Merchant of Nonsense for ($25).
2. Aussie Chrissy cards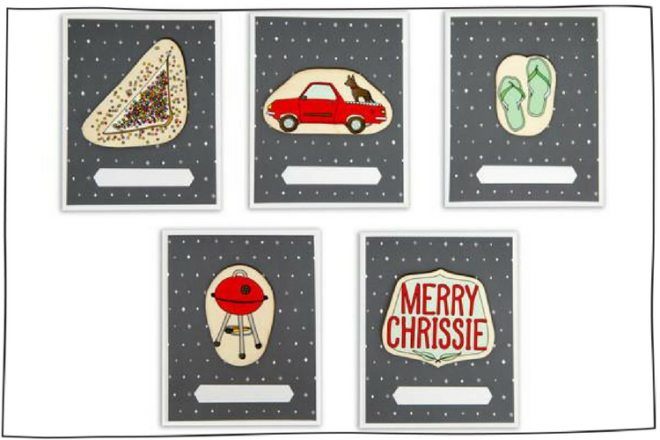 You can't get much more Aussie than this range of Merry Chrissy Cards ($7.95 each) from Make Me Iconic. Each one comes with a thin wooden printed icon that can be recycled as a gift tag or hung on the tree. Who doesn't love a card that keeps on giving?
3. Aussie Christmas tea towel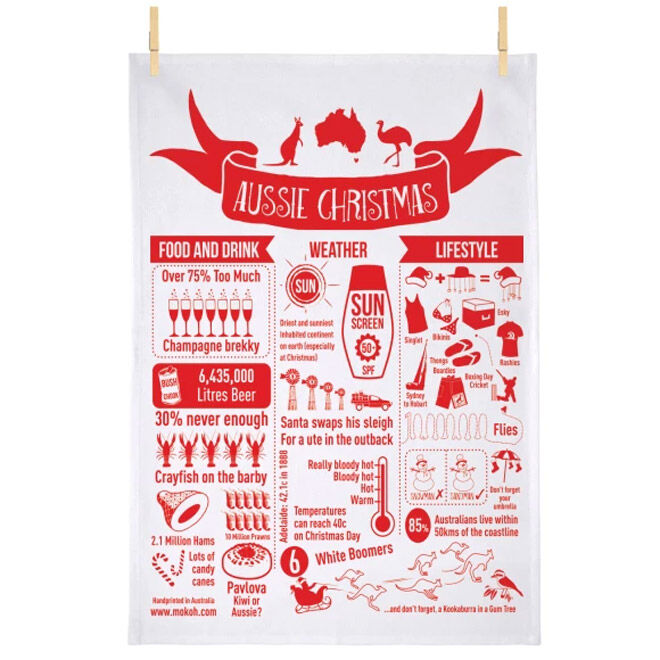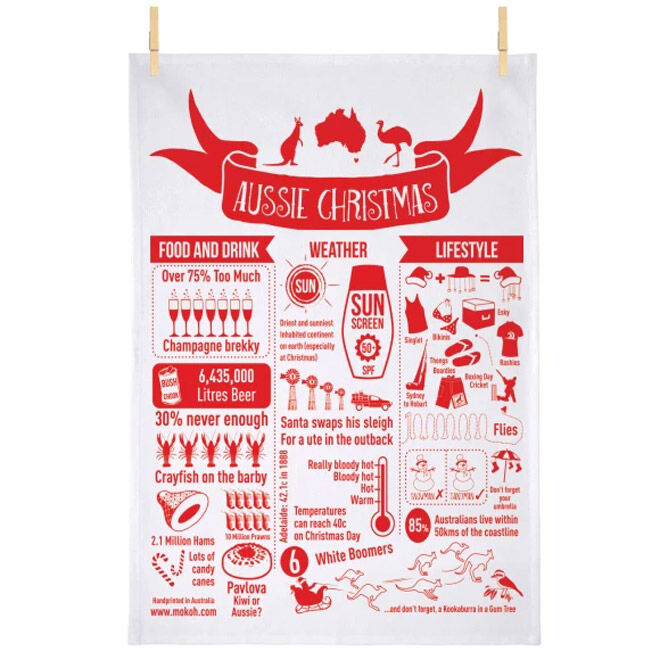 Is it weird that reading this Aussie Chrissy tea towel ($28.00) makes us a little emotional? Is it not the perfect host or Kris Kringle gift? Sigh, all of a sudden Christmas Day cannot come quick enough.
4. Australian themed Christmas temporary tattoos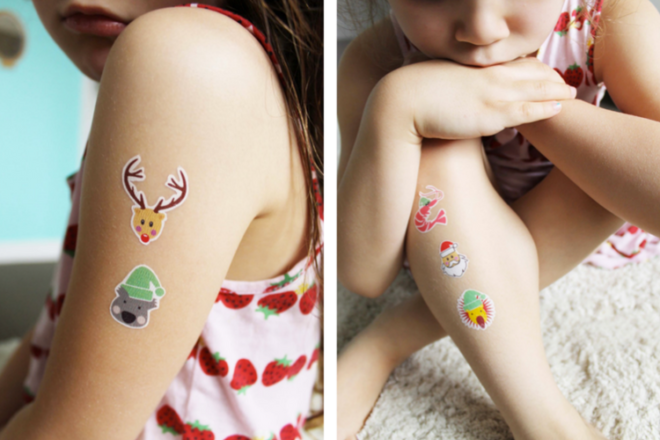 Exqueeze us? Are these not the cutest things you have ever seen. These Christmas Temporary Tattoos ($9.95) are the perfect class gift or stocking filler. Each pack comes with seven different designs and shipping in Australia is free. Cute!
5. Christmas koala onesie
Baby's first Christmas outfit sorted! This Aussie Christmas Koala Romper ($32) is the perfect outfit for a Chrissy baby. Can't you just imagine the squishy thighs poking out of it? Perfection.
6. Prawn Earrings
This year you can scrap the Christmas Tree earrings and explore the world of prawn-lobing. Yes, it's totally a thing. A thing that we just made up, but who's judging? These prawn earrings by Antipastel ($40) are a bit of fun for an Aussie Christmas day. Just add lemon. (Oh and they have pavlova ones too).
7. Christmas Bilby Necklace
Kids really do need novelty jewellery too. This Bilby necklace by The Little Vikings ($40) would look completely adorable over any Chrissy outfit and comes in a bunch of different colours. The magnetic clasp also makes it safe to wear no matter how intense the post-pavlova play gets.
8. Bamboo Christmas Plates
One of the best things about being a kid is novelty plates, and this collection of Aussie Christmas inspired bamboo plates ($19.95 each) are the stuff Chrissy memories are made of. Seriously SERIOUSLY!
9. Prawn Speedos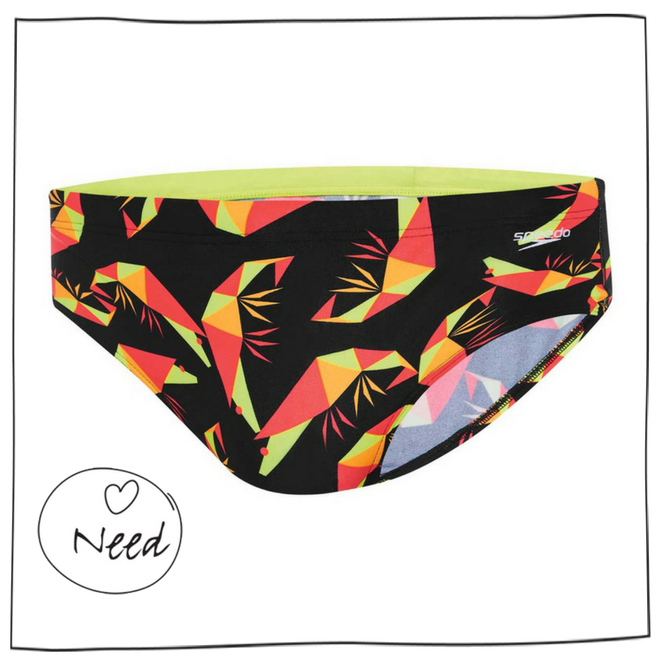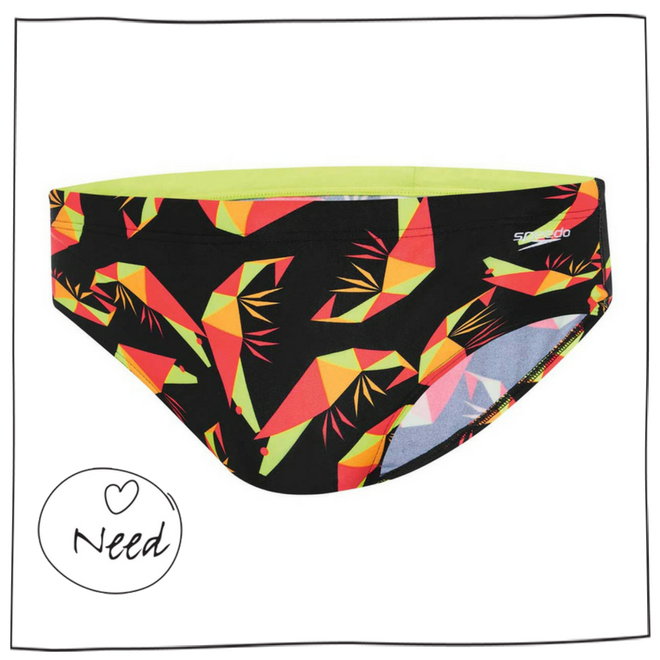 Ok, we admit, this one is a bit left of field – but what a fun Dad gift! These Mens' Shrimp Flipturns Trunks ($60) are all sorts of amazing. It's a cliché but these really are the perfect Chrissy gift for the bloke who has everything.
10. Personalised Aussie Christmas jigsaw puzzle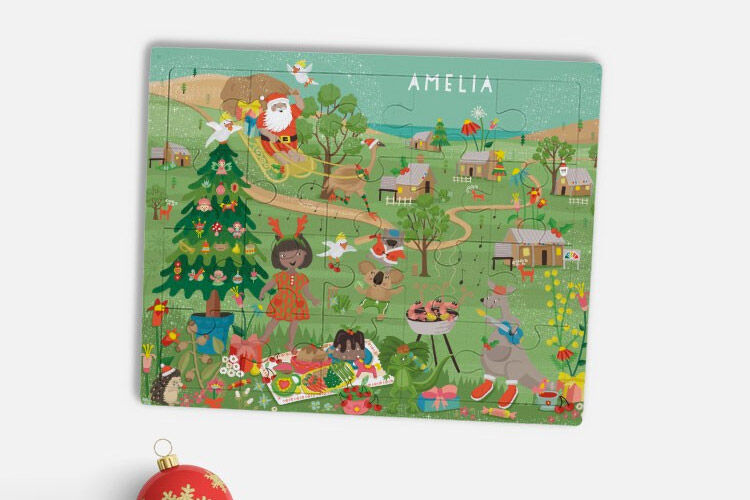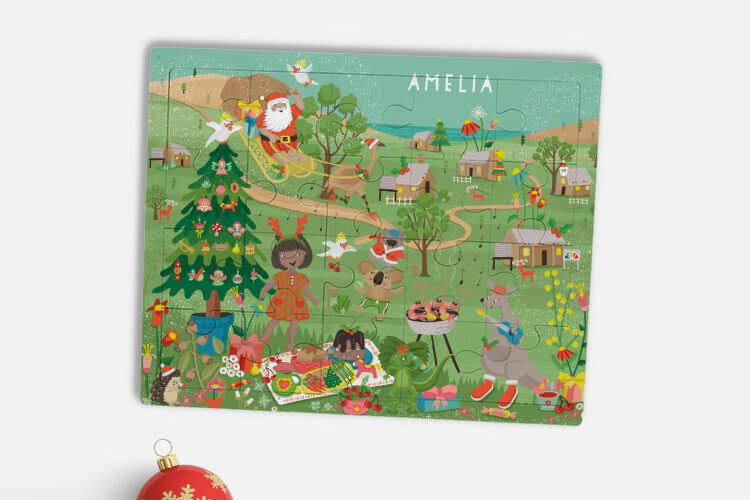 A true blue Aussie Christmas scene complete with prawns on the barbie and Santa's sleigh being pulled by an Emu.  This gorgeous wooden jigsaw puzzle from Hippo Blue ($40) can by fully personalised with your kiddo's character and name – that'll keep them busy on Chrissy morning.
11. Beachy wrapping paper

We are pretty huge fans of beautiful wrapping paper, and of Australiana around here too, so when we stumbled across this Christmas at the beach wrapping paper ($5.95) we got a little bit excited. It's super fun, right?
So there you have it, our favourite very Aussie Christmas products.  You're in the mood for Chrissy now aren't you? For more Christmas inspiration, check out our Mums Grapevine Christmas section.