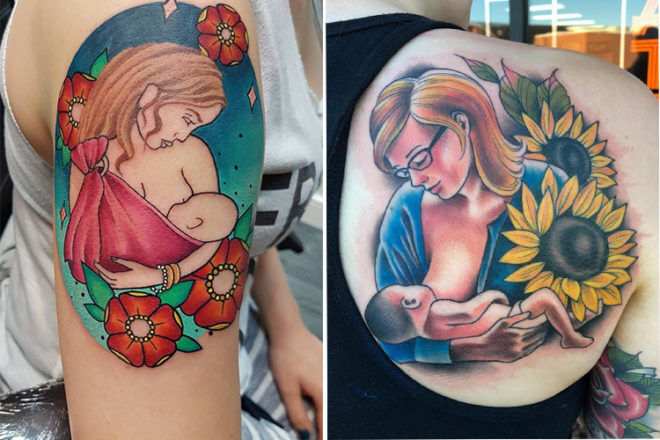 From the very first breastfeeding moments, something changes in us as women. For many mums, their breastfeeding journey is filled with joy as well as tears and pain, which is why so many mummas are now getting a permanent reminder of their beautiful journey.
Breastfeeding tattoos are becoming more and more common, and here are some stunning examples of mums wearing their heart on their sleeve – literally.
Courageous and colourful
Flowers and colour represent a journey of growth and bonding.
Loud and proud
While some mums choose discreet, smaller tattoos, many wear their breastfeeding pride for everyone to see.
First ink
What an amazing statement piece for this first-time tattoo mum.
Motherhood celebrated
The tattoos aren't just about breastfeeding, but about motherhood as a whole.
The look of love
There's something about staring at a breastfeeding baby that's like nothing else.
Mother's Day gift
Many mums choose to get their breastfeeding ink as a first Mother's Day gift to themselves.
A beautiful rainbow
Most of these incredible tattoos feature goddess-like images – because that's what mums are.
Bold and beautiful
Bright and eye-catching, the tattoos are meant to be conversation starters.
Baby wearing and breastfeeding
Many of the tattoos also celebrate baby wearing as well as breastfeeding.
Breastfeeding bond
Whether it's a caricature, real likeness or even a mermaid, every one of these tattoos celebrates a breastfeeding bond that's undeniable.
For more powerful breastfeeding images, read our article on the fierce breastfeeding Zapatista mummas.