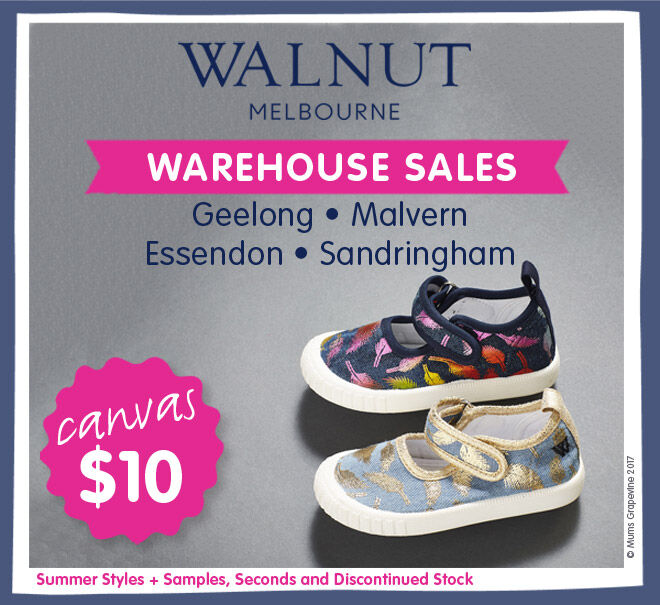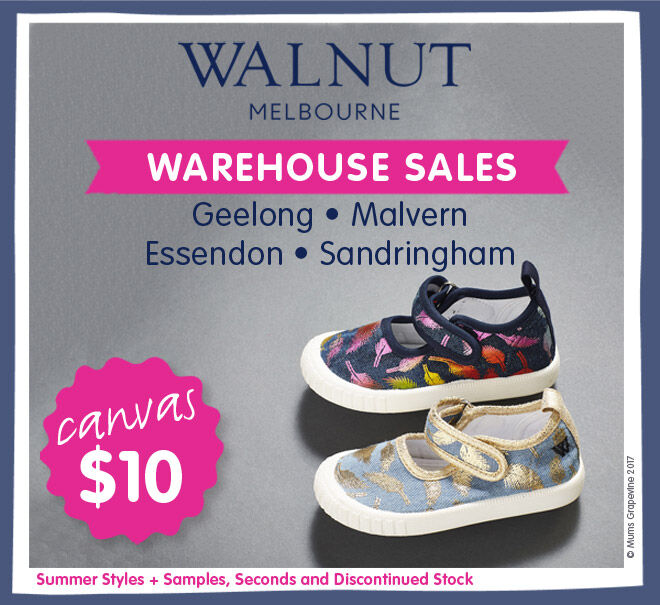 Walnut Melbourne Samples & Seconds Sales
5th to 8th December, 2017
Geelong, Malvern, Essendon and Sandringham (Vic)
You'd have to be nuts to miss Walnut Melbourne's warehouse sales!
Put them in your diary, write them on your hand, queue up all night – whatever you do, don't miss the Walnut Melbourne warehouse sales. For four days only, pick up classic Walnut shoes from a tiny $2 with ladies' and children's samples, seconds and discontinued lines reduced to clear.
Plenty of summer styles, and more kids canvas shoes on sale than ever before.
Fresh stock released for each location.


Four big locations …
Geelong:
Tuesday 5th December, 2017 | 9am to 3pm
All Saints Parish Hall
113 Noble Street, Newtown Vic 3220
Malvern
Wednesday 6th December, 2017 | 9am to 3pm
St John's Hall
5 Finch Street, Malvern East Vic 3145
Essendon
Thursday 7th December, 2017 | 9am to 3pm
United Church Hall
Cnr Mount Alexander Rd & Buckley Street, Essendon Vic 3040
Sandringham
Friday 8th December, 2017 | 9am to 1pm
Scout Hall
74 Bamfield Street, Sandringham Vic 3191
Cash, credit card and EFTPOS available.