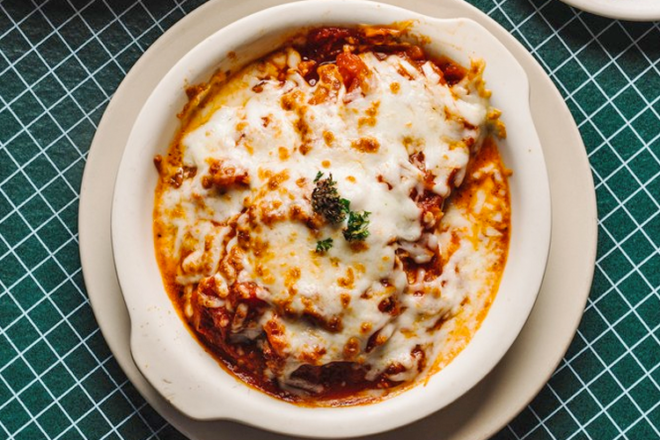 If the thought of downing castor oil with a raspberry leaf tea chaser to bring on labour isn't appealing to your cravings, we've found a recipe that may just get your bub moving. If nothing else, it makes a delectable dinner.
Scalini's Italian Restaurant in Atlanta has become famous for its 'Eggplant Babies'. There's an entire wall dedicated to the hundreds of babies who were born not long after their mums ate the Eggplant Parmigiana. The number of Eggplant Babies is more than 300.
A delicious dish with a baby twist

The labour-inducing eggplant recipe stretches back more than a quarter of a century.
"Two or three years after we began, a few people had just mentioned to us they came in when they were pregnant, and ate this eggplant and had a baby a short time after that," owner John Bogino told Good Morning America. "One person told another, and it just grew by itself by leaps and bounds."
So popular is the dish, that the restaurant has made the recipe available so that mums all over the world can give it a try. And there are plenty of Aussie mums having success.
"When I was pregnant with my third child I was desperate for something to help the baby come soon!" Sydney mum Mel Galanto explained. "I heard stories about your eggplant parmigiana and found the recipe online. As I live so far away it was impossible to visit! I re-created it and voila, my baby was born within 12 hours of eating it! The same with my fourth and fifth babies! Don't know what the secret is but it really works … and anyway it is DELICIOUS!"
If you're in the final stretch of pregnancy and are keen to give labour a kick-along, here's the famous recipe.
Labour-inducing Eggplant Parmigiana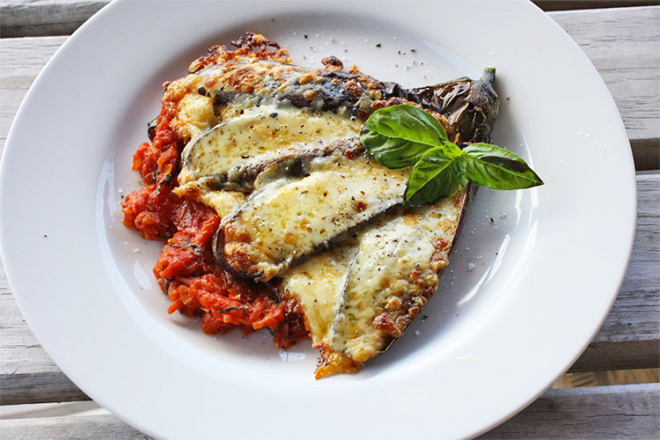 Ingredients
3 medium size eggplants
1 cup of flour
6 eggs, beaten
4 cups fine Italian bread crumbs, seasoned
Olive oil for saute'ing
8 cups of marinara sauce*
1/2 cup of grated Romano cheese
1/2 cup of grated Parmesan cheese
1/2 lbs of Mozzarella cheese shredded
2 cups of Ricotta cheese
* Scalini's Marinara Sauce
2 tablespoons of chopped garlic
3 tablespoons of olive oil
8 cups chopped tomatoes (fresh or canned)
1 cup onions chopped
1/2 cup of fresh chopped parsley
1 teaspoon of oregano
1 teaspoon of crushed red pepper
1/8 cup of fresh chopped sweet basil
Pinch of thyme
Pinch of rosemary
One teaspoon salt
One teaspoon black pepper
Marinara Sauce Method
Lightly saute the onions in olive oil in large pot for a few minutes. Add garlic and saute' another minute. Add tomatoes and bring sauce to boil, then turn heat to low. Add remaining ingredients, stir, cover and let simmer for one hour, stirring occasionally.
Method
1. Wash the eggplant and slice them into 1/4 inch thick slices. You may choose to peel the eggplant before you slice it, however, you may want to leave the skin on since the skin contains a lot of vitamins.
2. Place the eggplant slices on a layer of paper towels and sprinkle with a little salt, then cover with another layer of paper towels and hold it down with something heavy. This will drain the excess moisture. Let them sit for about an hour.
3. Working with one slice of eggplant at a time, dust with flour, then dip in beaten eggs, then coat well with breadcrumbs.
4. Saute in preheated olive oil on both sides until golden brown.
5. In a baking dish, alternate layers of marinara sauce, eggplant slices, ricotta, parmesan, and romano cheeses, until you fill the baking dish about a 1/8 inch from the top.
6. Cover with shredded mozzarella cheese and bake for 25 minutes in 375-degree oven. Let sit for 10 minutes before serving.
It seems it's not just eggplant sending women into labour – read about the spicy, labour-inducing pizza overdue mums are raving about.