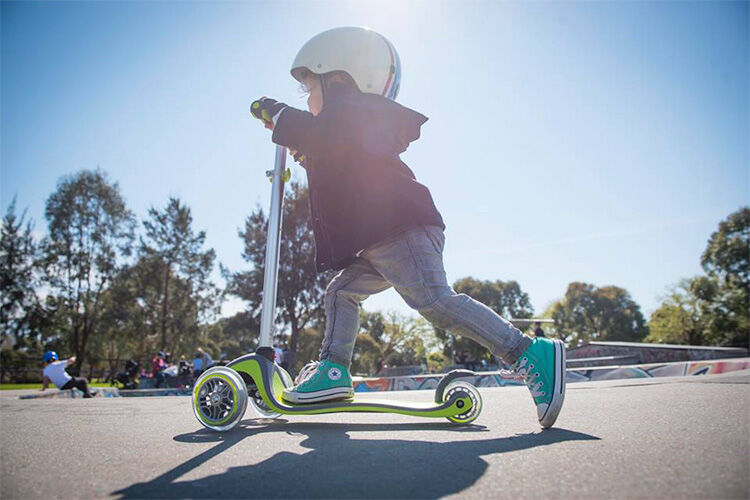 Scooters have come a long way from the bits of wood nailed together with rollerskate wheels our parents rolled about on.
Today they're one of the most popular ways for your tyke to get around, whether it's for a bit of backyard fun or to transport them off to school. But with so many styles, types and brands on the market today, it's hard to know what one is right for your little scoot.
We've got you covered. With the help of Globber, here's our easy guide to buying a scooter for your kids.
Types of scooters
There are four main types of scooters – it's important to pick the right one for your child's age and ability.
1. Convertible Scooter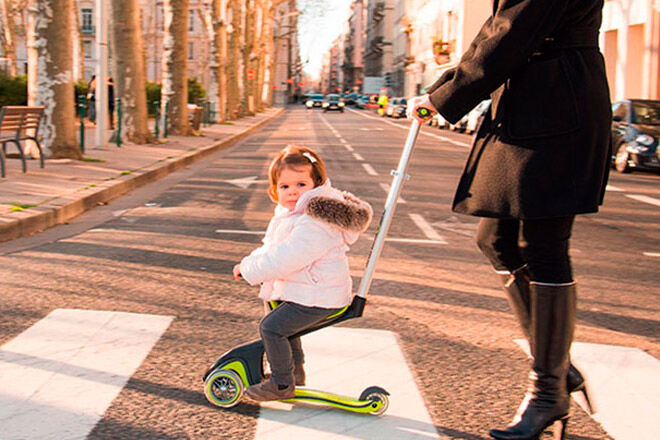 As the name suggests, this type of scooter converts to cater for different skill levels and ages. Depending on the type, they typically suit from 1 to 6 years. They are an ideal way to help your tot learn steering and balance without the risk of wrangling a big scooter by themselves. They're also a great alternative to a trike.
Before it's used as a standing scooter, a 3-in-1 starts off with a seat attachment, so your munchkin can sit and use their legs to scoot forward. When it's time for the seat to come off, the handle can adjust to suit your growing kiddo.
For extra safety, a 4-in-1 includes the addition of a parent handle, so you can guide your tyke where they want to go. It also saves your back as there's no need to lean over to give your poppet a push along. The handle can easily be removed when your speed racer no longer needs a helping hand.
A 5-in-1 caters for the youngest of children and gives you the longest life out of any scooter. In addition to a seat and parent handle, it also comes with a little footrest for your tot's comfort. It's perfect for those early days when they're just not up to powering the scooter themselves and need a little push – they can just sit and enjoy the ride!
2. 3-wheel Scooter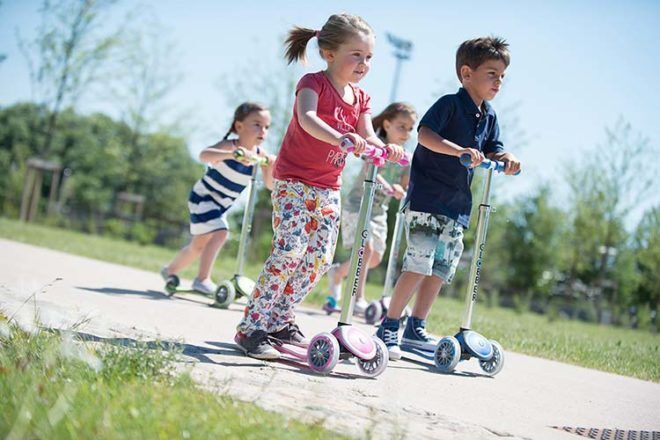 From about 3 years old your kiddo should have the strength and balance they need to handle a 3-wheel scooter ($130) on their own. With two wheels at the front and one at the back, they provide a stable base for the newbie scootster, but give them freedom to set off on their own.
3. 2-wheel Scooter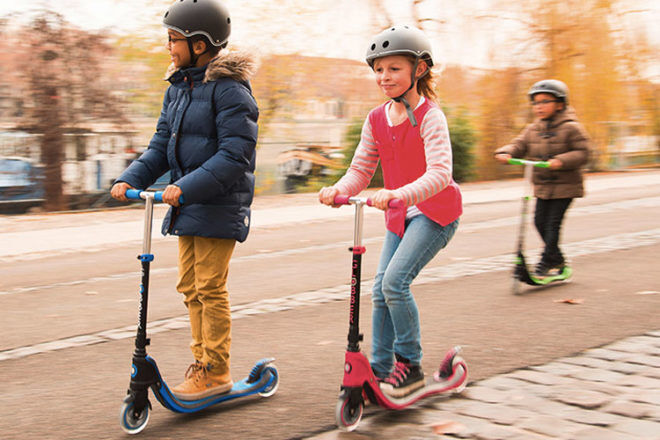 At about 6 years old, you've got a bona fide big kid on your hand. They're ready to go 2 wheels (from $120)! Your kiddo is going to be clocking up a lot of k's on this one so go for a sturdy frame, quality wheels and height-adjustable handlebars.
4. Adult Scooter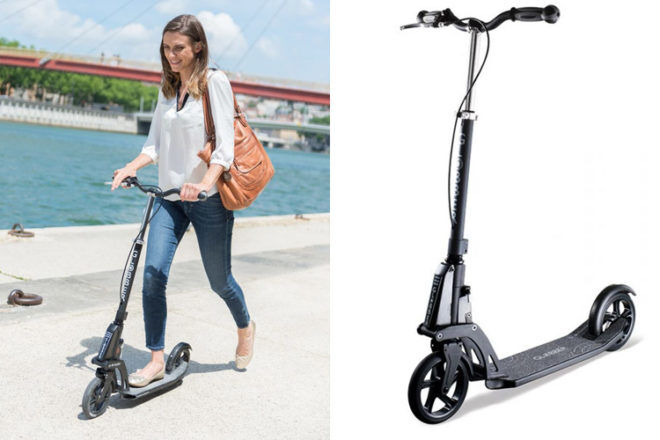 We're all big kids at heart, so don't forget Mum can ride too! Adult scooters ($350) are just built a bit bigger and a bit tougher to handle a full-grown driver. Their wheels are bigger, deck is wider, handle is longer, and typically hold up to about 100kg.
What to look for when buying a scooter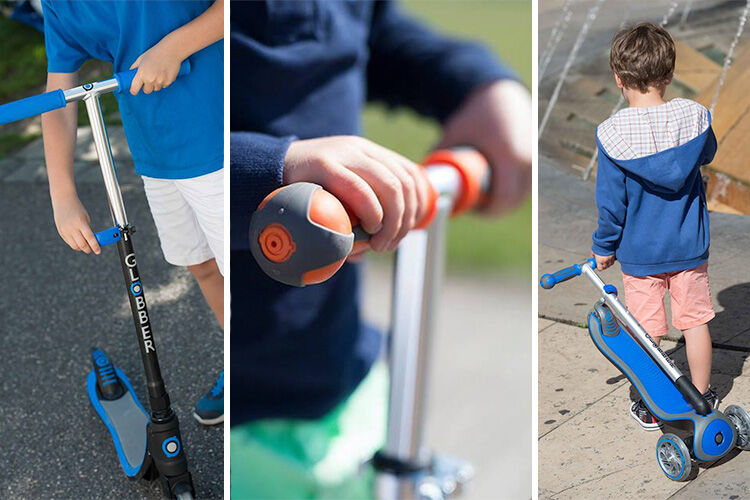 Now you know which type of scooter is right for your kiddo, you're ready to think about the features of each scooter.
Wheels and steering
For beginners, look for a steering locking system to make learning easier. It keeps the wheels from turning so your tot can concentrate on learning the basics of balance first. Once your tot has got the hang of the basics, look for intuitive or assisted steering to make steering easier and always go for good quality wheels and bearings.
Handlebars
Like a beanstalk, kiddos magically shoot up overnight. Scooters are a bit harder to replace than last season's fashion, so quality height-adjustable handlebars are a must. Also think about the grip – an ergonomic grip made for little hands will make it easier for them to hold and help them enjoy the ride.
Brakes
When your tyke starts off they'll likely just put their foot down to stop. But as they pick up confidence and speed, a good brake is essential. Look for a long and covered composite rear brake that allows better braking while preserving the back wheel. A hand brake adds extra safety for big kids.
Frame
The overall design of the scooter can make a big difference to performance. A strong, well-designed deck makes it easier for kids to turn their scooter. A deck low to the ground improves its stability and is easier to push so your tot won't get as tired doing what they love.
Portability
As fun and handy as scooters are, their overall shape isn't that practical for packing in cars or carrying around. If you'll need to transport your kiddo's scooter while they're not on it, look for a folding design. Some can also stand upright while folded, making storage a breeze. The Globber myFREE fold up ($180) has an easy fold up mechanism kids can do themselves.
Accessories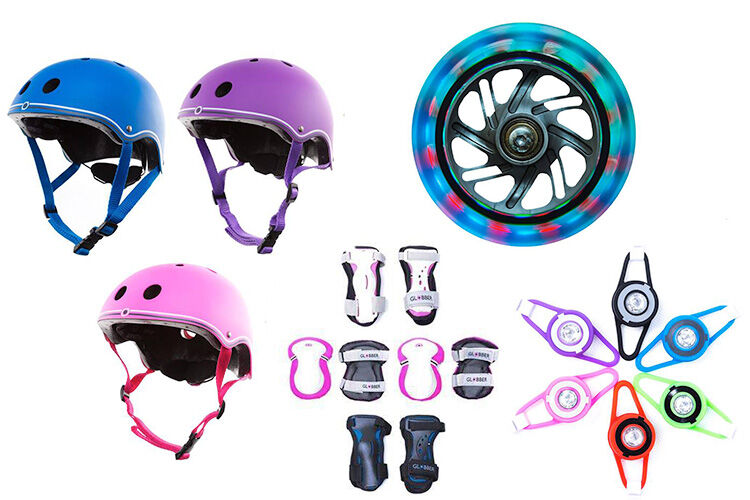 There are lots of added extras that you can get to make the most out of your kiddo's scootering.
Safety gear like helmets and knee pads are a must.
Flashing wheels add excitement and fun.
Reflective designs provide better visibility in low-light situations.
A flashlight helps light up the dark.
A bell provides extra safety.
A bag sized to fit is handy to store all their gear.
For all your scootering needs, visit Globber Australia.
This post is sponsored.