Christmas time is filled to the brim with parties, get-togethers and sweet Santa bedtime stories – it's one of the best times to be a mum.
While we'd all love our bambinos to be snug in their beds while visions of sugar-plums dance in their heads, this time of year usually means disrupted sleep. Late nights, missed naps and sleepovers can undo great sleep routines faster than a toddler unwrapping a present on Christmas morning.
We've consulted infant and toddler sleep expect Tara Mitchell for tips on keeping sleep on track during the silly season. And here are her four tips to help babies and toddlers get plenty of sleep over Christmas.
1. Keep little ones in their own sleep space
You might find yourself having to bunk in with the tot when sleeping over at family or friend's places, but gaining a roommate might not be a great idea.
"Even when you are on holiday or staying with family or friends it is important to continue to provide your little one their own sleep space – if that is what they're used to," Tara Mitchell says. "Little ones don't generally understand two sets of rules, so if they are allowed to co-sleep when away on holidays, there's a good chance this will be expected on your return home.
"It doesn't take long for your child to get used to sleeping in bed with you and if it's not the normal at home then it's best to keep it that way whilst away."
2. Don't ditch the naps
Tara says overtired kids are a recipe for disaster. Kids are most disrupted by a change in their routine while travelling, rather than a change in surroundings.
"With all the excitement going on, your little one may not be offered regular opportunities for naps, and their normal bedtime may be gradually getting later and later. It's important to do what you can to ensure they keep their naps and get plenty of sleep.
"This way, they can have all the energy they need to have a fun and play-filled festive season! I completely understand this is sometimes unavoidable but it's worth keeping in the back of your mind when making plans."
3. Give the comfort of home
Young nuggets thrive on routine, so try and keep things just like they are at home.
"Whether you're just going for a day or a week, trying to keep bedtime familiar can really help avoid confusion and sleep regressions. If your little one has a teddy or comforter they sleep with then it's a good idea to bring this with you. Do as much of their usual bedtime routine as possible, and if they use a sleeping bag at home absolutely bring this along for the ride also."
4. Keep your boundaries
Rules are rules – even if you're not at home.
"The holiday season is a great time for toddlers, in particular, to start pushing boundaries. Often during this season late nights and missed naps tend to be more common, this can lead your little one to believe the rules have changed. Pair that with a new environment and it's highly likely your toddler may start to try and take control of bedtime or bend the rules.
"So whilst it's important to enjoy this time of year, remember that our little ones thrive on structure and boundaries, so keep them as much as you can. If you find your child sleep has fallen off the rails a little, a reward chart and consistency is will help you get back on track."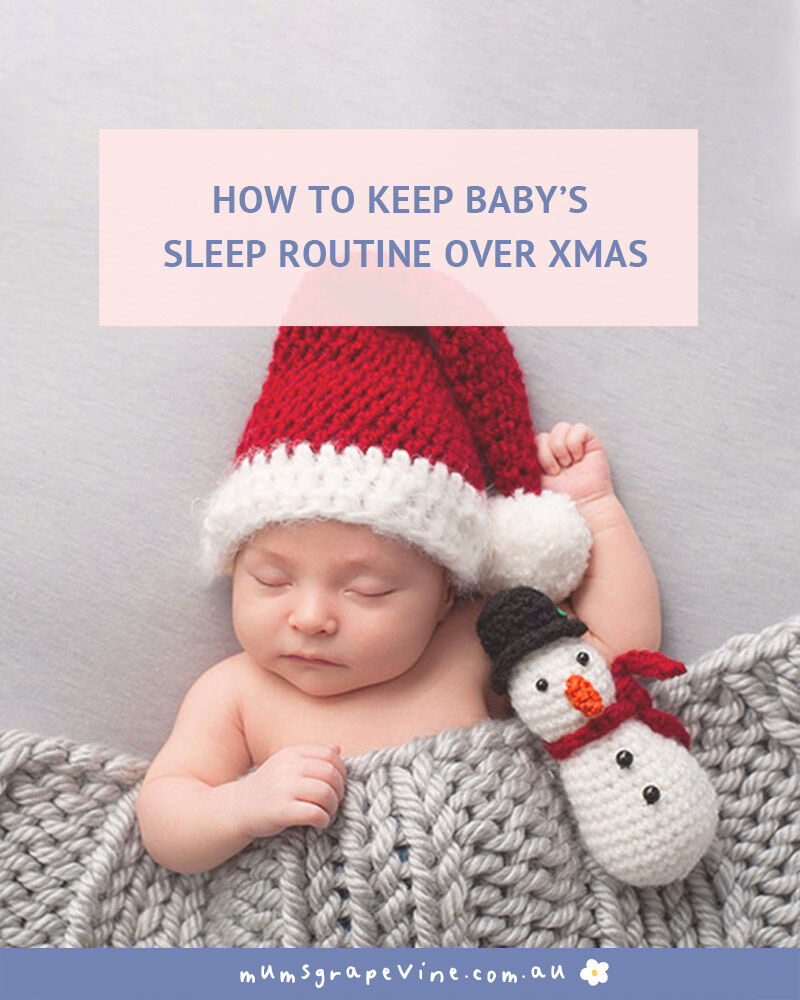 Want to know how to put a baby to sleep in 60 seconds? Make sure you watch this adorable video next.