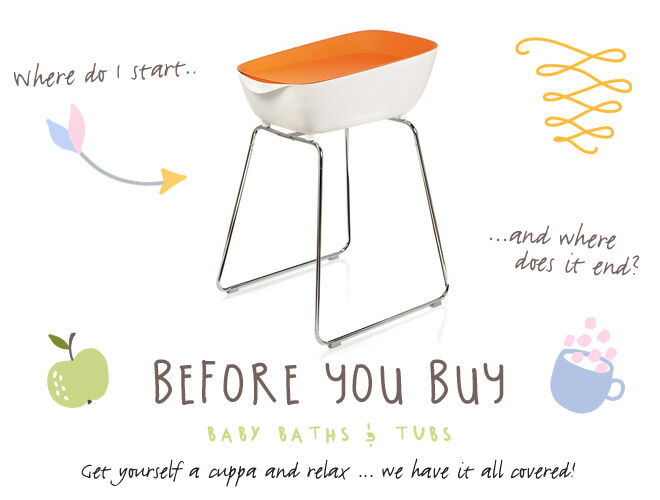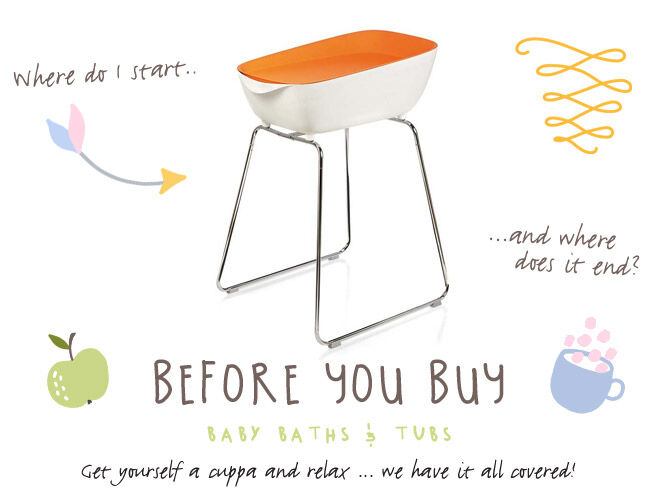 Scrub-a-dub-dub, there's a bub in the tub! There's nothing quite like a squeaky clean baby fresh out of the bath – and we've researched everything you need to know for how to choose one.
The trick to picking a tub that will work for your family is thinking through how it will be used. Where will you be using it? Do you need to store it? Can you lift it when it's full?
Before you splash out on a bubby tub, take a look at our Before You Buy Guide – and don't forget to print out our handy Baby Bath Chooser Checklist before you hit the baby stores!


Before you decide what to buy, you need to know what you can buy and why. We've answered some basic questions for you to get your head around what's out there and what you might need.
Is it essential: No
How much will it cost: $10 – $200
How long will you use it: 3-6 months
Should you purchase before baby arrives: Yes
Baby bath alternatives: Of course, you can get by without a baby bath. Babies do just as well being bathed in a laundry or kitchen sink, or in a regular bath. There are also a host of baby bath alternatives, like using a mesh baby sling in the shower while you have a wash, foam sink inserts, shower chairs and tubs.
Baby bath accessories: Thermometer, bath supports, baby hooded towels, faucet covers.
Can you buy secondhand: Yes, and it's one of those items that should be passed around your friends. You don't use it for long, it's bulky to store and they don't have to cost much.


Baby bath (with stand)
A plastic moulded baby bath that can be placed on a table or bench, or even inside a regular bathtub. You can get them with or without a stand if you don't have bench space.
---
Collapsible
Collapsible baby baths can be folded flat when not in use and easily hung behind a door. They're also great for travelling and camping. Some don't hold much water and leave baby cold.
---
Inflatable
Inflatable baths blow up into a mini pool shape that you can put in your regular bathtub or on any flat surface. Just remember that they will be harder to move full of water. Also good for travelling.
---
Tub
Tubs are similar to a bucket in shape and are designed to allow bub to sit upright. They don't use a lot of water and are probably the easiest to move when full.
---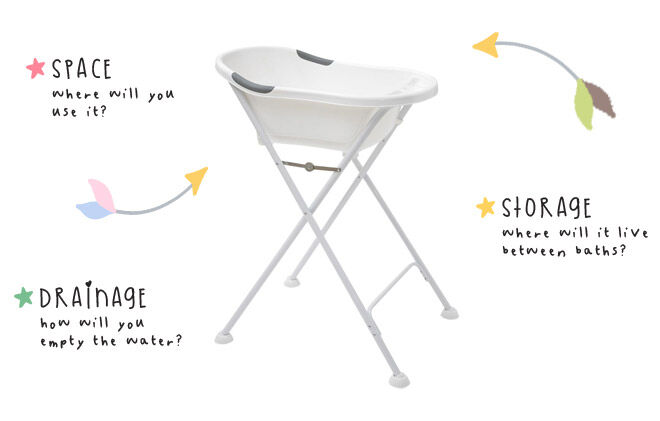 Get ready to get wet! Now you know there are about 100 ways to wash a baby, let's look at the finer details to find your way.



As you can imagine, baby baths are bulky and heavy when full of water, and the space you have available close to a water supply and drainage will determine the type of baby bath you need.
Things to consider:
Where will you bath baby?
Next to, or over a sink – this is a good place if you have the room as you will be close to the water tap and you can often put the plug hole over the sink and just let it drain.
In the bath or shower – another good spot close to water and drainage. The only drawback is you'll be kneeling and leaning over to hold your newborn until they can sit up.
On a table or bench – good for your back, and you may have the space to lie out a towel and change pad next to the bath for quick drying after tub time. Drainage will be an issue and, unless your bath has a hose to drain into a nearby bucket, you may have to scoop the water out or carry it full of water to empty.
On a stand – a folding stand is a simple solution if you don't want to lean over. You can set it close to water for filling and put a bucket underneath for draining.


You'll need to find somewhere for your baby bath to live in between bath times. Hard moulded baths are big and bulky and an odd shape to stack, while inflatable and collapsible baths are easier to find a spot for out of site.
Things to consider:
Can the bath fold down or be moved?
Baths that collapse flat can easily be stored behind a door, hang from a towel rail or slipped under a bed.
Inflatable baths can be kept in a bathroom drawer or cupboard but you have to blow it up each time for use.
Folding stands can be hidden behind doors or against a wall, but you'll still have the main bath to store somewhere.
A bath on a stand with wheels can stay assembled and easily be moved around the house and hidden in another room out of site.
How will you store the tub between babies?
If you've got the space, put it in a plastic bag and pop it in the garage or on top of a cupboard. (TOP TIP – keep the bag it comes in to use as a dust cover when storing). You could always put the baby clothes bub grows out of in there too.
If you don't have space you could give/lend the bath to a friend to use.
You could use it as another laundry basket, dog bath, water play table, veggie patch or any other upcycling use you can think of.
Donate it to somewhere like St Kilda Mums for redistribution to families in need.
---


Did you know some baths can weigh your baby while they're having a dip? Pretty clever!
Bath thermometer – no need to use your elbow, these thermometers give a digital readout of the exact water temperature.
Inbuilt scales – some fancy baths can weigh your baby while in the bath, taking into account water weight and movement.
Jets and nozzles – rinsing off is a breeze with handy holes to insert a shower nozzle.
Stand with storage – some baby bath stands have extra space below to keep lotions, towels and nappies handy.
Bath support – nifty sling like inserts you put in the bath and rest baby on.
In the market for a baby bath?
Join the closed Mum's Grapevine due date and baby groups on Facebook and ask other mums what they love about their baby bath.