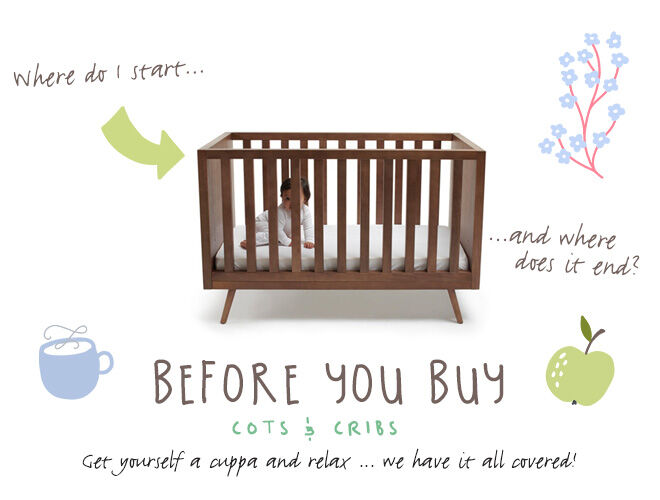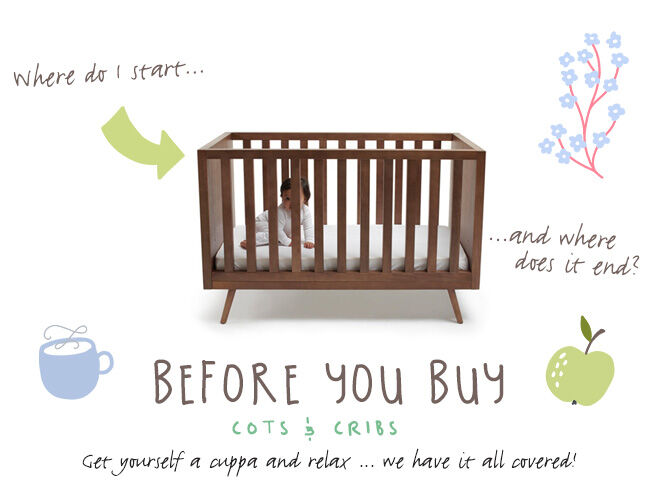 It's the jewel in the crown of every nursery (besides your baby of course!), and a cot needs to be so much more than a show-stopper.
Mum's Grapevine's Before You Buy Guide will arm you with everything you need to think about before making the final decision on which beautiful nest you'll buy for your baby bird. Do you need a compact cot? One that transforms into something else altogether? What about how easy it is to use with a baby in your arms? Will it fit in your nursery?
Here's what you need to consider before you drop your dosh on a cot – and don't forget to print out our handy Cot Chooser Checklist before you hit the baby stores!


Before you decide what to buy, you need to know what you can buy and why. We've answered some basic questions for you to get your head around what's out there and what you might need.
Is it essential: Yes
How much will it cost: $150 to $3000
How long will you use it: 3 to 4 years
Should you purchase before baby arrives: Yes
Cot accessories: Cot sheets, mattress protectors, teething rails
Can you buy secondhand: Yes. If you are buying secondhand or borrowing a cot always check it meets the Australian Safety Standards for cots (see below). Noting not all cots sold online meet the safety standards and cots made before 1970 may have been painted with lead-based paints.
Always buy a new cot mattress when purchasing a secondhand cot.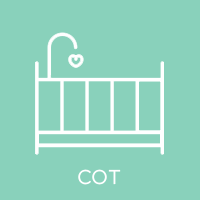 Cot or Crib
A cot is an infant bed with fixed, high-barred sides (that can be temporarily lowered in some for ease of use).
•  5 modern cots for style conscious parents
---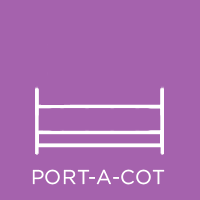 Port-a-cot
A port-a-cot has soft sides, a removable mattress and folds up for easy transportation.
•  6 great port-a-cots and travel cots
---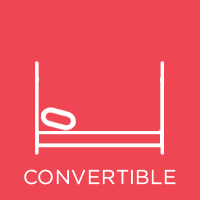 Convertible Cot
A convertible cot transforms into something else, like a toddler bed.
•  10 clever cots that transform into toddler beds
---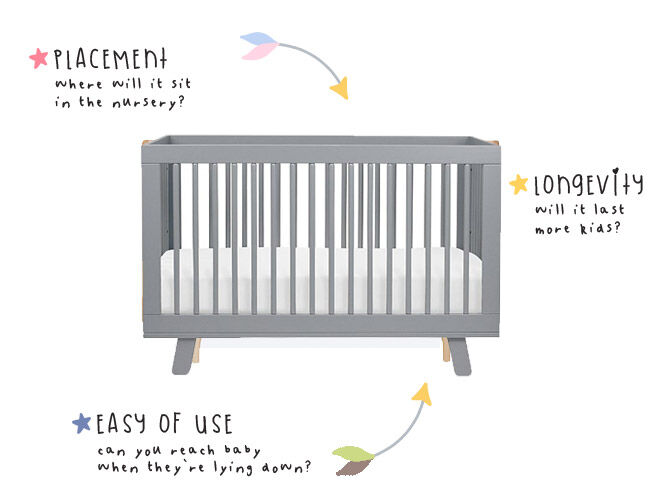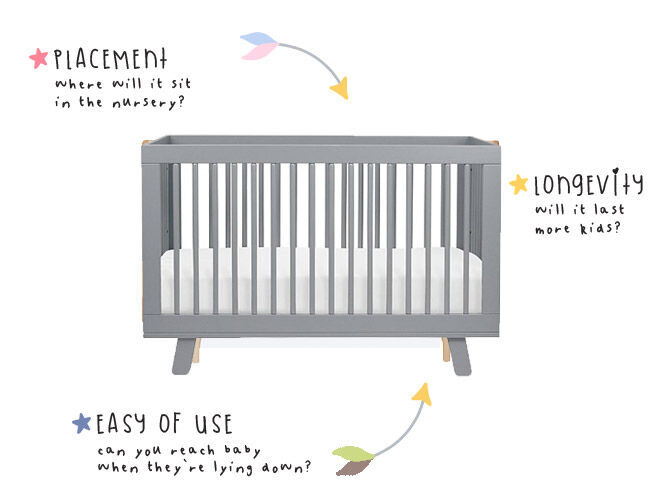 You tot will spend a lot of time (hopefully!) in their own little baby bed, so you want to pick a sleep space that suits your household.  Here's what to think about.
---

Working out your nursery layout will help determine your cot possibilities – and it's also a whole lot of fun! Start with the cot first as it's the most important piece of nursery furniture. Then work on fitting in other things like a nursing chair and change table.
Things to consider:

Where are the air-conditioner or heating vents placed?
Don't place the cot over ducted heating vents
Check that cold or hot air won't be blowing directly onto bub
Where are the windows in the room?
Curtain and blind cords are a strangulation risk so keep away from the cot
Direct sunlight could be an issue, especially in the mornings!
Where will the other furniture go?
Later on, bub will be standing and able to reach things at arm's length. If you butt furniture at the end of the cot, like a change table, think about what's in reach of little inquisitive arms.
Round or oval cots may be harder to fit against other furniture.
---


Babies lie on their backs for the first four to size months, so a cot that you're able to reach in to settle baby if they're lying down will save your back in the long run. Most cots come with two height settings so your newborn can be closer to the top of the cot.
Things to consider:
Can you reach over the cot?
If you or your partner are short, a cot with a drop-side will make it easier to reach in and settle baby.
Will you need to move the cot around?
A cot on castor wheels is easier to move around
A cot that fits through a doorway which assembled makes it easier when it's time to transition bub from your bedroom to the nursery later. Otherwise, you'll be dismantling and setting it up all over again.
---


A cot takes quite a beating over the years, and if you intend on using it with future children, you need to consider its continued functionality. Whether this is your first baby, or your last, you can get a cot that does double or even triple duty and get plenty of bang for your buck.
Things to consider:
Do you want to be able to freshen up the cot between kids?
Timber cots with durable paint or a natural finish are easily wipeable, and they can be repainted.
Use a teething rail to protect the cot from little biters!
Do you want the cot to be useful once outgrown, or in between children?
You'll get plenty of use out of a cot that starts out life as a bassinet and converts into a cot and then into a toddler bed.
A cot that transforms into something else altogether is pretty handy too – some nifty cots convert into high chairs, toy boxes, day beds – even a double bed!
---


In Australia, all cots must meet mandatory safety standards (Australian/New Zealand Standard AS/NZS 2172:1995) for design, construction, labelling and testing. Before you buy a cot, make sure you're familiar with the requirements.
The space between bars must be between 50 and 95mm
The distance between slats must be at least 50mm
The cot must have no footholds or toeholds 150 and 550mm above the mattress base.
No gaps between 30 and 50 mm that can trap a child's limbs
No gaps greater than 95mm that could trap a child's head or neck
There have been instances of cots sold in Australia that don't comply with these standards (particularly online).

---


Short on time? We've put together a collection of our favourites to suit every style and budget.
---


You can customise your poppet's sleep space with some dreamy additions. Just be sure to always follow safe sleeping guidelines.
Sleep aids – light and sound emits from a unit that attaches to the side of the cot to help your tot doze the days away.
Mobiles – sound or movement mobiles that attach to the side of the cot.
Canopies – not only look dreamy, they keep insects away. Just make sure it's well away from hands so they can't be pulled down.
Conversion kids – turn your cot into a desk, toddler bed, high chair
In the market for a cot?
Join the closed Mum's Grapevine due date and baby groups on Facebook and ask other mums what they love about their cot.
Images: ubabub | Babyletto | Incy Interiors