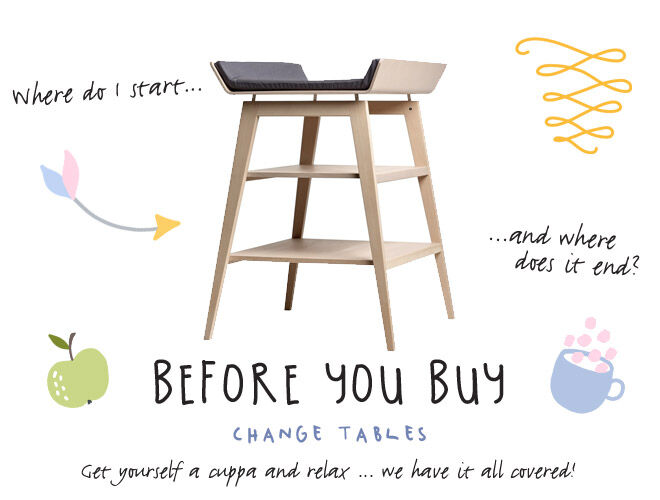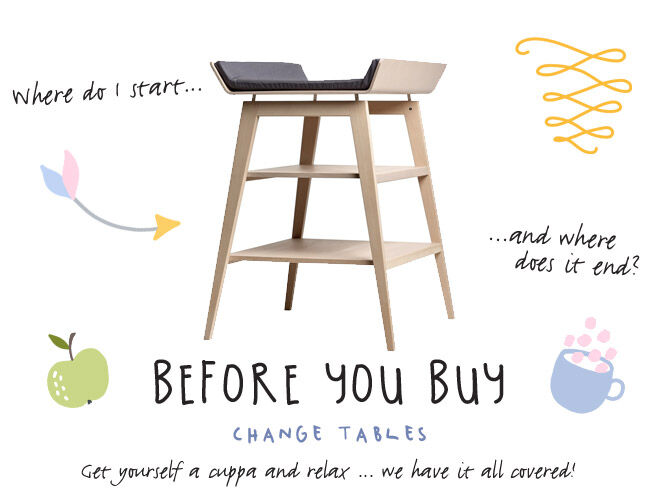 Newborns need about 12 nappy changes a day (eeek!) so you'll get to know your change table pretty well in the first few weeks of parenthood!
Want to make sure you choose the right one? Take a virtual wander through our change table Before You Buy Guide and once you're finished you'll know exactly what you need. We'll help you consider your nursery shape, where you'll be using the change table and what you're going to do with it between kids.
Don't forget to print out our handy Change Table Chooser Checklist before you hit the baby stores!


Before you decide what to buy, you need to know what you can buy and why. We've answered some basic questions for you to get your head around what's out there and what you might need.
Is it essential: No
How much will it cost: $30 to $1000
How long will you use it: 3 to 4 years
Should you purchase before baby arrives: Yes
Change table alternatives: It's not essential to have a change table, you can set up your own change station on any flat, stable surface by using a change mat. That means the heirloom chest of drawers you've been saving for your first bub can do double duty – yay! The floor or bed could also work.
Change table accessories: Change mat and cover.
Can you buy secondhand: Yes

Change mat
A change mat has elevated sides that can be placed on any flat surface (including a change table, change tray or chest of drawers).
---
Change table with shelves
A designated change table that uses a change mat on top, and usually has at least one open shelf for storage below. Some have castors and can be easily moved around.
---
Change table with drawers
A converted chest of drawers that has a change table top attached that can later be removed.
---
Folding table
A lightweight table that can be folded flat and put away for easy storage between uses.
---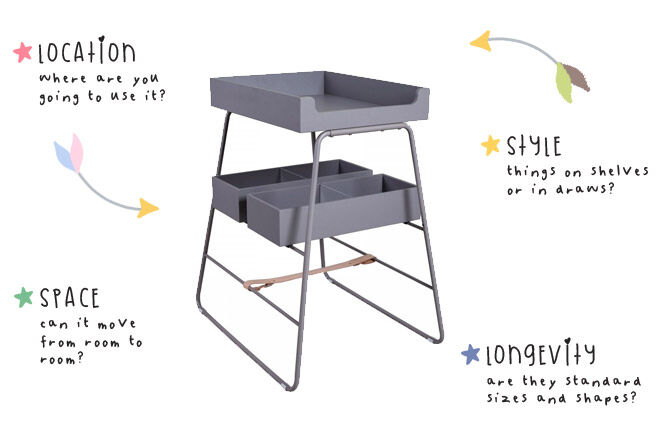 Little babies quickly grow into wriggle pots more interested in escaping off to their next big adventure than lying still to get dressed or have their nappy changed. So you'll want to make sure you have everything you need within arm's reach.
Some change tables and mats come with a safety belt like attachment, however, the current recommendation is never to leave your baby unattended on a change table and not rely on them.



Let's get straight to the point – nappy changing can be a smelly business. And sometimes that smell lingers in a room like a distant relative overstaying their welcome at Christmas. Look for a room with good ventilation, close proximity to rubbish bins, has little distractions for bub and enough space to have everything you need within arm's reach.
Things to consider:
Where will you be changing baby?
In the nursery – change tables aren't just for changing nappies, it's where you will also be dressing and getting ready for a bath. In the nursery, everything is in the one room. You can also control the number of distractions and use it as part of your sleep routine. If your nursery is upstairs, you'll be running up and down A LOT, and you'll be surprised how quickly the dirty nappy bin fills if you're not emptying it regularly (remember the smell!).
In the bathroom – often a good space for ventilation and it's close to water and the bath. You'll have to remember to bring the clothes in for dressing and the room temperature can sometimes be cooler than the rest of the house. A good space to consider if you're using cloth nappies and have to drop number twos down the loo.
Around the house – having a portable change station, like a caddy with all the essentials (nappies, creams, a change of clothes and wipes), gives you the freedom to change baby where you like.
Do you have a double storey or large house?
Investing in two change tables may be handy in a two storey home to save you taking the stairs each time there's a stinker. Or you could get an extra changing mat or portable change station for daytime use downstairs.
Foldable change tables can be moved up and down stairs easily.
A change table on wheels can be transported from room to room – good at bathtime!
Getting a specially designed nappy bin that contains the smell of dirty nappies could be a good option so you don't have to run downstairs after each nappy change.
Cariboo Folding Change Table
---


Wriggly baby and a pooey nappy make for an interesting combination – will your change table be up to the test? You need to always keep one hand on bub when changing, so consider where the storage is on the change table.
Things to consider:
Can you easily access nappies, wipes and lotions with one hand?
Change tables with drawers let you easily store everything in a top drawer, well within your reach but out of reach of inquisitive little hands. They also keep everything out of reach when baby starts walking.
Change tables with open shelves have everything in the open and within reach without having to take your hands off bub to open drawers. The only drawback comes when bub gets older and starts the game 'look what I can put on the floor' – your piles of perfectly stacked nappies disappear forever.
Is there enough storage to stop you having to constantly restock?
Babies go through a lot of nappies – you'll want to keep as many as possible close by so you don't run out at a crucial moment.
Check there is room for all the extras too, such as lotions, nappy bags, wipes, face washers and a change of clothes.
Consider a table with a second shelf if you like your space. It also means you won't have to reach as far for your supplies.
Hugs Factory Harlem
IKEA Gulliver Change Table
---


Your baby's change table is going to get a good work out, especially if you have more than one child. With a bit of forward-planning, it can last a lifetime.
Things to consider:
Is the table easy to clean?
A change pad with a removable cover means easy washing after those extra messy changes.
Are you having children close together?
You may end up using the change table for more than one child at the same time – make sure there is enough storage for all the newborn and toddler bits and bobs.
Think about locating the table in a place that's handy to use for both of your kids.
Can it be easily converted?
Get more use out of a change table by choosing one that has a second life after your tot is out of nappies, like a chest of drawers, desk or even an artist's easel.
---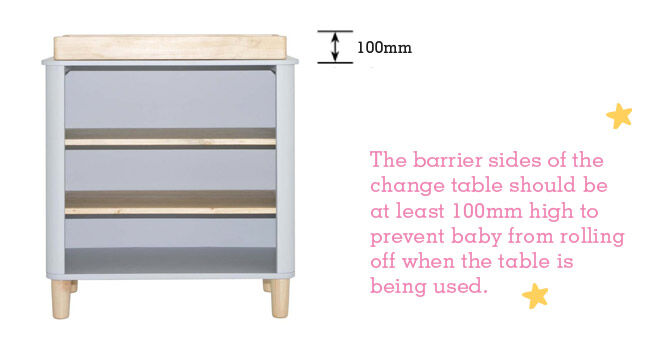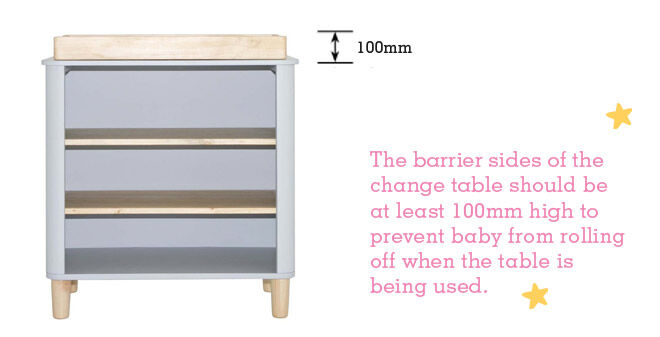 There is no Australian safety standard for changing tables. Care should always be taken when using a change table to avoid serious injury to your baby.
Make sure collapsable change tables can be locked open securely.
It should be sturdy and strong, with roll-off protection, like raised sides.
Side barriers should be at least 100mm high.
There should be no entrapment hazards where little ones can get a finger or limb stuck.
Check if the table comes with a child restraint or strap to help keep baby secure.
---


Short on time? We've put together a collection of our favourites to suit every style and budget.
BzBx Change Table
Cariboo Folding Change Table
Hugs Factory Harlem
IKEA Gulliver Change Table
---


There can be a lot required for a simple bum-change for your little one. Make sure you have everything you need on the ready with these added extras.
Nappy stacker: a tidy way keep those nappies in order.
Change caddy:  keep all the essentials close at hand.
Change mat:  lets your bub lie back in comfort. If your table doesn't come with one, you'll need to make sure you can buy a mat the right shape and size to fit.
Change mat cover:  great for catching little (and big) spills and to make change times cosy for bub.
In the market for a change table?
Join the closed Mum's Grapevine due date and baby groups on Facebook and ask other mums what they love about their change table.