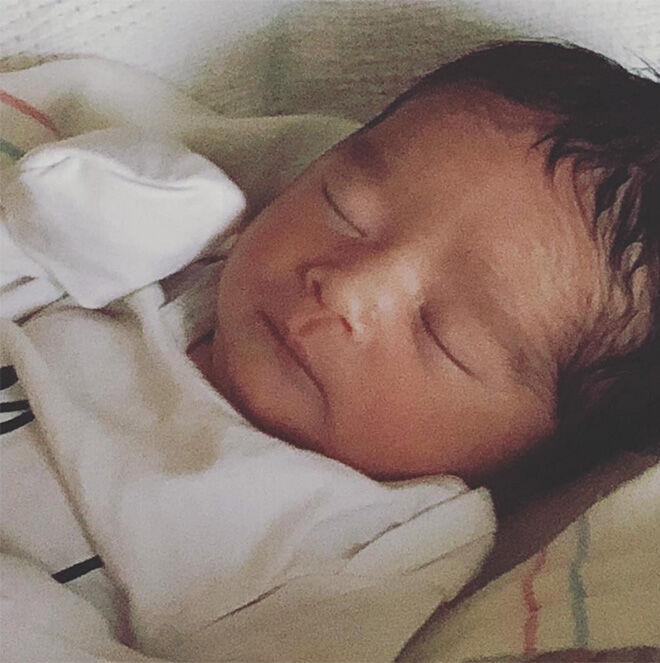 The mop of dark hair, that gorgeous button nose – this celebrity baby has us clucking like chooks. Actress Jessica Alba has farewelled 2017 in the most perfect way possible – giving birth to a sweet baby boy on New Year's Eve.
Jessica and her husband Cash Warren have continued a cuter-than-cute naming theme, giving their newest family member the moniker Hayes Alba Warren. The couple has two daughters: Haven Garner, 6, and Honor Marie, 9. What a gorgeous trio of 'H' names.
The Honest Company co-founder posted a photo of her adorable bub on Instagram saying he's the, "Best gift to ring in the New Year! Cash and I feel so blessed. Haven and Honor are already obsessed with their new baby bro."
Doting dad Cash has turned to complete mush with the arrival of his son, revealing he was born a little earlier than expected. He posted a photo of himself gazing at his newborn saying,"Your Mamma is the strongest woman I know … you're so lucky to have her by your side. You have two amazing sisters who already adore you and I know you'll be thankful to have them guide the way.
"On your first day of life, I promise to love you, to cherish you, and to provide you with a sandbox full of dreams to explore."
The 36-year-old announced her pregnancy in July, before revealing her third baby would be a boy. Her excited girls doing a mini gender reveal with blue confetti in a short clip.
What a way to finish the year! Don't miss any celebrity baby and pregnancy announcements in 2018, make sure to subscribe to our newsletter.