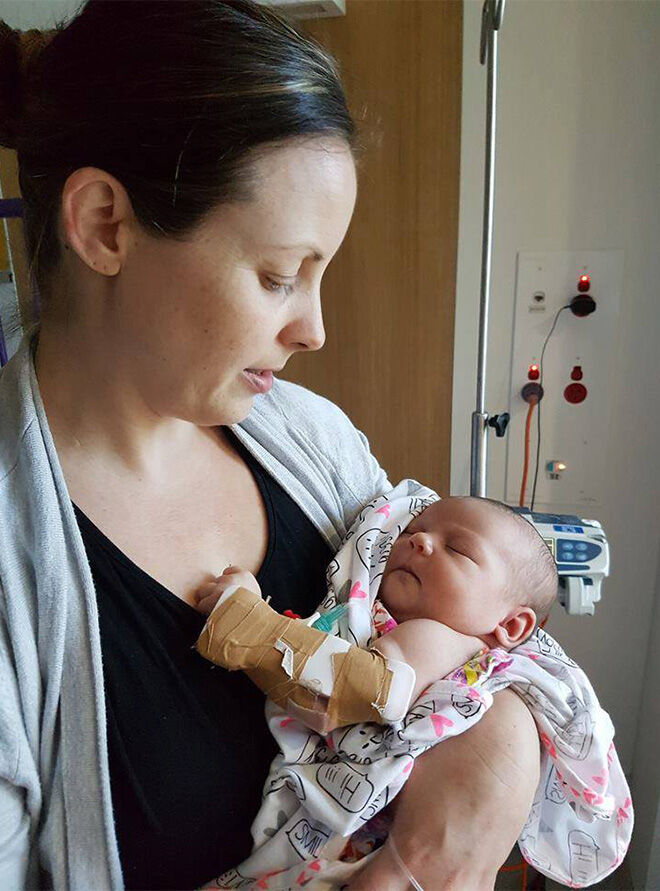 A mother's instinct is an incredible thing – and as Melbourne mum Jaime Crilly discovered, it can be lifesaving.
The mum-of-three knew something wasn't right with her newborn daughter after an unusually long stretch between feeds. In a matter of hours 19-day-old Remi was admitted to hospital, with doctors suspecting the tiny bub was battling meningitis.
It was Jaime's swift action that gave Remi a fighting chance, and she's sharing her story to warn other mums not to ignore their gut feelings.
'I suspected something was off'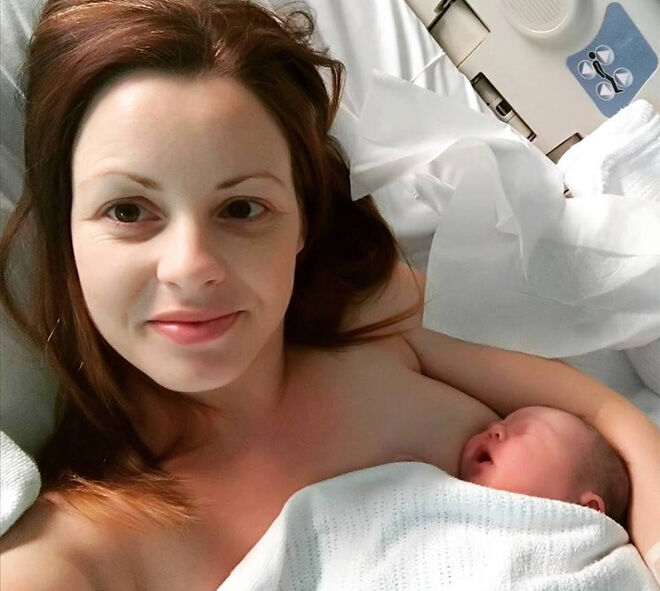 At just a couple of weeks old Remi was a chilled baby, feeding well and putting on weight. But a seven-hour stretch between feeds overnight had Jaime uneasy.
"I wasn't sure If I should celebrate or be alarmed. It was only when she didn't feed well then and went back to sleep I suspected something was off. The next couple of hours I offered breastfeeds whenever she made noise but while she had some they were not what I would call substantial," Jaime told Mum's Grapevine.
She couldn't shake the feeling that something wasn't right, but Jaime says she never suspected it was something so serious.
"I actually rang the Maternal and Child Health Line first and while she wasn't alarmed she suggested I take her to emergency to get looked over. Immediately I went into panic mode. The hospital took her temp and assessed her and asked me lots of questions. I honestly thought we would be sent home. They then explained they suspected she had an infection but the trouble with babies is working out where that was in her body."
'They called a code blue'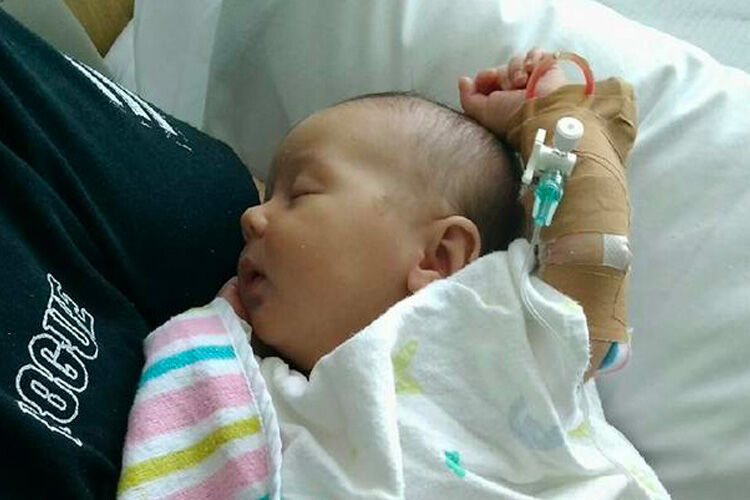 The medical team had to run several invasive tests on little Remi, including a lumbar puncture for a spinal fluid sample.
"They then explained they would be putting in an IV to start antibiotics while they continued to test. Seeing her little body when we came back … she was exhausted and the nurse explained she had been through a tough ordeal. I was a wreck at this point. The staff were amazing and reassured us that while the chances were slim she had meningitis they prefer to treat aggressively in someone so little in case that is the outcome."
By the time Jaime's husband arrived at the hospital, the terrified mum was overwhelmed. "She had a weak little cry every time I moved her so we knew she was in some sort of pain. It was heartbreaking."
"We were admitted with constant observations. Her temperature and heart rate were elevated and did not come down. About 5am in the morning, they called a code blue as her heart rate was over 200. That was extremely scary and I sat in tears watching people run into the room."
The frightened parents waited as the medical team grew cultures from the tests to determine exactly what Remi had – a bacterial or viral infection. The doctors continued her antibiotic treatment while keeping a close eye on her feeds and nappies. All the while Jaime continued expressing breastmilk and comforting her unsettled bub.
It took two days for the hospital to confirm that newborn had meningitis. After five days in hospital, little Remi was allowed home yesterday. "We were fortunate the results came in yesterday that it was viral and we could stop the antibiotics and monitor her while she fights the virus on her own," Jaime explained. "She will need to have a hearing test redone and see a pediatrician to follow up but hopefully they will all be ok."
Follow your instincts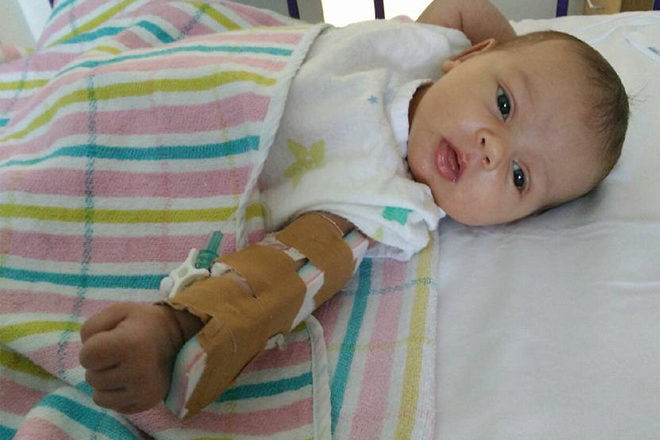 "Mum's really do know best. If you are concerned about something don't wait to go and get checked. That is what they are there for. I hesitated in the morning thinking the same thing but the hospital told me it was so lucky I got her in and we started treatment when we did. Don't think you are being a nuisance. I hate to think what the outcome could have been if we waited another day."
Jaime shared her harrowing story in one of Mum's Grapevine's Due Date and Baby Groups, to warn other parents. She wants other mums to follow their instincts when it comes to their babies, and seek medical advice when they're in doubt.