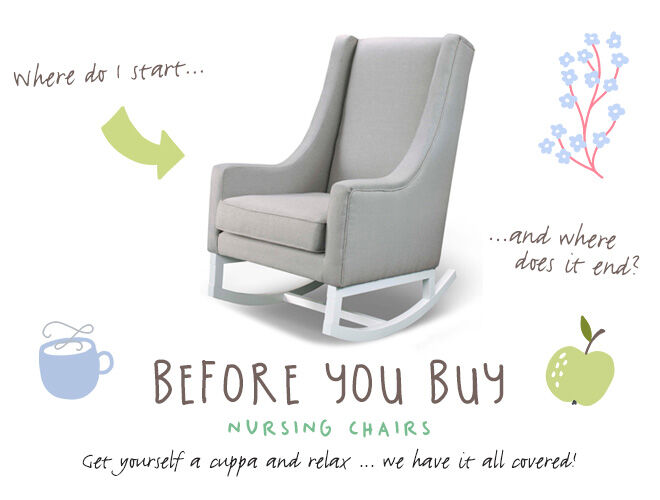 It's time to craft a cosy corner in the nursery to feed and soothe your sweet babe – and this purchase is all about you!
You'll be spending a huge part of your days (and nights) nestled in your nursing chair, so you need to think about how you're going to use it. Yes, that stunning, wingback rocker would look perfect in your modern neutral nursery – but can you breastfeed in it? What about if bub likes to be fed in the football hold? Is it wide enough for story time down the track when your little one's no longer so little?
Before you buy a nursing chair, work your way through our handy guide listing everything you need to consider before you buy a nursing chair. And don't forget to print out our handy Nursing Chair Chooser Checklist before you hit the baby stores!

Before you decide what to buy, you need to know what you can buy and why. We've answered some basic questions for you to get your head around what's out there and what you might need.
Is it essential: No
How much will it cost: $150 to $2500
How long will you use it: 1 to 3 years
Should you purchase before baby's born: Yes
Nursing chair alternatives: Nursing pillows and cushions turn any chair, sofa, bed or floor space into nursing spaces. What you decide you need really depends on your comfort level and how long it takes to feed your little milk monster.
Nursing chair accessories: Ottomans, nursing pillows, chair tidy.
Can you buy secondhand: Yes

Nursing Chair
A nursing chair is specially designed to support you while feeding your baby.
---
Rocking Chair
Rocker nursing chairs rock back and forth on an arc, with traditional rocking legs.
---
Glider & Ottoman
A glider and ottoman nursing chair moves back and forth, and some also swivel in a soothing 360° motion.
---

---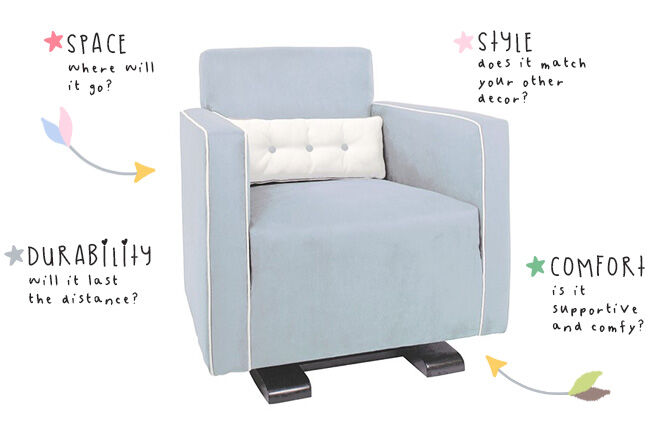 It's time to put your feet up – you might be a while. Think through these considerations and where comfort meets practicality (in the pretty package you love) – that's the chair for you!


First things first, where are you going to get the most use out of a chair? They don't just have to stay confined to a nursery.
Things to consider:
Where will you be putting your nursing chair?
In the nursery – there will be fewer distractions for bub, but you may be alone with bub for long periods of time.
In your bedroom – handy for night feeds, but if you spend most of your day in their too you might start feeling a little walled in.
In the lounge room – you'll stay connected to the rest of the family and be close to the telly.
If you're bottle feeding, consider where your partner would like to feed too.
You'll end up spending more time day feeding once bub drops night feeds so you might prefer a nursing chair for day feeds and stay snuggled in bed for night feeds.
---

What will fit your available space? There's no use buying the glider of your dreams only to find out it doesn't fit in your house – it'll end up in the garage as a very expensive dog bed.
Which type of nursing chair fits in your space?
Rockers and gliders need extra space to rock back and forth.
Ottomans are awesome but add extra length and make it harder to get in and out if you can't push it out of the way.
Some gliders can swivel 360° making it easier to get out of it.
Wider chairs can be used for feeding twins and toddlers or as a reading chair later on. They can also fit a sibling too if you need to read a story to one and feed the other.
You'll want everything in reach, so include room for a side table or something similar.
Is the space suitable for sitting for a long time?
If you're sitting near a window, you may be exposed to direct sunlight or a cold breeze if the weather changes mid-feed.
Make sure there's plenty of space for someone else in your house to walk around you so they don't disturb or bump you.
---

Different styles of nursing chairs have different comfort levels and, like Goldilocks, everyone will have their own favourite. Nothing beats a road test in-store to find one that's just right.
Things to consider:
What's your height?
Some recliners, can sit a little higher and make it difficult to get out of (especially one-handed).
If your feet don't touch the ground you won't be able to rock the chair easily either.
Deep seats can be a problem for shorter people.
If you're tall, you might find some chairs too low.
Do you need arm support?
Babies might be light but half an hour into a feed, they feel pretty heavy. Good armrests can help lighten the load.
Armrests that are too high might limit your feeding positions.
A feeding pillow might minimise your need for extra arm support.
How padded is the chair?
If your tushie likes a cushie, look for a plush seat.
A firmer chair may offer better back support.
Will you be trying different nursing positions?
---

Nothing within a five-mile radius of a bub stays clean for long and your nursing chair will be ground zero. Milk, spew, poo, snacks – you'll need to clean it all off if you plan on using your chair for years or selling it when you're finished. Also, make sure it's fit for purpose as there's nothing worse than a squeaky chair in the middle of the night.
Things to consider:
What material is the chair covered in?
Leather is easier to keep clean than fabric or suede.
Stain guarding fabric will make it last longer.
Removable covers are easier to clean.
How solid is the frame?
It needs to safely hold you and a wriggly tot for hours on end.
Make sure there's no loose parts or screws.
---

Even though comfort and practicality are paramount, you still have to look at your chair every day. Especially if it's in your lounge room, you'll want a piece of furniture you're proud to have in your home.
Things to consider:
Is matching the rest of your decor important to you?
Matching your existing lounge furniture will help disguise the 'look at me, I'm a nursing chair' factor.
It might match your nursery decor now, but what happens if you decide to move it to the lounge room.
On-trend styles might be 'out' by the time bub number two or three comes along.
---

You're going to be spending some long hours in this nursing chair, possibly over many years. Will the one you choose last the distance?
Things to consider:
How long will you breast or bottle feed for?
Consider how comfortable it will be nursing or bottle feeding a toddler in the chair.
Do you want to use it as a reading chair in the future?
Make sure the chair is wide enough to fit an adult and toddler.
Check it can take the weight of two people.
Do you want to use it as an occasional chair in your lounge once you're done feeding?
Pick fabric or leather that works with your other furniture.
---

Comfy seat – check. Now, what else can we get to help while the hours away?
Ottoman – sometimes it's nice to put your feet up! Also handy if you're trying to get into a tricky feeding position.
Cushions – help prop you up.
Chair tidy – handy little pouches that hang over the side of the armrest to keep everything on hand including dummies, nipple shields and cream, and maybe even some chocolate.
Side table – your bub won't be the only thirsty one, so keep a water bottle within easy reach. Also handy for a small lamp or nightlight.
Nursing pillow – a good chair and nursing pillow combo will have you and your little angel feeling like you're floating on clouds.
In the market for a nursing chair?
Join the closed Mum's Grapevine due date and baby groups on Facebook and ask other mums what they love about their nursing chair.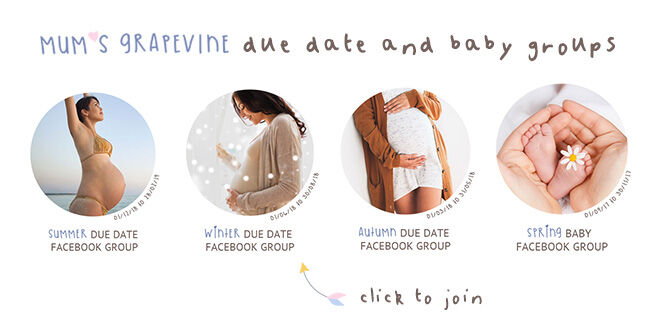 Images: Hobbe  | Ollie Ella