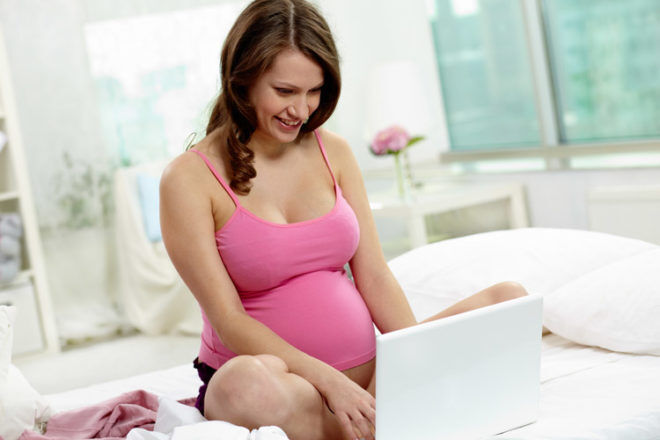 The moment we give birth, we all join a pretty special club. It's the motherhood village, and it's packed with millions of mums we'll never meet. But they can still play a huge part in our journey.
Talking to other mums is one of the best ways to find support – and you'll need plenty as you raise your little human. It's a cinch to find mums just like you without leaving the house. With just a few clicks you can connect to a whole online community of mums buzzing with knowledge, support and guidance – even at 3am in the morning!
Here are eight reasons to join a Facebook pregnancy or mums' group.
To find your tribe
It really does take a village to raise a child. So finding other mums journeying along motherhood road is like gathering your villagers – your tribe. Not all of us are lucky enough to live near our tribe, so a virtual village of women to help lift us is just as important.
Whether your friends aren't having children yet, or have already had their children years ago – you can find mums in exactly the same situation online. Mums of twins, children with special needs, mums whose babies won't sleep or feed properly. The world becomes so much smaller online, and it's amazing how many other mummas are in the exact same situation.
To share knowledge
Has baby started grunting in their sleep? Or are you not quite sure that you're using a nipple shield right? Rest assured, there will be a mum in a Facebook group that has been through the same thing. And they're more than happy to share what they've learnt.
Our own mums are brilliant when it comes to mum-vice, but most of them were mums a long time ago. The world is different, and in many ways so is mothering. And for those who don't have the support of their mums, being in an online mums' group gives you lots of mums to lean on. On the other hand, you can also offer your support to mums – you're building your own knowledge bank every day.
To get anonymous help, at any time
You may have an incredible support network around you, but there are still some things we don't feel asking our friends or family. Posting on your personal Facebook page is also a little tricky – you probably don't want your work colleagues knowing all about your cracked nipples! Of course, you can see your GP or healthcare nurse – but not at 2am in the morning!
You'll often find other mums up feeding their bubs at all hours are checking into their Facebook group. It's as easy as posting your question and you'll have dozens of answers in no time.
To vent
Being a mum is the best. There's so much to love about joining the Mum Club, it's total devotion to a whole new way of life. But with parenting comes challenges. In an online mums' group, you'll find your fellow mums are more than happy to hear your vent and raise you one of their own! You won't be judged, just be given virtual hugs and some sage advice.
An online mums' group is a safe place to be yourself – even when you're sad, frustrated and angry.

To get support
Sometimes all it takes is a kind word from someone who's in your court to turn your day (or night) around. Late night feeds can be lonely. Your mind can start to wander. You can question yourself and the decisions you made during the day. Rest assured there will be another mum in your group happy to give you some helpful words.
Being in an online mums' group can also help build your own sense of worth. Yes, you're a mum now, but you're also a woman. It's in our nature to want to help and support other women. It's amazing to think we can still do this, even if we haven't laid eyes on another adult all day. Your little world gets so much bigger when you can help, and get help, from other mums.
To get recommendations
Not quite sure if the pram you're looking at pops over curbs easily? Or when you should go up to the next size nappy? Someone in your online mums' group will! Getting word-of-mouth recommendations from other mums is a huge time and money saver. It's also a great place to share your brilliant parenting discoveries, products and hacks.
To have fun
Friday nights tend to look a little different once you have a bub. But log into your mums' Facebook group and they'll be chatter happening until all hours! It's a place to be yourself, have fun and even laugh at your embarrassing mum problems.
To get reassurance
Babies don't come with instructions. The best you can hope for is asking as many questions as possible while you're in hospital. And then what? That niggly little question, that may seem too trivial to ask your maternal health nurse about is perfect for posting in a private Facebook group. A simple question about bottle teats or how to cut a bub's nails will be sorted in a jiffy.
Want to find your online tribe?
Now that you know how awesome being in an online mums' group is, it's time to find yours! Mum's Grapevine has a bunch of very active private Facebook groups, from expecting mums to those who've already had their bubs. The groups are sorted into seasons – so just find the season and year your little one was born or is due. Want to know if that itch you have is normal? Or see what other baby bumps look like at the same stage? Wondering if other bubs are sitting up yet? Our members are constantly chatting day and night, there's always someone online to lend an ear.
New groups are starting all the time, and all our mums are super supportive and love helping each other out. Come on in!