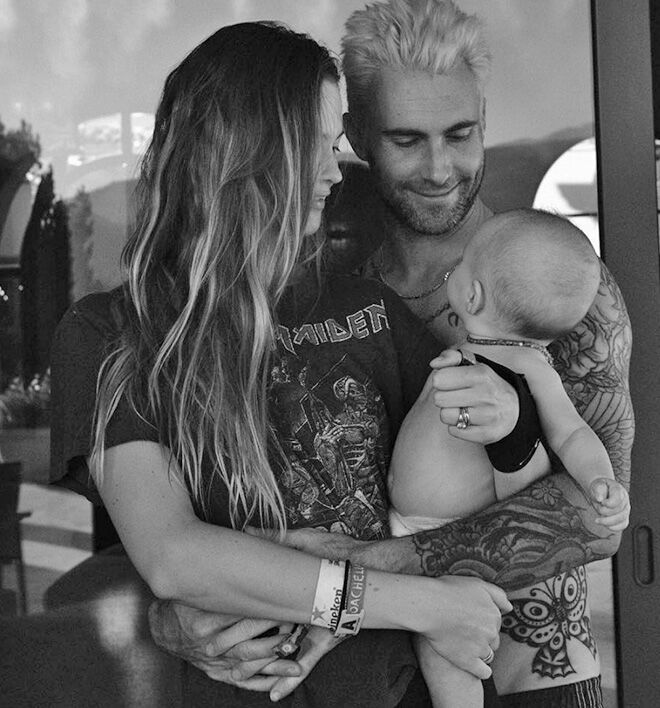 Maroon 5 frontman Adam Levine and his supermodel wife Behati Prinsloo officially have two under two. And their second daughter's unique name is enough to rival their first-born's moniker.
Behati took to Instagram just a short time ago, posting a sweet pick of her brand new girl's toes – claiming they look just like Adam's. The precious little one has been given the name Gio Grace. She's a younger sister for 16-month-old Dusty Rose.
A beautiful pregnancy
Adam had revealed last year the couple was expecting another girl, and Behati has proudly showed off her bump on social media for the past few months.
Gio was born on February 15, with Adam posting a photo of his love on Valentine's Day just hours before she gave birth.
Adam revealed on The Ellen DeGeneres Show that couple are planning to fill their home with children, "I want a lot, I thrive in chaos," he said. "(Behati) was an only child, so she wants like 100 babies. I don't know if I can do that. That's a lot of babies."
If you're baking your own little ray of sunshine, make sure you head over to our closed Mum's Grapevine Due Date and Baby Groups. They're a hive of activity with hundreds of supportive mums and mums-to-be.