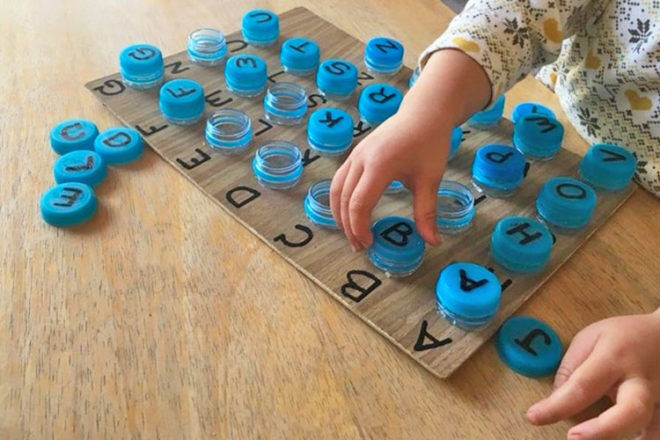 Empty out the recycling bin and get your hot glue guns ready, it's time to make a genius toddler board. Aimed at teaching the alphabet and training the fine motor skills, it turns empty water bottles into the ultimate toddler teaching aid.
The simple alphabet small muscle trainer keeps inquisitive toddlers busy, engaged and learning – but they think they're just having fun.
How to make a toddler alphabet trainer
What you need
26 empty water bottles
A sharp Stanley knife
A backing board (a thick piece of cardboard will also work)
A texta
Hot glue gun
How to make it
1. Cut the necks off each bottle. Hint: take the caps off first, and wear safety gloves.
2. Write the letters of the alphabet on each bottle cap.
3. Write the letters of the alphabet on the board.
4. Glue the bottlenecks onto the board.
5. Give your toddler the caps to put on the right necks.
This activity is recommended for little ones aged two and over.
What does a toddler learn?
The obvious benefit of this simple activity is getting familiar with the alphabet, letters and their shapes. The process of putting bottle tops on is also great for small muscles and learning to control their hands. These muscles help little ones learn to put on their own clothes, brush their teeth, draw, write and fasten buttons.
Next up, read this article with listing more great ways to help kids learn to write their names.
(images via The Asian Parent)