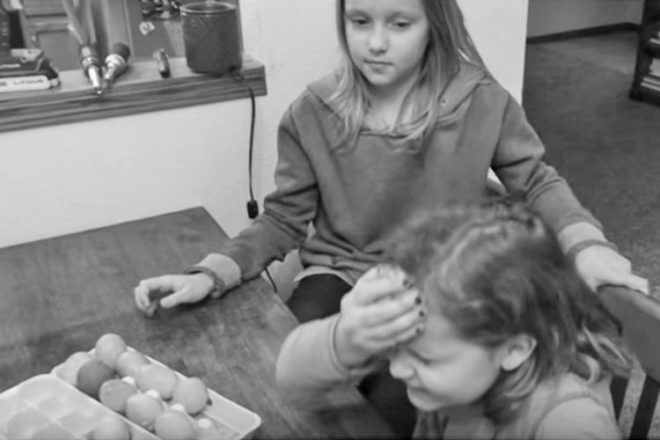 This has to be one of the most egg-cellent gender reveals ever – no yolk. All you need is a carton of eggs, some food colouring and hard noggin.
The Egg Russian Roulette Gender Reveal was born out of a game played on The Tonight Show Starring Jimmy Fallon, and it's just as hilarious.
Four girls and a little …
Angelica and David Augustyn explained to Love What Matters that with all of their four daughters potty trained and sleeping through for the first time in eight years, they decided to grow their family.
"We even had a few weird moments as we were buckling everyone into the van or gathering everyone around the dinner table where we all got this feeling that someone was missing. We knew in our hearts we needed to try for our boy. One. Last. Time."
The couple found out they were having a little boy at their ultrasound and wanted to have some fun with their girls. The aim of the egg gender reveal is to crack the coloured eggs on your forehead. Only one of the eggs is raw – the rest are hard boiled. The colour of the raw egg is the gender of the baby – clever!
---
Hold your breath …
Pregnant with their first bub, Dallen and Molli Reber decided to take the egg roulette challenge. Big fans of Jimmy Fallon, they thought it would be a fun way to find out their baby's gender.
The outcome could not have been more dramatic – you'll be holding your breath the entire time!
We love creative gender reveals, like this sweet idea and these creative ways to reveal your baby's gender.