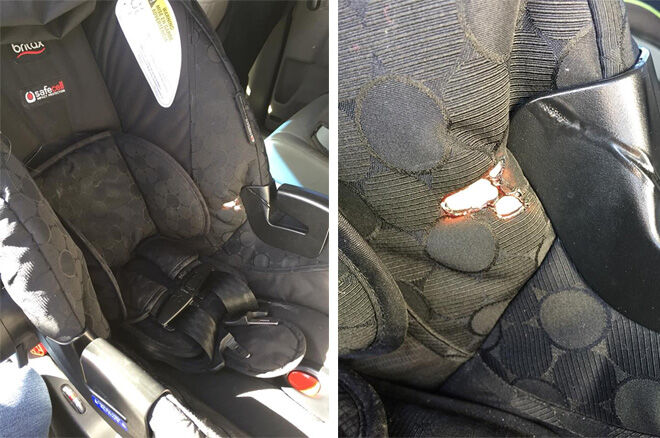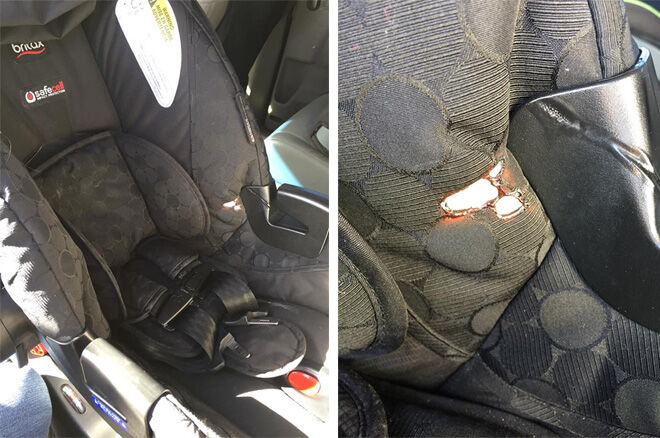 A mum has filmed her baby's car seat apparently burning and smoking, as sunlight deflects onto it via a mirror.
Texas-based Amanda Kenny DeAngelis said she smelt smoke as she took her daughter out of the car seat, and noticed the seat was smoking. The mirror was placed on the back of the driver's seat, so the mum could see her daughter, who is rear-facing.
Mum could smell smoke
Amanda says she's not laying blame but simply wants to educate other parents. "Thank god I made a two-second stop and found this before something happened," she explained.
In a Facebook post Amanda explains she was rushing home, otherwise, she would have sat in the car checking emails and responding to texts as she usually does.
"I've used car seats with mirrors with all my kids-never have I experienced this! Scary!"
While many parents have responded to Amanda's post thanking her for the warning, others have pointed out the mirror is incorrectly installed. Most manufacturers recommend baby mirrors are installed on the back of the headrest.
The car seat manufacturer, Britax, responded to Amanda promptly after she raised her concerns. A Britax spokesperson told Mum's Grapevine, "Direct sunlight reflecting off shiny objects in a car can be dangerous. The federal government requires all car seats and the interior of vehicles to meet flame retardant standards. In this incident, the flame retardants in the car seat did their job.
"As always, parents and caregivers should exercise caution when using any after-market car seat accessories, including back seat mirrors. All back seat mirrors should be installed correctly, securely attached and mounted to the vehicle head restraint. Incorrect installation can result in injury if the mirror becomes a projectile in a crash."
Looking for a safe and easy-to-use car seat? Here are the top five car seats as recommended by Choice.