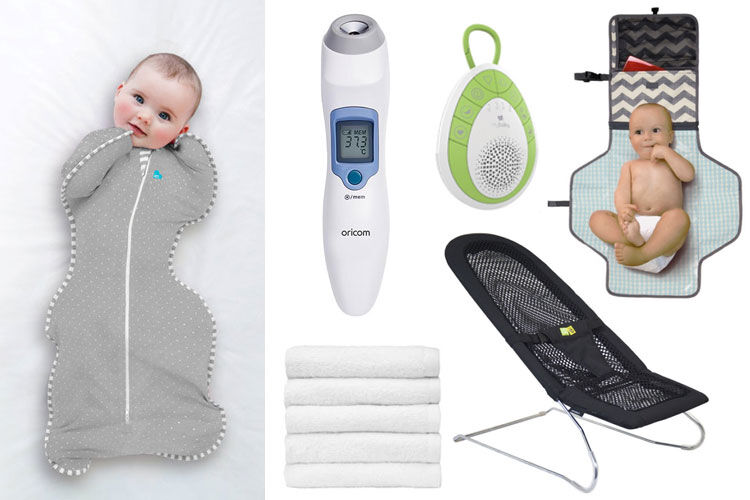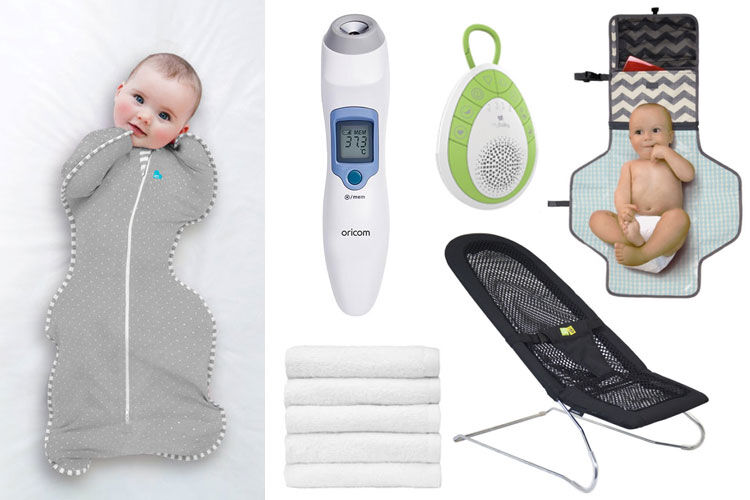 A baby shower is a wonderful way to celebrate new life and pamper mums-to-be. It's also a fab opportunity to equip new parents with some very useful baby gear, and our handy list of baby shower gift ideas is full of practical and welcome products.
Whether you're after something useful, pretty or a keepsake for mum to cherish, our curated collection of baby shower gifts will help make those first few months with a new bub a little easier (and nicer) for all.
Gifts they'll love
15 practical baby shower gifts
To help you find the perfect baby shower presents, we've scoured the shops and found the best products in Australia for celebrating bub's pending arrival.
Here are 15 practical baby shower gift ideas:
1. Nappy clutch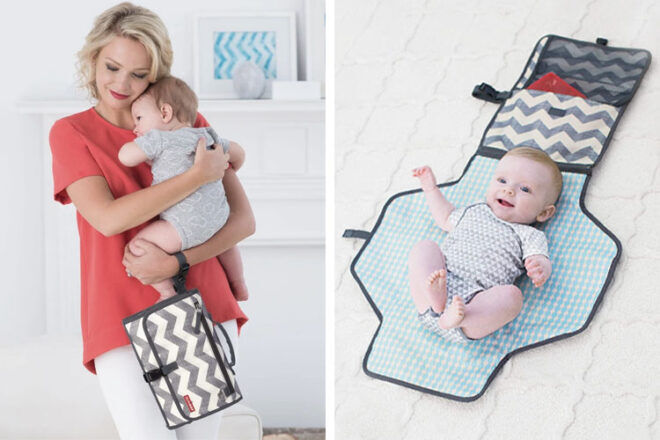 Not quite the clutch she would normally take out on a Saturday night, but as a mum, being prepared is the new black. This stylish clutch is the ultimate nappy change station for mums on the move, complete with a large laminated changing surface that wipes clean and an innovative pillow to cushion bubba's head.
---
2. Portable white noise machine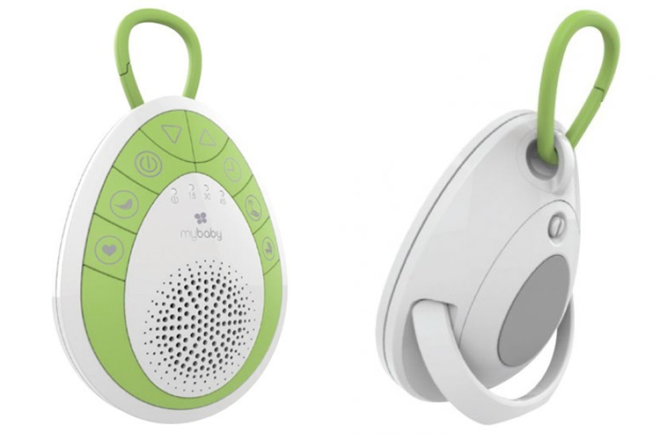 Anything that helps with baby's sleep is sure to take the title of best baby shower gift. This portable speaker has natural, soothing tracks to calm their beloved in the pram or car, or wherever needed.
---
3. Terry towelling cloths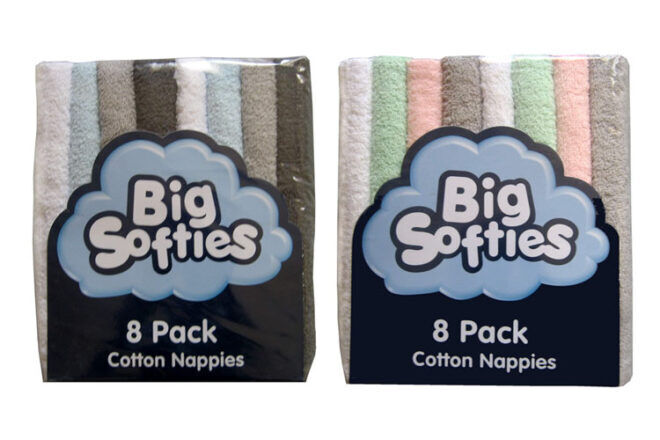 Many mums will politely thank you while wondering why in the world you have gifted cotton nappies. But they will very quickly come to love and rely on these for all manner of spills and spews.
---
4. Baby blankets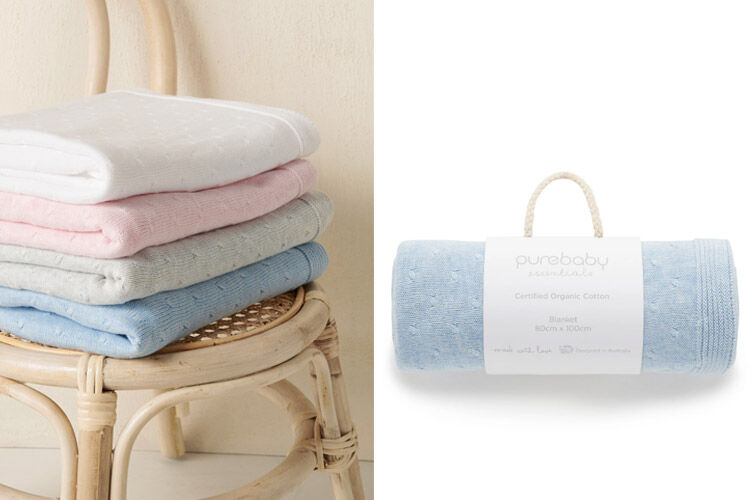 Perfect for out and about in the pram, sleep and play. The baby blankets from Purebaby are buttery-soft with cable knit and cotton-wool blends all being super gentle on babe's newborn skin.
---
5. Baby socks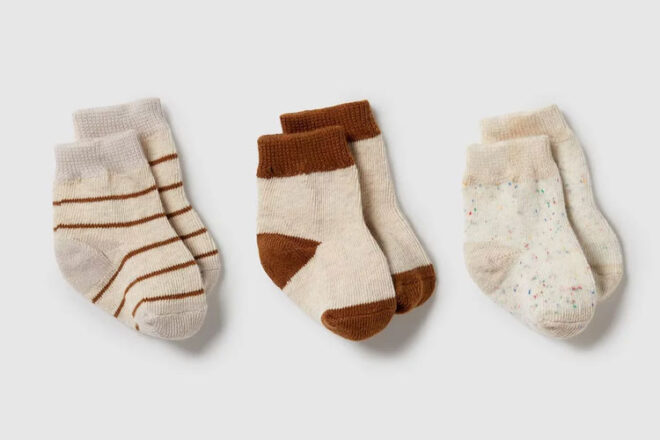 New mums may be surprised to learn just how chilly baby's feet get. These adorable organic cotton socks come in variety of super sweet styles – and they're as cute as they are functional. You get three pairs in each pack and it is beautifully packaged and ready to gift.
---
6. Pram toys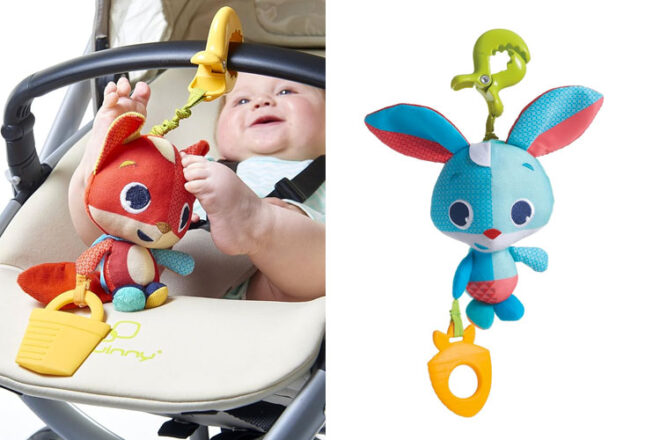 These brightly coloured toys for the pram will keep baby entertained and engaged while mumma gets out and about.
---
7. Scratch mittens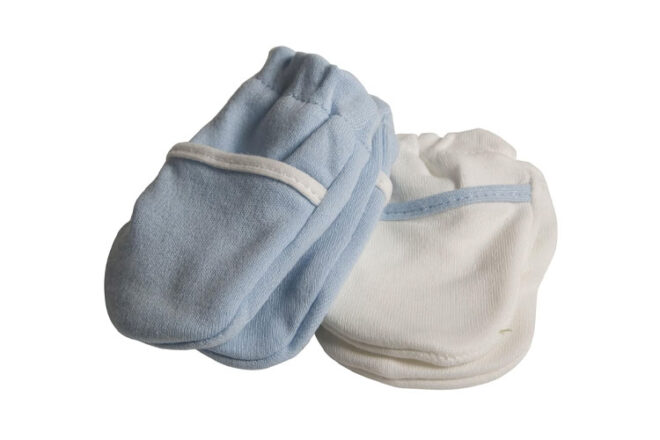 Short of wrapping their bub in bubble wrap, these handy scratch mittens will provide a mum-to-be with a practical alternative to protect that precious newborn skin from themselves.
---
8. Baby bouncer
Many first-time mums underestimate just how challenging it is doing things that require two hands with a newborn. Lend her a hand by gifting a baby bouncer. Lightweight and quickly assembled (with a harness for safety), the padded seat will keep baby nice and comfy.
---
9. Nappy Bag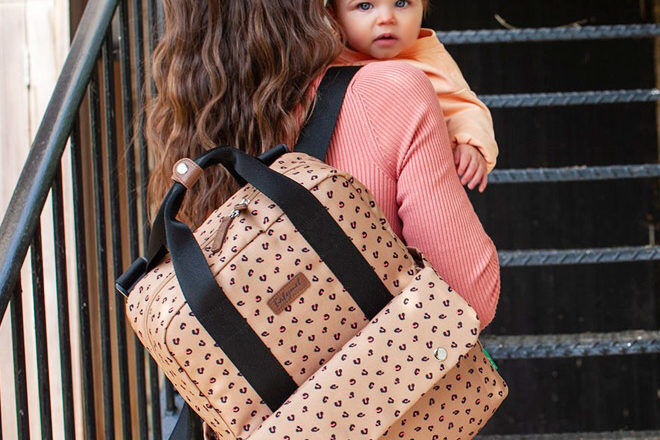 The Babymel range features a variety of backpacks and totes all tailored for parents on the move. Merging fashion with practicality and function, most of their bags can be worn in numerous ways. Simply use the convertible strap to wear it as a shoulder bag, backpack, cross-body or handheld.
---
10. Muslin Wraps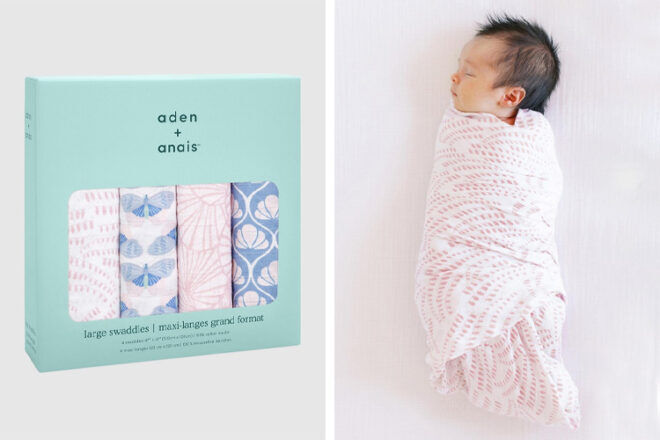 Too much of a good thing does not apply to muslin wraps. These versatile wraps have a million handy uses from swaddling to pram covers, light blankets to cloths for capturing spills when you're burping baby. This gender-neutral wrap collection is ideal for keeping baby snug.
---
11. Baby Carrier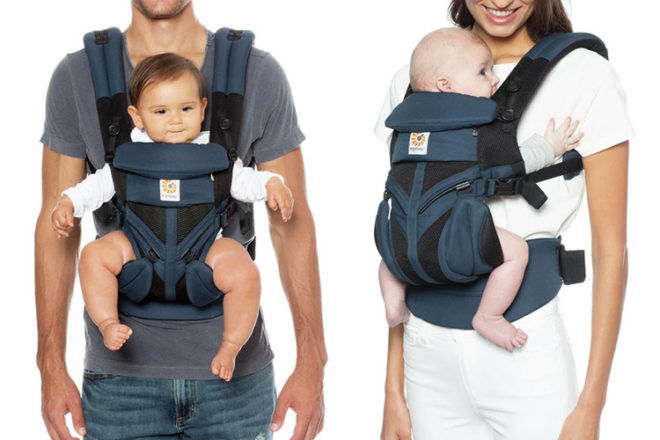 Every new mum wants to keep their baby close. This clever creation lets Mum stay on the move while baby is, quite literally, close to her heart. It's safe, simple to use and kind on a mum's weary back.

---
12. Baby thermometer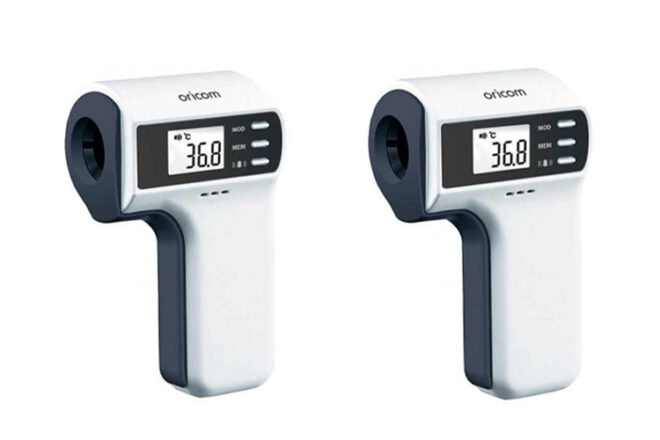 Keeping bub still is challenging enough and when they're feeling poorly it's an impossible task. An infrared thermometer is a perfect solution for checking little one's temperature safely and conveniently in a hot minute.
---
13. Newborn swaddle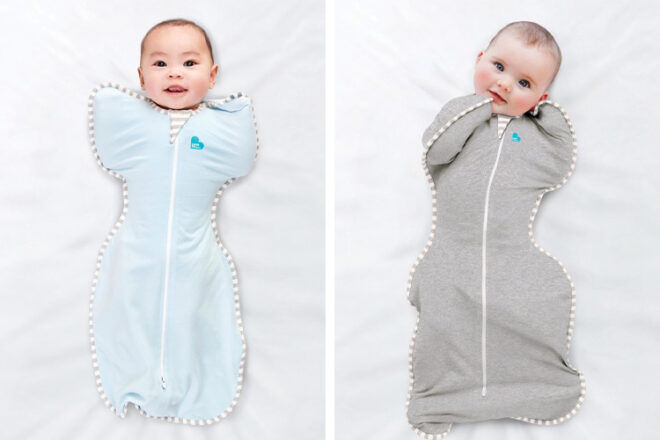 Hands up who loves sleep! This clever swaddle allows little cherubs to sleep with their hands up in their preferred position, rather than pinned against their side. Genius! Plus with a nifty two-way zip, it's also a breeze to swaddle night or day.
---
14. Comforters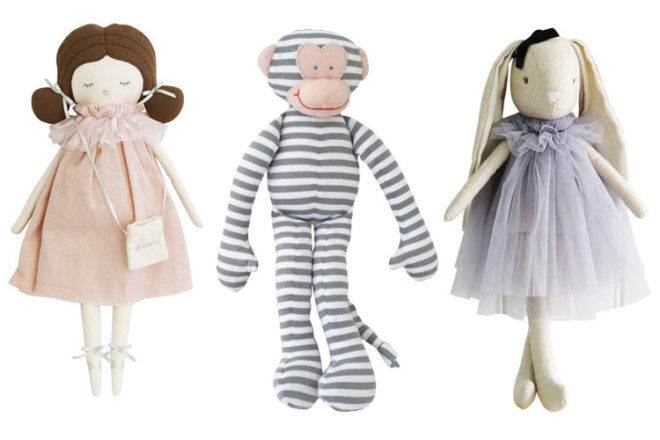 These super sweet, squishy monkey toys by Alimrose are just the thing for when baby discovers their hands can grip and cuddle. Or, choose a beautiful doll that will sit beautifully in the nursery until baby is old enough to play.
---
15. Grooming kit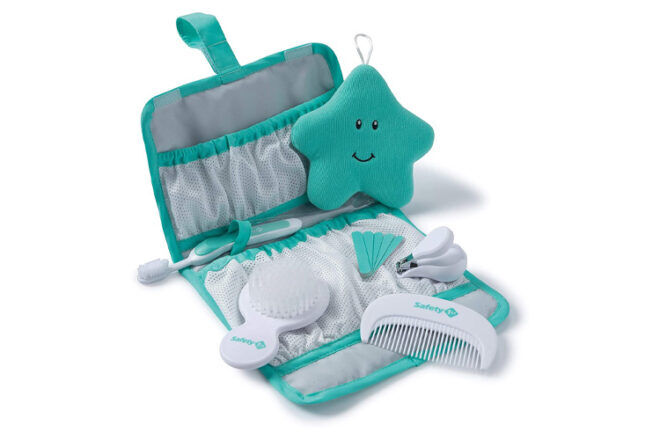 With all of the essentials for grooming taken care of, this kit is a winner. Packed with items a first-time mum may not have even thought about (nasal aspirator and steady grip nail clippers), it's a brilliant baby shower gift to help mums-to-be feel ultra-prepared.
---
This article is curated by our Editors and includes affiliates and/or paid inclusions. See our Disclosure Policy.
Have a baby shower gift idea we should add to our list? Contact us and let us know.
Find more giftable goodies …
Continue your search for baby shower gifts
Looking for a gift for a new mum and still not sure if any of these are right for you? Search online by jumping into one of our closed baby groups and ask thousands of other Australian mums what they recommend.
Click and join your group today!