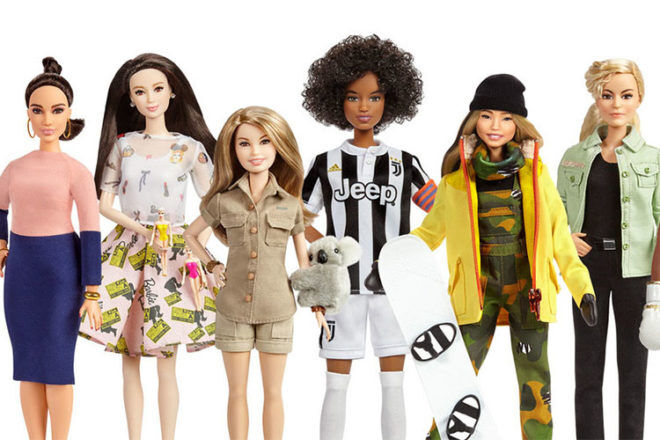 It's Barbie like you've never seen her before. In honour of International Women's Day, Mattel has revealed the latest global role models to be transformed into their very own Barbie.
The group of 14 women include Australian conservationist Bindi Irwin, as well as filmmakers, sporting champions and journalists.
Barbie's new 'Sheroes'

As part of the Barbie Shero program, the women have been honoured with a one-of-a-kind doll made in their likeness.
"Girls have always been able to play out different roles and careers with Barbie and we are thrilled to shine a light on real-life role models to remind them that they can be anything," said Lisa McKnight, Barbie Senior Vice President and General Manager.Barbie Highlights Historical and Modern-Day Women Including Chloe Kim, Patty Jenkins and Frida Kahlo to Continue to Show Girls They Can Be Anything
The dolls (which won't be available for sale) include:
Patty Jenkins, Filmmaker, USA – The first woman in history to helm a film with a budget in excess of 100 million dollars for WONDER WOMAN, which broke the record for Biggest Grossing Live-Action Film Directed by a Woman – domestic and worldwide.
Chloe Kim, Snowboarding Champion, USA – A first generation Asian-American snowboarding champion and the youngest woman to win a gold medal in snowboarding at the 2018 winter games at age 17.
Bindi Irwin, Conservationist, Australia – International award-winning wildlife conservationist and celebrity who inherited her father's passion for wildlife and is dedicated to inspiring the next generation to make a difference in the world.
Nicola Adams, Boxing Champion, UK – Two-time gold medalist who is Great Britain's most successful female boxer of all time and is the only female boxer in the history of the sport to have held all four amateur titles.
Leyla Piedayesh, Designer and Entrepreneur, Germany – Iranian immigrant and founder of fashion label lala Berlin that incorporates urban-cool and elegant-chic elements in its high-quality knitwear
Martyna Wojciechowska, Journalist, Poland – TV presenter, magazine editor, author, director and the second Polish woman to conquer the Seven Summits.
Never Before Barbie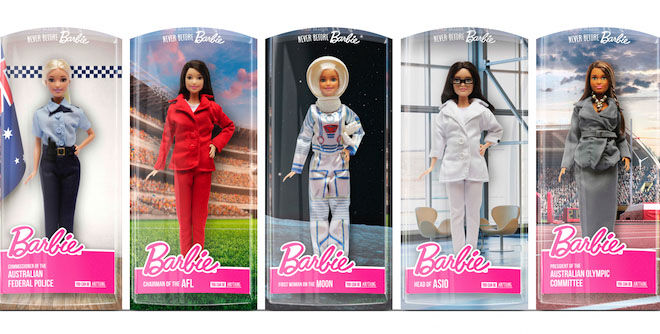 The push for Barbie gender equality has ventured even further Down Under. Barbie is also showcasing six one-of-a-kind dolls, aimed at inspiring Australian girls to be whatever they want. The Never Before Barbie dolls feature six positions that have never been held by a woman in Australia:
Chairman of the AFL
Commissioner of the Australian Federal Police
First Woman On The Moon
Governor of the Reserve Bank
Head of ASIO
President of the Australian Olympic Committee
These limited edition dolls won't be available for sale.
Inspiring Women Barbie series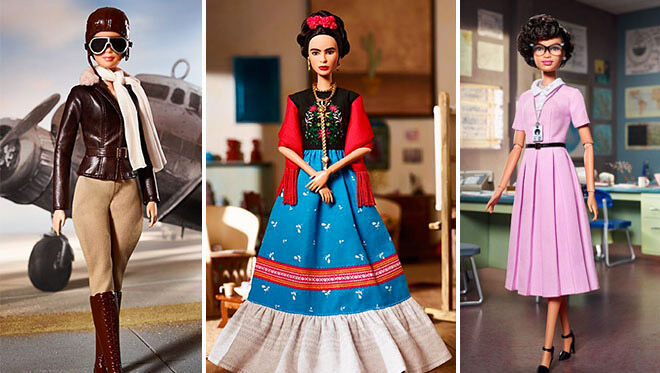 Barbie has also released the Inspiring Women Series (US$29.99 each). They are three strong women who each made important historical contributions:
Amelia Earhart – The first female aviator to fly across the Atlantic Ocean.
Frida Kahlo – An artist who gained recognition for her unique style and perspective.
Katherine Johnson – A pioneer in mathematics who broke through barriers of race and gender, and joined a pool of women hired by NASA to work as 'human computers' to calculate the trajectory of the first American-manned flight into space.
Make sure you check out the first Inspiring Women Barbie, Hijab-wearing Olympian Ibtihaj Muhammad.