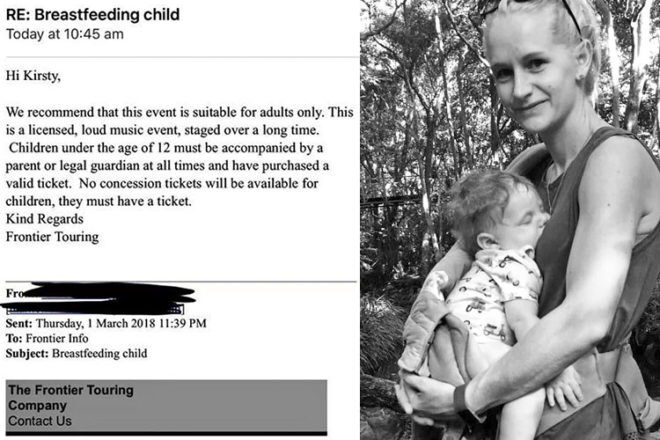 Breastfeeding mums are furious they've been told they must pay for their bubs to attend Australian Ed Sheeran concerts.
A Brisbane mum says she'll have to fork out hundreds of dollars for her four-month-old breastfeeding son to come with her to a concert next week. Other mums have taken to Facebook to voice their anger at the decision.
Kristy McDonald's son Leni is breastfeeding and won't take a bottle because of lip tie, so she says her only option is to take him to Wednesday's concert, according to ABC News. But she claims Ticketek has told her that all patrons must have a ticket.
Babies must have tickets
Mums shared the response from event promoter Frontier Touring, which says all patrons must have a ticket.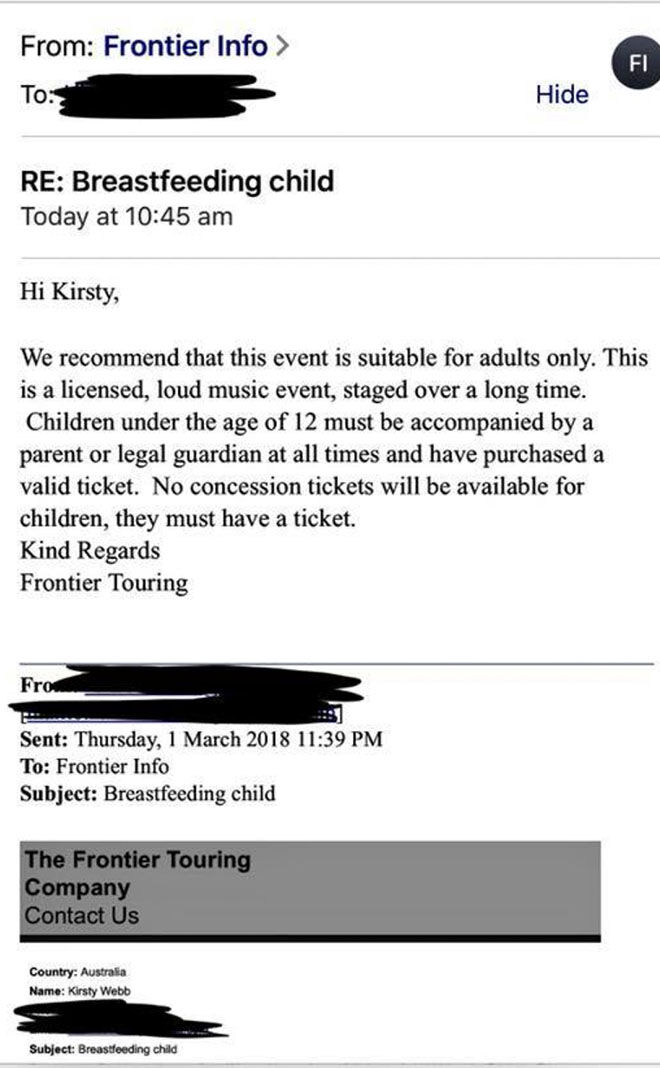 "I just thought it was absolutely ridiculous. I'm quite angry," Mrs McDonald said. "They might have their reasons, but they didn't give me any reasons. It was short and sharp."
The mum-of-two says she has standing tickets for herself, her mum and sister-in-law, and bought the tickets before her son was born. She says she wants to attend the concert with Leni in a baby carrier with earmuffs to protect his hearing.
"I understand not many people would take a four-month-old to a concert, but just the fact I can take him to so many events without a ticket … I just really assumed it'd be fine. He's not taking up much room."
She says she's taken Leni and her two-year-old son to sporting events without any concerns.
"We've been to see the Brisbane Broncos and Roar play," she said. "We're going to the Commonwealth Games next month and I can take both of them (without a ticket)."
Mums 'shocked and disappointed'
Aj Mac called on Frontier Touring to explain why babies under six months need a ticket when they won't be taking up a seat.
"(They) won't even be listening to the concert as they will be wearing baby headphones. The babies will be attending in baby carriers. The mothers purchased tickets well before they had the babies and before some of them even knew they were pregnant. They have spent a lot of money on these tickets and tickets for their older children.
"These babies need to be with them as they are breastfeeding and so leaving them at home is not an option as these mothers have to travel from regional NSW to attend. This would mean leaving the babies for an extended period of time, not just the duration of the concert."
Aj said the mums were 'shocked and disappointed' to hear of the baby ticket decision, which has left them tossing up whether to attend or not.
"What should be an enjoyable and exciting time for these mothers and their older children has turned into a very difficult and stressful situation. Surely an exception should be made for babies under a certain age who will come in carriers and not prams?"
Fellow mum Helen Thomas said she asked this same question and was told, "A baby needs a ticket no matter what and the event will be too loud so probably best to keep it home."
'Safety reasons' cited by Frontier Touring
Frontier Touring told the ABC, "Part of the reason that we require people to have a ticket is knowing exactly how many people are in the venue, which is primarily for a safety reason".
The company also said it would discourage bringing such a young child to a concert. "Even with earmuffs it's still obviously an incredibly loud environment to bring in a child with such sensitive ears.
"A concert environment includes extreme loud noises, often (pyrotechnics) which are incredibly loud as well, and often lighting effects which may distress people." The spokesperson said in the circumstance Frontier Touring would be happy to refund the ticket.
Mrs McDonald said she isn't able to purchase a ticket for Leni anyway, given the two Lang Park concerts are sellouts. "I can't get a ticket now unless I buy one at an exorbitant price," Mrs McDonald said. "I'm willing to pay more, I really want to go. I just think the whole concept is odd."
(Images via Kristy McDonald and Kristy Jayne)