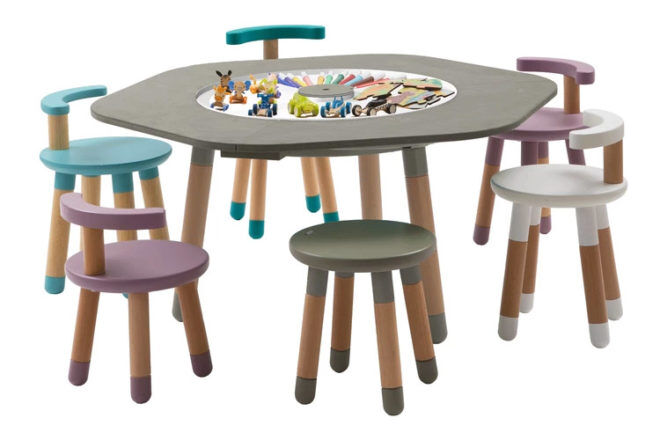 It's a play table, games hub, puzzle base, Lego station and gets taller as your kids do. No wonder the MUtable 2.0 has raised more than one million dollars on Kickstarter – smashing its goal.
Designed in Italy, MUtable is an ever-changing play table that can chop and change as quickly as your kids' change their minds. The four double-sided playboards open up a world of play, and the four height options mean kids from three through to eight can comfortably indulge in their favourite games.
The fun table that grows with your child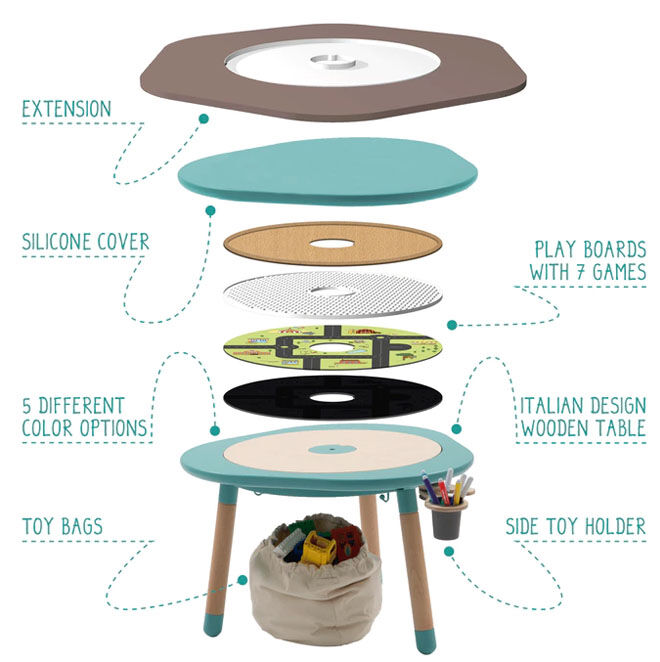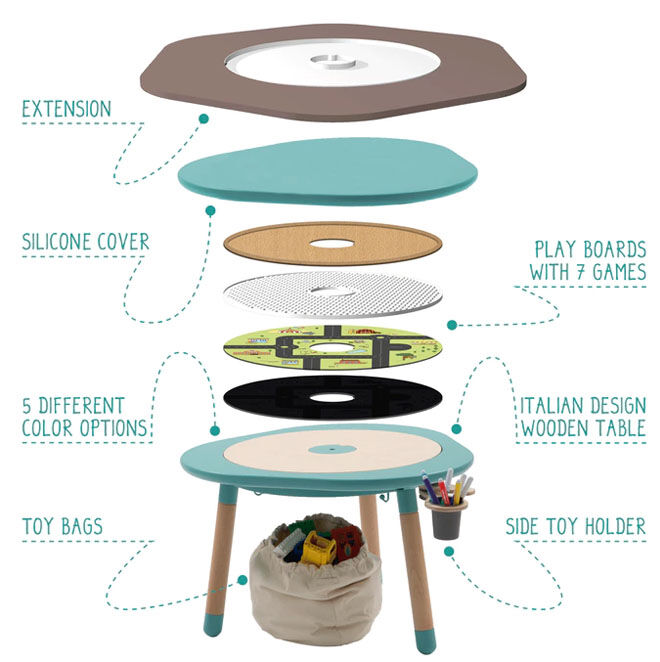 Changing games is as simple as flipping boards and finding the toys you need in the attached toy bag. The clever design includes a covered hole in the middle where kiddos can push toys they no longer want to play with down into the bag. Here's a more detailed look at the play options:
Lego Tower: An extension of the Lego base it creates three levels of Lego amazingness. And each of the levels is double-sided and works will Lego and Duplo.
Choose between two playhouses:
Dolls House: has a family house, playground, kindergarten and museum.
Heroes House: includes a police station, fire station, superhero cave and mountain lodge.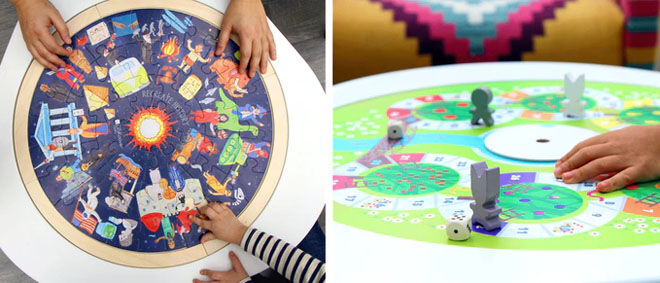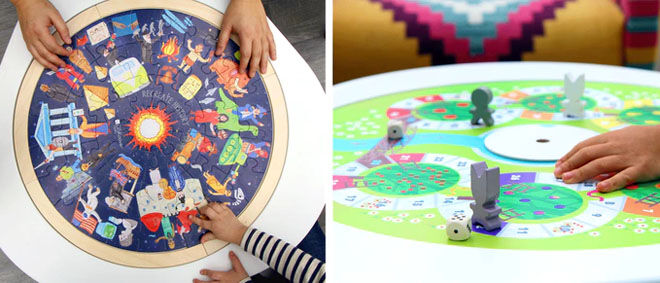 Board Games: three board games based on logic and tactics.
DISKcover Geography: A double-sided map board that lets your tot travel around the globe and discover different cultures and animals.
DISKcover History: Let's kids discover some of the major characters in history.
DISKcover Fruit & Vegetables: Two games in one board. One side is an orchard where kids can pick fruit from trees, the other is a veggie garden.
Puzzles: Six round puzzles that fit into the MUtable base.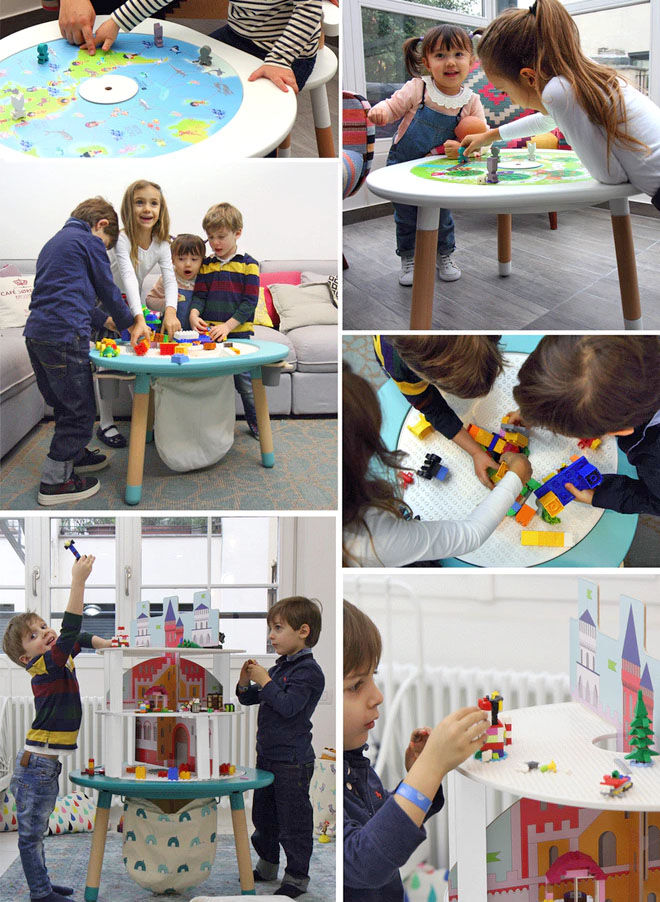 There's also the option of adding handy storage to the table with the three side toy holders, perfect for stowing pencils.
The table extension lets more kids gather around and join in the fun. And the childproof cover means at lunchtime it can be transformed into a regular kiddie-sized table. And there are matching chairs available in adorable colours – it's the perfect little hub for home play.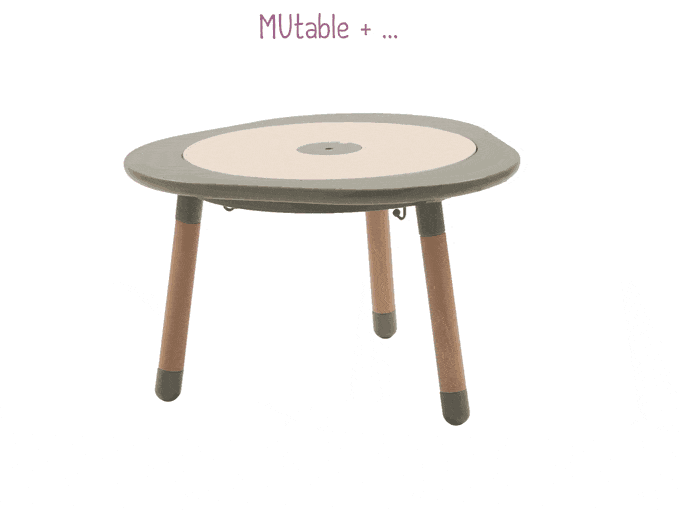 If you're quick you can still snap up an early bird offer on Kickstarter, even though more than one point two million dollars has already been pledged. There are still a handful of the Just MUtable basic offers available, which includes a MUtable with all four heights and four double-sided play boards for about $318. A Complete Kit is $686, direct from MUtable.
Shipping is expected to start in September 2018.