Kmart Australia Ltd —
2 Slice Stainless Steel Toaster
Home & Co – Model Number TL-136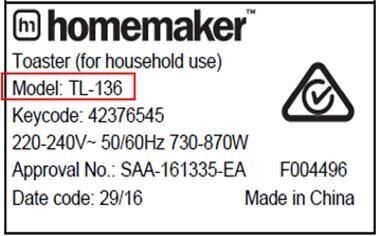 What are the defects: Some of the toasters have a faulty switch, causing the heating element to remain "live" when the lever is up and the toaster appears to be turned off.
What are the hazards: There is a risk of electric shock if the user makes contact with the heating element.
Where the product was sold: Kmart Australia stores Nationally between 1 September 2016 – 1 November 2017
What should consumers do: Customers should cease using this product immediately and return it to any Kmart store for a full refund. No other Kmart toasters are affected by this recall.
For more information, consumers should contact Kmart Customer Service on 1800 124 125 (Monday – Friday, 8am – 5pm AEST) or go to www.kmart.com.au.