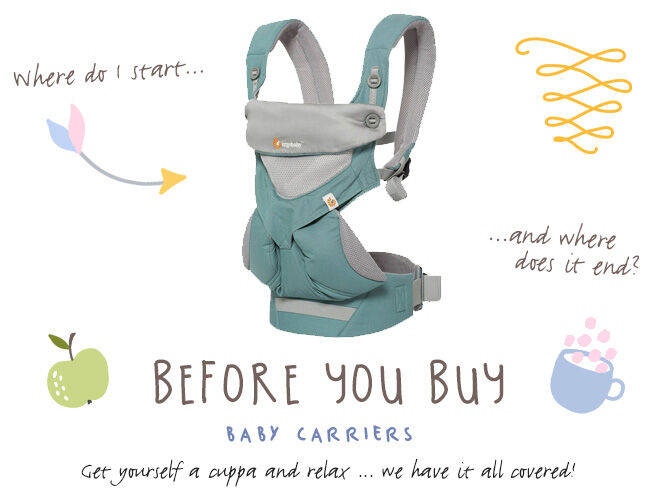 After spending nine months in a warm, cosy womb, newborns want nothing more than snuggly cuddles. Baby carriers let you keep your little one close and content while giving you two free hands.
But which one do you go for: a wrap, ring sling, front carrier or backpack? Each has its own pros and cons, and our handy Before You Buy Guide will help you decide which one works best for you and your bub.
Before you decide what to buy, you need to know what you can buy and why. We've answered some basic questions for you to get your head around what's out there and what you might need.
Is it essential: No
How much will it cost: $40 to $300
How long will you use it: 1 to 2 years
Should you purchase before baby's born: No
Baby carrier accessories: newborn inserts, bib covers and hoods
Can you buy secondhand: Yes

Buckle carriers
A buckle carrier worn on the front or back of your body, held in place by two adjustable shoulder straps, and a waist strap. Newborns may require an insert.
---
Wrap carrier
Wrap carriers have a piece of wide fabric that's wrapped around your body and over your shoulders and tied into a knot. Can be tied in several different ways to suit newborn to toddler.
---
Ring sling
Ring slings are similar to a wrap, it's a wide piece of fabric that wraps around your body, but only over one shoulder. A ring or knot in front of your shoulder holds it in place and keeps it closed.
---
Mei Tai
Mei Tai's are semi-structured carriers which have a panel and four long straps coming from it which form the waistbelt and shoulder straps, and you simply tie it around you each time.
---
Backpack
Backpack baby carriers are sturdy, framed backpacks often used for bushwalking and travelling. Not suitable for newborns.
• Best 5 baby carrier backpacks for hiking
---
Twin carrier
Twin carriers are worn either on the front of your body with two babies, or one on front and one on the back, held in place by two adjustable shoulder straps, and a waist strap.
---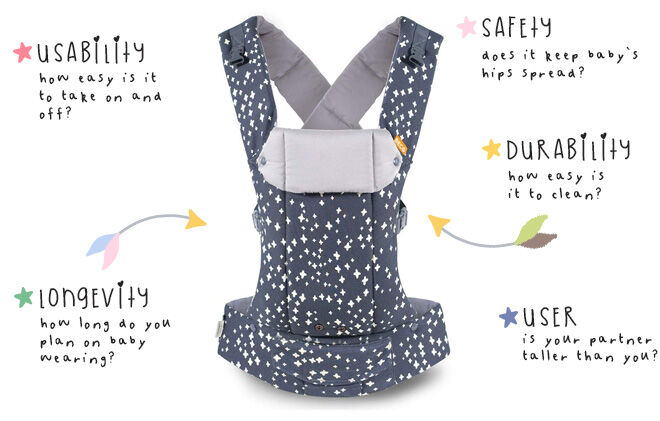 How you keep your little one close depends on what works best for you. Here are a few things to think about to help you decide.

It's hard to predict the future when babies are involved, so you if your not sure how you'll use a baby carrier, you can always start with an inexpensive wrap that's great for newborns and invest in something more substantial once bub grows and you have a better understanding of what you'll need.
Things to consider:
The versatility of carrier positions  
As babies grow the most comfortable positions to wear your baby changes.
Newborns: feel most comfortable tightly swaddled in the front carrier 'facing in' position.
4 to 6-month-olds: enjoy the front carrier 'facing out' position so they can see the world around them.
Older babies and toddlers: are heavier, so you'll find it more comfortable to carry them on your back.
Not many slings or wraps have back carrying options but may have a side hip position for older babies.
Putting the carrier on and off 
Practice putting the carrier on and off with a baby in it by yourself.
Buckle carriers: are the simplest of all the carriers to put on are easy to adjust.
Ring slings: are fairly straightforward to put on and adjust once you've got the hang of it.
Wraps: can be tricky at first but many mums love the comfort and master the process in no time. Just be mindful that the long fabric poses its own issues when putting them on outside (especially in the wind!).
How comfortable is the carrier for different sized wearers
Big busted: get a baby carrier or sling that has plenty of room for bub on your front too.
Taller partner: Choose a carrier with easy to adjust shoulder and waist straps.
Wraps and ring slings usually come in one size.
---

Bubs love sucking on the shoulder straps and front of the carriers and it does take long for them to get pretty messy. Look for ones you can give a good scrub and will dry before the next day's outing.
Things to consider:
Ease of washing and drying 
Wraps and slings: can easily be thrown into the washing machine, and are quick to dry.
Buckle carriers: most can be machine washed on gentle cycle but take longer to dry.
Look for attachable accessories, like dribble bibs, that can be easily washed separately.
---

If you're hoping to wear your bub well into toddlerhood, it pays to check your carrier will stand the test of time.
Things to consider:
How long do you plan on babywearing?
Some carriers are only suitable for newborns and babies.
Others can be used for newborns if an additional insert is used.
Some carriers can be used well into toddlerhood, without the need of any extra accessories.
Ring slings and wraps can easily be adapted for use with infants and toddlers, without the need for any accessories.
Fabric carriers may look worse for wear after time, but can easily be washed and stored for use with future babies.
---

There are no Australian safety standards for baby carriers, slings or backpacks, look for ones with either the European standard EN 13209-2:2005 or the US standard ASTM F2236-08.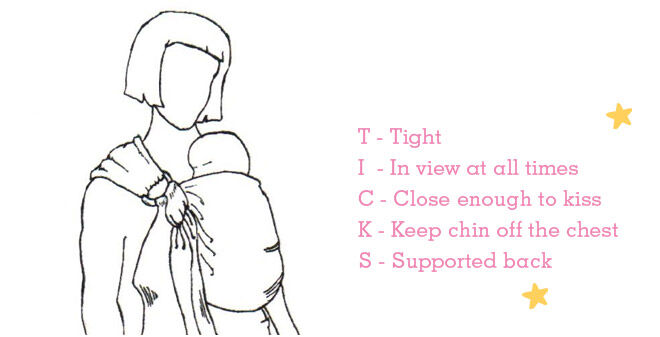 It's important to follow safe use practices when babywearing so their airways always remain clear, especially for newborns who have less head and neck control. The UK based School of Babywearing developed the handy acronym T.I.C.K.S rule for save babywearing.
Healthy hip position for babies
The International Hip Dysplasia Institute supports proper babywearing with the hips in the M-position as a method to encourage healthy hip development.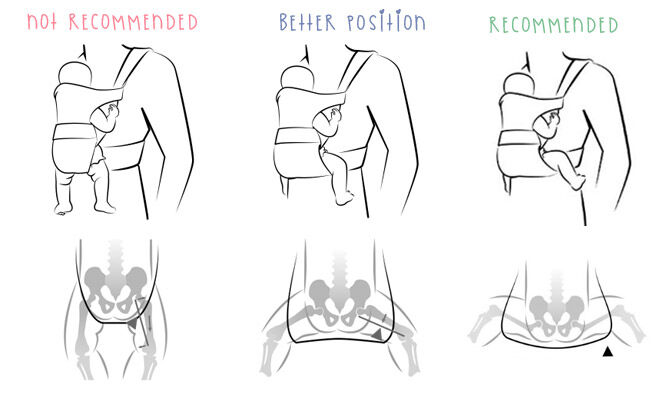 Avoid: avoid carriers and slings that leave babies dangling from their crutch.
Recommend: The Spread Squat position, also known as the M-Position – is recommended with the thighs spread around the mother's torso and the hips bent so the knees are slightly higher than the buttocks or at the level of the buttocks with the thighs supported.
---

Short on time? We've put together a collection of our favourites to suit every style and budget.
Pognae Orga Plus All-in-One
Minimonkey Dynamic Carrier
Manduca Sling Carrier
LilleBaby 6 in 1 compete carrier
Frog Orange neoprene carrier
ByKay click carrier
Hug-a-Bub Newby Love
---

To get the most out of your baby carrier, consider these optional extras.
Infant pouch – a specially designed insert to sit inside baby carriers for newborns
Dribble bibs  – catches the mess from a drooly bub.
Teething pads – give your gummy bear something to chew rather than the straps.
Blanket – attaches to the carrier to keep bub extra warm in those winter months.
Hood – often built into soft carriers for shade (also good for a sleeping baby).
Carry pouch – bumbag style purse that attaches to the carrier for storing essentials.
Rain covers – some brands have rain covers that slip over the carrier to protect from rain.
In the market for a baby carrier or sling?
Join the closed Mum's Grapevine due date and baby groups on Facebook and ask other mums what they love about their baby carrier or sling.