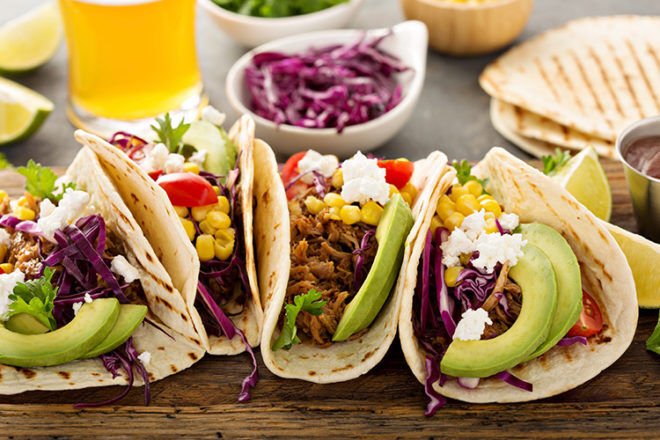 Red meat is just the ticket for giving pregnant and breastfeeding mumma's get-up-and-go a boost.
We've got our hands on the brilliant Philips Deluxe All-in-One Cooker and headed into the kitchen to cook up a delicious, iron-boosting meal that's easy to make and the family will love. Our version of pulled-beef tacos is a one-pot-wonder – all the sauteeing and slow cooking is done in the Philips Deluxe All-in-One Cooker.
---
It's so easy to slow cook, pressure cook, steam, bake and even make yoghurt in the Philips Deluxe All-in-One Cooker.
---
Ingredients
For beef:
2 tbs of olive oil
1.2 kg of beef chuck (cut off some of the additional fatty parts) roughly chopped.
2 cups of beef or vegetable broth
1 medium brown onion diced
4 cloves of garlic diced
1 tsp of cumin
For tacos:
12 taco shells or small pita bread
3 tomatoes
2 avocados
3/4 cup of corn kernels
1 1/2 cup of shredded cheese or crumbled feta
2 1/2 cups of chopped lettuce or purple cabbage
6 tbs of sour cream
1 lime in wedges for squeezing over the top
coriander (optional – for sprinkling on top)
Method
STEP ONE: Using the Philips Deluxe All-in-One Cooker, press sauté/sear. It will take a few minutes to heat up. When it starts flashing "Maintain" open the lid, add the olive oil and beef chucks. Stir occasionally with a wooden spoon for 2 minutes.
STEP TWO: When the 2 minutes has finished, add the diced onion, garlic and cumin and stir for a further minute.
STEP THREE: Set the cooker to "Slow cook low" for 8 hours, lock the lid and walk away.
STEP FOUR: Around 20 minutes before you are ready to eat, prepare your taco ingredients – slice the avocado, dice the tomato and shred the lettuce or cabbage and put all of the ingredients including corn and cheese on the table so the family can add what they like.
STEP FIVE: Heat the tacos as per packet instructions.
STEP SIX: Take the beef from the slow cooker and shred it using a fork and tongs. Add a little of the juice from the slow cooker to the mixture and pop it on the table to dish into your tacos.
Enjoy xx
BONUS:
Double the meat ingredients and freeze the extra into single serves and defrost as you need.
---
DOWNLOAD: The handy meal guide for when baby comes home
Bringing baby home is a momentous and exciting occasion for the whole family. Having nourishing meals on hand is made all the simpler thanks to the Philips Deluxe All-in-One Cooker.
Download our free eBook with three nourishing postpartum recipes PLUS 50 simple family meal ideas.