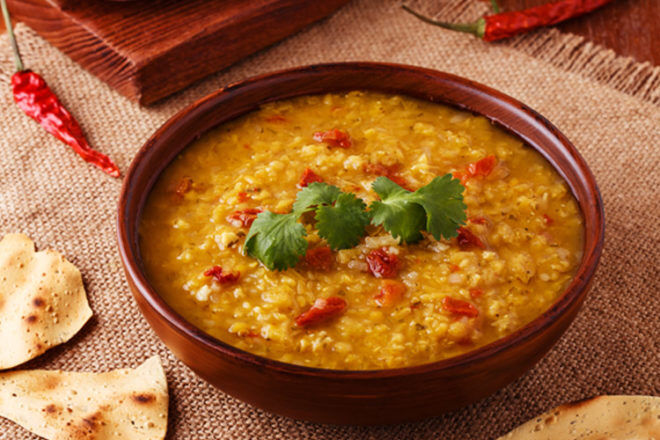 Nurturing and warming Dahl is a simple and nutritious meal for pregnancy or postpartum mothers. Nutritionally, fennel seeds and ginger are thought to promote breastmilk production and the red lentils are high in fibre and a great source of iron.
Dahl is a wonderful meal for leftovers and can be stored in the fridge for up to 4 days or up to 3 months in the freezer.
For this recipe, we are using the Philips Deluxe All-in-One Cooker.
---

It's so easy to slow cook, pressure cook, steam, bake and even make yoghurt in the Philips Deluxe All in One cooker.
---
Ingredients
2 tbs of olive oil
4 cloves of garlic diced
1 tsp of diced ginger
1 medium brown onion, diced
2 tsp of turmeric
1 tsp of cumin
1 tsp of fennel seeds
2 cups of split red lentils
2 medium white potatoes chopped
½ medium sweet potato chopped
1 can of diced tomatoes
1 can of coconut milk
3 cups of vegetable broth
Method
STEP ONE: Using the Philips Deluxe All-in-One Cooker, press through to sauté/sear. It will take a few minutes to heat up. When it starts flashing "Maintain" open the lid and add in the oil.
STEP TWO: Heat the oil through for a few seconds and then add the diced garlic, ginger, onion and spices and heat through for the 2 minutes on sauté. Stir occasionally with a wooden spoon.
STEP THREE: Once the 2 minutes has finished, add in the red lentils, chopped potatoes, diced tomatoes, coconut milk and vegetable broth. Stir to combine.
STEP FOUR: Now set the Deluxe All-in-One Cooker to either "Slow cook low" for 8 hours or "Slow cook high" for 4 hours, lock the lid and walk away.
STEP FIVE: About 10 minutes before the meal is ready, you can prepare your naan bread or reheat some rice on the stove (that can also be cooked by the Philips all in one cooker). When reheating rice, ensure it is cooked to steaming.
Nutrition per serve
2000kJ                               20.4g protein
18.8g total fat                    10.9g sat fat
51.5g carbs                         8.5g sugars
8.4g fibre                            5.7mg of iron
---
DOWNLOAD: The handy meal guide for when baby comes home
Bringing baby home is a momentous and exciting occasion for the whole family. Having nourishing meals on hand is made all the simpler thanks to the Philips Deluxe All-in-One Cooker.
Download our free eBook with three nourishing postpartum recipes PLUS 50 simple family meal ideas.