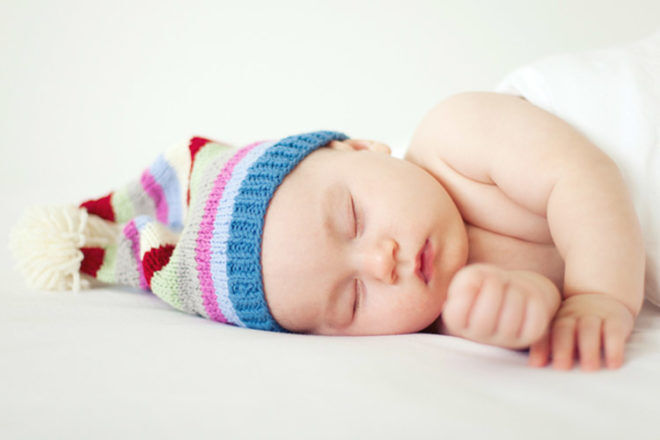 The most popular baby names of 2017 have just been revealed, and our love affair with two top names has continued.
But while the top spots have remained unchanged for the past couple of years, a gaggle of new names has shot up the popularity ladder. McCrindle has just finished sifting through data from across the nation to come up with the top 200 baby names in Australia for the past year.
Top 100 baby names for girls and boys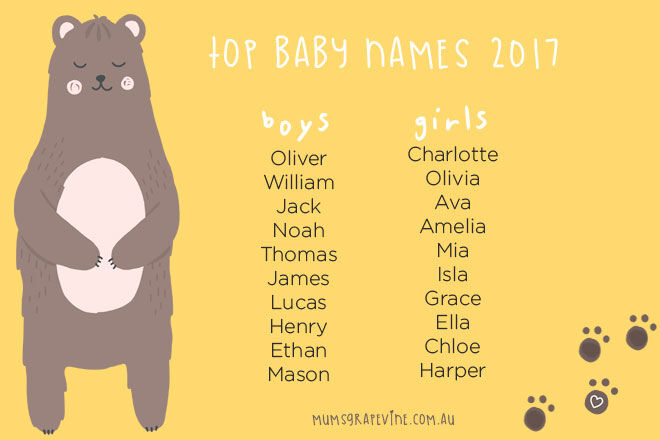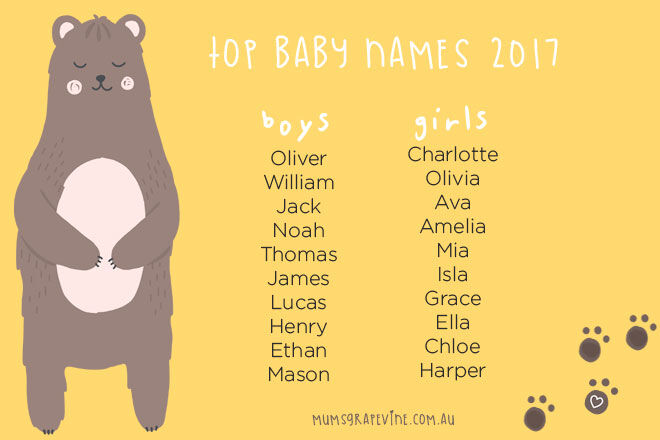 Oliver
William
Jack
Noah
Thomas
James
Lucas
Henry
Ethan
Mason
Charlie
Leo
Harrison
Liam
Alexander
Hunter
Lachlan
Samuel
Hudson
Levi
Harry
Max
Oscar
Harvey
Elijah
Xavier
Isaac
Cooper
Logan
Jacob
Benjamin
Joshua
Archie
Archer
George
Ryan
Sebastian
Theodore
Lincoln
Arlo
Jackson
Eli
Finn
Riley
Patrick
Daniel
Hugo
Connor
Jaxon
Luca
Edward
Tyler
Jordan
Flynn
Kai
Michael
Zachary
Austin
Matthew
Darcy
Ashton
Jayden
Joseph
Aiden
Nate
Jasper
Caleb
Dylan
Carter
Luke
Angus
Hamish
Louis
Jake
Charles
Owen
Toby
Blake
Adam
Beau
Muhammad
Gabriel
Arthur
Nicholas
Ali
Sonny
Spencer
Ryder
Parker
Felix
Fletcher
Vincent
Bodhi
Jude
Nathaniel
Dominic
Asher
Aaron
Harley
Leon
Charlotte
Olivia
Ava
Amelia
Mia
Isla
Grace
Ella
Chloe
Harper
Zoe
Sophie
Evie
Evelyn
Isabella
Ruby
Emily
Ivy
Lily
Willow
Matilda
Lucy
Sophia
Aria
Georgia
Sienna
Scarlett
Hannah
Emma
Zara
Abigail
Isabelle
Audrey
Layla
Mila
Eva
Violet
Alice
Hazel
Piper
Ellie
Mackenzie
Poppy
Annabelle
Sofia
Maya
Savannah
Penelope
Frankie
Maddison
Jasmine
Elizabeth
Stella
Phoebe
Aurora
Imogen
Billie
Alexis
Summer
Addison
Harriet
Ayla
Eleanor
Eloise
Madison
Freya
Elsie
Claire
Rose
Emilia
Florence
Daisy
Lilly
Sarah
Eden
Anna
Eliza
Holly
Lola
Bella
Ariana
Lara
Luna
Indiana
Harlow
Madeleine
Chelsea
Bonnie
Quinn
Aaliyah
Heidi
Victoria
Isabel
Elena
Peyton
Millie
Madeline
Charlie
Jessica
Olive
 Charlotte and Oliver stay on top
There were 300,000 babies born in Australia last year, and one in ten was given one of the top ten baby names. The right royal name Charlotte was crowned the most popular girl's name for the third year in a row. The only state that Charlotte wasn't the most popular name was Western Australia, where the gorgeous moniker Isla reigned supreme.
For the boys, Oliver once again wears the crown for the fourth consecutive year. It was the most popular boy's name everywhere except for the Northern Territory, where Jack was top of the pops.
New faces
Seven new names bolted into the boy's and girl's top 100. It's a warm welcome to the regal Arthur, Bodhi, Jude, Asher and Leon who made their first-ever appearance in the top 100. Aaron was the comeback kid, back in the top billings after leaving the list in 2016, while Harley just managed to stay in.
Into the girl's top 100 for the first time are Freya, Luna, Harlow, Elena and Millie – just gorgeous. Dropping out of the top 100 last year were Paige, Alyssa, Hayley, and Molly. The name Charlie is the only name on both the boys' and girls' list in its unchanged spelling.
Beautiful botanicals
Nature, and in particular floral baby names was once again a popular theme among the girls. Ivy, Lily, Willow, Violet, Poppy, Jasmine, Rose, Daisy and Olive all continue to be firm favourites.
Crowning glory
While the world continues to be gripped by royal wedding fever, it seems that Royal baby names were a big influence in Australia last year. The births of Prince George and Princess Charlotte in 2013 and 2015 continue to have an obvious impact on baby naming across the nation. And there's an expectation that this year's baby name data will see a spike in the use of the name Louis, after the birth of William and Kate's third bub.
Prince Harry, who is formally known as Prince Henry may have been the inspiration for many parents last year, with Henry entering the top 10 for the first time in more than six years. Meghan hasn't featured in the top 100 for more than six years, but it's expected that may also change this year. As well as George, Charlotte, Louis and Henry, the current top 100 also includes the names William, Edward, Charles, Elizabeth, Zara and Victoria.
Perfectly placed
Many Aussie parents are still using place names as baby name inspiration. Australian locations that rose up in the ranks included Bronte, Avalon, Brighton and Arcadia, but Adelaide slipped out of the top 100. Also remaining on the list are Victoria, Georgia, Eden and Indiana.
Overseas locations are popular choices for boys' names, including Austin and Jordan.
If you're looking for names that are less likely to feature on the most popular list, make sure you have a look through the amazing list of 1,391 baby unique names put together by a self-confessed name hoarder.