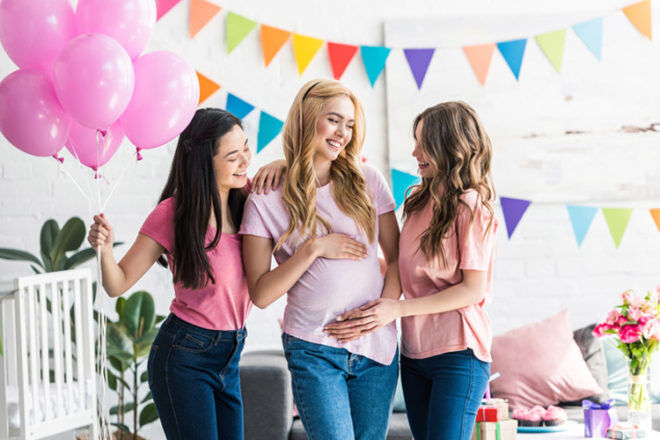 When the arrival of a little one isn't too far off, it's time to kick up your (preggo friendly) heels and celebrate baby shower style.
It's a chance for family and friends to shower you and your bump with gifts, sip tea and mocktails, and nibble sweet delights. But before you get to the big day, there's the preparation – and that's when the questions start.


Mum's Grapevine enlisted etiquette expert Susie Wilson, founder of Susie Wilson Finishing School Melbourne to answer those tricky baby shower questions, including if you should open the gifts in front of your guests.
When should you throw the baby shower?
Baby showers take place before the baby is born – usually six to eight months into the pregnancy. You don't want to have it so early that you jinx the pregnancy but you don't want to leave it too late either just in case the baby is early! About a month or so before the due date is about right.
When should you send the invitations?
A few of weeks before the baby shower. You want to give people time to plan it into their schedules, find alternative childcare (if necessary) and shop for a nice gift.
Who pays for the baby shower?
The hostess traditionally pays for the baby shower and its associated costs. However, the hostess can divide up the responsibility and costs by asking a few close family members or friends to co-host. This helps to reduce the overall expense and alleviates some of the financial obligations of hosting a baby shower.
Should it be during the day or in the evening?
Most baby showers are non-drinking affairs and tend to take place during the day. However, there's no rule that it has to be.
Can you bring children to a baby shower?
Some people will probably already have children so what's the rule on bringing them along? Well, this is completely up to you – just remember that if you don't want children there, some people may not be able to come if they can't find childcare. If you know there are going to be some children there, make sure you have a couple of activities lined up that cater to them too. Older children, in particular, might get a bit bored otherwise.
Should I open my presents in front of guests?
The answer is yes, and always make a fuss over the gift to make the person who gifted feel happy and special.
Top six baby shower etiquette rules
Here are Susie's top six baby shower etiquette rules.
1. The expectant parents do not host.
2. It's fine to have more than one shower with different groups of friends, e.g. co-workers and personal friends.
3. Registry information should not be printed on the invitation but can be enclosed in a separate card.
4. If you attend a baby shower, you should bring a gift.
5. If you don't attend you do not need to send a gift, but may if you wish.
6. Hand-written thank you notes should be sent as soon as possible, even if the gift-giver was thanked at the shower.
If you're prepping for your baby shower, make sure you check out these super cute baby shower guest book ideas.