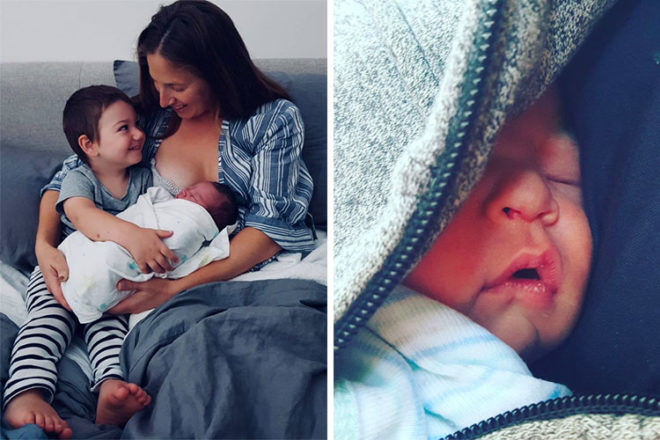 Already a mum to one, Johanna was pretty sure she'd know when it was time to head into hospital to have her second little bundle of joy. But her little one had other ideas.
The unexpected homebirth of baby Alex was anything but planned – but it was calm and joyous and ended in grandma catching her grandson in the shower.
Johanna, a member of the Mum's Grapevine Autumn Due Group, explains that her contractions started overnight on April 12, 2018 with some leaking. But by 4am the next morning everything had stopped, so she went back to sleep.
"The midwife came over at 12 noon next day and said we were on the clock and will need to go to the hospital to talk induction at around 7-8 that night as my waters had probably ruptured. She said to try to get contractions going again by walking and pumping. We did that on repeat for a bit. Contractions started ramping back up at around 4:30pm. From then on they were 5-6 mins apart."
'I was pushing, this was happening!'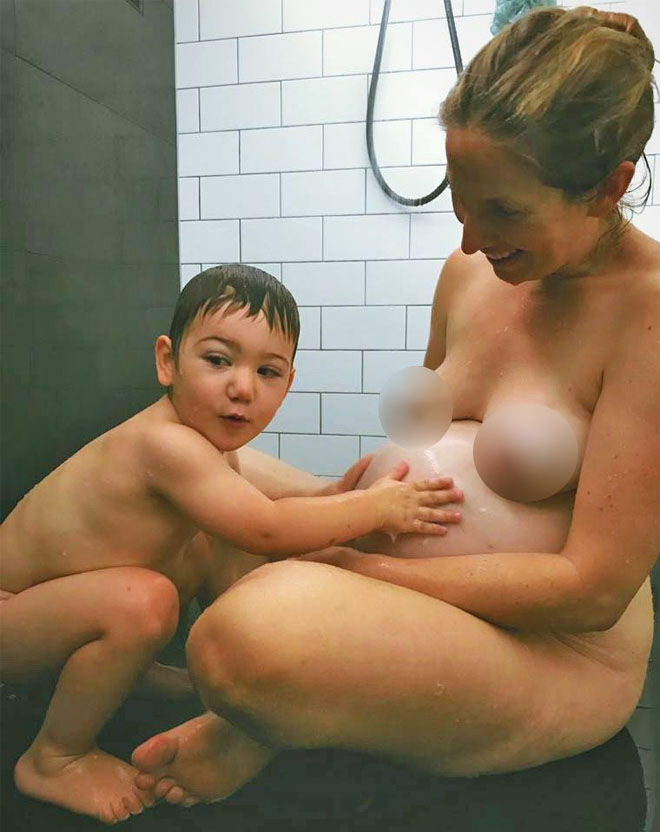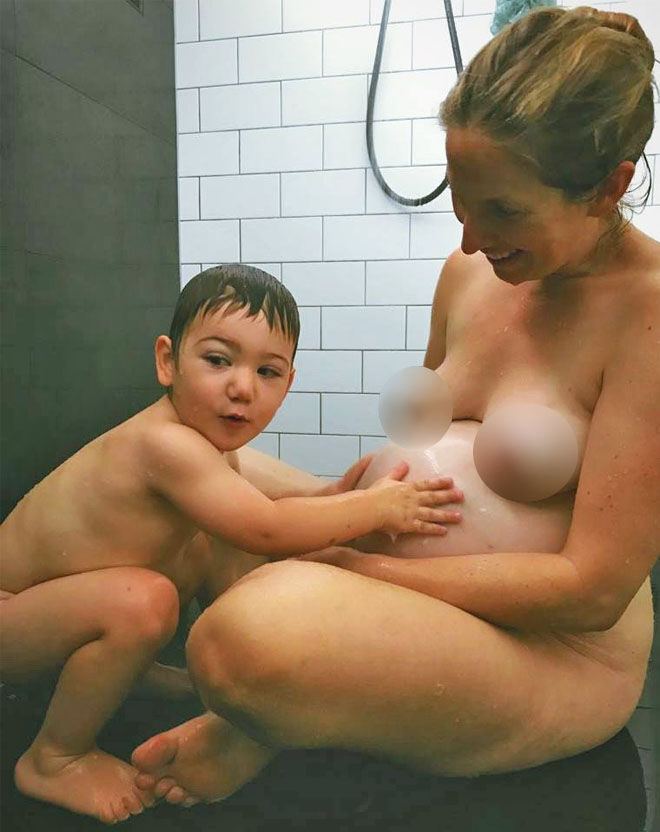 After reporting back to her midwife, Johanna was told that the contractions needed to be a bit closer together, so she decided to have a shower and a rest. After having a difficult birth with her first son, Johanna says she was very much resigned to 'lose control' to her birth.
"I had gone through a lot of sessions with a psychologist during my pregnancy so I was not afraid of history repeating itself. Part of getting over what happened to me was changing my hospital, controlling what I could. Having a private midwife to be continuous care including during the delivery, but also realising that what happened before didn't have a hold on me and I needed to trust my body and go with it and not have any 'fight/flight' feelings."
Johanna says she didn't actually realise she was in active labour, because the experience was much more pleasant than her first birth. "I had syntocinon with no pain relief and it was unrelentless and painful. And it was long. This time I obviously had my own oxytocin flowing really well and that made things so much easier on my body.
"Some contractions were super strong but since I wasn't being strapped down to a bed this time and could move through them or my husband Dave could squeeze my hips or something they were not too bad. Also, there were breaks in between where it would completely go away and I felt fine. I thought I wasn't anywhere near the end and that they could go away again like they had the night before."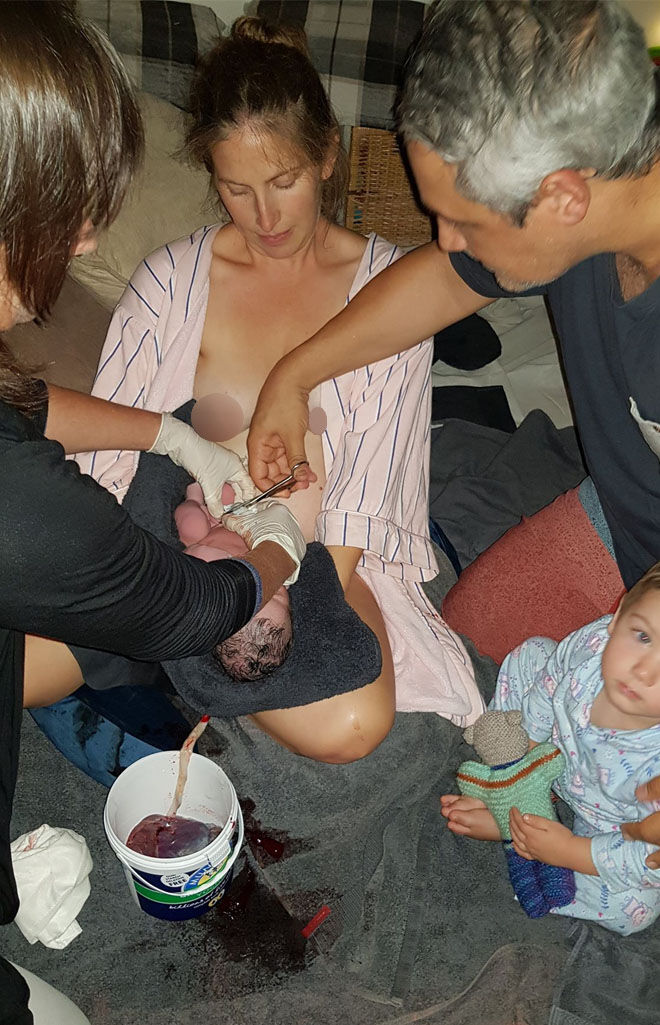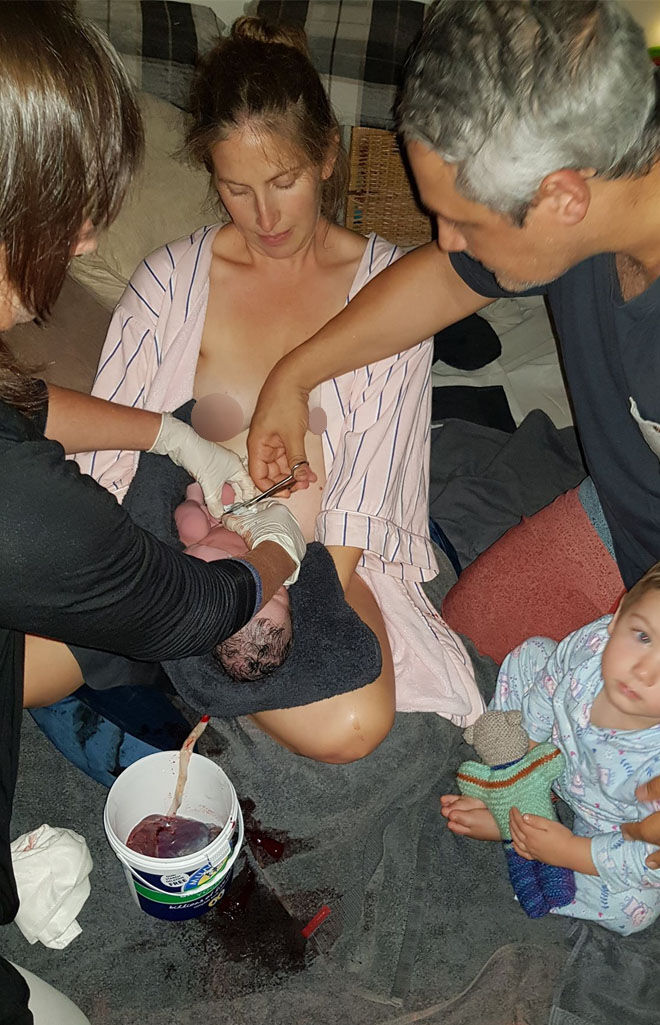 After a shower, Johanna decided to have a nap but woke at 7pm with a huge contraction. She'd only been asleep for 10 minutes and was now scrambling to get up and make herself more comfortable. After an intense contraction, Johanna says she felt her baby drop.
"I could feel he was coming. Dave rang the midwife, he put towels down and got back in the shower with me. I was pushing, that was happening. I was trying not to but the contractions were long and intense when they came and my only relief was going with it and that was pushing. So after about three big ones I could feel his head coming out. Then maybe the fourth one it did come out.
"I could feel his tiny head. He had hair and it was really soft. I wasn't sure at first it was his head or what. Then we called out for my mum (who happened to be a midwife once upon a time, she is long retired). Mum came. Next push, baby was out. She passed him to me and we sat in the shower until the midwife got here about 10 minutes too late."
A family affair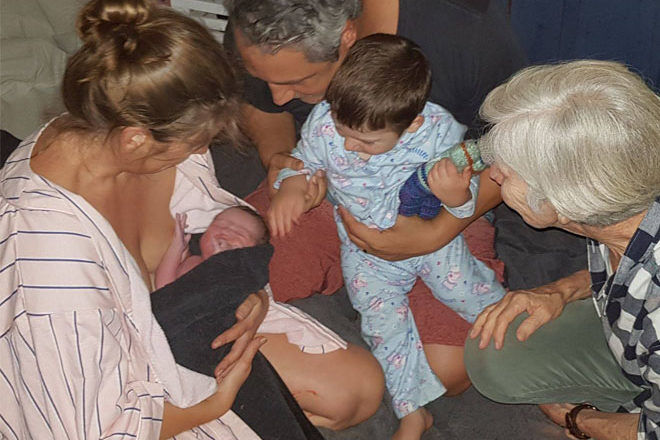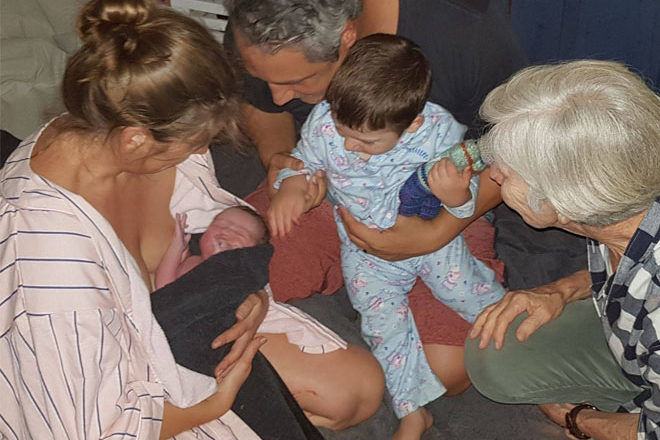 The new family of four (plus grandma!) moved to the lounge room to wait for a second midwife to arrive.
"It was such a calm atmosphere! The midwives were so calm. We just sat around talking for ages. They didn't rush in and take over, they just cruised in and sat on the couch and everyone was pretty relaxed. It was a really good atmosphere.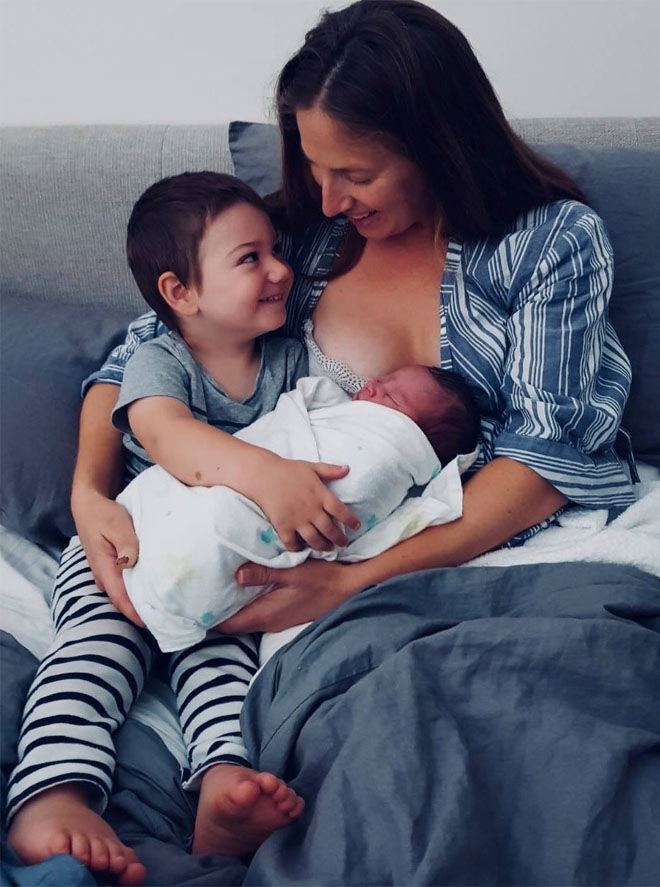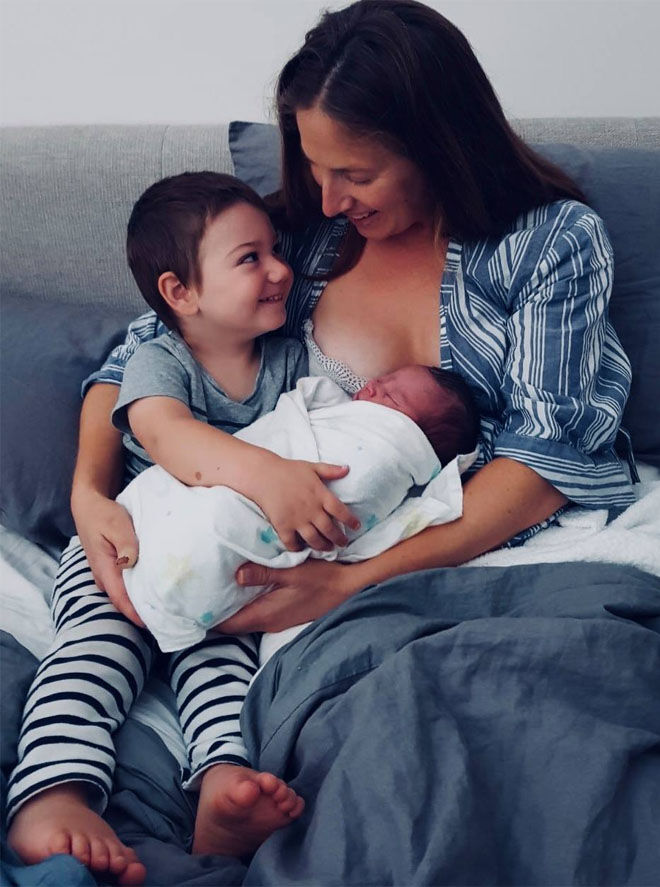 "We were just chatting in the lounge room Dave got out the scotch. I had two delicious sips. They checked me. I didn't feel like I had but was worried I might have torn as I had an episiotomy last time and that is likely to be a weak spot and not stretch, but I didn't have any tears."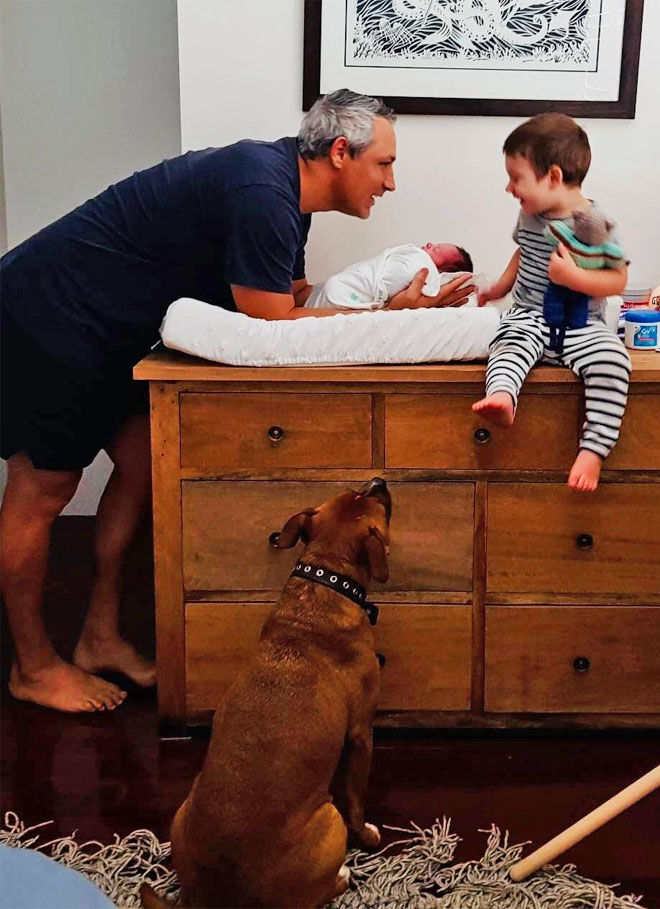 The family was able to stay home with the support of their private midwife, and Johanna says she was already talking about another baby just 72 hours after giving birth!
"If I ever have another baby it will be a homebirth in a pool. WITH a midwife!"
Such a peaceful birth, even though it was completely unplanned!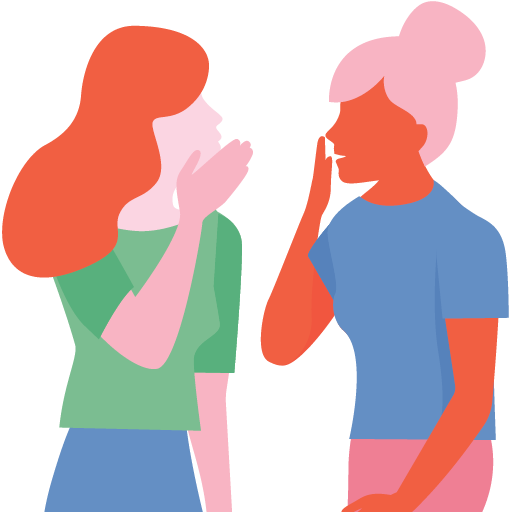 Got your own birth story you're itching to tell? We're always on the lookout for new stories to feature. Submit your birth story.
More birth stories from the #MGVfam…
About to (or just had) a baby?
We know that the wait to meet your baby can be nerve-wracking, but we're here to remind you that you're not alone. Our private Pregnancy & Baby Groups are a great way to connect with other Aussie mums who are due or had their babies around the same time as you.