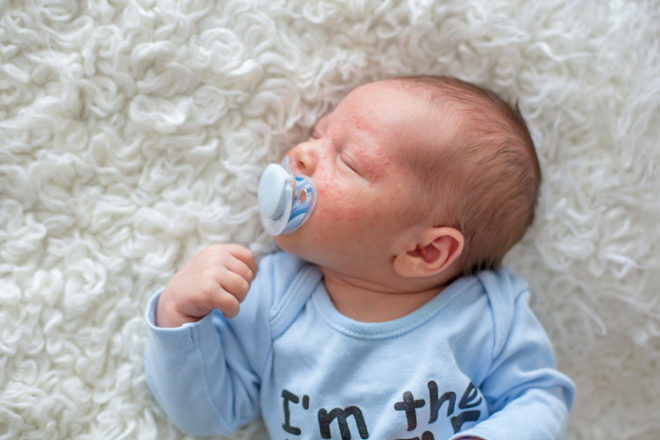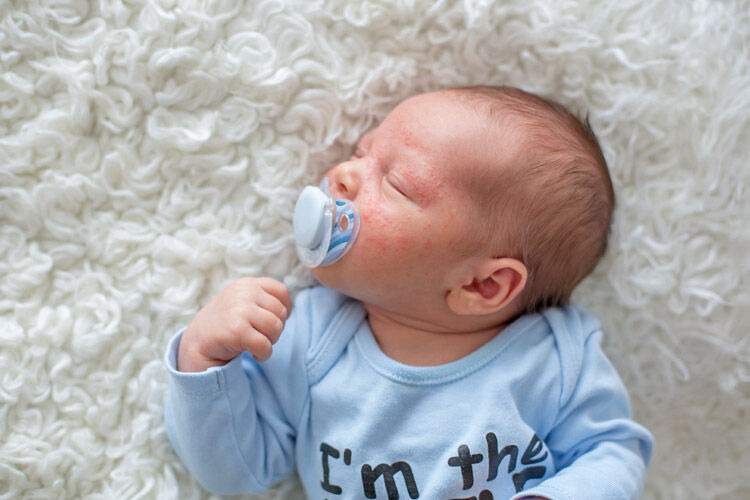 Baby acne, milk rash – whatever you call it, it's really common for newborns to have their perfect skin dotted with blemishes not long after birth.
We've asked Mum's Grapevine expert, midwife Edwina Sharrock to explain what milk rash is, and what you can do about it.


Your beautiful baby is born and she is perfect – then within a couple of days, she appears to have acne like a 16-year-old school girl! What is going on?
Never fear mumma it's likely that it's a hormonal rash, often called milk rash. This is perfectly normal and referred to as erythema toxicum (a small red rash, often associated with white spots or pustules). However, like all rashes, it is important that you speak to your GP or midwife as every baby is different. If they confirm it is a hormonal rash then it is likely it will go with time.
It's believed the cause is from the transfer of mum's hormones in the later stages of pregnancy to bub (not through the breast milk  – as formula fed babies can also have milk rash).
What can you do about milk rash?
Firstly talk to your care provider, it is important to rule out eczema, thrush, or much less likely herpes and other things associated with a rash.
Then do very little. Repeat after me … don't Google 'what it this rash?'. A baby's skin is very sensitive and the internet is full of products and concoctions to help but in fact, less is more.
Keep your babies skin clean and dry and don't introduce lots of products.
In our maternity unit we suggest some olive oil in the bath and use clean water and a soft towel to bath baby.
That is it, keep it simple, it will go with time, and hopefully not come back when she is 16!
Edwina Sharrock a registered midwife and mother of two. She's also the founder of Birth Beat – an online antenatal course that is simple, easy and convenient to watch from the privacy of your home. Birth Beat includes prenatal yoga, a complete prenatal course, plus breastfeeding, sleep and settle. All delivered to you in easy to watch videos.