While your baby may love the bottle, purees are the perfect way to transition little sprouts into the world of wonderful solids. Making food for your bub at home and sneaking simple fruits and veggies into their routine is actually really easy (we promise!).
The first few days of trying new foods can be just as much fun for you as it is for them. To give you a little helping hand, we've rounded up some of our favourite purees for your little poppet.
Blender at the ready, ice cube tray steady, time to puree!
4 – 6 months
It's recommended that solids be introduced at around six months of age, and no earlier than four months. Stick to thin, single ingredient purees with fruits and veggies low in acidity, think potatoes, pumpkin, swede, zucchini and sweet potato. Space purees made with any new foods a couple of days apart to make identifying allergies easy.
Pear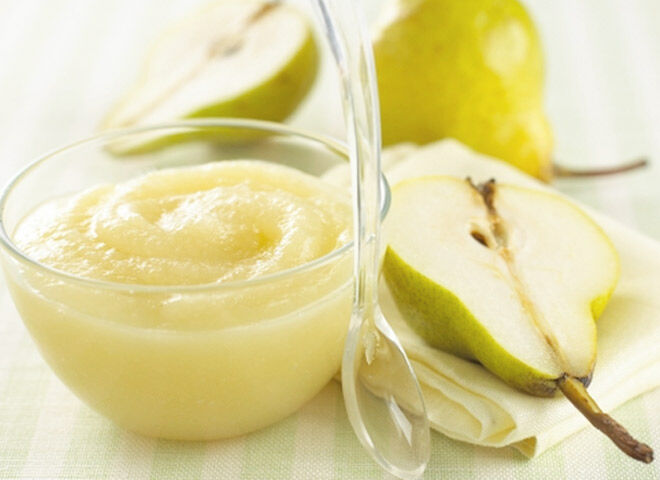 The natural sweetness of pears should get baby to slurp this puree in seconds. Place pears into a steamer and allow to steam for up to five minutes. Once ready the pears should be so soft that you won't even need a blender. (via Annabel Karmel)
Carrot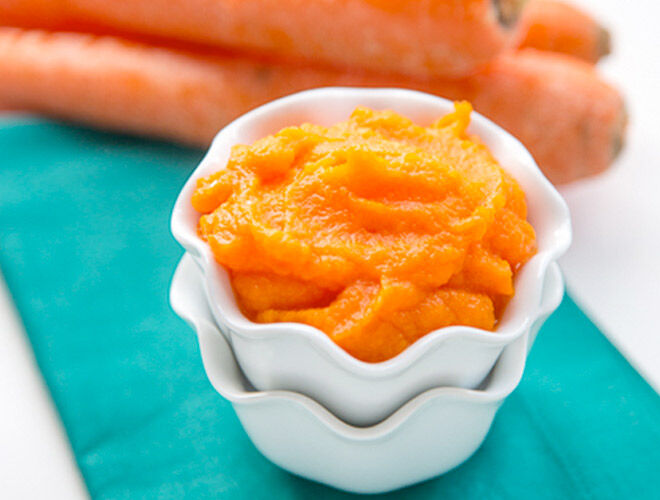 Carrots are packed with a whole heap of nutrition, making pureed carrots ideal for bubs first taster. Simply peel, steam, add a touch of the cooking water and blend – it's that easy. Allow to cool before feeding their hungry tummies or pop into the fridge if it's heading to the freezer later. (via Chocolate and Carrots)
7 – 8 months
Now it's time to try other fruits and vegetables. Have fun pairing together fruits and veggies and add proteins like lentils and meats into the mix too. A smooth consistency isn't as important here, but keep an eye out for too many lumps.
Broccoli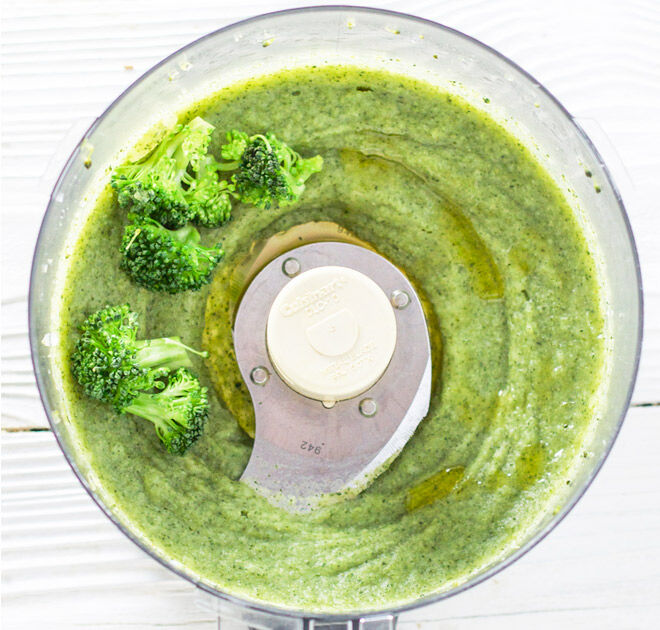 Aahh, how we love broccoli. It may look a little silly, but broccoli's neutral flavour makes it a winner for the little bugs super. This broccoli puree comes with a dash of olive oil and a few potatoes, creating a creamier, fluffier texture. And that's never a bad thing. (via Baby Foode)
Lentil & red veggie puree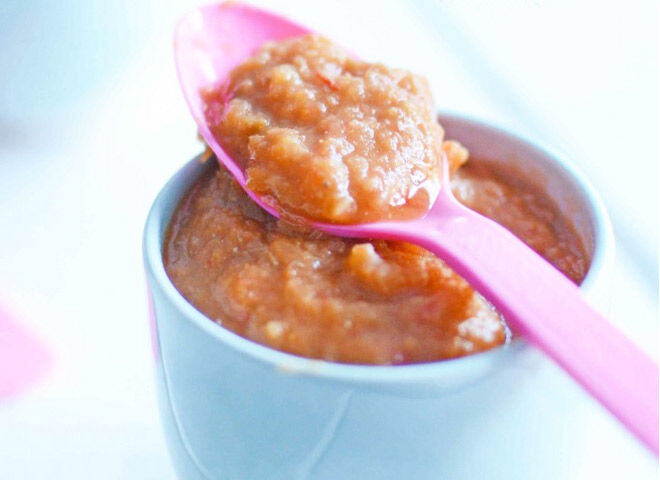 With testing for allergies all done and dusted you're now ready to experiment with different legumes, fruits and vegetables. This lentil and red veggie puree is a prime example. Crammed with sweet potato, tomato, red capsicum, leek and lentils, it's guaranteed to keep bub satisfied (until the next feed that is). (via One Handed Cooks)
Zucchini, apple, spinach & chicken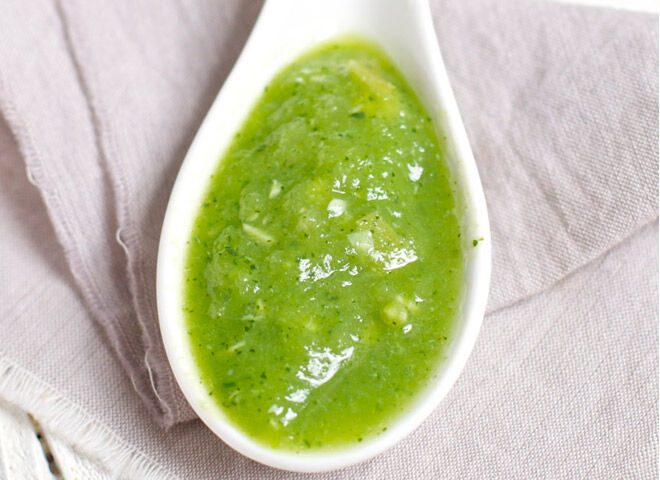 Say hello to this lean green, baby feeding machine. This punchy puree combines all of baby's favourite flavours and turns it into a tasty meal that even the fussiest eaters would chow down. With zucchini, apple, spinach and chicken, there's no nutrients missing in this one! (via Baby Foode)
9 – 12 months
It's smooth sailing from here. Most common allergens have been given the all clear and your tot is enjoying experimenting with finger foods. They're now ready for chunkier purees with small pieces of cooked veggies. Add whole milk and cheeses for extra flavour too!
Chicken, rice & apple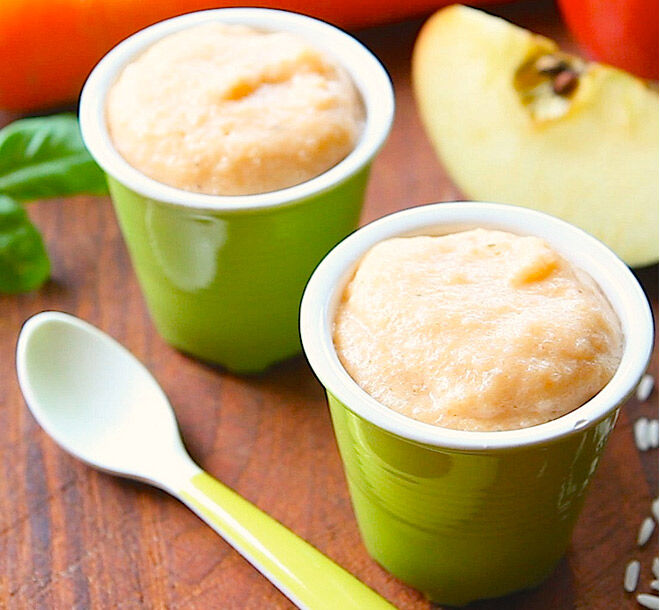 Time to start giving your mini-me a mini meal. We love this chicken, rice and apple puree. The healthy balance of protein, carbohydrates and vitamins puts a big fat tick in our baby food box. And did we mention it all cooks happily together in a rice cooker? That's reason alone for a fist pump! (via Buona Pappa)
Lamb with courgette and thyme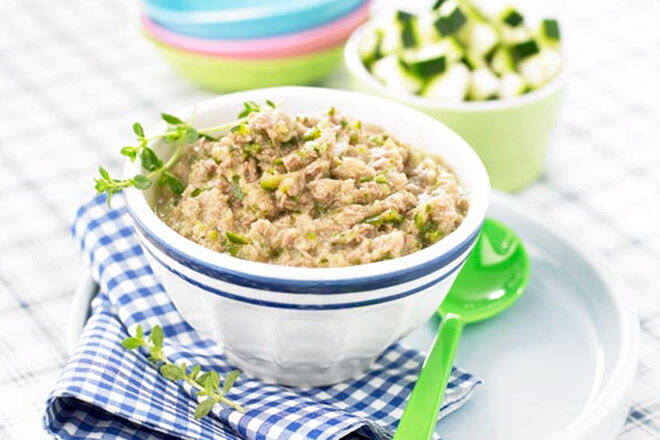 Are we the only ones thinking YUM? This lamb, courgette and thyme puree looks seriously tasty for baby and mum! With just 3 ingredients and a dash of olive oil for blending, it's super easy, quick and best of all, full of flavour for those new little taste buds. (via Cooking Baby Food)