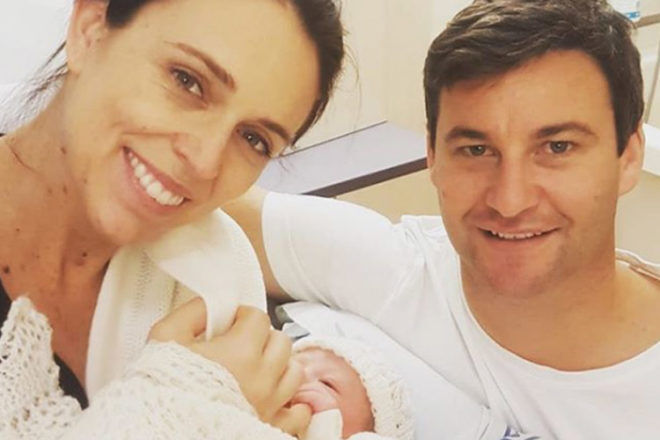 New Zealand prime minister Jacinda Ardern and partner Clarke Gayford have revealed their newborn daughter's name – and what a beauty it is.
The couple announced in a Facebook live video, and to media at Auckland hospital this morning that her name is Neve Te Aroha Ardern-Gayford. Ms Arden gave birth to her daughter on Thursday.
Neve, from the the Irish name Niamh, means 'bright' or 'radiant' and Te Aroha means 'love' in te reo Māori. Like lots of new parents, the couple says they struggled for months trying to choose a name.
"Probably like everyone, we went through that struggle where we kept this shortlist of names and we wanted to wait until the baby arrived to really see which one felt like it worked. But we chose Neve because we just liked it, and when we met her we thought she looked like she suited the name."
Ms Ardern, who became just the second female world leader to give birth during office, says the name Te Aroha is a significant nod to the Māori community.
"I thought how do I reflect the generosity, particularly of all the iwi who gifted us names – and Te Aroha seemed to be a way," she said.
"Te Aroha was something we settled on quite early. It was our way of reflecting the amount of love this baby's been shown before she even arrived."
The name is also a tribute to Te Aroha mountain, which is near Ms Ardern's hometown of Hamilton. "It's the place where all my family are from, I grew up under that mountain."
Ms Ardern said while her daughter's name is lengthy, it goes hand-in-hand with her own 'ridiculously long name' – Jacinda Kate Laurell Ardern. "I think I counted it out, it's the same number of letters," she said.
She said her hope is that a prime minister giving birth in office will one day no longer be a 'novelty'.
"I hope for little girls and boys that there is a future where they can make choices about how they raise their family and what sort of career they have, which is based on what they want and what makes them happy."
Struggling to pick a name for your future bub? Make sure you check out this magnificent list: